50 Dry Fruits Names in English. Dried fruits are a great source of nutrition, and there is no end to the variety of delicious flavors available. From figs to apricots, from dates to prunes, there are many types of dry fruits that can be enjoyed alone or as part of a recipe.
Must Read: Yellow Fruit names
What are the Benefits of dry fruits?
Ans: Dry fruits are an important part of any balanced diet, as they have a range of benefits when it comes to health. There is a wide variety of dry fruits available on the market, each offering its own unique benefits. Some of the most popular dry fruit names include almonds, cashews, raisins, dates and figs.
Must Learn: Fruit that start with A
All Dry Fruits Names
Almonds
Walnuts
Cashews
Pistachios
Raisins
Dates
Figs
Apricots
Prunes
Cranberries
Blueberries
Cherries
Pecans
Hazelnuts
Macadamia nuts
Brazil nuts
Pine nuts
Peanuts
Sunflower seeds
Pumpkin seeds
Chia seeds
Flaxseeds
Sesame seeds
Hemp seeds
Goji berries
Mulberries
Golden raisins
Sultanas
Currants
Kiwi fruit (dried)
Papaya (dried)
Mango (dried)
Guava (dried)
Jackfruit (dried)
Pineapple (dried)
Dragon fruit (dried)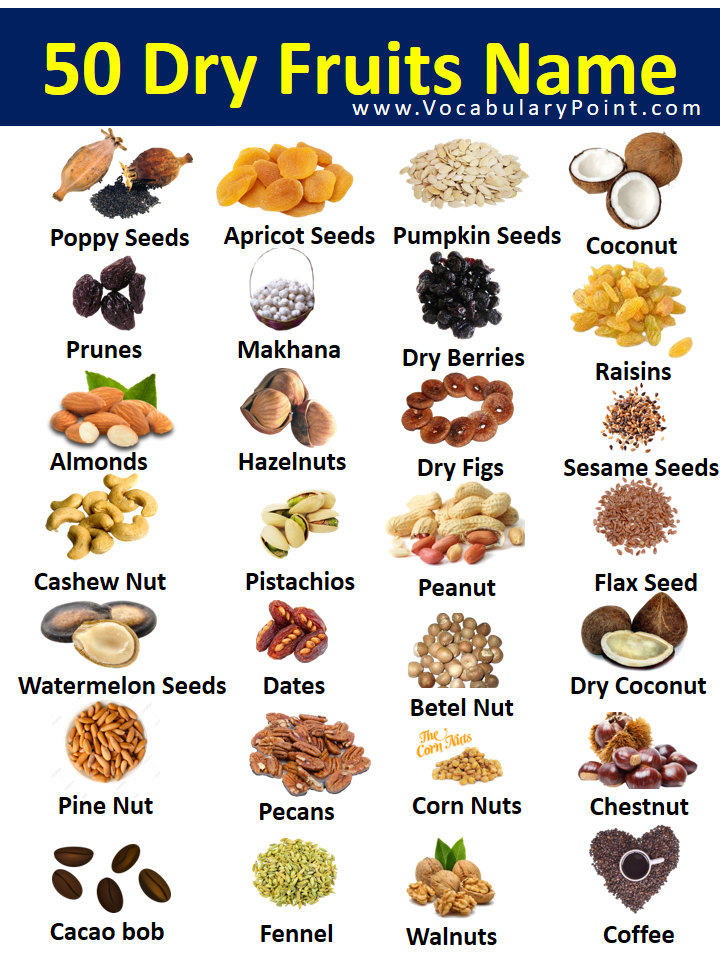 50 Dry Fruits Names in English
Poppy seeds
Poppy seeds are an iconic ingredient in many dishes, adding a unique flavor and texture to the food. Commonly used throughout the Middle East, Asia, Europe, and North America, poppy seeds have become a staple ingredient in many cultures.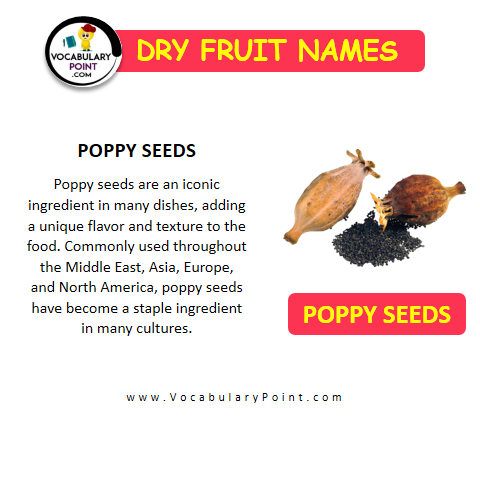 Apricot Seeds
Apricot seeds, or kernels, are the edible seeds found in the center of apricots. While small in size, they have a surprisingly sweet and nutty taste and can be used as an ingredient in a variety of dishes. They also offer many health benefits due to their high nutrient content.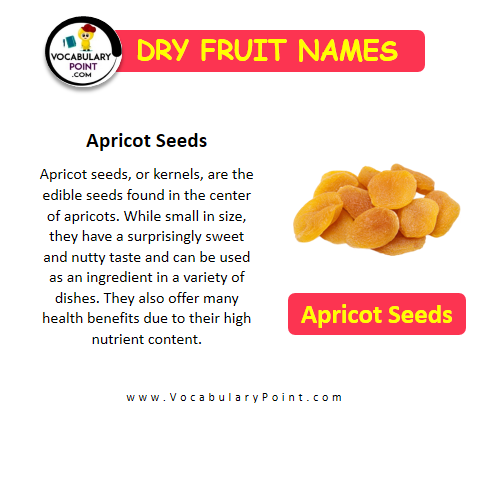 Pumpkin Seeds
Pumpkin seeds are a delicious snack that is packed with nutrients and health benefits. They are an excellent source of minerals such as zinc, iron and magnesium as well as antioxidants. Eating pumpkin seeds can help to improve overall health, reduce inflammation, and even aid in weight loss.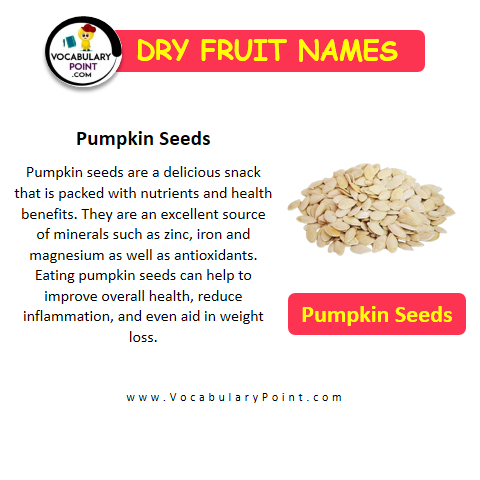 Coconut
Coconut is a popular, multipurpose ingredient found in many recipes. Its sweet, nutty flavor adds a unique touch to dishes ranging from desserts to savory main courses. In addition to its culinary uses, coconut has many other benefits that make it an excellent choice for health and beauty routines.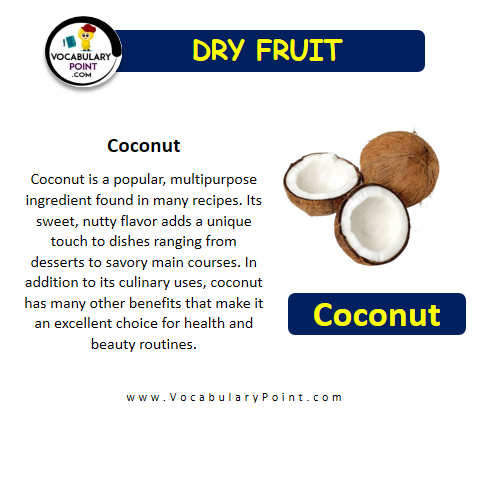 Prunes
Prunes may be small, but they pack a big nutritional punch. For centuries, prunes have been lauded for their health benefits and are now making a comeback in modern diets. Prunes are dried plums with a unique combination of vitamins, minerals and antioxidants that make them an incredibly healthy snack or addition to any meal.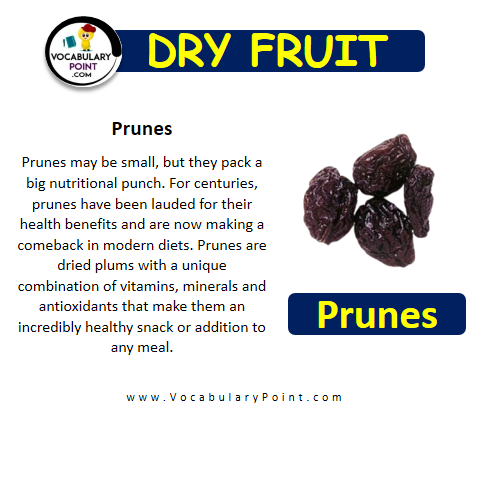 Makhana
Makhana, also known as fox nuts or lotus seed, is a crunchy and flavor-packed snack that originated in India. This nutrient-rich superfood has been enjoyed for centuries due to its health benefits and deliciousness. It is no wonder Makhana has gained the attention of the health-conscious crowd today!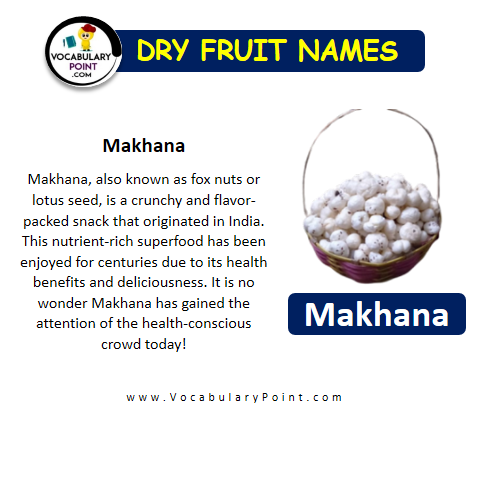 Dry Berries
Dry berries are an excellent snack option for those who want a healthy, nutritious treat. Perfectly versatile and easy to add to any meal or eat alone, dry berries contain essential vitamins and minerals that keep you feeling full and energized throughout the day.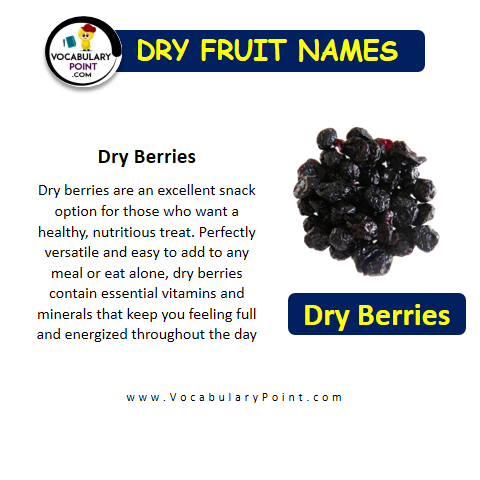 Raisins
Raisins are one of the most popular dried fruits in the world. Not only do they offer a natural sweetness and crunch, but they are also packed with vitamins and minerals. As a snack or an addition to recipes, raisins provide numerous health benefits that many people may not be aware of.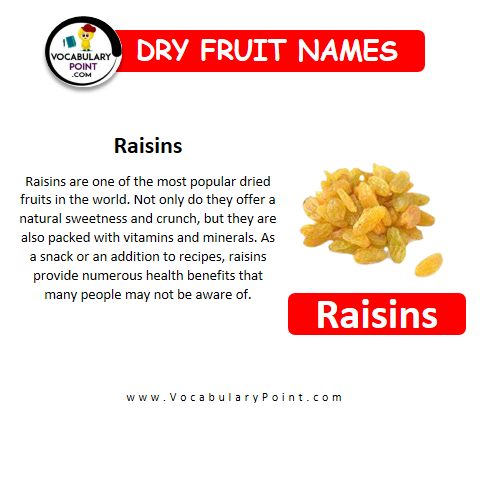 Almonds
Almonds are a delicious and nutritious snack loved by many. They are a great source of healthy fats and proteins that can help keep you feeling full for longer. Not only that, but almonds also provide numerous other important vitamins, minerals and antioxidants.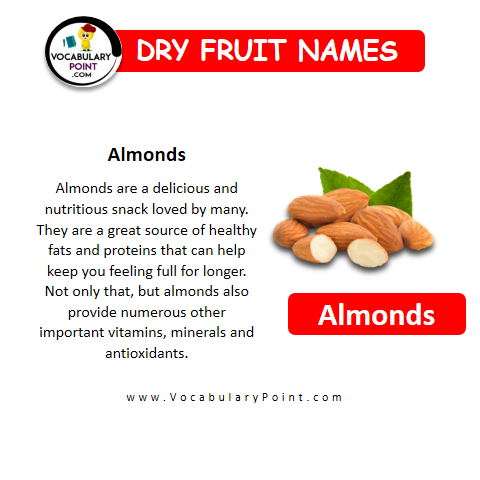 Hazelnuts
Hazelnuts are a popular tree nut grown around the world. This type of nut is highly nutritious, packing in multiple vitamins and minerals. They are frequently used in baking and cooking recipes, as well as being enjoyed plain or added to salads for a nutritional boost. Hazelnuts have also been linked with numerous health benefits, making them an excellent addition to any diet.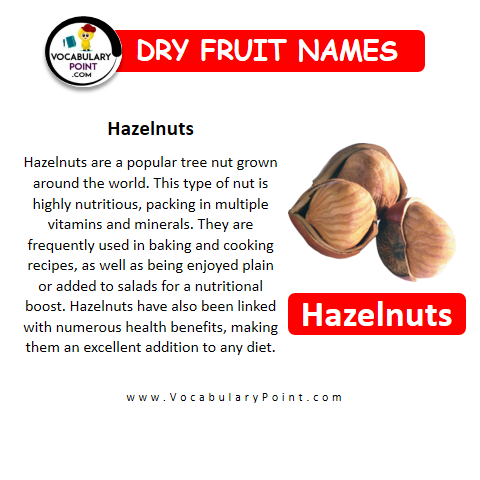 Dry Figs
Dry figs are an incredibly nutritious and delicious snack. They are a good source of fiber, potassium, copper and manganese, which makes them a great snack for those looking to get their daily dose of vitamins and minerals. Not only are they packed with nutrients, dry figs also have a unique taste that is both sweet and slightly tart.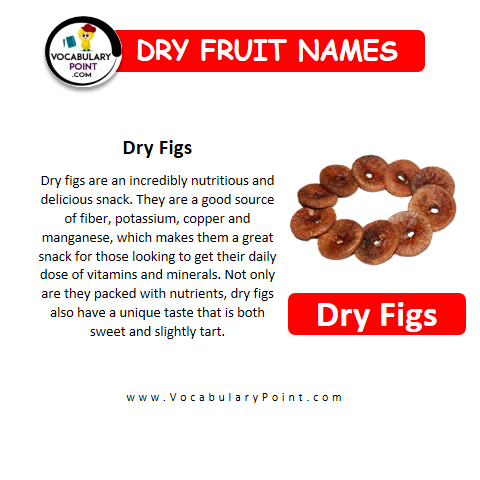 Sesame Seeds
Sesame seeds are one of the oldest cultivated crops in the world. Dating back to as early as 1600 BC, they were widely used throughout ancient Greece and Rome for their medicinal properties, as well as culinary uses. The small, nutty seeds have a unique flavor that is often used to enhance dishes and baked goods.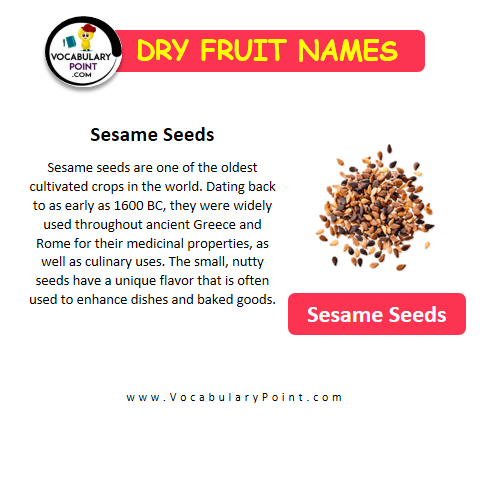 Cashew Nut
Cashews are a popular and versatile nut that can be used in many different dishes. The cashew tree, which is native to certain parts of the Amazon rainforest, produces a small kidney-shaped nut.  Cashews have a creamy texture and mild flavor, making them ideal for both sweet and savory recipes. In addition to being an excellent source of protein and dietary fiber, cashew nuts are also packed with essential vitamins and minerals such as iron, magnesium, zinc, selenium, phosphorus, copper and manganese.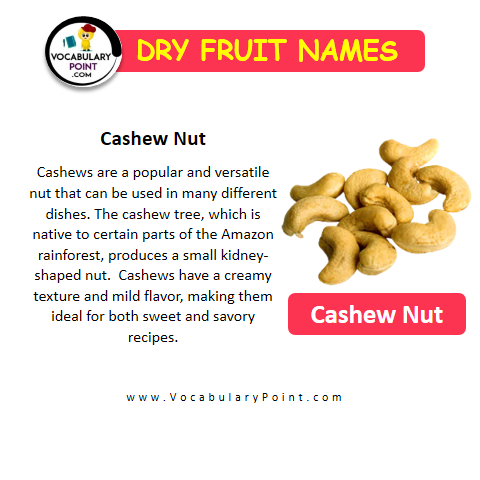 Pistachios
Pistachios are popular snack nuts that have been enjoyed for centuries. Native to the Middle East, pistachios date back to biblical times and have become one of the oldest cultivated trees in human history. Today, these salty green nuts are beloved around the world for their delicious flavor and crunchy texture.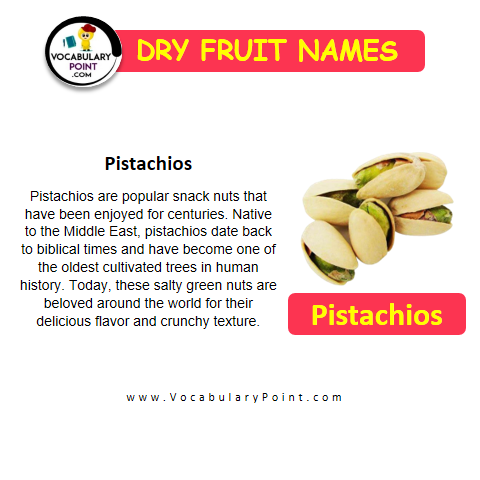 Peanut
Peanuts are a versatile legume that can be enjoyed in many forms. From crunchy and flavorful roasted peanuts to creamy peanut butter, these little powerhouses of nutrition have been delighting eaters for centuries. Rich in healthy fats, protein and essential vitamins, peanuts are a great snack choice for both children and adults alike.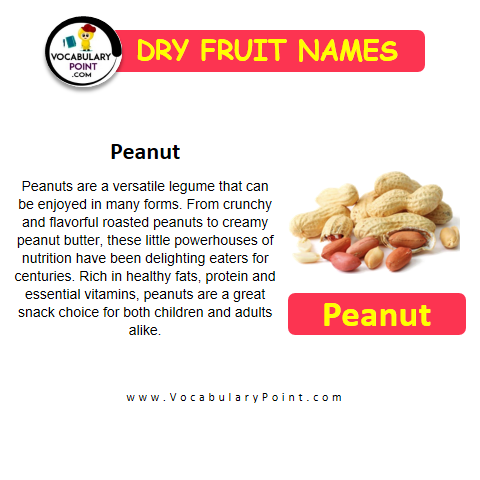 Flax Seed
Flax seed is an incredibly versatile and nutrient-rich food. It has been used for centuries to improve overall health, and its popularity continues to grow today. Not only is flax seed a great source of omega 3 fatty acids, but it also contains lignans which are powerful antioxidants, as well as a good source of protein, fiber and minerals like calcium and magnesium. With so many health benefits associated with this superfood, it's no wonder why flax seeds are becoming more popular among consumers!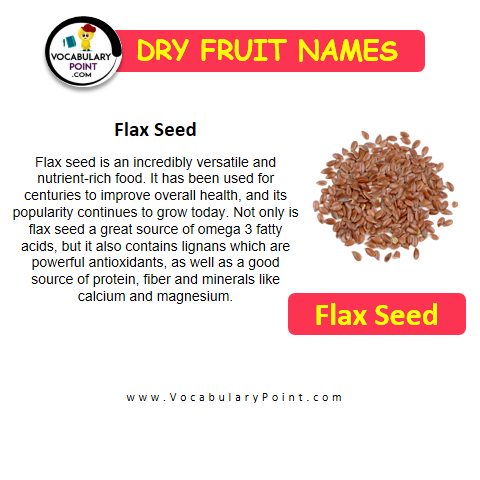 Watermelon Seeds
Watermelon seeds are a tasty and nutritious snack that have been enjoyed by people for centuries. They are rich in important nutrients, including fatty acids, protein, fiber, and minerals such as magnesium, phosphorus and zinc. Watermelon seeds offer a variety of health benefits that include improved heart health, better digestion, stronger bones and teeth, reduced inflammation and even weight loss.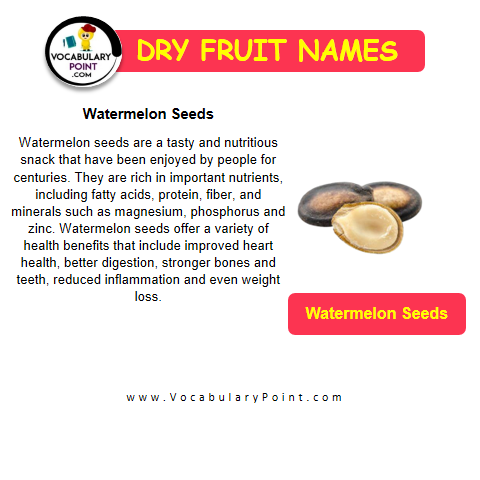 Dates
Dates are a delicious and nutritious fruit that have been enjoyed for centuries. They are native to the Middle East, North Africa, and parts of Asia, but now they are widely cultivated in many other regions around the world. Dates contain essential minerals such as selenium, calcium, iron and magnesium as well as vitamins A, B-complex and C. Aside from their unique flavor profile that ranges from sweet to tart depending on the variety of dates chosen, these fruits also offer numerous health benefits.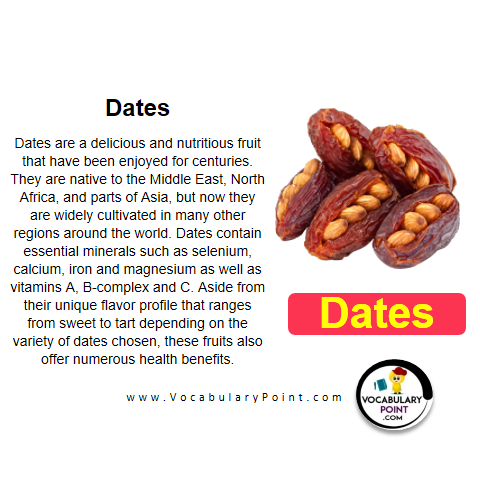 Betel Nut
Betel nut, also known as areca nut or pinang, is a type of seed derived from the Areca palm tree. Native to tropical regions such as India and Southeast Asia, betel nut is widely consumed by individuals in many countries around the world. In recent years, it has become increasingly popular for its alleged health benefits and stimulating effects.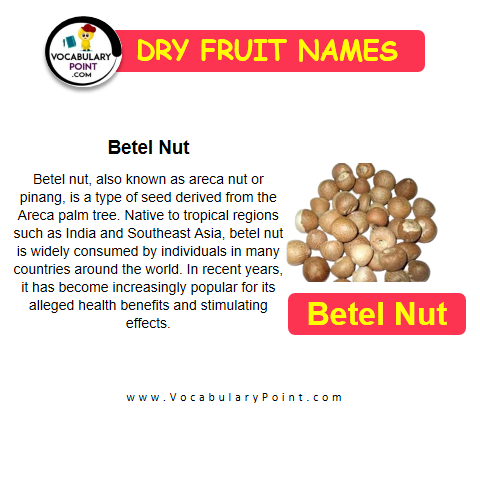 Dry Coconut
Coconut is a sweet and refreshing fruit that has been enjoyed for centuries. It is most commonly known for its white, milky flesh and thick, fibrous husk. However, there are other forms of coconut that are often overlooked in favor of the juicy inside. Dry coconut is an incredibly versatile ingredient with a unique flavor profile that can greatly enhance any dish.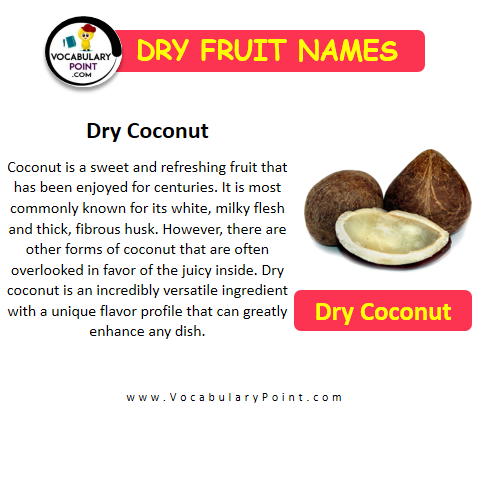 Pine Nut
Pine nuts are among the most popular and widely consumed nuts in the world. The small, edible seeds of coniferous trees have been a part of many cuisines for centuries, with their distinctive flavor adding an extra layer to both savory and sweet dishes alike. Not only are they highly versatile but pine nuts offer numerous health benefits due to their high levels of essential nutrients.
Pecans
Pecans are a delicious nut, native to the United States. They have a very distinct flavor that is both sweet and earthy.  Pecans can be used in many different types of recipes or eaten on their own as a snack.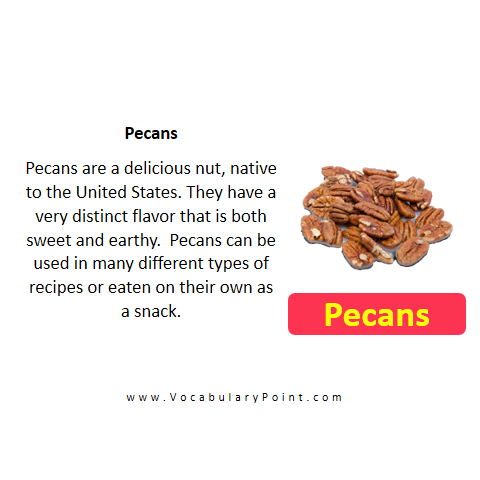 Corn Nuts
Corn Nuts are a unique and delicious snack that has been enjoyed by many people for decades. They are crunchy, flavorful, and come in a variety of different flavors. Corn Nuts were first developed in the 1940s and have since grown to become popular worldwide.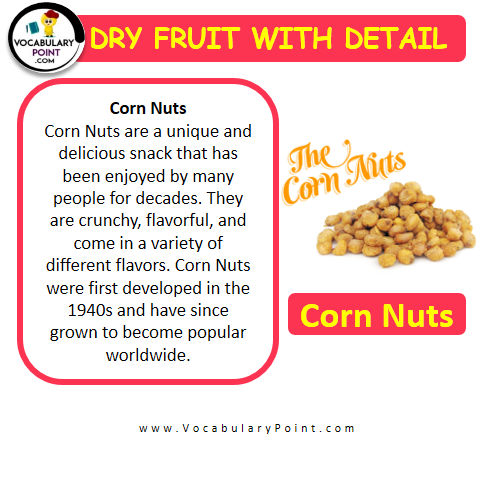 Chestnut
Chestnut is a type of tree that is well known for its tasty nuts and timber. The chestnut tree is native to many parts of Europe, Asia, and North America. It's an important species that was once widely harvested as a source of food and wood products before being over-harvested in the 19th century.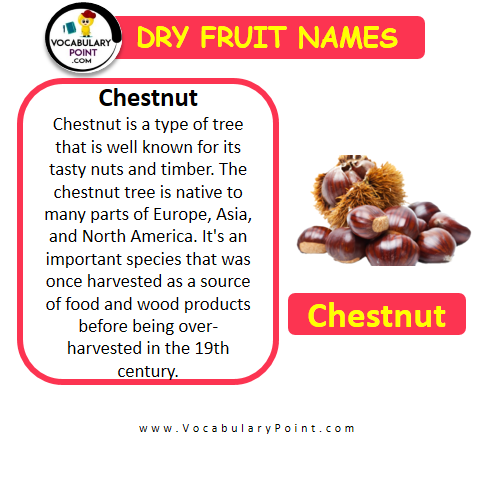 Cacao bob
Cacao bob is a unique and delicious treat that has been enjoyed by people all around the world. This unique combination of chocolate and popcorn has made it an instant hit with both kids and adults alike. It's easy to make, inexpensive, and tastes amazing!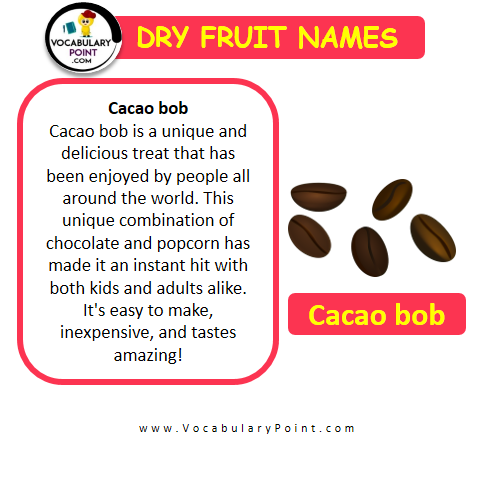 Fennel
Fennel is an aromatic vegetable with a distinct flavor that has been used for centuries in both cooking and medicinal applications. The plant, which grows to about two to four feet in height, belongs to the parsley family and produces yellow flowers. It has a thick stalk that supports umbrella-like leaves that attach at its crown. The stalks can be eaten raw or cooked, and the leaves are often used as herbs or garnishments. Fennel is also a popular ingredient in salads, soups, sauces and stir-fry's.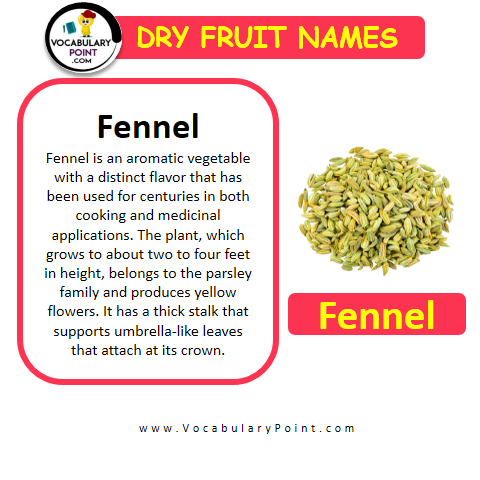 Walnuts
Walnuts are widely enjoyed as a healthy snack, but also provide a variety of other benefits. Not only do they contain essential minerals and vitamins, but walnuts are also believed to be beneficial for brain health.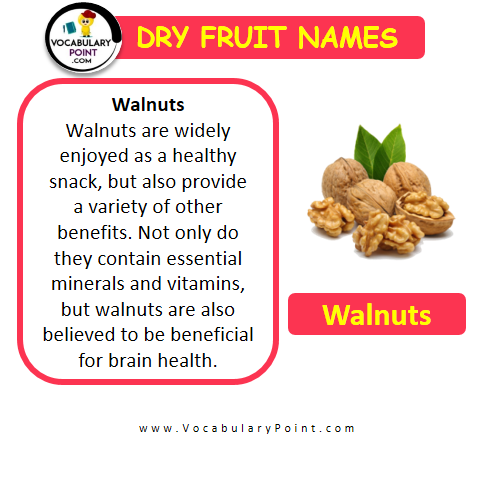 Coffee
Coffee is one of the world's most popular beverages and has been enjoyed for centuries. It provides a boost to start your day and can be used to gather together with friends or colleagues. Not only does coffee have a great taste, it also offers many different health benefits.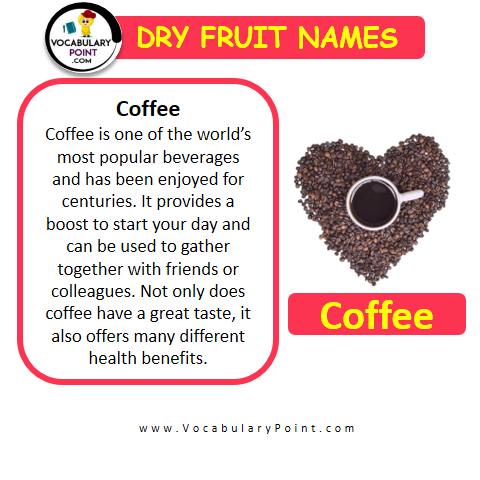 You Can Download 50 Dry Fruits Names in English PDF