List of Sea Animals With Pictures. Here is a list of sea animal vocabulary words with Pictures in English. A sea animal is any animal that lives in a saltwater body of water (such as a sea or ocean), hence starfish and krill are just like sea animals like whales. Depending on how they move and where they reside, all marine or ocean-dwelling animals can be further categorized.
Which animal is a sea animal?
The phrase "aquatic animal" can be applied to air-breathing aquatic or marine mammals, such as those in the orders Cetacea (whales) and Sirenia (sea cows), as well as the pinnipeds, which cannot exist on land (true seals, eared seals, and the walrus)
Definition of sea animals?
Creatures that live in the ocean are known as ocean animals. Marine life, ocean life, and sea life are all terms used to describe ocean organisms.
Animals, plants, and other species can all be found in the ocean. Ocean species vary widely in size, with some being microscopic and others being massive.
List of Sea Animals With Pictures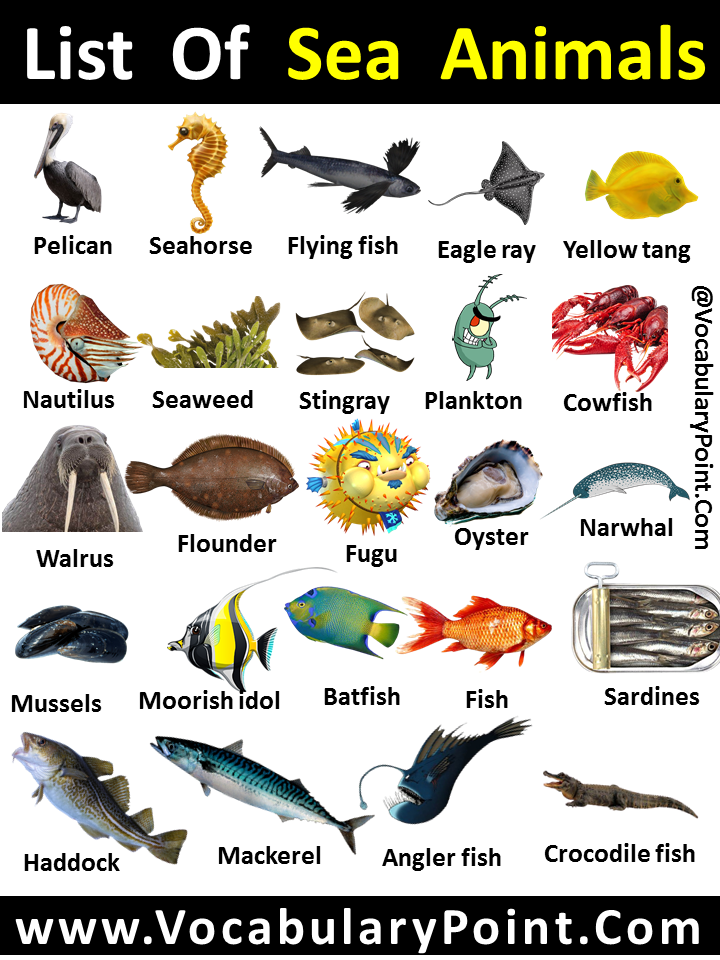 List of Sea Animals
Barracuda
Tiger shark
Lionfish
Clownfish
Butterflyfish
Sea otter
Sea snail
Whale
Blue tang
Penguin
Seagull
Stonefish
Sunfish
Zebra shark
Beluga whale
Guitarfish
Hammerhead shark
Clams
Mollusk
Oyster
Humpback whale
Seal
Coral
Eel
Swordfish
Glassfish
Pilot whale
Polar bear
Crab
Manta ray
Manatee
Sea urchin
Shark
Mackerel
Walrus
Pacific halibut
Atlantic salmon
Sawfish
Horseshoe crab
Sardines
Moorish idol
Mussels
Bannerfish
Cormorant
Herring
Porcupine Fish
Boxfish
Flying fish
Conch
Pelican
Killer whale
Eagle ray
Nautilus
Lobster
Scorpionfish
Yellow tang
Seaweed
Starfish
Cuttlefish
Shrimp
Axolotl
Stingray
Narwhal
Cowfish
Jellyfish
Blue marlin
Sea anemone
Dolphin
Sea snake
Leafy sea dragon
Angler fish
Seahorse
Shell
Batfish
Yellowfin tuna
Elephant seal
Haddock
Flounder
Fish
Fugu
Plankton
Squid
Octopus
Crocodile fish
Oyster
Sea turtle
Sealion
Rockfish
Scallop
Sea slug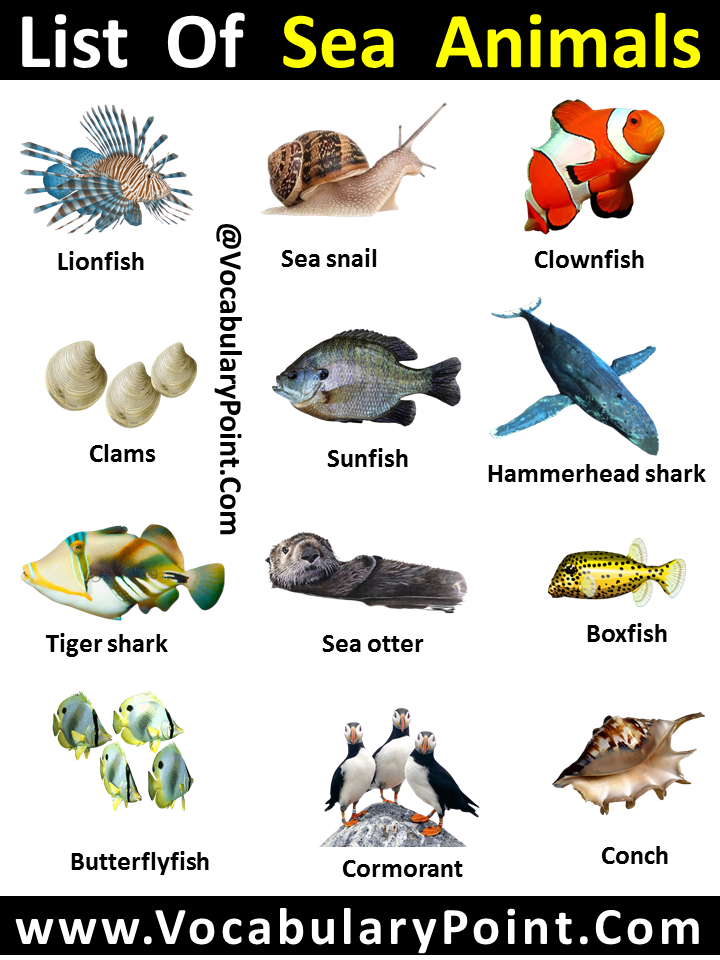 You can Download List of Sea Animals Names