The list of collective nouns: Here is a list of collective Noun that used in daily routine. Basically collective noun is a group of words for example team ( hockey team , cricket team , and family is also a collective noun because family have group of a members.
What is a Collective Noun?
A collective noun is basically a group of words describing a group of a person, place, or thing. A collective noun is a noun that represents a collection of individuals.
Basically, a collective noun is the name of a collection of a person, animal, or any other thing. such as: a team (for example: Hockey players) a family (for example: mother, father and two children) a crew , A flock of seagulls.
Collective nouns are words used to describe a group of individuals, animals, or things. Here are some examples of collective nouns with sentences:
Flock: "A flock of birds flew overhead."
Herd: "A herd of cows grazed in the meadow."
School: "A school of fish swam in the ocean."
Pack: "A pack of wolves roamed through the forest."
Pride: "A pride of lions lounged on the savannah."
Colony: "A colony of ants worked together to carry food."
Swarm: "A swarm of bees surrounded the hive."
Troop: "A troop of monkeys swung from tree to tree."
Gaggle: "A gaggle of geese honked as they flew overhead."
Litter: "A litter of puppies played in the yard."
List of collective nouns
A herd of chinchillas
A tribe of natives
A shoal of bass
A catch of fish
A herd of donkeys
A fall of woodcock
A bunch of pigeons
A bunch of crocks
A pack of weasels
A swarm of gnats
A shoal of salmon
A crew of sailors
A mob of meerkats
A pack of bears (polar bears)
A pack of hounds
A heap of rubbish
A company of actors
A troupe of shrimp
must learn about Pronoun
A set of utensils
A stud of horses
A herd of whales
A crew of sailors
A flock of sheep
A posse of policemen
A herd of cattle
A gang of hoodlums
A pack of sharks
A shoal of fish
A mob of kangaroos
A library of books
A swarm of bees
A catalogue of prices
A tribe of natives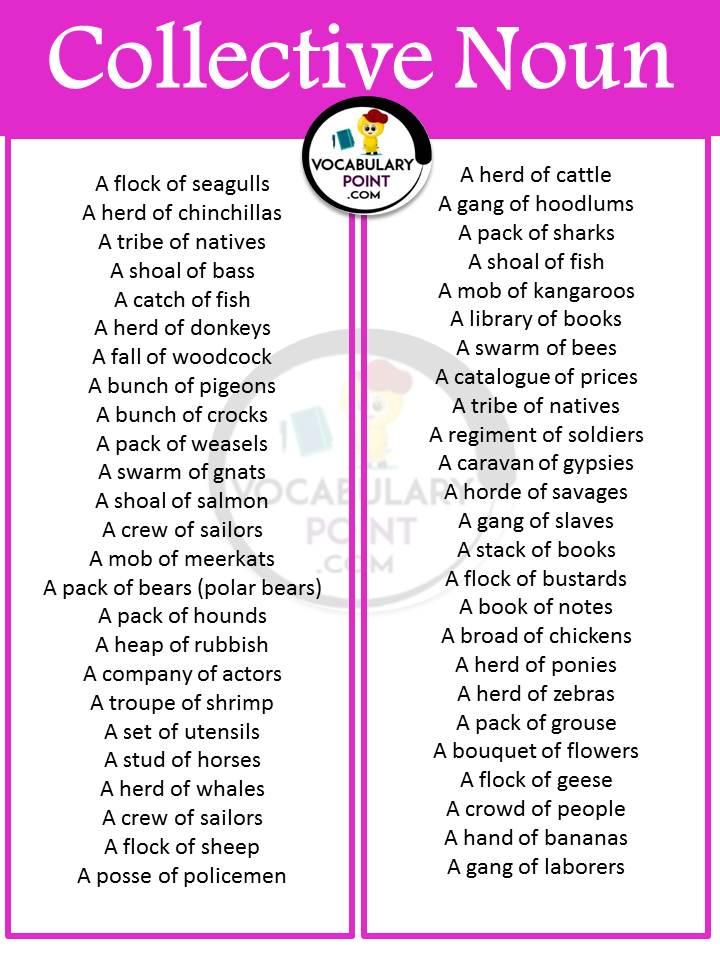 The list of collective nouns
A regiment of soldiers
A caravan of gypsies
A horde of savages
A gang of slaves
A stack of books
A flock of bustards
A book of notes
A broad of chickens
A herd of ponies
A herd of zebras
A pack of grouse
A bouquet of flowers
A flock of geese
A crowd of people
A hand of bananas
A gang of laborers
A swarm of insects
A body of men
A nest of mice
A wad of notes
A hedge of bushes
A team of players
A colony of badgers
collective noun
A series of events
A flock of pigeons
A galaxy of stars
A quiver of arrows
A swarm of eels
A plague of locusts
A bale of cotton
A shoal of herrings
A reel of film
A staff of employees
A herd of horses
A patrol of policemen
A herd of pigs
A gang of thieves
A hive of bees
A mob of kangaroos
A gang of hoodlums
A basket of fruit
A swarm of flies
A group of dancers
A choir of angels
A block of flats
A mob of rioters
A staff of employees
A group of islands
100 Examples of collective Noun
A battery of guns
A pack of wolves
A herd of wrens
A herd of gnus
A herd of seals
A harvest of wheat
A troop of scouts
A choir of singers
A pack of wolves
A fleet of ships
A pack of gulls
A string of horses
A pack of coyotes
A mob of emus
A bevy of ladies
A herd of boar
A herd of moose
A series of photos
A troop of scouts
A hail of bullets
A line of kings
A gang of criminals
A gang of crooks
A troop of scouts
A pack of rats
A bowl of rice
A sheaf of grain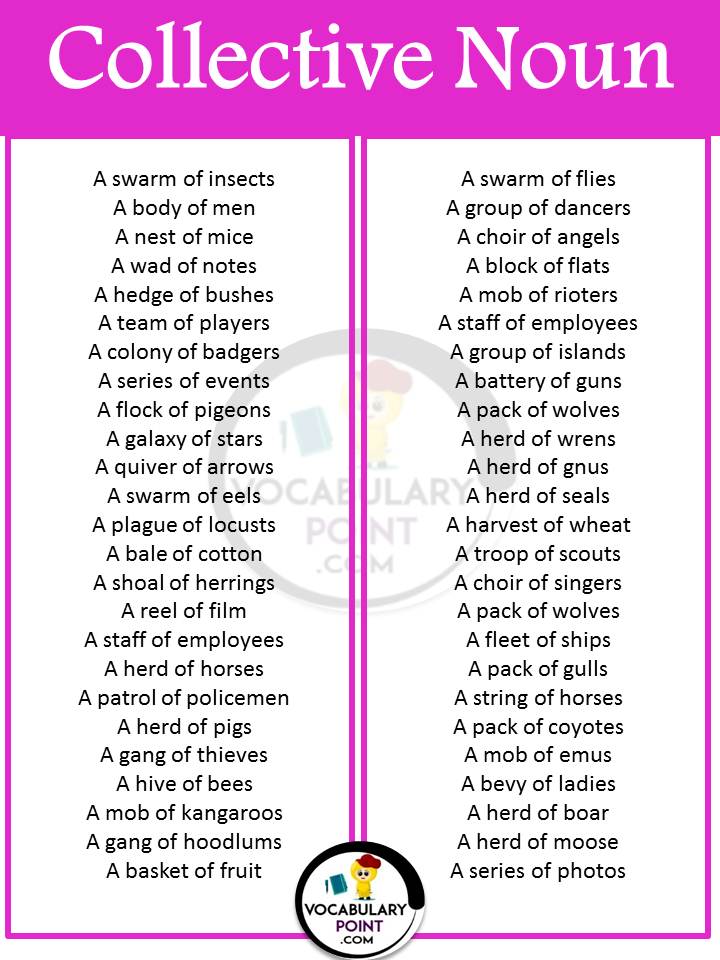 list of collective nouns pdf download
A class of students
An anthology of poems
A class of students
A board of trustees
A shower of bastards
A group of people
A bevy of ladies
A mob of sheep
A patrol of policemen
A party of friends
A herd of cranes
A swarm of rats
A herd of giraffes
A range of mountains
A pile of books
A pack of thieves
A herd of fairies
A troupe of dancers
A batch of bread
Also Learn Lesson about Synonyms
A flock of chickens
A herd of swine
A host of angels
A shoal of pilchards
A horde of savages
A flock of goats
A party of friends
A herd of llamas
An orchestra of musicians
A herd of walruses
A herd of wolves
A herd of antelope
A herd of elephants
A gang of prisoners
A board of directors
A pack of dogs
A crowd of people
A group of engineers
collective noun for birds and animals
A flock of parrots
A cloud of dust
A herd of cattle
A haul of fish
A string of horses
A body of men
A pack of mongooses
An outfit of clothes
A pack of mules
A ream of paper
A group of guinea pigs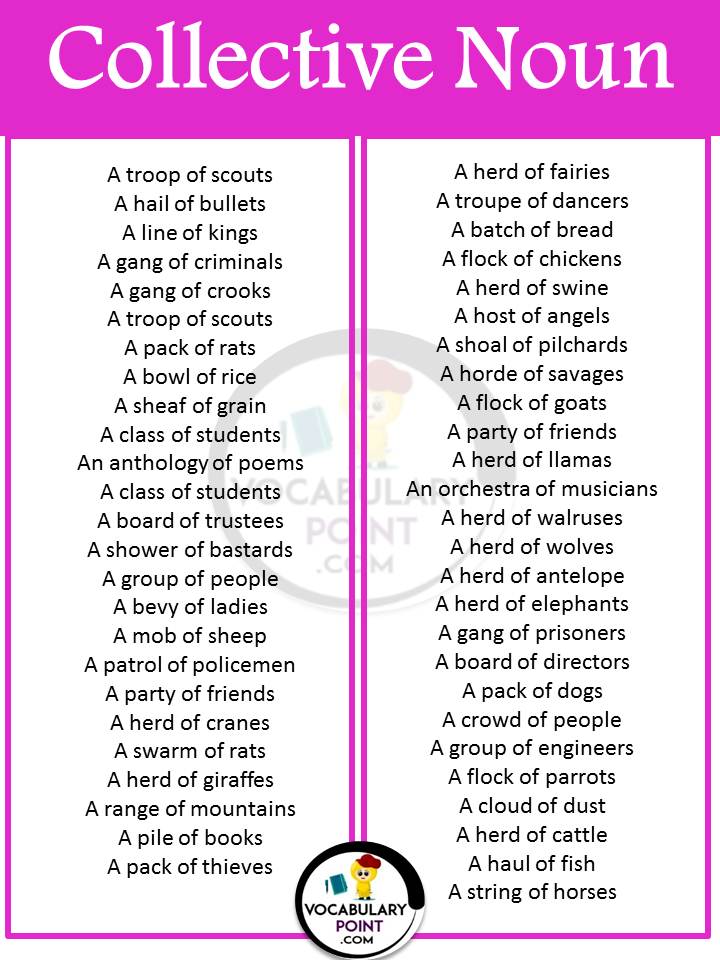 You can Download pdf List of  Collective Noun