Finding the perfect name for your new ball python can be a daunting task. With so many different possibilities and names to consider, it can become an overwhelming prospect. It's important to take your time and find something that fits your pet's individual personality. We've put together a list of cool ball python names to inspire you as you search for the perfect moniker.
Cool Ball Python Names
Vega
Orion
Apollo
Titan
Draco
Phoenix
Galaxy
Astra
Sirius
Capella
Electra
Cosmo
Antares
Zenith
Aquila
Draco
Hydra
Perseus
Polaris
Orion
Arcturus
Betelgeuse
Rigel
Helios
Luna
Pandora
Nova
Lyra
Comet
Cassiopeia
Nebula
Andromeda
Meteor
Celeste
Pegasus
Eclipse
Scorpius
Andromeda
Altair
Phoenix
Cassiopeia
Lyra
Cygnus
Regulus
Aldebaran
Bellatrix
Spica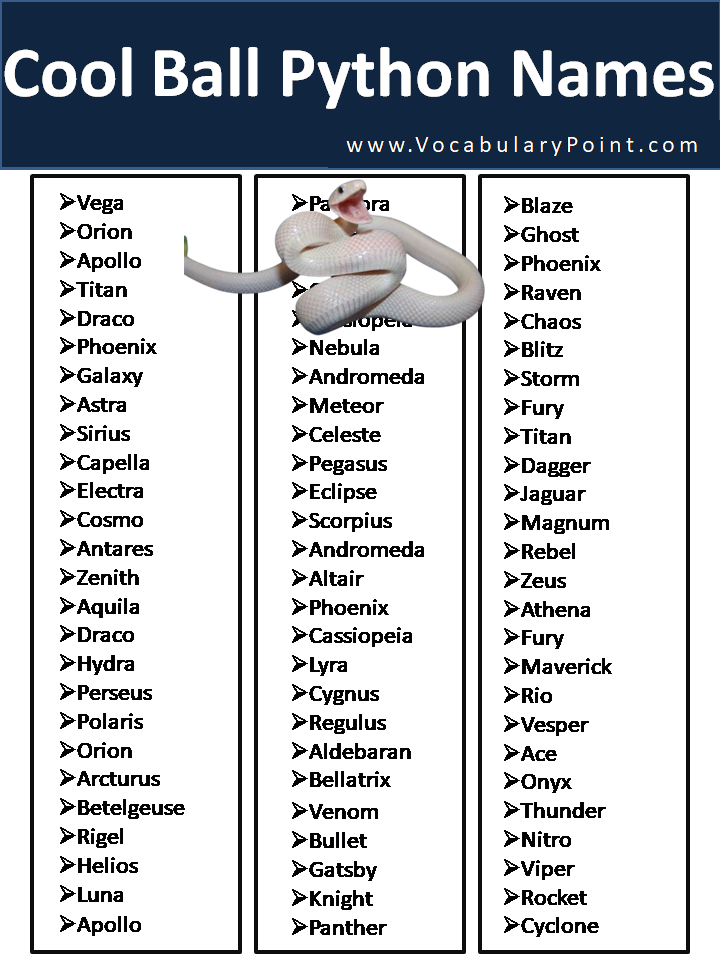 Female Ball Python Names with Meaning
Adira (strong, noble)
Amara (eternal)
Anika (graceful)
Ayana (beautiful flower)
Bianca (white)
Calantha (beautiful flower)
Celeste (heavenly)
Dahlia (flower name)
Dara (compassionate)
Elara (bright)
Eliana (God has answered)
Esme (beloved)
Giselle (pledge)
Iliana (sunshine)
Indira (splendid)
Isadora (gift of Isis)
Jasmin (fragrant flower)
Kaida (little dragon)
Kiana (divine)
Kiera (little dark one)
Lila (night)
Lilith (of the night)
Luna (moon)
Maeve (intoxicating)
Maia (great)
Niamh (bright)
Ophelia (help)
Petra (rock)
Phoenix (mythical bird)
Piper (flute player)
Raven (blackbird)
Rhea (earth mother)
Ruby (precious stone)
Sable (black)
Sage (wise)
Sari (princess)
Selena (moon goddess)
Seraphina (fiery-winged)
Sienna (reddish-brown)
Solana (sunshine)
Stella (star)
Tamsin (twin)
Thalia (blooming)
Vega (brightest star in Lyra)
Vida (life)
Willow (tree name)
Xandra (defender of the people)
Yara (water lady)
Zara (princess)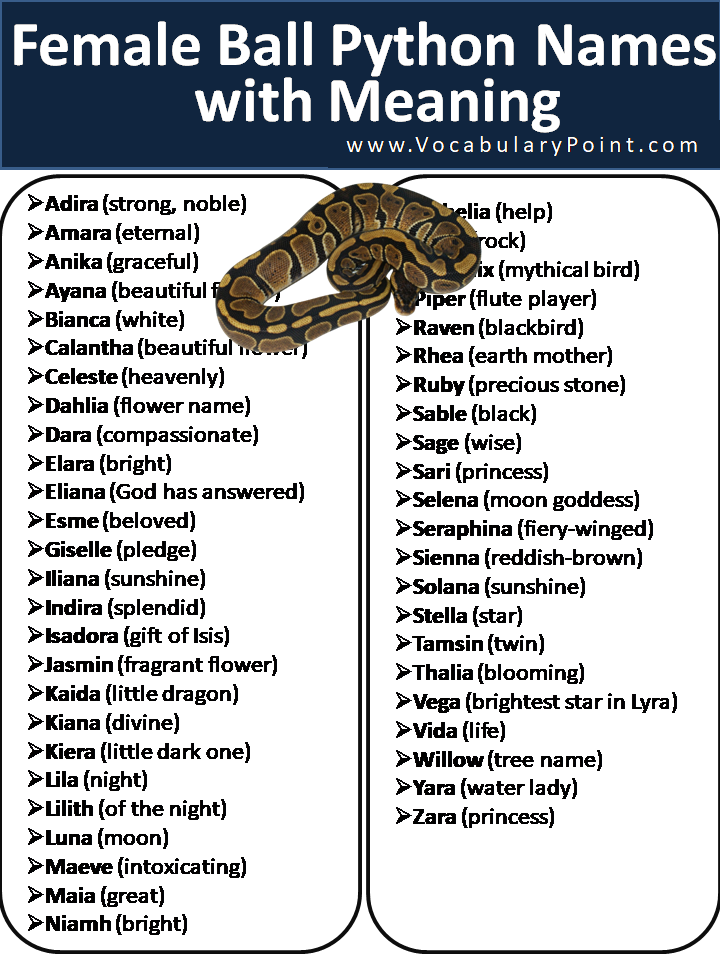 Male Ball Python Names with Meaning
Atlas (strong, enduring)
Caspian (of the Caspian Sea)
Cato (wise)
Draco (dragon)
Enzo (ruler of the house)
Finnegan (fair)
Gatsby (person from Gat's town)
Griffin (mythical creature)
Hendrix (ruler of the home)
Jax (God has been gracious)
Kato (all-knowing)
Knox (round hill)
Leo (lion)
Loki (god of mischief)
Maverick (independent)
Nero (strong)
Odin (Norse god)
Onyx (black gemstone)
Orion (constellation)
Osiris (Egyptian god)
Phoenix (mythical bird)
Ragnar (warrior)
Remy (oarsman)
Renegade (rebel)
Rex (king)
Rio (river)
Rocco (rest)
Ronin (masterless samurai)
Sable (black)
Salem (peace)
Samson (sun)
Sebastian (venerable)
Shadow (darkness)
Sirius (brightest star in the sky)
Spike (long, pointed object)
Sterling (valuable)
Storm (violent weather)
Tarzan (white-skin in African language)
Thor (Norse god)
Titan (mythical giants)
Typhoon (stormy wind)
Ulysses (Greek hero)
Vadar (dark lord in Star Wars)
Vega (brightest star in Lyra)
Viking (ancient Scandinavian people)
Winston (joyful stone)
Wolverine (animal name)
Xander (defender of the people)
Zeus (Greek god)
Zorro (fox in Spanish)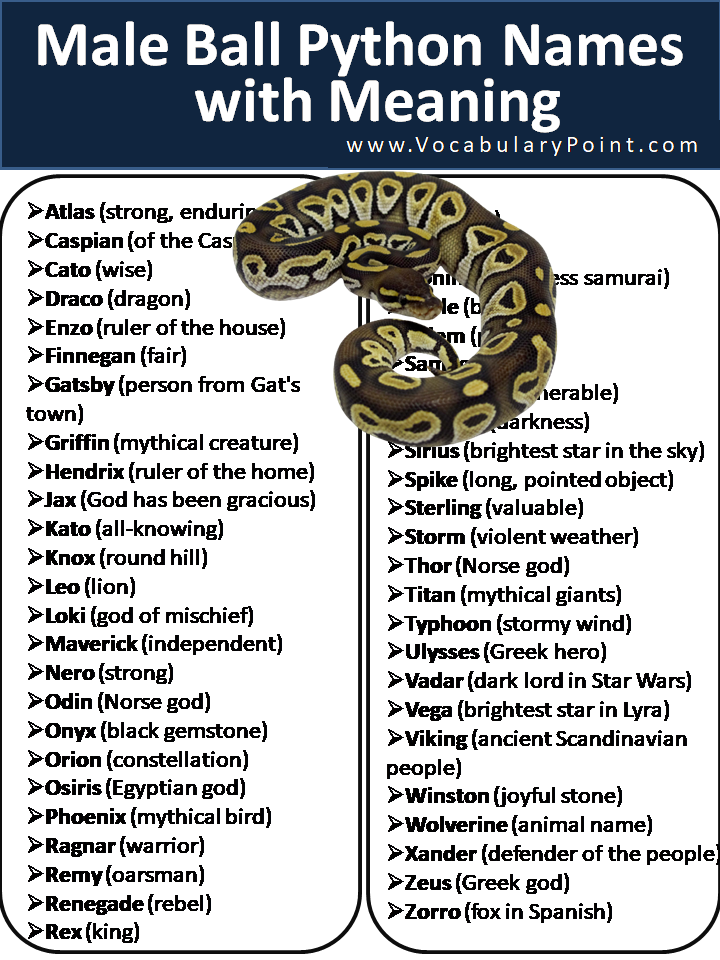 Ball Python Business Names
Read More: 2000+ most Popular Pet Names
Apex Pythons
Ball Python Boulevard
Boa Bazaar
Copperhead Corner
Diamondback Dragons
Elite Exotics
Fireball Pythons
Gator Grotto
Herpetology Haven
Jungle Jive Pythons
King Cobra Kingdom
Lizard Lounge
Mamba Manor
Night Owl Pythons
Panthera Pythons
Python Pathways
Reptile Rendezvous
Serpentine Sanctuary
Snake Shack
Tropicana Pythons
Venomous Visions
Wild Things Pythons
Amber Pythons
Black Diamond Exotics
Carbon Constrictors
Coral Cove Pythons
Emerald Exotics
Forest Floor Pythons
Gold Rush Pythons
Hydro Hideaway
Ivory Pythons
Jungle Gym Pythons
Luminous Pythons
Mossy Meadows Pythons
Nile Nest Pythons
Obsidian Pythons
Python Palace
Quetzalcoatl's Lair
Rainbow Reptiles
Sapphire Serpents
Tree Top Pythons
Underworld Pythons
Viper Valley
Wicked Wildlife
Xanadu Pythons
Yellow Python Yacht
Zanzibar Pythons
Amazon Exotics
Blood Python Bazaar
Chameleon Chambers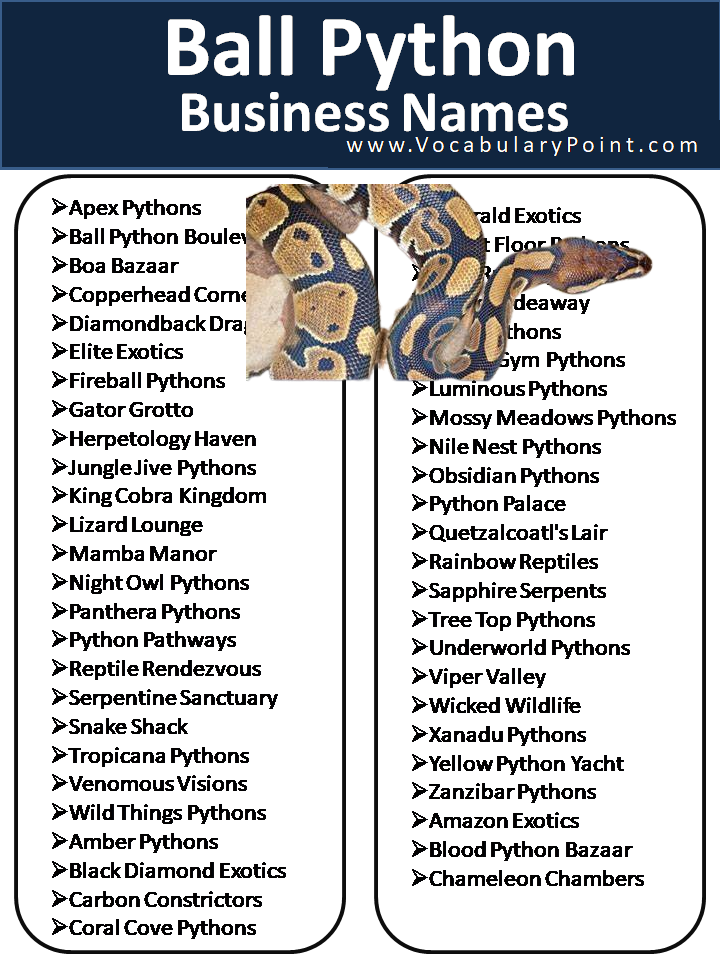 Choosing a Ball Python Name
Naming a pet can be a fun and exciting experience. When it comes to choosing a name for your ball python, here are a few tips to help you out:
Look for inspiration: You can find inspiration for your ball python's name from many sources such as movies, books, mythology, or even your own interests.
Consider their appearance: Ball pythons come in various colors and patterns, so you can choose a name that suits their appearance. For example, a ball python with a black and white pattern could be named "Zorro," while a snake with a vibrant orange color could be named "Sunny."
Think of their personality: Observe your ball python's behavior to see if there are any traits or quirks that stand out. If your snake is shy and introverted, you can name them "Bashful." If they are curious and adventurous, you can name them "Explorer."
Keep it simple: Choose a name that is easy to pronounce and remember. Avoid names that are too long or complicated.
Avoid cliches: While names like "Monty" or "Slytherin" may seem fitting for a ball python, they are also very common. Try to come up with a unique name that suits your snake's personality and appearance.
Python Names In English
Blaze
Ghost
Phoenix
Raven
Chaos
Blitz
Storm
Fury
Titan
Dagger
Jaguar
Magnum
Rebel
Zeus
Athena
Fury
Maverick
Rio
Vesper
Ace
Onyx
Thunder
Nitro
Viper
Rocket
Cyclone
Venom
Bullet
Gatsby
Knight
Panther
Thunderbolt
Apollo
Draco
Jasper
Phoenix
Thor
Good Ball Python Names
Azura
Bane
Blade
Casper
Cleo
Dash
Ember
Flame
Glimmer
Hunter
Java
Koda
Leo
Magma
Midnight
Nemo
Nimbus
Onyx
Ozzy
Quest
Rex
Sapphire
Shadow
Smokey
Titan
Bandit
Basilisk
Bolt
Cinnamon
Crimson
Duke
Enigma
Flash
Haze
Indigo
Jax
Lancelot
Luna
Merlin
Mystic
Nero
Opal
Phoenix
Raptor
Salem
Scorch
Siren
Stryker
Zara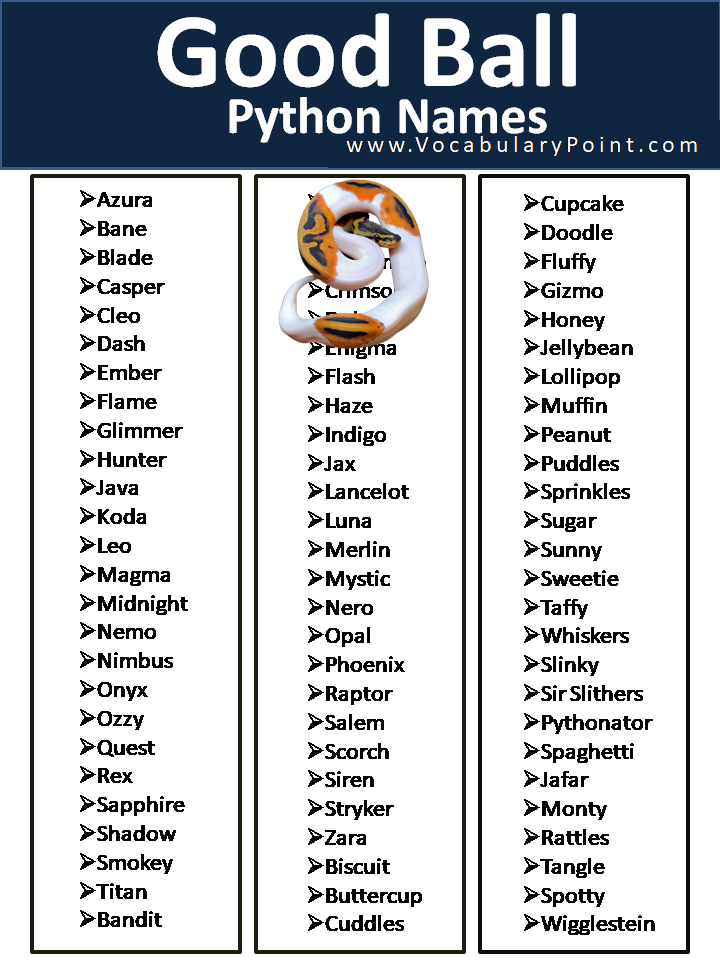 Cute Ball Python Names
Biscuit
Buttercup
Cuddles
Cupcake
Doodle
Fluffy
Gizmo
Honey
Jellybean
Lollipop
Marshmallow
Muffin
Peanut
Puddles
Sprinkles
Sugar
Sunny
Sweetie
Taffy
Whiskers
Funny Ball Python Names
Slinky
Snake Gyllenhaal
Sir Slithers
Pythonator
Spaghetti
Jafar
Monty
Rattles
Tangle
Spotty
Wigglestein
Harry Hiss
Sssamantha
Slider
Hissy Fit
Sir Hiss
Snickers
Nacho
Wigglebottoms
Noodle
Snake Eyes
Slippy
Sir Sneks-a-lot
Slithery McSlitherson
Scales
Fang
Kaa
Coils
Flicker
Sir Viper
Albino Ball Python Names
Ghost
Snowy
Frost
Angel
Chilly
Marshmallow
Powder
Radiance
Silky
Starlight
Vanilla
Celestial
Dawn
Dream
Halo
Luminous
Moonbeam
Phoenix
Sheen
Snowball
Sunburst
Sunrise
Whisper
Winter
Alba
Ivory
Pearl
Creamsicle
Blizzard
Diamond
Quartz
Shimmer
Sparkle
Sugar
Aspen
Crystal
Dazzle
Glimmer
Haze
Misty
Nimbus
Rain
Sky
Solar
Sunset
Twilight
Whiteout
Zenith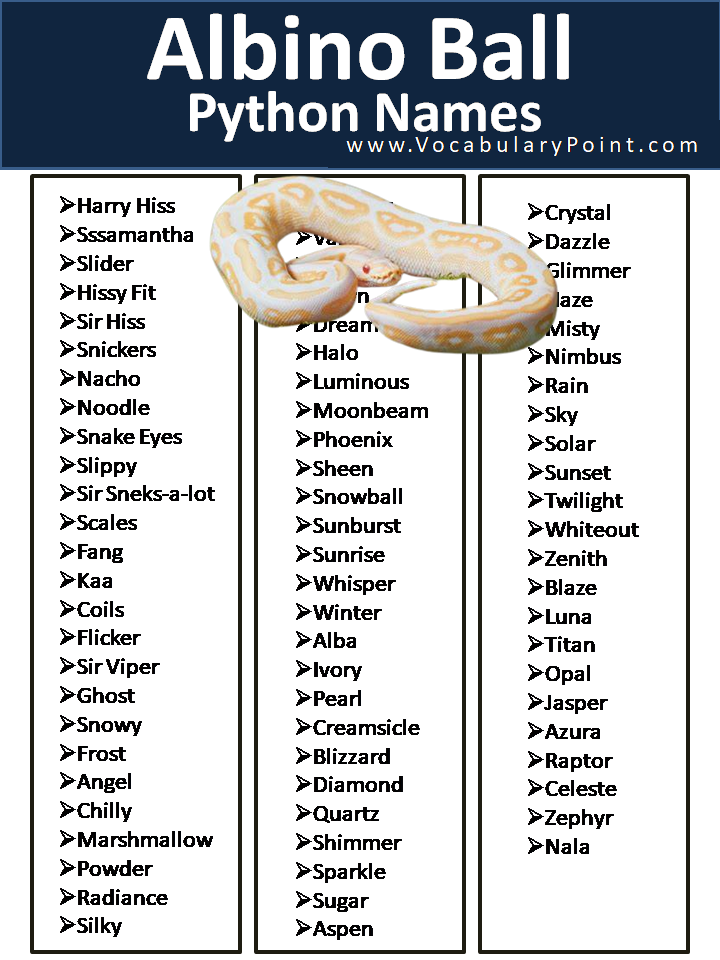 Which Moniker Would You Choose?
Blaze
Luna
Titan
Opal
Jasper
Azura
Raptor
Celeste
Zephyr
Nala