50 ENGLISH VOCABULARY WORDS. Do you have trouble with English vocabulary? Do you find yourself constantly mixing up words like "affect" and "effect," or "compliment" and "complement?" If so, you're not alone. English vocabulary can be very confusing, even for native speakers. But don't worry, there's help. In this article, we'll go over 50 English vocabulary words that you can start using today to improve your communication skills.
Must Learn: Top 100 English words
When it comes to learning a new language, vocabulary is key. While grammar and syntax are important, they can be difficult to learn without a strong foundation in the words themselves. Here are 50 essential English vocabulary words that you can use every day.
Noun: a word that refers to a person, place, thing, or idea
Pronoun: a word that takes the place of a noun or names an entity (e.g., I, you, he, she, it, them)
Verb: a word that describes an action or occurrence (e.g., run, jump, occur)
Adjective: a word that modifies or describes a noun or pronoun (e.g., blue, happy, large)
50 ENGLISH VOCABULARY WORDS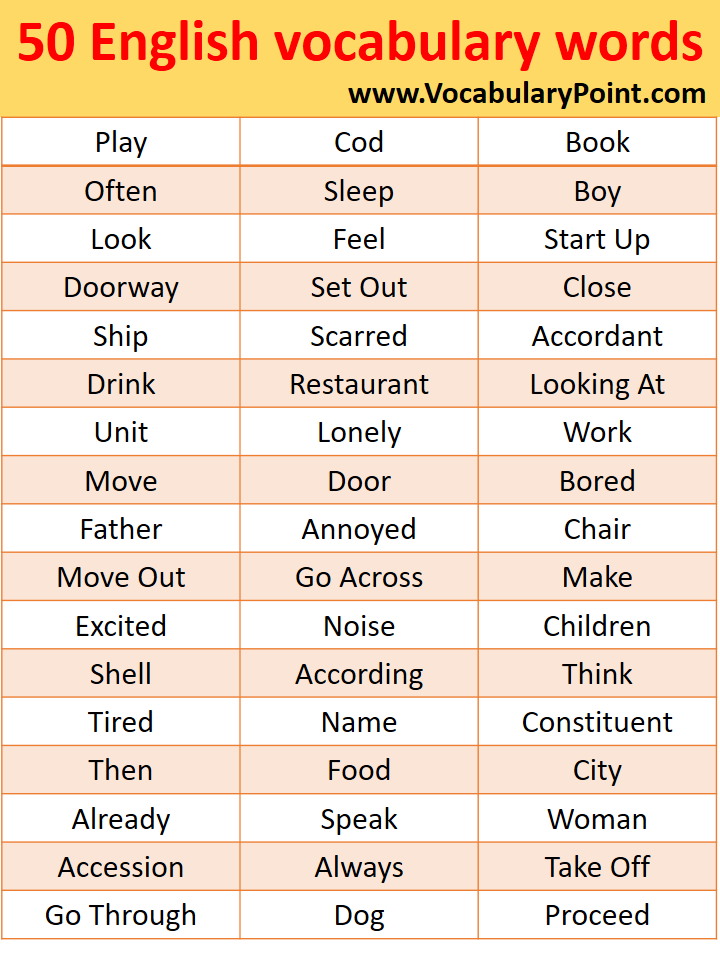 | | | |
| --- | --- | --- |
| Play | Cod | Book |
| Often | Sleep | Boy |
| Look | Feel | Start-Up |
| Doorway | Set Out | Close |
| Ship | Scarred | Accordant |
| Drink | Restaurant | Looking At |
| Unit | Lonely | Work |
| Move | Door | Bored |
| Father | Annoyed | Chair |
| Move Out | Go Across | Make |
| Excited | Noise | Children |
| Shell | According | Think |
| Tired | Name | Constituent |
| Then | Food | City |
| Already | Speak | Woman |
| Accession | Always | Take Off |
| Go Through | Dog | Proceed |
| Verbalize | Never | Member |
| Next | Listen | Well-Marked |
| System | Sell | Enemy |
| Carefully | Room | Threshold |
| Pass | Travel | Love |
| Sad | Look Back | Get |
| Run | Near | Enough |
| And | Nigh | Job |
| Starting | Call | Pleased |
| Inside | See | Go |
| Do | All | Write |
| Sister | Crew | Open |
| Access | Well | Money |
| Hear | Certainly | Barred |
| Talk | Made | Busy |
| Water | Start | Pick |
| Component | Generally | Really |
| Man | Girl | Correspond |
| Happy | Give The Axe | Fellow Member |
| Clearly | Sometimes | Masked |
| Eat | Lead Off | End |
| Scheme | Wait | Pair |
| Search | House | Good |
| Express | New | Opened |
| Open Fire | Laugh | Smile |
| Walk | Sit | Marked |
| Voice | Friend | Telephone |
| Car | Angry | |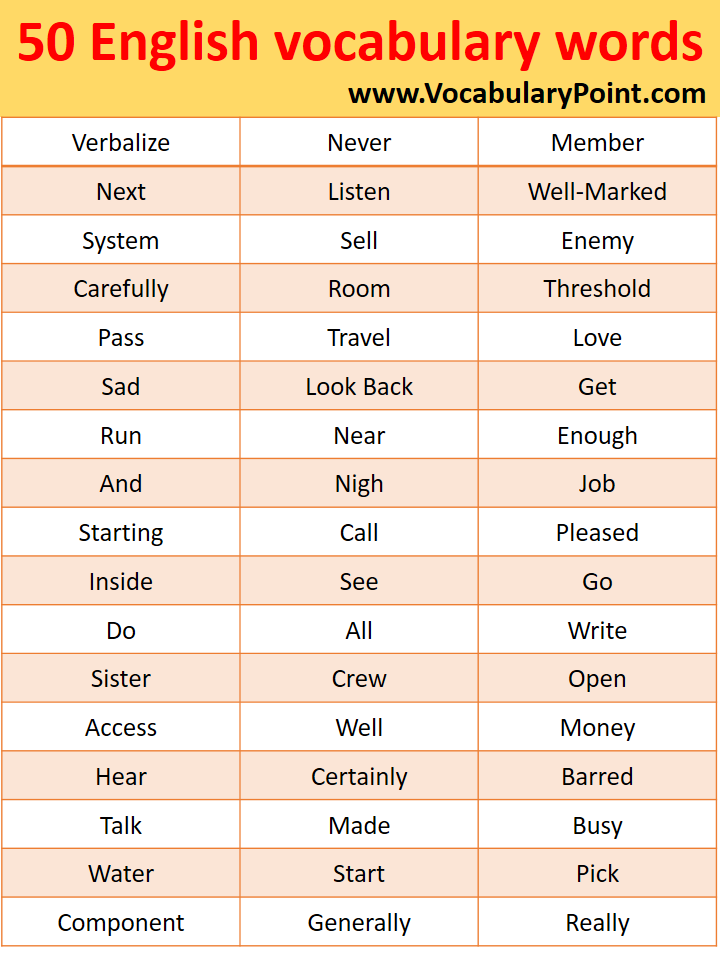 You can Download 50 ENGLISH WORDS