In the realm of badass cat names, creativity and boldness take center stage. These names can be inspired by mythological gods, legendary warriors, fierce animals, or even elements of nature that exude power and strength. Choosing a badass name for your cat can be a fun and imaginative process, giving your pet an identity that stands out. It's not just about the name itself, but the story and character it implies.
A badass name can reflect the cat's sleek agility, indomitable will, or the mysterious aura they carry around like a cloak. So, let's dive into an array of names that are as unique and spirited as our feline companions themselves.
Top Badass Cat Names
When it comes to naming our feline friends, the desire to choose a name that embodies their character and personality is paramount.
Cats, known for their mysterious, independent, and sometimes feisty nature, often inspire names that reflect their badass qualities.
Here is a List of Badass Cat Names:
Shadow
Blaze
Storm
Phoenix
Thor
Maverick
Raven
Fang
Cobra
Viper
Rocket
Knight
Ninja
Titan
Spartan
Diesel
Raptor
Tank
Bandit
Fury
Onyx
Goliath
Hunter
Rebel
Blade
Ghost
Hawk
Jett
Bolt
Ace
Crusher
Lynx
Sniper
Savage
Rex
Venom
Leo
Scorpio
Grit
Bruiser
Avalanche
Chaos
Draco
Flint
Griffon
Hercules
Iron
Jagger
Khaos
Legend
Magnum
Nitro
Orion
Pirate
Quake
Rascal
Sable
Talon
Ursa
Viking
Whiskey
Xerxes
Yeti
Zephyr
Atlas
Barracuda
Clash
Drift
Echo
Falcon
Glacier
Hazard
Inferno
Jaguar
Kraken
Lancer
Mongoose
Nomad
Outlaw
Panther
Quantum
Raider
Slash
Tornado
Vandal
Warlock
Xeno
Yukon
Zane
Apollo
Boulder
Creed
Dagger
Everest
Flash
Gargoyle
Hammer
Iceman
Justice
Kodiak
Lobo
Marauder
Neptune
Osiris
Phantom
Quasar
Rampage
Striker
Thrasher
Vulcan
Wizard
Xenon
Yoda
Zorro
Alpha
Bruin
Commando
Duke
Electra
Frost
Grizzly
Hydra
Impact
Jinx
Krypton
Mystic
Nitrous
Odyssey
Prowler
Quiver
Riptide
Stryker
Thunder
Vortex
Wildfire
Xenith
Yakuza
Zenith
Ash
Bullet
Copper
Dragoon
Ember
Fangs
Gritty
Havoc
Infernal
Javelin
Kestrel
Nova
Obsidian
Pulse
Rampant
Surge
Tempest
Ulysses
Wrath
Xanadu
Zenon
Arrow
Bastion
Cyclone
Dynamo
Enigma
Forge
Granite
Icarus
Jolt
Luminous
Maelstrom
Nighthawk
Related Post:
Gray Cat Names
Persian Cat Names
Japanese Cat Names
Unique Cat Names
Black Cat Names
Badass Male Cat Names
Shadow: Mysterious
Blaze: Fiery
Thor: Thunderous
Maverick: Independent
Raven: Dark
Fang: Sharp
Cobra: Deadly
Viper: Venomous
Rocket: Speedy
Knight: Noble
Ninja: Stealthy
Titan: Giant
Spartan: Warrior
Diesel: Powerful
Raptor: Predator
Tank: Strong
Bandit: Rogue
Fury: Rage
Onyx: Black
Goliath: Massive
Hunter: Seeker
Rebel: Defiant
Blade: Sharp
Ghost: Ephemeral
Hawk: Watchful
Jett: Swift
Bolt: Quick
Ace: Expert
Crusher: Dominant
Lynx: Wild
Badass Female Cat Names
Phoenix: Rebirth
Storm: Tempestuous
Athena: Wise
Vixen: Cunning
Electra: Spark
Sable: Black
Ravena: Dark
Midnight: Mysterious
Nebula: Cosmic
Valkyrie: Warrior
Sphinx: Enigmatic
Jade: Tough
Zelda: Battle
Nova: Star
Mystique: Enigma
Tempest: Turbulent
Kali: Fierce
Siren: Alluring
Freya: Noble
Ivy: Entangling
Xena: Warrior
Echo: Resounding
Willow: Graceful
Aurora: Dawn
Sahara: Desert
Cleo: Pride
Sapphire: Blue
Harley: Rebel
Luna: Moon
Scarlett: Red
Badass Names For Black Cats
These names are perfect for black cats, with each carrying a distinct meaning that reflects their unique, often mysterious and elegant nature.
Obsidian: Dark
Eclipse: Shadowed
Midnight: Nocturnal
Panther: Stealthy
Void: Emptiness
Mystery: Unknown
Nocturne: Nightly
Salem: Witchy
Charcoal: Smoky
Inky: Ink-like
Nyx: Night
Rorschach: Blot
Shade: Darkened
Umbra: Shadow
Vanta: Blackest
Ravenclaw: Clever
Spooky: Eerie
Onyxia: Gemstone
Dusk: Twilight
Elvira: Mysterious
Noir: French for black
Omen: Foreboding
Crow: Dark bird
Goth: Dark culture
Hades: Underworld
Pluto: Roman god of underworld
Soot: Burnt
Whisper: Soft
Zorro: Spanish for fox
Poe: Literary
Vortex: Swirl
Banshee: Wail
Grimm: Fairy tale
Hex: Spell
Morbid: Gloomy
Nightshade: Toxic
Orion: Hunter
Phantom: Ghost
Silhouette: Outline
Snicket: Narrow path
Twilight: Dusk
Vesper: Evening
Wraith: Spirit
Zenith: Peak
Abyss: Deep
Eerie: Spooky
Grave: Serious
Morticia: Death
Nebulous: Vague
Shadowfax: Mythical
Badass Black Cat Names Female
Bellatrix: Warrior
Enigma: Puzzle
Hecate: Magic
Ivory: Contrasting
Jet: Dark
Kismet: Fate
Labyrinth: Maze
Medusa: Gorgon
Nemesis: Rival
Ophelia: Helper
Pandora: All-gifted
Rune: Secret
Selene: Moon
Talisman: Charm
Umbria: Shadowed
Voodoo: Mystic
Wicca: Witchcraft
Xanthe: Golden
Yin: Dark
Zephyra: West wind
Badass Black Male Cat Names
Acheron: Sorrow
Balthazar: Protected
Cirrus: Cloud
Diablo: Devil
Erebos: Darkness
Fenrir: Monster
Grendel: Legend
Hyperion: Light
Icarus: Flight
Jupiter: King
Kraken: Sea monster
Lucifer: Light-bringer
Morpheus: Dream
Nero: Strong
Odin: Frenzy
Pluto: Rich
Quixote: Dreamer
Ragnarok: Fate
Seth: Chaos
Thanatos: Death
Badass Orange Cat Names
Orange cats are often associated with their fiery, vibrant fur and equally spirited personalities. From the deep, burnt oranges to the bright, sun-kissed hues, these cats stand out with their striking appearance. Their names should capture this essence, reflecting their lively and often playful nature. Here's a list of badass names perfect for your orange feline companion:
Saffron: Exotic
Blaze: Fiery
Tiger: Wild
Marigold: Flower
Ember: Glowing
Copper: Metallic
Flare: Bright
Pumpkin: Seasonal
Solar: Sun-like
Rusty: Weathered
Chili: Spicy
Flame: Hot
Ginger: Zesty
Tangelo: Fruit
Cinnamon: Spiced
Sunset: Evening
Goldie: Precious
Peaches: Sweet
Sherbert: Cool
Fuego: Fire
Tawny: Golden
Marmalade: Jammy
Henna: Dyed
Cayenne: Pepper
Honey: Nectar
Simba: Lion
Biscuit: Treat
Amber: Gemstone
Carrot: Vegetable
Apricot: Fruity
Badass Anime Cat Names
Anime has given us some of the most memorable and unique characters, and cats in anime are no exception. These feline characters often display traits like intelligence, agility, or even mystical powers. Naming your cat after an anime character can give them a name with a story and personality. Here are some badass anime cat names:
Sakura: Cherry blossom
Naruto: Spirited
Yoruichi: Night
Goku: Strong
Totoro: Forest spirit
Meowth: Talkative
Haku: White
Luffy: Adventurous
Kirito: Sword
Chibi: Small
Asuna: Swift
Kyo: Apricot
Nezuko: Snowball
Levi: Attached
Sasuke: Help
Mikasa: Fortress
Jiji: Witch's companion
Tanjiro: Charitable
Inuyasha: Dog demon
Zenitsu: Good virtue
Nami: Wave
Shinji: True
Usagi: Rabbit
Akamaru: Red
Kakashi: Scarecrow
Rin: Cold
Ichigo: Strawberry
Chihiro: Thousand
Momo: Peach
Kenshin: Heart
Badass Bengal Cat Names
Bengal cats, known for their exotic and wild appearance reminiscent of leopards, deserve names that highlight their majestic and adventurous nature. These cats are active, intelligent, and often quite assertive. Here are 30 badass Bengal cat names:
Jungle: Wild
Leopard: Spotted
Savannah: Grassland
Hunter: Pursuer
Zulu: Tribe
Khan: Ruler
Safari: Expedition
Prowler: Stalker
Jaguar: Panther
Nala: Successful
Atlas: Map
Raja: King
Zara: Princess
Mowgli: Jungle book
Kenya: Country
Cheetah: Fast
Sultan: Leader
Asha: Hope
Dakota: Friend
Echo: Sound
Falcon: Bird
Gazelle: Graceful
Himalaya: Mountain
Indra: Rain
Juno: Queen
Koda: Friend
Loki: Trickster
Maya: Illusion
Nero: Strong
Oasis: Refuge
Badass Tabby Cat Names
Tabby cats, with their distinctive stripes and patterns, have a charm that's both rustic and sophisticated. Their names should reflect their earthy yet elegant nature, often drawing inspiration from their striking markings and cool demeanor. Here are 30 badass names for tabby cats:
Stripe: Linear
Mocha: Chocolate
Whisker: Hair
Bristle: Tough
Dapple: Spots
Espresso: Coffee
Freckle: Speckled
Graffiti: Art
Hickory: Wood
Inkspot: Marked
Java: Bean
Kaleido: Colorful
Latte: Creamy
Mosaic: Pattern
Nutmeg: Spice
Oreo: Biscuit
Pebble: Small stone
Quartz: Crystal
Ripple: Wave
Snickers: Candy
Tawny: Brownish
Umber: Earth
Vega: Star
Whiskey: Spirit
Xanadu: Place
Yukon: River
Zigzag: Pattern
Arrow: Direction
Bandit: Outlaw
Chai: Tea
Badass Tuxedo Cat Names
Tuxedo cats, with their distinctive black and white markings, exude a formal, dignified, yet playful aura. Their names should mirror their classy and sometimes mischievous personalities. Here's a list of 30 badass names for tuxedo cats:
Monaco: Glamorous
Domino: Spotted
Checkers: Game
Spade: Card
Chess: Strategy
Panda: Bear
Magpie: Bird
Mortimer: Formal
Penguin: Bird
Soprano: Singer
Tux: Suit
Vesper: Evening
Waldo: Hidden
YinYang: Balance
Zorro: Masked
Bishop: Chess
Cosmo: Universe
Dapper: Neat
Elegant: Graceful
Frost: Cold
Gatsby: Party
Harlequin: Jester
Ibis: Bird
Jeeves: Butler
Knight: Chess
Lancelot: Knight
Marble: Stone
Noble: Regal
Othello: Drama
Pinstripe: Line
Feisty Cat Names
Feisty cats are known for their spirited and lively personalities. They bring energy and a playful defiance to any home. These cats often exhibit a charming combination of independence and affection. A feisty cat deserves a name that captures their spirited nature, reflecting their bold and lively character. Here are 50 names that embody the vivacious spirit of a feisty cat:
Spark: Energetic
Rascal: Mischievous
Dynamo: Energetic
Fidget: Restless
Zippy: Fast
Havoc: Chaos
Whirlwind: Tornado
Spitfire: Fiery
Sizzle: Heat
Scamp: Playful
Mischief: Naughty
Fury: Anger
Turbo: Speedy
Bolt: Lightning
Jester: Joker
Quicksilver: Fast
Rebel: Nonconformist
Vandal: Destroyer
Zest: Excitement
Frenzy: Wild
Gusto: Enthusiasm
Imp: Devilish
Jinx: Curse
Kaboom: Explosion
Lively: Energetic
Moxie: Courage
Nimble: Agile
Outlaw: Rebel
Pounce: Jump
Riot: Uproar
Sassy: Bold
Tizzy: Excited
Uproar: Loud
Vixen: Fox
Wisp: Light
Xplode: Burst
Yowl: Howl
Zap: Electric
Aster: Star
Banshee: Wailing
Chaos: Disorder
Dash: Run
Electra: Shining
Flicker: Light
Grizzle: Grey
Hustle: Move
Ivy: Vine
Jolt: Shock
Karma: Fate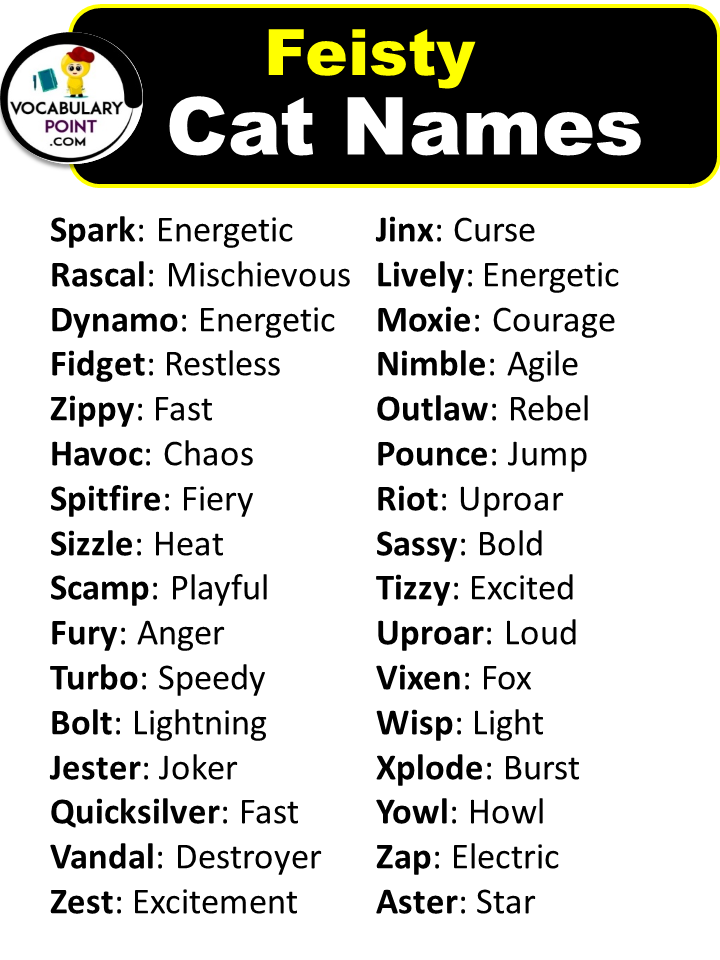 Stoner Cat Names
Stoner cat names are often whimsical, relaxed, and sometimes humorous. They are perfect for cats with a laid-back attitude, who seem to take life at their own pace. These names often draw inspiration from the chill and mellow vibes associated with the stoner culture. Here are 50 stoner cat names:
Bud: Friend
Dank: Potent
Hazy: Unclear
Kush: Strain
Mellow: Relaxed
Nugget: Small
Puff: Smoke
Roach: Remnant
Toke: Inhale
Blaze: Fire
Cheech: Comical
Chong: Relaxed
Doobie: Joint
Ganja: Herb
Hash: Concentrate
Indica: Strain
Joint: Connection
Leaf: Nature
Mary Jane: Nickname
Sativa: Strain
Spliff: Mix
Stash: Hide
Tetra: Four
Weed: Herb
Zigzag: Pattern
Bong: Pipe
Chill: Cool
Dope: Cool
Herb: Plant
Jazz: Music
Kief: Crystals
Laze: Relax
Oz: Measure
Reefer: Joint
Skunk: Smelly
Stoned: High
Trippy: Weird
Woah: Surprise
Yoda: Wise
Zen: Peace
Alto: High
Boomer: Large
Calm: Peaceful
Dream: Vision
Euphoria: Joy
Fog: Mist
Groove: Rhythm
High: Elevated
Irie: Cool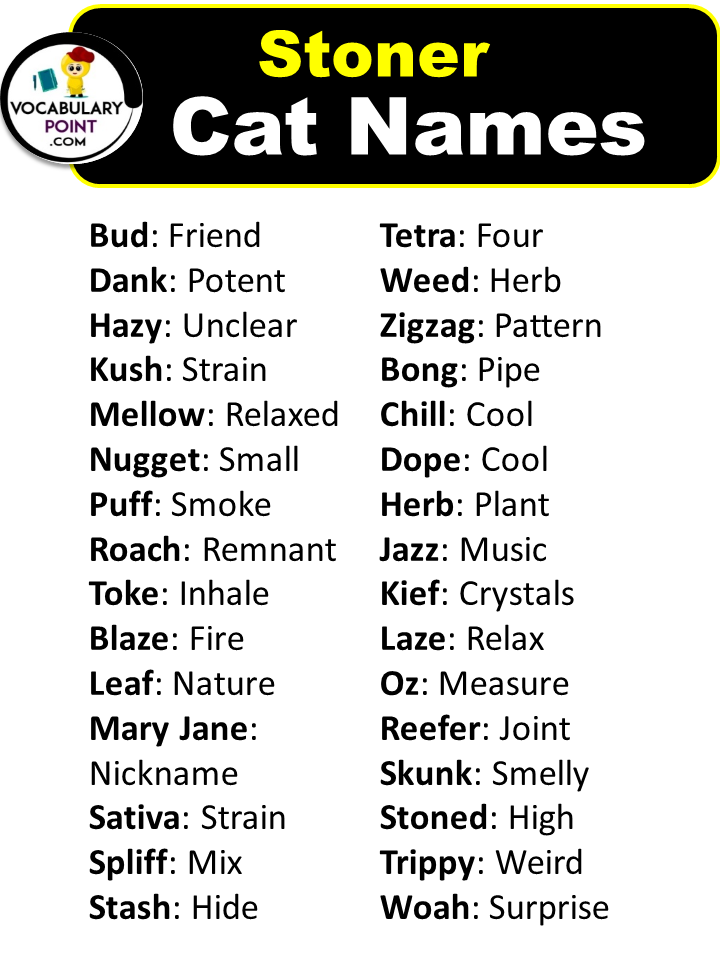 Fierce Cat Names
Fierce cats exude strength, bravery, and a commanding presence. These cats are often independent, bold, and unafraid to make their presence known. A fierce name should reflect their powerful and intimidating demeanor. Here are 50 names that are perfect for your fierce feline:
Ares: War
Brutus: Heavy
Crusher: Strong
Draco: Dragon
Electro: Electric
Fang: Sharp
Goliath: Giant
Hawk: Predator
Ivan: Strong
Jaguar: Wild
Khan: Leader
Leo: Lion
Maximus: Greatest
Nero: Powerful
Orion: Hunter
Python: Snake
Quasar: Bright
Rex: King
Saber: Sword
Talon: Claw
Ursa: Bear
Viper: Snake
Wrath: Anger
Xerxes: Ruler
Yeti: Beast
Zulu: Tribe
Ajax: Hero
Blitz: Attack
Cobra: Venom
Duke: Leader
Elvis: Famed
Flint: Hard
Griffon: Mythical
Hunter: Pursuer
Inferno: Fire
Jax: Strong
Kratos: Power
Lynx: Wildcat
Maverick: Independent
Ninja: Stealth
Ogre: Monster
Pharaoh: Ruler
Raider: Invader
Scorpio: Zodiac
Thor: Thunder
Ulysses: Odyssey
Valkyrie: Warrior
Warrior: Fighter
Xena: Warrior
Yukon: Wild
Gangster Cat Names
Gangster cat names draw inspiration from the tough, street-smart, and sometimes notorious characters of the gangster world. These names are perfect for cats with a bit of an edge, who walk around with an air of confidence and authority. Here are 50 gangster-inspired names for your feline:
Al Capone: Notorious
Bonnie: Outlaw
Clyde: Bandit
Dillinger: Robber
Escobar: Baron
Frankie: Free
Gotti: Boss
Harlem: District
Ice: Cool
Jesse James: Outlaw
Kitty Corleone: Godfather
Luciano: Light
Mafia: Syndicate
Nucky: Ruler
Omar: Speaker
Pablo: Small
Queenie: Female ruler
Rico: Rich
Scarface: Marked
Tony: Priceless
Untouchable: Invincible
Vinnie: Conqueror
Whiskey: Spirit
Xena: Warrior
Yakuza: Gang
Zeus: God
Apollo: God
Brando: Sword
Capone: Mobster
Don: Leader
El Chapo: Shorty
Fredo: Wise
Gambino: Winner
Hooch: Liquor
Iceman: Killer
Joker: Player
Knuckles: Fighter
Lucky: Fortunate
Mugsy: Gangster
Nino: Little
Ozzy: Divine
Pepper: Spice
Rogue: Rebel
Sly: Cunning
Trigger: Gun
Vito: Life
Wise: Knowing
Xander: Protector
Yardie: Gangster
Villain Cat Names
Villain cat names are inspired by the dark, menacing, and often charismatic characters from various tales and stories. These names are perfect for cats with a mysterious, cunning, or even slightly malevolent side to their personalities. Here are 50 villain-inspired names:
Voldemort: Curse
Sauron: Dark Lord
Darth: Dark
Loki: Trickster
Morgana: Enchantress
Hannibal: Warrior
Maleficent: Harm
Jafar: Stream
Cruella: Cruel
Bane: Destruction
Thanos: Immortal
Ursula: Little bear
Kylo: Sky
Scar: Mark
Joker: Trickster
Dracula: Dragon
Iago: Supplanter
Bellatrix: Warlike
Hades: Unseen
Mystique: Mystery
Rasputin: Debauched
Gollum: Gollum
Lex: Law
Moriarty: Sea warrior
Azula: Blue
Sephiroth: Winged
Cersei: Enchantress