English sentences used in daily life ! Some English sentences are listed here. which are used in daily life conversation. It is a great lesson for the English spoken beginners.It can help you in your daily life conversation with formal and informal persons.
After reading all of these sentences and memorizing them you can use them in your daily conversation to empower your daily English speaking with these sentences.
 These Sentences are some of the most common English Sentences of daily use.
These everyday spoken English sentences are most common in native English speakers and you should also use them in your daily conversation.
Must learn all of these sentences and download these sentences in the form of a PDF at the end of this lesson.
English speaking and daily conversation sentences will help you in speaking with your friends and relatives with confidence.
English sentences used in daily life
As you please
By God's Grace!
Come what may!
Do come
Doesn't matter
Get Off
Glad/Nice to meet you
Go down
Go up
Good heavens!
How dare you!
I will try my level best
How disgraceful!
How disgusting!
Hurry up!
I beg your pardon
Is it?
It's all yours
Let it be
Long time no see
Not the least!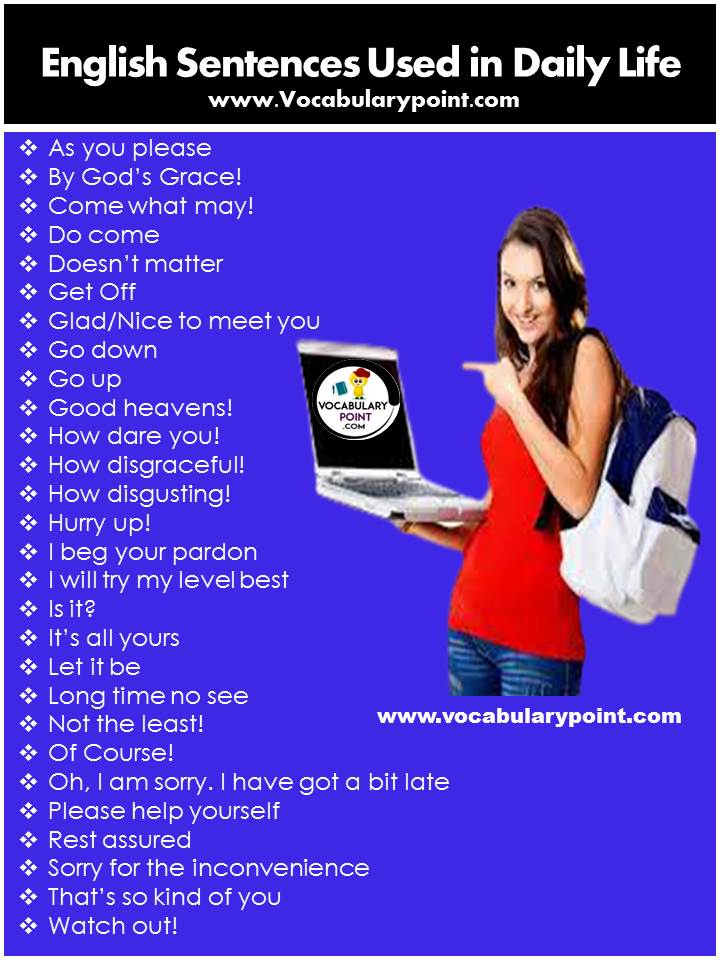 Best English sentences used in daily life
Oh, I am sorry. I have got a bit late
Please help yourself
Rest assured
Sorry for the inconvenience
That's so kind of you
Watch out!
Well done, dear
What a bother!
I don't eat non veg on Tuesday.
I don't want.
What nonsense!
Would you please speak slowly?
A set of books is on the table.
Wonderful!
Are you married all?
I don't need your advice
Are you there?
Come what may I will not talk to him.
Didn't you go to the cinema yesterday?
Do come.
I don't know telling a lie.
I don't need you.
Do you have some money?
Don't do this.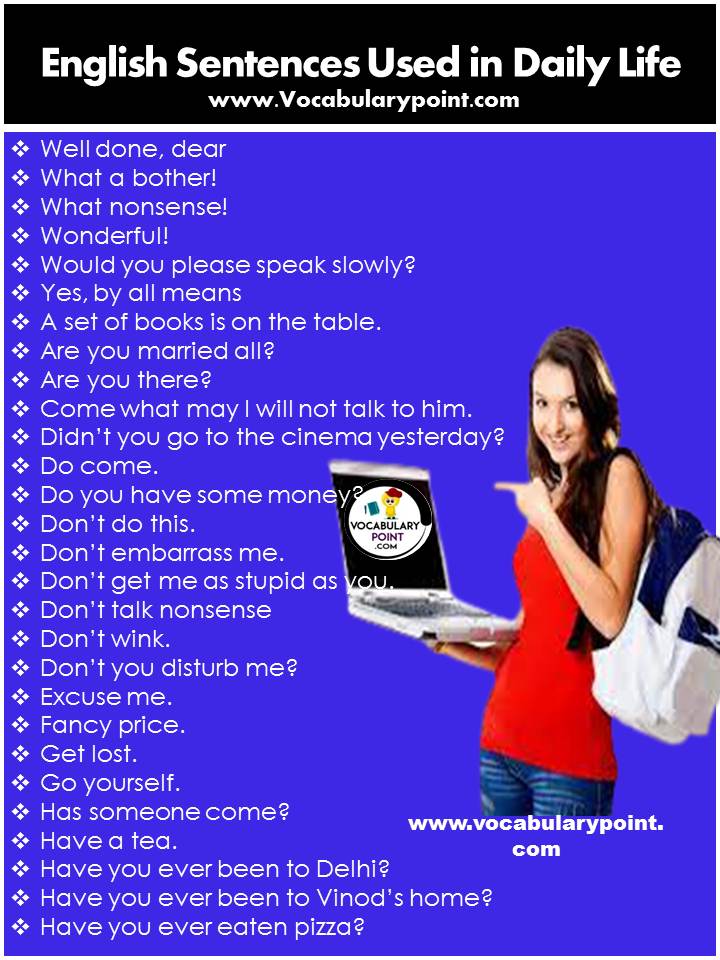 Don't embarrass me.
He has been to the market.
Don't talk nonsense
He always keeps telling a lie.
Don't wink.
Don't you disturb me?
Excuse me.
Have you ever been to Delhi?
Have you ever been to Vinod's home?
Fancy price.
Get lost.
Go yourself.
Has someone come?
Have a tea.
Have you ever…
Having said that….
Don't get me as stupid as you.
Have you ever eaten pizza?
I am having dinner.
He feels like.
He has been to school.
Most important sentences in English
He must be tired.
How much time it will take?
I am doing my work.
I am full.
He will be in the room.
I am going to the office.
I am having lunch.
He saw a running thief.
It does not mean…
Look ahead.
Make the bed.
I have no money.
I have to go.
He went to school.
I am having my haircut.
He has gone to market
He is good at English.
I have had breakfast.
He is so called a teacher.
He is very stingy
I got it.
I have been out since morning.
Daily use English sentences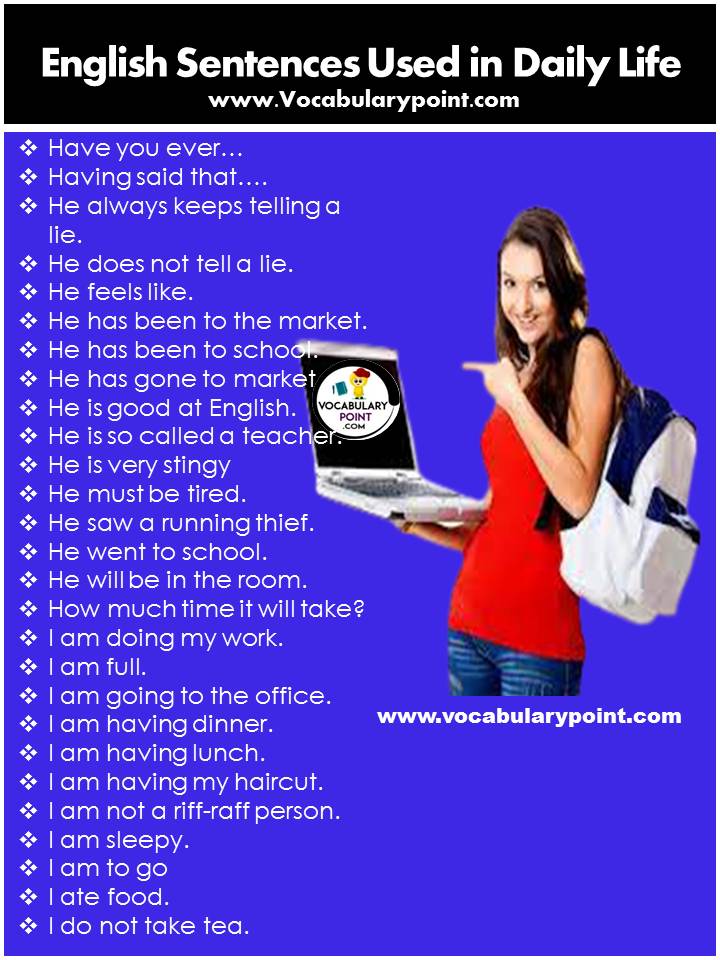 Most used sentences in English
I have had lunch.
I want its fancy price.
It sounds great.
I want that one suit. Or I want that one.
I will give you a fancy price for it.
In course of time….
Must learn about List of Adjectives
It's all you do.
Just taste it.
Key feels like eating funnel cake.
I must go.
Many a man was killed.
My study is going on well.
I know everything.
Nothing special.
Rashmi feels like eating rissoles.
I have two rupees less.
I know nothing.
Rest assured.
Simple sentences in English for daily use
What is done is done.
What is going on?
There is less salt in the curry.
There is no sense in it.
What a shame!
This is selling at throw away price.
What does it matter?
There is nothing but water.
Two and two make four.
Use your brain sometimes.
Use your brains/use your mind.
She has no money.
Tea will do?
That boy David reads in your class.
What a bother!
The examination is about to start.
I feel like eating luddu.
I feel like.
The train is about to come.
Wait a bit.
Walk carefully.
That's a good idea.
What happened.
That's enough.
What is the time by your watch?
English sentences
What to do?
Which one of these umbrellas is yours?
I am not a riff-riff person.
You have no manner.
I am sleepy.
Where does this road lead to?
I ate food.
You have a brush.
I do not take tea.
Which time?
Who is it?
Why are you staring
Will you do me a favor?
You are a deceiver and cheater.
I am to go
You feel like.
You have a brain.
What is your intention?
You have a brush.
Where to go?
You should see a doctor.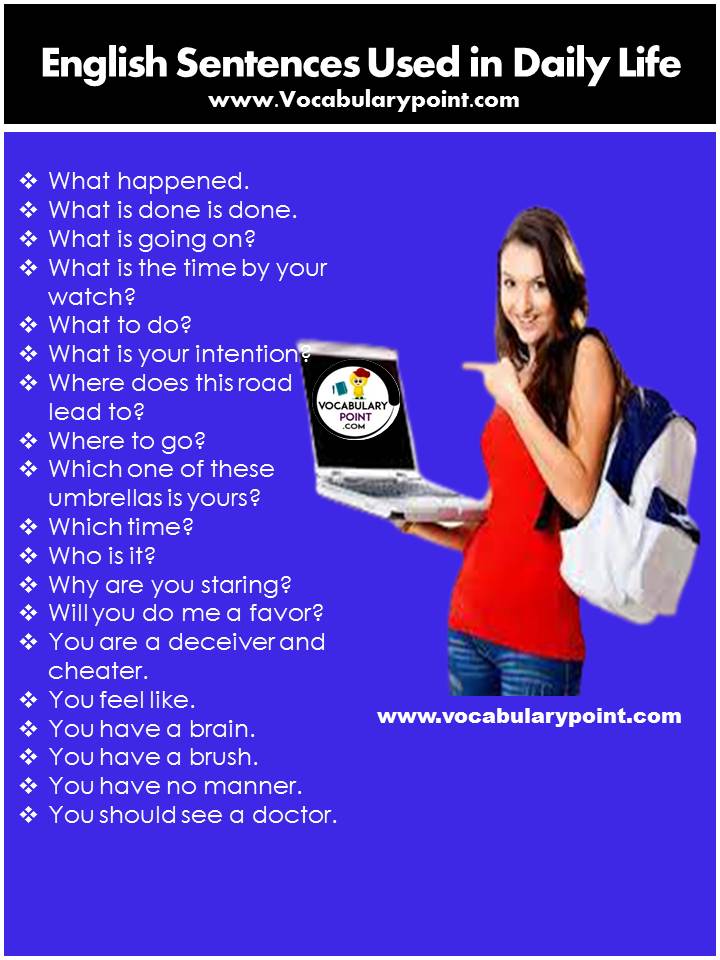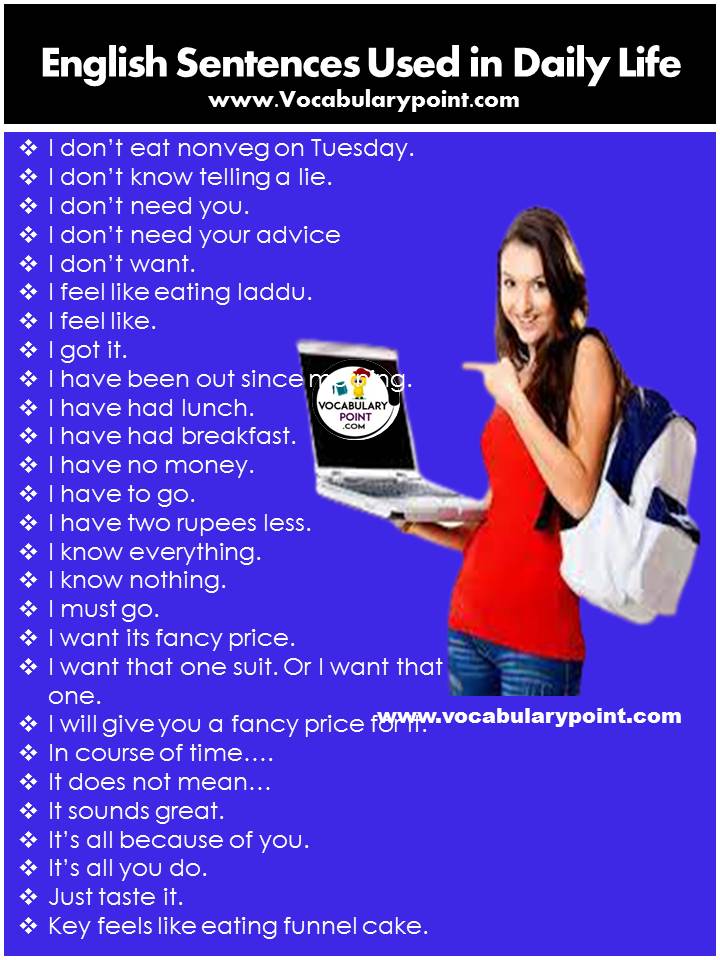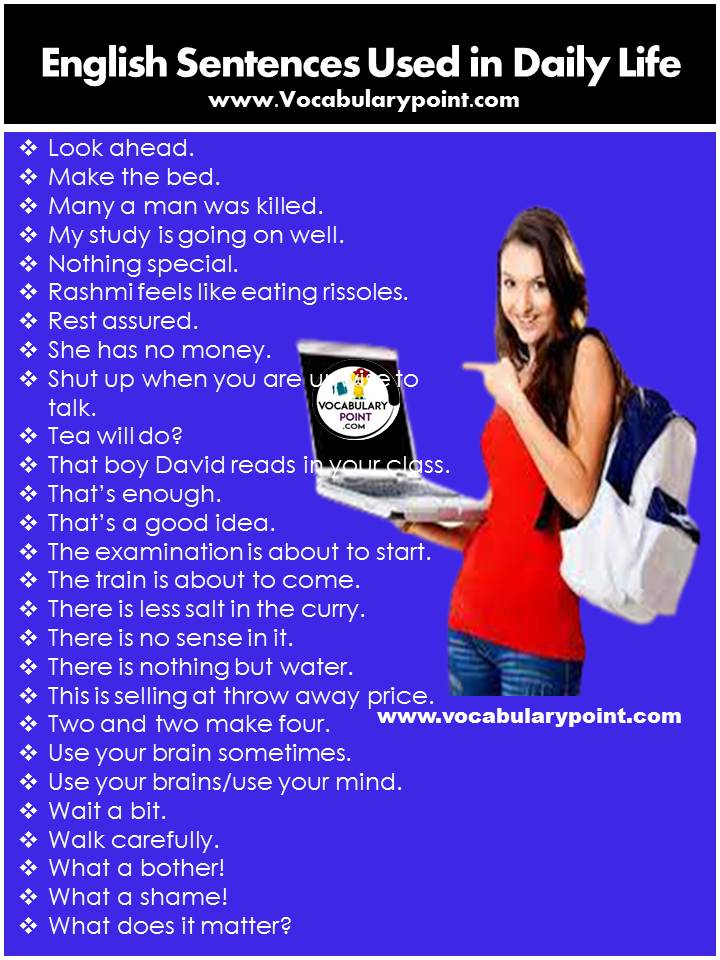 You can Download  English Sentences That are used in Daily conversation