English Vocabulary Long Words.   When it comes to English vocabulary, longer words aren't always better. In fact, sometimes the longest words can be the most difficult to remember. However, there are some benefits to learning long words. Here are a few reasons why you should make an effort to learn those long, difficult words.
Longer words often have more complex meanings.
Learning long words can help you sound more educated and intelligent.
Being able to use long words can make you seem more professional in certain settings.
Knowing long words can help you impress other people (like potential employers or teachers).
Longer words tend to be more specific, which can be helpful in many situations.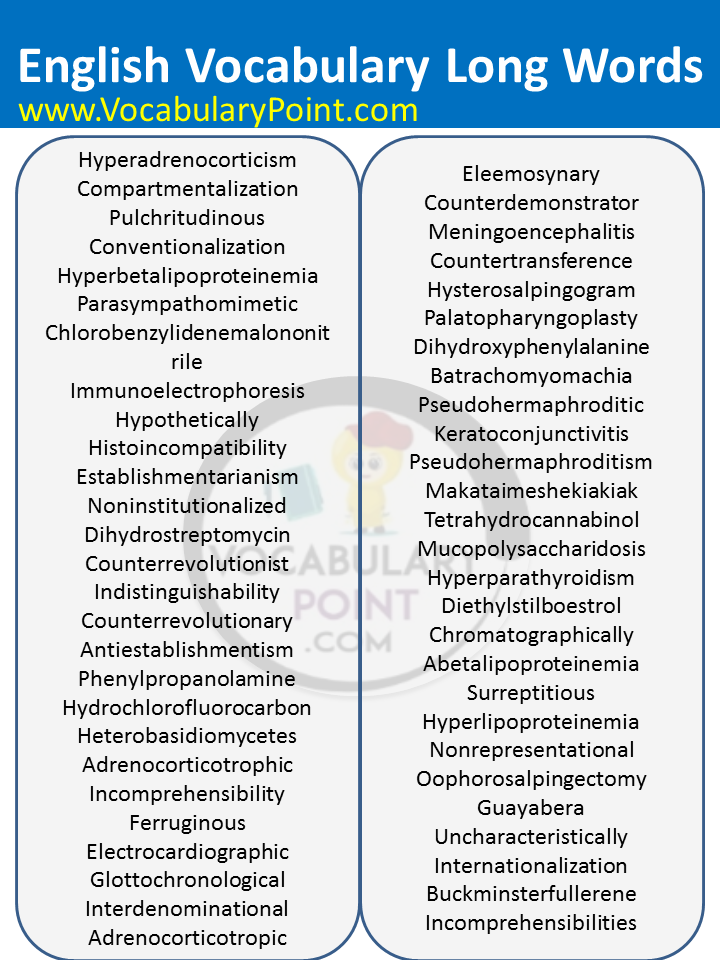 Longest words in English
Iodochlorhydroxyquin
Adrenocorticotrophin
Semiautobiographical
Intellectualization
Individualistically
Hagiographer
Alkylbenzenesulfonate
Encephalomeningitis
Inconsequential
Hydroxytetracycline
Chromoblastomycosis
Polytetrafluoroethylene
Nephroangiosclerosis
Cartilaginification
Electroencephalograph
Bacteriochlorophyll
Interchangeableness
Contemporaneousness
Magnetohydrodynamics
Diethylstilbesterol
Immunohistochemistry
Hydrochlorothiazide
Connoisseur
Incontrovertibleness
Dichlorodiphenyltrichloroethane
Pentamethylenetetrazol
Auriculoventricular
Medroxyprogesterone
Hypogammaglobulinemia
Electroencephalographic
Counterintelligence
Electrocardiography
Hypolipoproteinemia
Incontrovertibility
Adrenocorticotropin
Lipochondrodystrophy
Mignonette
Electroencephalogram
Psychopharmacological
Cytophotometrically
Ballistocardiograph
Hypoadrenocorticism
Laryngotracheobronchitis
Hypobetalipoproteinemia
Aniseikonia
Otorhinolaryngologist
Rajpramukh
Methylenedioxymethamphetamine
Paleoanthropological
Echoencephalography
Counterdemonstration
Erubescent
Ginglymus
Schizosaccharomycetaceae
Hyperadrenocorticism
Compartmentalization
Pulchritudinous
Conventionalization
Hyperbetalipoproteinemia
Parasympathomimetic
Chlorobenzylidenemalononitrile
Immunoelectrophoresis
Hypothetically
Histoincompatibility
Establishmentarianism
Noninstitutionalized
Dihydrostreptomycin
Counterrevolutionist
Indistinguishability
Counterrevolutionary
Antiestablishmentism
Phenylpropanolamine
Hydrochlorofluorocarbon
Heterobasidiomycetes
Adrenocorticotrophic
Incomprehensibility
Ferruginous
Electrocardiographic
Glottochronological
Interdenominational
Adrenocorticotropic
Eleemosynary
Counterdemonstrator
Meningoencephalitis
Countertransference
Hysterosalpingogram
Palatopharyngoplasty
Dihydroxyphenylalanine
Batrachomyomachia
Pseudohermaphroditic
Keratoconjunctivitis
Pseudohermaphroditism
Makataimeshekiakiak
Tetrahydrocannabinol
Mucopolysaccharidosis
Hyperparathyroidism
Diethylstilboestrol
Chromatographically
Abetalipoproteinemia
Surreptitious
Hyperlipoproteinemia
Nonrepresentational
Oophorosalpingectomy
Guayabera
Uncharacteristically
Internationalization
Buckminsterfullerene
Incomprehensibilities
Hypercholesterolemia
Uvulopalatopharyngoplasty