Fun ways to say happy birthday! Here is a bundle of words to wish their relatives friends and other people on their special day with different funny manners to say Happy birthday. creative ways to wish happy birthday on WhatsApp. It is a very useful and interesting way to wish happy birthday to their friends.
Fun ways to say happy birthday
Hauʻoli lā hānau – Hawaiian.
Bon Anniversaire – French.
A million magic wishes to you!
Time for your birthday punches!"
Congratulations on the new wrinkle on your face.
Happy independence day from the womb.
Blow the candle and make a wish.
May you have a fantastic day and many more to come!
I know you're old but I still got you a toy, so enjoy!
Cheers, you just went from b*tch to old b*tch!
To your good health.
I'm happy that you were born on this day.
Have a smashing birthday.
"Happy birthday, but I'm still the favorite!"
Have a great birthday!
Sending laughter and joy on your way.
I wish you a happier birthday than anyone else has wished you.
It's time to celebrate!
No matter how old you get, you seem to be forever young.
Let's party!
Buon Compleanno – Italian.
"Birthday bear hug!"
This is the perfect day to thank me for remembering your birthday.
Know that I will forever keep you in my thoughts and prayers.
Yours is one of the few birthdays I approve of.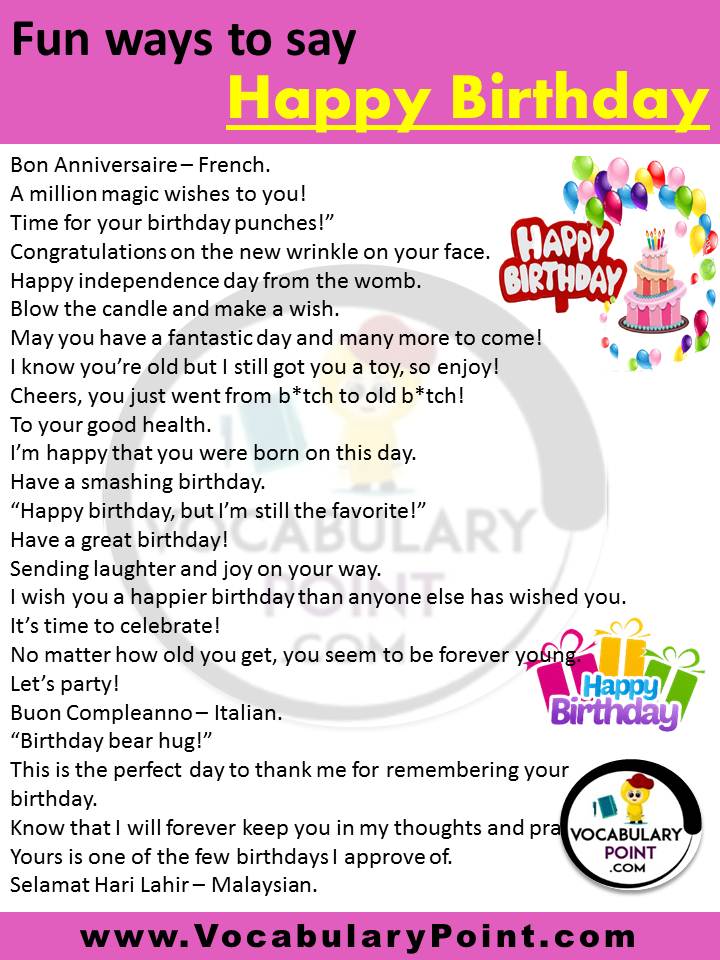 other ways to say happy birthday in english PDF
Selamat Hari Lahir – Malaysian.
Happy Beerday!
The older you get, the finer you become—just like wine.
..didn't we celebrate this just a year ago?
Here's a bouquet of happiness for you.
I see you've got a lot of experience in life.
You're older now, but you never seem to get old.
IN DIFFERENT ANGUAGES
It's another year, and it's still the same old you.
Charoúmena Genéthlia – Greek.
Please enjoy your nth trip around the sun!
Birthday hugs and kisses incoming!
All the best!
Happy level-up day!
Have a fabulous birthday!
Okay, happy birthday. Now get back to work!
You should feel like a newborn baby.
Congratulations, you're another year closer to death.
A remarkable year to come!
La Multi Ani – Romanian.
To your happiness.
Feliz Aniversario – Portugese.
Merry Christmas! Don't ask.
It's your day. Take it as a chance to do something stupid.
May each candle you blow today grant you a wish.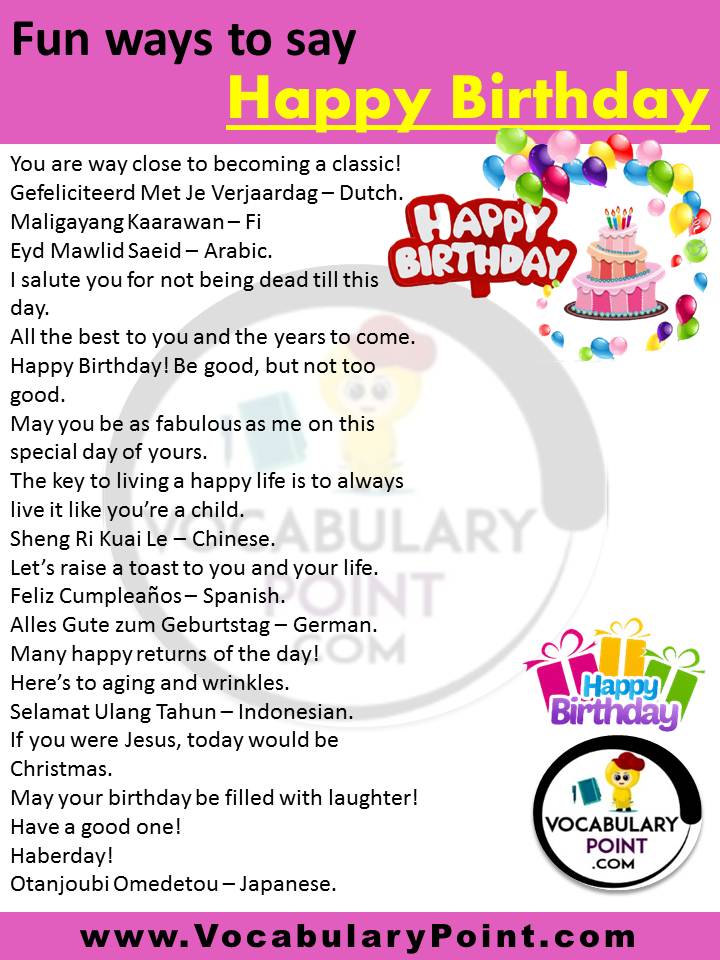 How to say happy birthday to a friend
You are way close to becoming a classic!
Gefeliciteerd Met Je Verjaardag – Dutch.
Maligayang Kaarawan – Fi
Eyd Mawlid Saeid – Arabic.
I salute you for not being dead till this day.
All the best to you and the years to come.
Happy Birthday! Be good, but not too good.
May you be as fabulous as me on this special day of yours.
The key to living a happy life is to always live it like you're a child.
Sheng Ri Kuai Le – Chinese.
Let's raise a toast to you and your life.
Feliz Cumpleaños – Spanish.
Alles Gute zum Geburtstag – German.
Many happy returns of the day!
Here's to aging and wrinkles.
Selamat Ulang Tahun – Indonesian.
If you were Jesus, today would be Christmas.
sweet ways to say happy birthday
May your birthday be filled with laughter!
Have a good one!
Haberday!
Otanjoubi Omedetou – Japanese.
May everything you wish for be granted to you.
Happy day of birth to you!
Make all of your years count!
Have a great one!
Wishing you a day that is overflowing with beer and happiness.
It's time to celebrate!
The best things in life are yet to come for you.
May your day be as sweet as your birthday cake.
Well, at least you're not as old as you will be next year.
I'm just here for the cake.
"Happy day you came out of your mom's vagina!"
"Ermahgerd! Herppy Berfday!"
funny ways to say Happy Birthday
Let's celebrate this epic day with an extravagant celebration.
You yourself are a gift to Earth.
"Happy birthday! Your gift is me admitting you were always right!"
May your day be filled with sweet things and cake.
Happy oldieth birthday.
Savor this happy day for you will be dead soon.
Don't count your candles. Just enjoy the glow.
May this day be as special as you are.
Have a blast!
" "Happy day of birth!"
Many more days, months, and years to come for you.
Veels Geluk Met Jou Verjaarsdag – Afrikaans.
Don't think about anything else today. Yours meals are on me!
Have a spectacular time.
Happy Birthday!
Hooray, you just survived another year.
You're adopted.
Saeng-il Chugha – Korean.
Gratulerer Med Dagen – Norwegian.
All the best on your special day!
Furaha ya Kuzaliwa – Swahili.
Youth may be fleeting, but you can stay immature forever.
HBD!
Enjoy the dash between the two dates on your tombstone.
Oh, come on! Quit being younger than me!
"Dogpile on the birthday boy/girl!"
"Happy birthday! I'm your karma!"
Happy womb eviction day!
"Happy belated birthday, sorry I was (insert age here) years late!"
Another step to the grave.
Have an awesome day.
How's the cruel world treating you? I hope you're all good.
"Happy birthday! The only thing getting old is that phrase!"
Happy oldies birthday.
Many more happy returns!
Wishing you many more candles to blow.
"Happy fetus eviction day!"
Smile while you still have teeth.
I see you're still alive. Congratulations!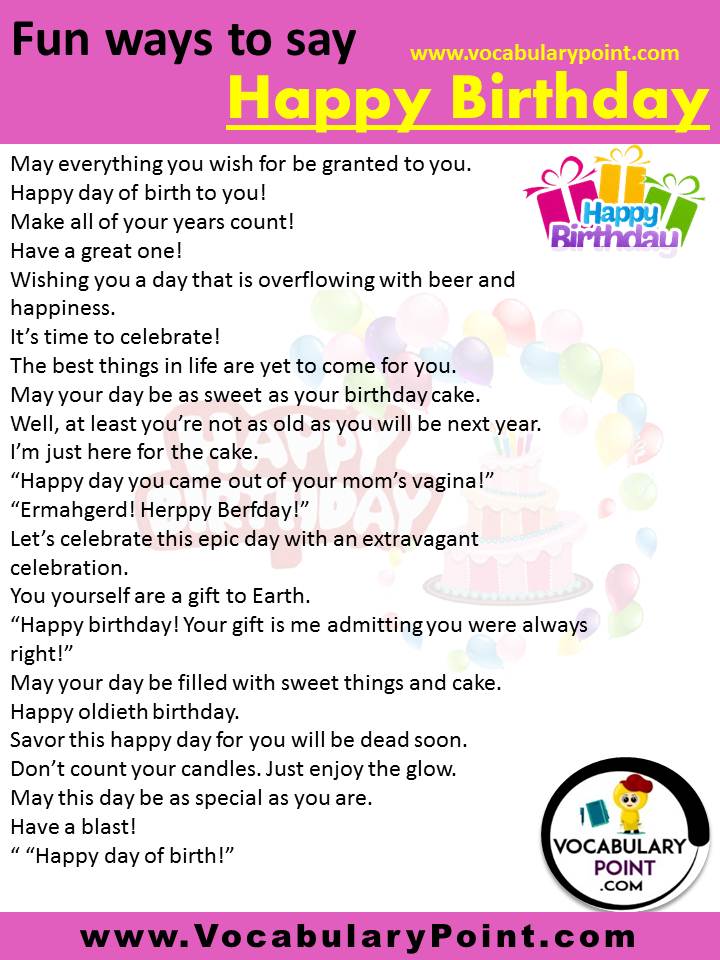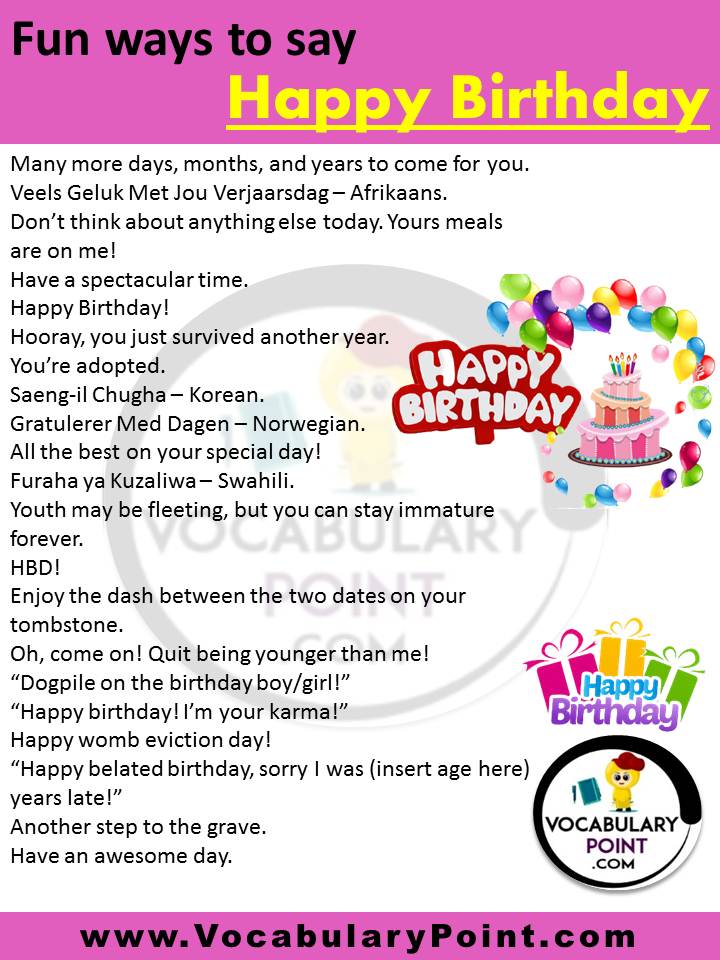 You can download Fun ways to say happy birthday