Regular verbs list in English! 200+ Regular verbs list in English download pdf. It is very important for making past tenses in English, past simple regular verbs examples.
Definition of regular verbs
Regular verbs are verbs that follow a consistent pattern of inflection in a language. They maintain the same root form throughout their conjugation, with predictable endings to indicate different tenses and forms.
Orthography Rules
Phonemic Spelling: Words match sounds. (Example: night – pronounced /naɪt/)
Silent Letters: Some letters are silent. (Example: k in knee)
Capitalization: Starting words are capitalized. (Example: Hello there)
Pluralization: Creating word plurals. (Example: cats – plural of cat)
2. Pronunciation Rules
Phonetic Spelling: Words are pronounced as they are spelled, following consistent letter-to-sound correspondence.
Stress Placement: Certain syllables within words are emphasized more strongly than others, affecting the overall pronunciation.
Vowel Sounds: Rules govern the pronunciation of different vowel sounds, which can vary based on word position and surrounding consonants.
Consonant Sounds: Guidelines determine the pronunciation of consonants, including their interactions in clusters or at the beginning or end of words.
Diphthongs and Triphthongs: Rules define the blending of two or three vowel sounds within a single syllable.
Schwa Sound: The neutral "uh" sound often found in unstressed syllables.
Tonal Patterns: In tonal languages, specific pitch variations convey meaning.
Linking and Liaison: Rules for connecting words in speech to maintain smooth flow.
Rhythm and Intonation: The patterns of stress, pitch, and pauses that give speech its natural cadence and emotional expression.
Regular Verbs List in English
| | | |
| --- | --- | --- |
| Bear form | Past simple | Past participle |
| Print | Printed | Printed |
| Worry | Worried | Worried |
| Chase | Chased | Chased |
| Create | Created | Created |
| Cry | Cried | Cried |
| Bury | Buried | Buried |
| Paint | Painted | Painted |
| Jump | Jumped | Jumped |
| Thank | Thanked | Thanked |
| Challenge | Challenged | Challenged |
| Accept | Accepted | Accepted |
| Earn | Earned | Earned |
| Cheer | Cheered | Cheered |
| Admire | Admired | Admired |
| Beg | Begged | Begged |
| Advise | Advised | Advised |
| Identify | Identified | Identified |
| Trouble | Troubled | Troubled |
| Talk | Talked | Talked |
| Stare | Stared | Stared |
| Chew | Chewed | Chewed |
| Arrive | Arrived | Arrived |
| Offer | Offered | Offered |
| Estimate | Estimated | Estimated |
| Change | Changed | Changed |
| Wink | Winked | Winked |
| Expand | Expanded | Expanded |
| Introduce | Introduced | Introduced |
| Destroy | Destroyed | Destroyed |
| Behave | Behaved | Behaved |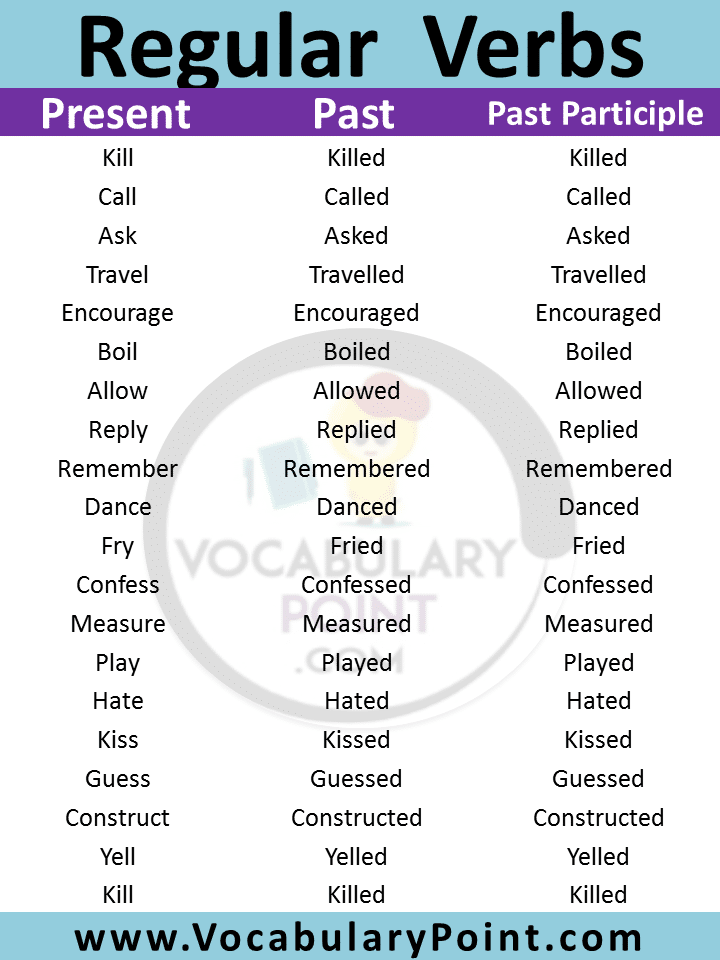 Past Tense For Regular Verbs
| | | |
| --- | --- | --- |
| Help | Helped | Helped |
| Snore | Snored | Snored |
| Rub | Rubbed | Rubbed |
| Smoke | Smoked | Smoked |
| Obey | Obeyed | Obeyed |
| Drag | Dragged | Dragged |
| Brush | Brushed | Brushed |
| Admit | Admitted | Admitted |
| Punch | Punched | Punched |
| Kill | Killed | Killed |
| Call | Called | Called |
| Ask | Asked | Asked |
| Travel | Travelled | Travelled |
| Encourage | Encouraged | Encouraged |
| Boil | Boiled | Boiled |
| Allow | Allowed | Allowed |
| Reply | Replied | Replied |
| Remember | Remembered | Remembered |
| Dance | Danced | Danced |
| Fry | Fried | Fried |
| Confess | Confessed | Confessed |
| Measure | Measured | Measured |
| Play | Played | Played |
| Hate | Hated | Hated |
| Kiss | Kissed | Kissed |
| Guess | Guessed | Guessed |
| Construct | Constructed | Constructed |
| Yell | Yelled | Yelled |
| Damage | Damaged | Damaged |
| Walk | Walked | Walked |
| Divide | Divided | Divided |
500 Regular Verbs Pdf download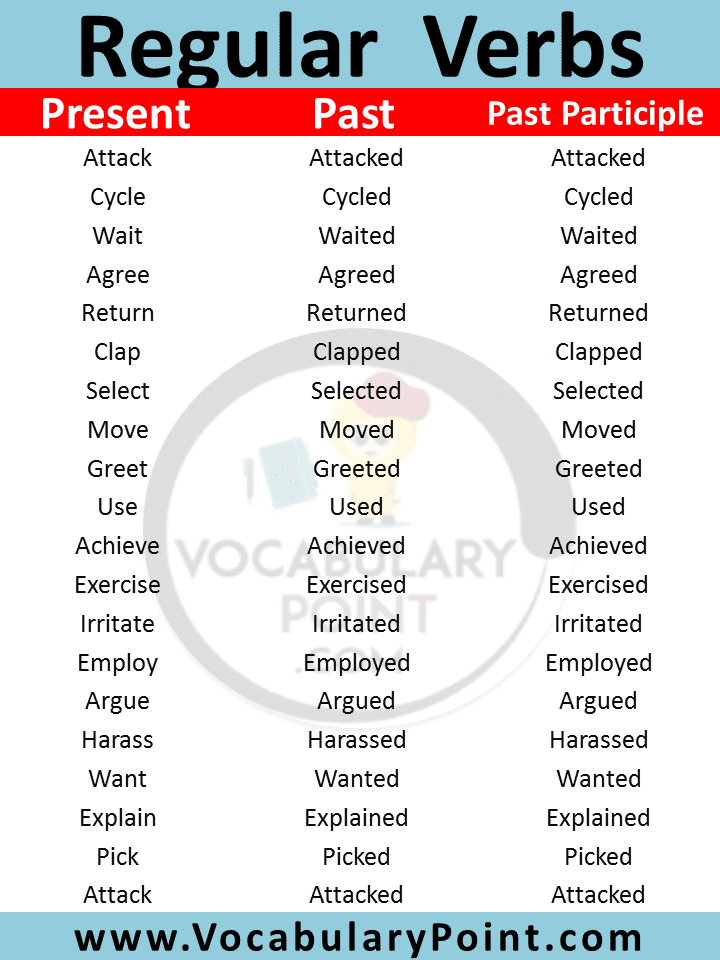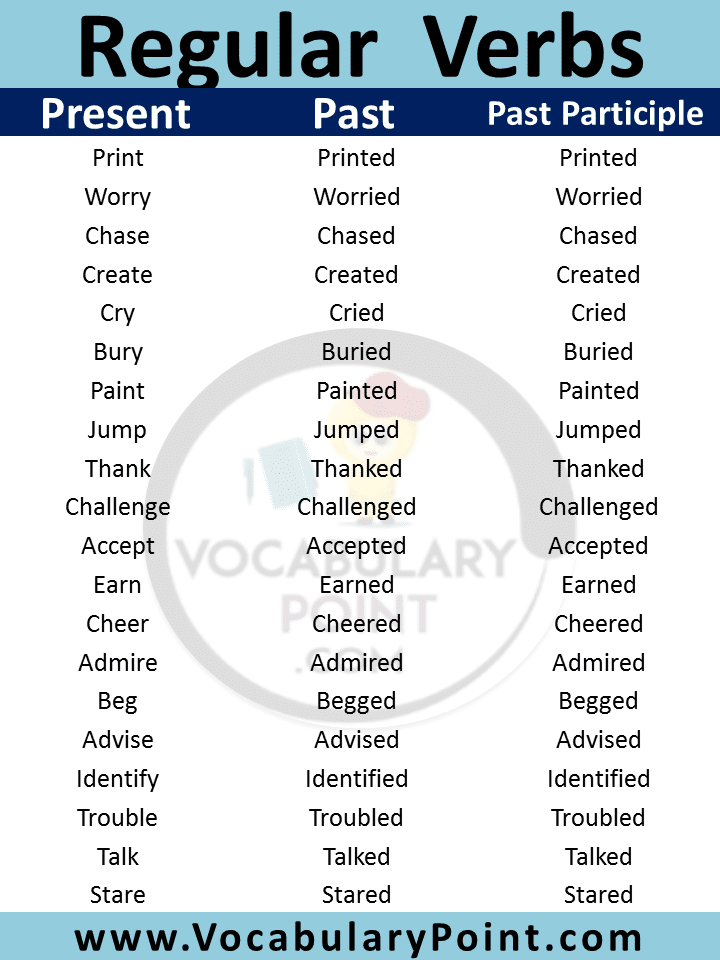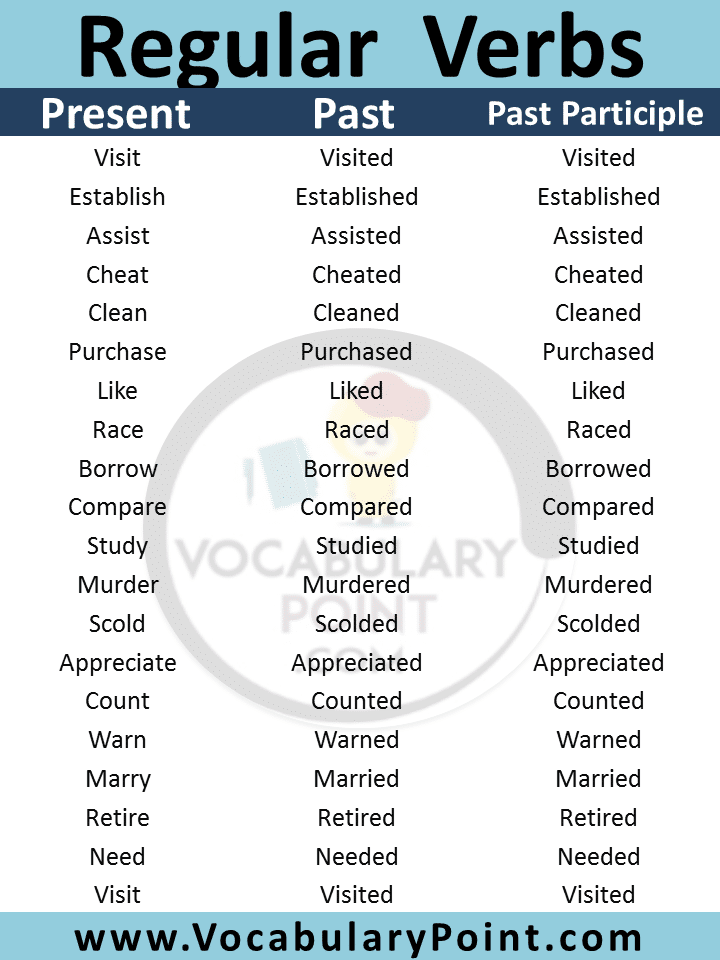 Regular verbs list
| | | |
| --- | --- | --- |
| Punish | Punished | Punished |
| Approve | Approved | Approved |
| Phone | Phoned | Phoned |
| Gather | Gathered | Gathered |
| Bake | Baked | Baked |
| Adopt | Adopted | Adopted |
| Control | Controlled | Controlled |
| Interrupt | Interrupted | Interrupted |
| Complain | Complained | Complained |
| Question | Questioned | Questioned |
| Hope | Hoped | Hoped |
| Joke | Joked | Joked |
| Add | Added | Added |
| Type | Typed | Typed |
| Open | Opened | Opened |
| Start | Started | Started |
| Push | Pushed | Pushed |
| Offend | Offended | Offended |
| Deliver | Delivered | Delivered |
| Copy | Copied | Copied |
| Lie | Lied | Lied |
| Pull | Pulled | Puled |
| Park | Parked | Parked |
| Laugh | Laughed | Laughed |
| Pray | Prayed | Prayed |
| Kick | Kicked | Kicked |
| Listen | Listened | Listened |
| Announce | Announced | Announced |
| Collect | Collected | Collected |
| Love | Loved | Loved |
| Enjoy | Enjoyed | Enjoyed |
| Visit | Visited | Visited |
| Establish | Established | Established |
| Assist | Assisted | Assisted |
| Cheat | Cheated | Cheated |
| Clean | Cleaned | Cleaned |
| Purchase | Purchased | Purchased |
| Like | Liked | Liked |
| Race | Raced | Raced |
| Borrow | Borrowed | Borrowed |
| Compare | Compared | Compared |
| Study | Studied | Studied |
| Murder | Murdered | Murdered |
| Scold | Scolded | Scolded |
| Appreciate | Appreciated | Appreciated |
| Count | Counted | Counted |
| Warn | Warned | Warned |
| Marry | Married | Married |
| Retire | Retired | Retired |
| Need | Needed | Needed |
| Attack | Attacked | Attacked |
| Cycle | Cycled | Cycled |
| Wait | Waited | Waited |
| Agree | Agreed | Agreed |
| Return | Returned | Returned |
| Clap | Clapped | Clapped |
| Select | Selected | Selected |
| Move | Moved | Moved |
| Greet | Greeted | Greeted |
| Use | Used | Used |
| Achieve | Achieved | Achieved |
| Exercise | Exercised | Exercised |
| Irritate | Irritated | Irritated |
| Employ | Employed | Employed |
| Argue | Argued | Argued |
| Harass | Harassed | Harassed |
| Want | Wanted | Wanted |
| Explain | Explained | Explained |
| Pick | Picked | Picked |
| | | |
Regular verbs list English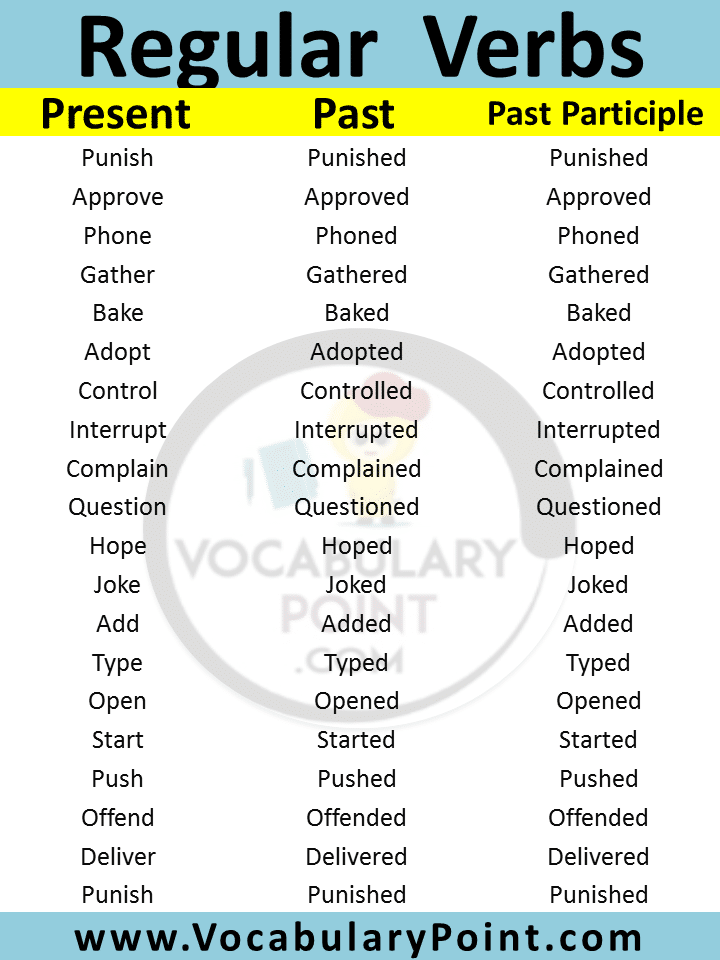 You can Download a List of irregular verbs in English pdf