Whether you're looking for inspiration for your new furry addition or simply want to add some humor to your current cat's moniker, we've compiled a list of the best funny cat names out there. From puns to pop culture references, these names are sure to make you chuckle and capture your cat's playful spirit.
20 Most Popular Funny Cat Names
Garfield
Sylvester
Tom
Felix
Cheshire
Tigger
Simba
Grumpy Cat
Salem
Mittens
Socks
Smokey
Whiskers
Oliver
Luna
Nala
Shadow
Gizmo
Boots
Oreo
Funny Cat Names
Clawdius
Blackbeard
Rover
Yeti
Boomer
Bubbles
Phantom
Skimbleshanks
Yoko
Nacho
Nugget
Rambo
Lucifurr
Pawtunia
Megabyte
Black Cat Scat
Seuss
Jane Pawsten
Pawdrey Hepburn
Pepsi
Purrito
Eight Ball
Cha Cha
Freeze
Porkchop
Jiggles
Opie
Ricky Ticky Tabby
Cat Stevens
Pawl
Chimneysweep
Neil Catrick Harris
Munchkin
Coffeebean
Dough Boy
Paw McCartney
Clawdia
Dorito
Kitney Spears
Kit-Kat
Cat Middleton
Meowise
Fishbait
Espresso
Morticia
Quimby
Panther
Twinky
Bacon
Boots
Alice Millicat
Josephine Catler
Coals
Peppercorn
Oreo
Sooty
Katy Purry
Cat Damon
Hobbes
Machu Picchu
Sriracha
Shady Lady
Cheese
Baloo
Molecule
Sushi
Viclawia
Whispurr
Flintstone
Pippi Longstocking
Feline Dion
Tom Cruise
Kitty Poppins
Rainbow
Graphite
Toasted
Velvet
Mariah Hairy
Meowgi
Oily
R.R. Tolkitten
Midnight
Lionel Meowssi
Lily Purr
Alley Cat
Smudge
Diamond
Pepper Ann
Paw Revere
Turbo
Ravenclaw
Stitch
Butch Catsidy
Fuzz Aldrin
Meowvin Gaye
Raven
Bo Jangles
Frank Lloyd Bite
Soot
Fudge
Spicy
Meaty
Crisp
Meowley Cyrus
Squash
Al Pawcino
Warlock
Q-Tip
Carrots
Smokey
A-cat-tha Christie
K Growling
Pickle
Black Eyed Pea
Prince Harry
Fidel Catstro
Meatball
Tabasco
Spud
Smoke
Will Feral
Michael Pawdan
Theoclaw Roosevelt
Quake
Apawllo
Crow
Boudiccat
Burrito
Jelly
Vera Catkins
Cat Benetar
Purrnest Hemmingway
Bertha
Ali Cat
Abby Tabby
Pirate
Picatso
Fanta
Kleenex
Earl Grey
Licorice
Snookie
Puddy Tat
Burns
Frodo
Taco
Katniss
Fajita
Catzilla
Charles Lickens
Wasabi
Shadow
Ebony
Raggedy Ann/Andy
Pikachu
Furgie
Queso
Pope
Ginger Spice
Angus
Ninja
Sheeran
Reba McIntyre
Big Red
Kermit
Catsey Cline
Tink
Jennifur
Cheddar
Black Magic
Don Drapurr
Terabyte
Pearl
Gluten
Bing Clawsby
Onyx
Oprah Whisker
Buttons
Miss Piggy
Frida Catlo
Cheerio
Porky
Tom Pawyer
Ramen
Marshmallow
Muffin
Must Read :200+ Best Black Cat Names
Funny Male Cat Names
Sir Purrs-a-lot
Whiskerface
Meowgi
Fuzzbucket
Chairman Meow
Captain Fluffernutter
Professor Purrfect
Sir Scratch-a-lot
The Great Catsby
Count Flufferton
Meowly Cyrus
Purrince Charming
Chairman Claw
General Fluffernutter
Doctor Clawver
Duke Purrington
King Meow
Lord Snugglesworth
Mister Mittens
Napoleon Bonacat
President Whiskers
Prince Fluffington
Sir Whiskerlot
Socks McFlufferton
Sparkle Paws
Spockat
Super Whiskers
The Big Meowski
The Clawfather
The Duke of Fluff
The Furry Godfather
The Great Furrball
The Purrminator
The Wacky Whisker
Top Cat
Whisker Biscuit
Whiskerino
Whiskertrix
Whiskerzoid
Yoda-cat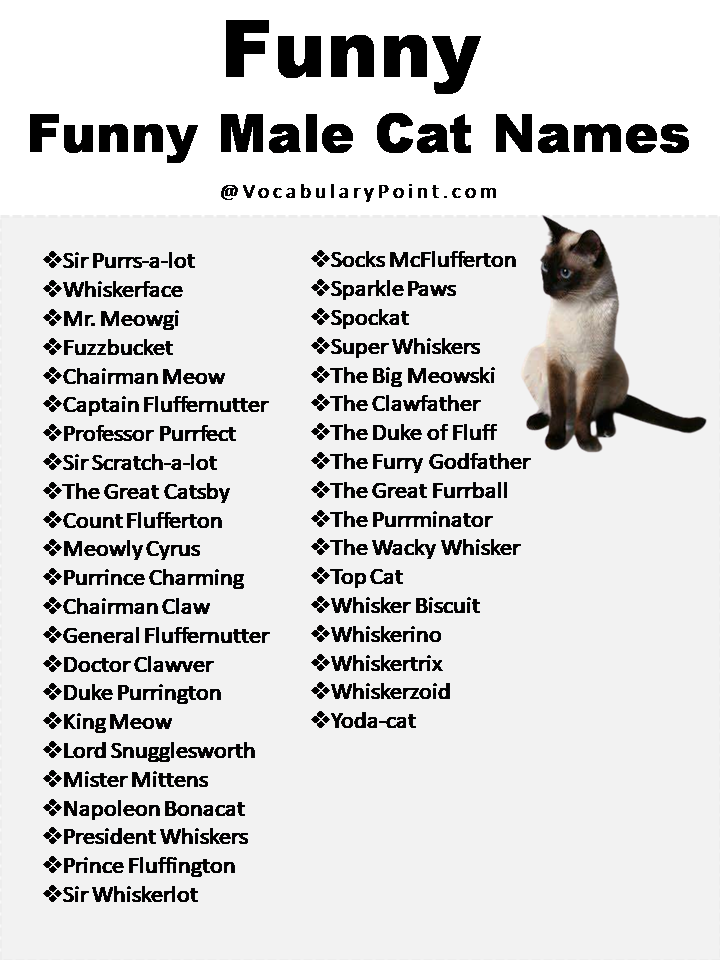 Funny Female Cat Names
Queen Meowdusa
Miss Fuzzington
Lady Whiskerbell
Princess Purrfect
Duchess Fluffernutter
Madame Clawdia
Countess Catnip
Lady Meowington
Lady Snuggles
Lady Fluffpaws
Miss Meowly
Lady Mittens
Lady Sparkles
Miss Whiskerface
Queen Purrcilla
Miss Purrfect
Lady Furrytail
Miss Fluffernutter
Lady Clawdia
Miss Whiskerino
Lady Purrsonality
Lady Furrball
Miss Snugglepuss
Lady Fluffikins
Miss Whiskerwinks
Lady Scratchington
Miss Meow Meow
Lady Whiskerkins
Miss Furrington
Lady Purrfecta
Miss Pawsome
Lady Mittensworth
Miss Whiskerwill
Lady Fluffikitty
Miss Clawdette
Lady Purrl
Miss Whiskerjinks
Lady Purrfume
Miss Furrball
Lady Snugglesworth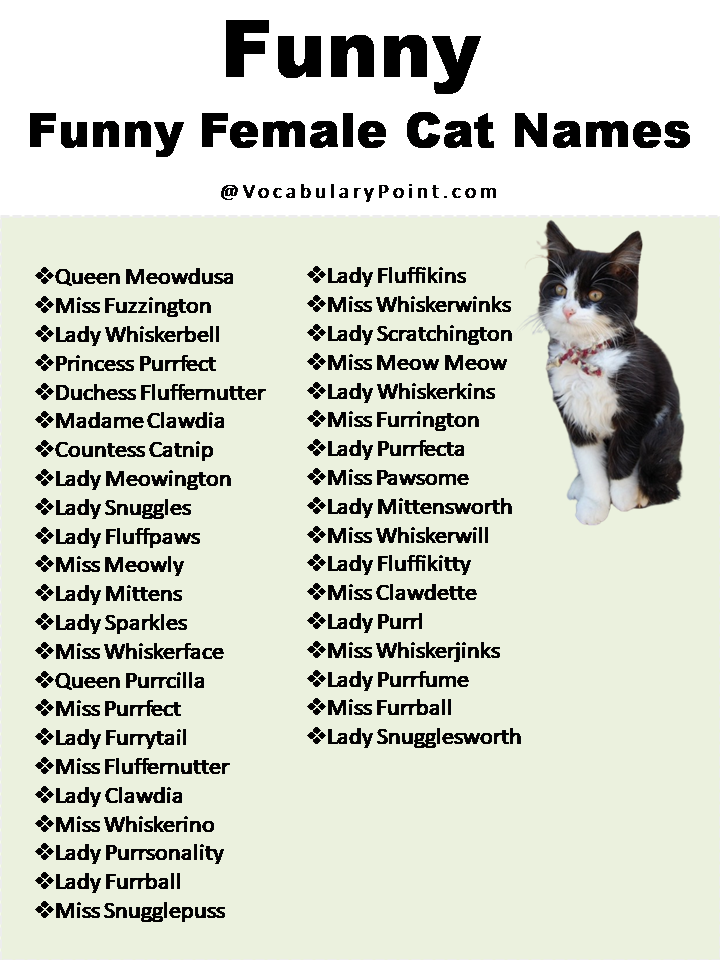 Silly Cat Names
Whiskerbutt
Sir Meows-a-lot
Captain Purrfect
Baron Fluffernutter
Count Scratchula
Princess Catniss
King Clawdor
Duke Fuzzyface
Sir Furrypants
Lord Purrgundy
Meowenstein
Colonel Catticus
Sir Furrball
Baroness Whiskertons
Duchess Purrington
Lady Snugglesocks
Lady Purrfecto
Sir Purr-a-lot
Countess Fluffington
Queen Snugglesnoot
Lord Whiskerbottom
Sir Furryfluff
Duke Clawdrey
Captain Meowmerang
Lady Whiskerwiggles
Sir Paws-a-lot
Duchess Fuzzykins
King Snugglepaws
Sir Whiskerwiggle
Lady Fuzzball
Duke Meowington
Countess Fluffikins
Queen Purrfectly
Baron Whiskerwhisker
Prince Purrbert
Sir Fuzzywump
Lady Scratchybottom
Sir Fluffington
Lady Meowmeow
Count Clawsome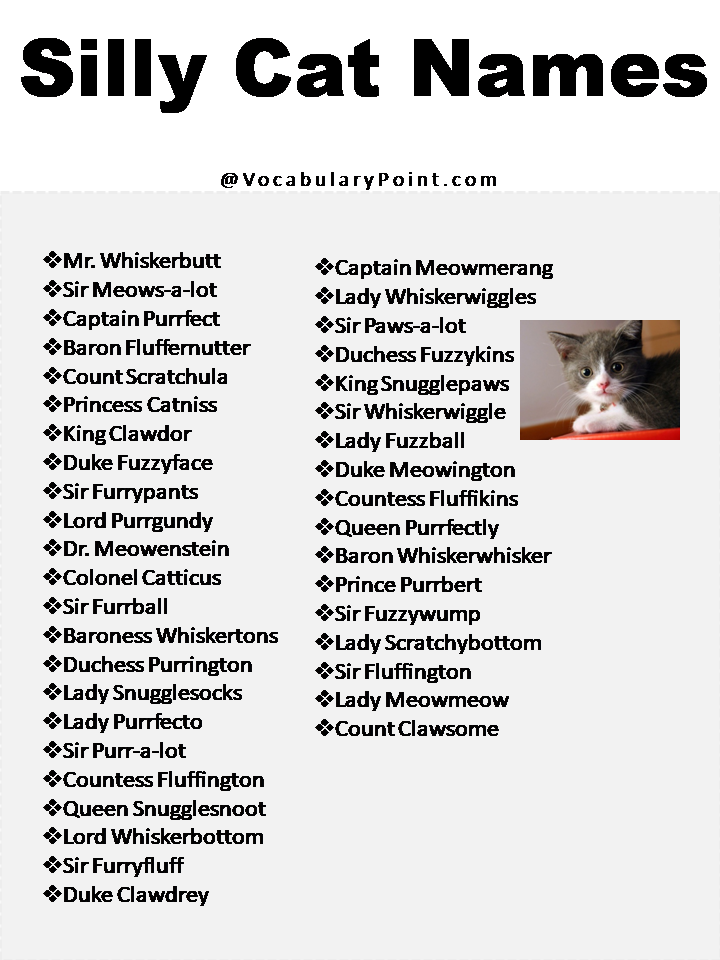 Funniest Cat Names
Chairman Meowser
Sir Reginald Fluffington III
Professor Whiskerface
Furry McFlufferson
Lord Purrfecto
Captain Fuzzypants
Clawsome
Sir Snugglesworth
Count Whiskerlicious
Duchess Purrfectly
Meow-solini
Baron Fluffernutterton
General Meowington
Queen Fluffpaws
Lord Scratchington
Captain Meowvel
Purrfectly Fluffy
Duke Fuzzbert
Emperor Purrscilla
Sir Purr-a-friend
Queen Clawdia
Snugglesnose
Professor Fluffikins
Sir Furrytail
Countess Whiskerino
Captain Meow Sparrow
Whiskerwinks
Sir Purr-a-little
Baroness Fluffikitty
King Furrball
Professor Purrfecto
Sir Purr-a-lot-a
Duchess Fluffikins
Emperor Whiskerwump
Lady Snugglewhiskers
Captain Purrfecto
Furrytail McGillicuddy
Lord Purrfection
Countess Meowserati
General Fluffpuff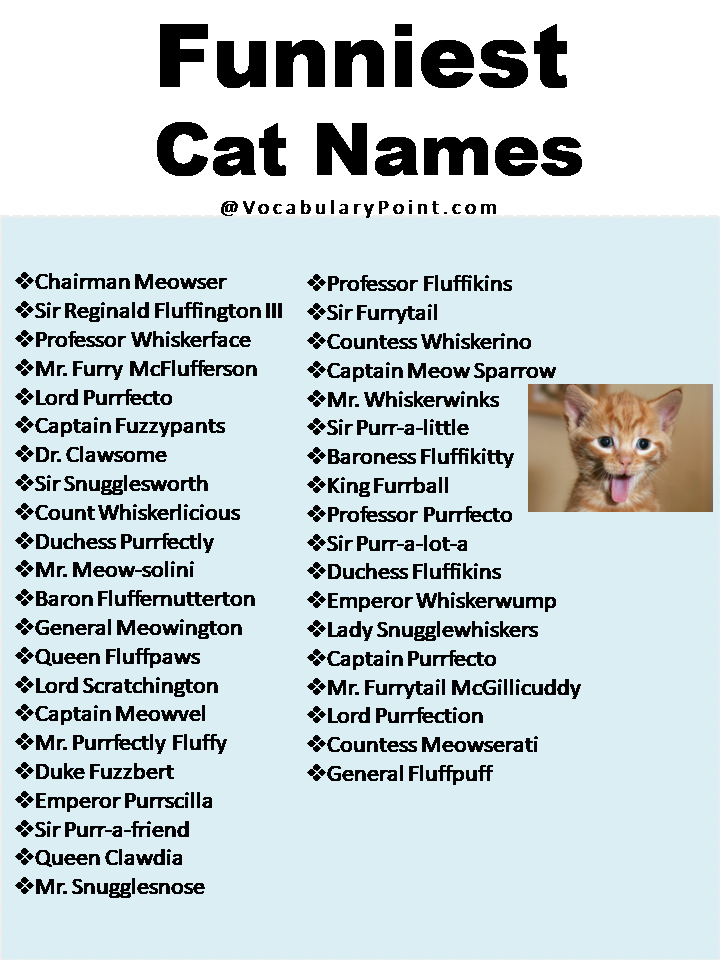 Funny Orange Cat Names
Garfield the Great
Tangerine Dream
Ginger Snap
Rusty Nails
Orange Crush
Sir Carrot Top
Copper Kettle
Captain Pumpkin Pie
Flame Boy
Tango Mango
Firecracker
Sir Marmalade
Orange Peel
Blaze O'Hara
Sunkist Siren
Pippi Longstockings
Apricot
Sir Goldilocks
Rusty Cheetah
Ginger Spice
Orange Julius
Persimmon
Blaze of Glory
Rusty Blaze
Cinnamon Toast
Orange Crushinator
Sunset Stripper
Cantaloupe
Sir Pumpkin Spice
Apricot Jam
Butternut
Goldie Locks
The Great Cheeto
Sir Apricot
Ginger Zilla
Papaya
Firestarter
Rusty Rust
Saffron Socks
Sir Kumquat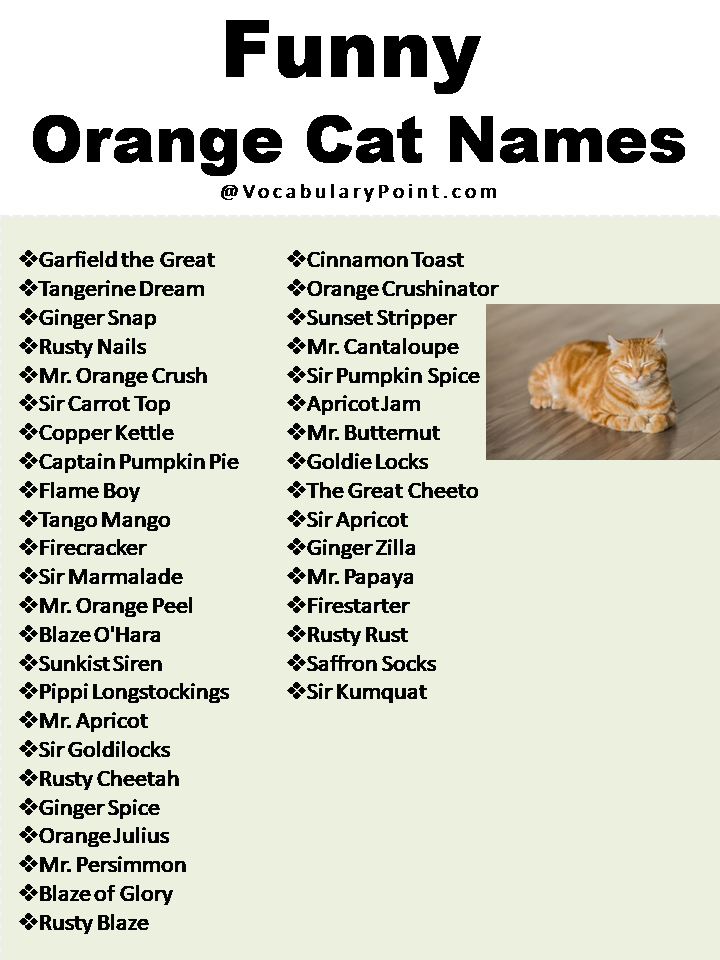 Funny Black Cat Names
Midnight
Blackout
Shadowfax
Sir Black Knight
Onyx O'Malley
Darth Kitty
Salem the Witch Cat
Blackwell
Panthera Noir
Black Jack
Blackbeard
Sir Ebony
Blackie Chan
Ninja Cat
Count Catula
Black Magic
Black Widow
Blackberry
Smokestack
Black Bart
Blackbird
The Black Pearl
The Dark Knight Rises
The Night Stalker
Black Angus
Blackbirdie
Blacktop
Shadowpaws
Black Tie
Black Cat Bonanza
Blackout Betty
Blackout Billie
Blackberry Bill
Sir Shadow
Black Betty Boop
Black Velvet
Black Forest
Blackpool
Black Stallion
Blackout Bob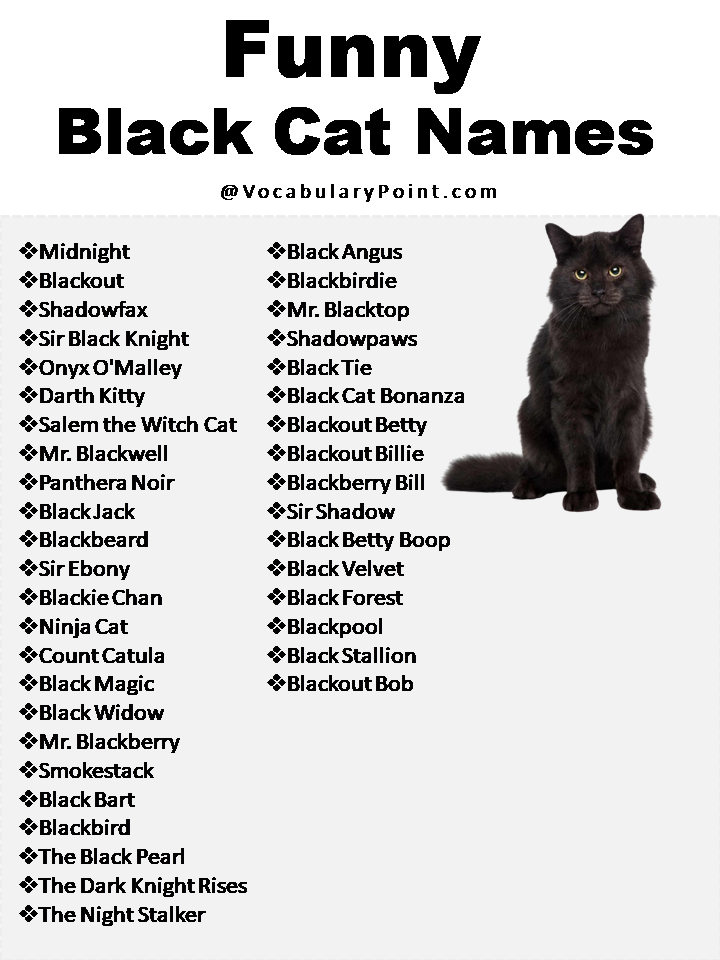 Funny Kitten Names
Are you a cat lover in search of the perfect name for your furry feline? Look no further than these funny kitten names that are sure to make you and your friends chuckle.
Sprinkles
Biscuit
Peanut Buttercup
Cinnamon Bun
Marshmallow
Cupcake
Fudge Nugget
Jellybean
Gummy Bear
Cookie Dough
Pudding Pop
Snickersnee
Skittles
Twizzler
Muffin
Gingersnap
Butterball
Honeycomb
Lollipop
Snickerdoodle
Kit-Kat
Brownie
Bubblegum
Popsicle
S'mores
Milkshake
Licorice
Chai Latte
Cappuccino
Espresso
Mocha
Hazelnut
Almond Joy
Rocky Road
Strawberry Shortcake
Blueberry Muffin
Lemon Drop
Peach Cobbler
Black Forest Cake
Carrot Cake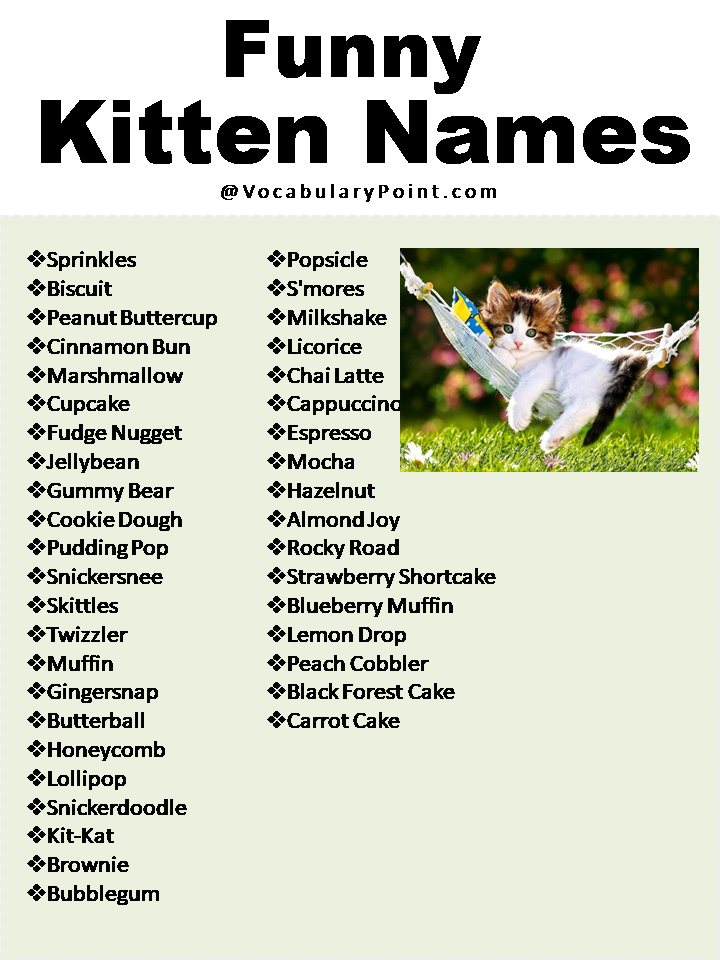 Goofy Cat Names
Wiggles
Sir Floofington
Princess Purrfect
Count Fluffernutter
Bojangles
Sir Biscuit
Captain Whiskers
Duchess Meowington
The Great Catsby
Furry Pants
Lady Fluffernutter
Sir Purr-a-lot
Princess Purr-a-lot
The Cat in the Hat
Purrfect
Sir Meowsalot
Lady Whiskerface
Captain Cat-titude
Sir Fluffalot
Princess Furrytail
Nibbles
Sir Noodlehead
Duchess Cuddlebug
Count Purrula
Lady Meowington
Captain Snuggles
Sir Snickerdoodle
Princess Snuggles
Fluffernutter
Sir Wigglesworth
Lady Furrytail
Captain Purrfect
Sir Cuddles
Princess Whiskers
Snuggles
Lady Nibbles
Captain Purr-a-lot
Sir Bounce-a-lot
Duchess Snugglebug
Count Fluff-a-lot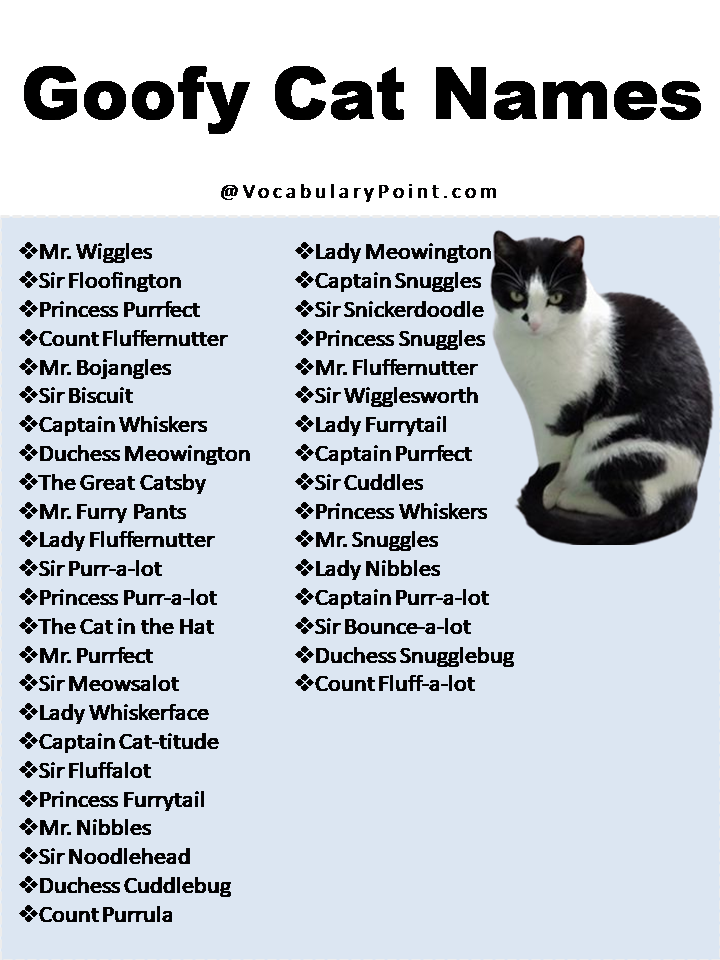 Weird Cat Names
Squiggles
Sir Wigglypaws
Princess Bloop
Count Spaghetti
Jellybean Toes
Sir Licky Lick
Lady Fizzypaws
Captain Noodle
Duchess Picklebutt
The Great Meowser
Snazzleberry
Sir Snorkle
Lady Sprinkles
Captain Cheddar
Princess Fizzy
Wacky Whiskers
Sir Spork
Lady Wigglebottom
Count Cheesecake
Bubblegum
Sir Bumblebee
Duchess Fluffybutt
Princess Biscuit
Captain Whistle
Fuzzy McFlufferson
Sir Squishyface
Lady Doodlebug
Count Wackadoo
Princess Sprinklepants
Sniffles
Sir Wacky Whiskers
Lady Noodleface
Captain Pudding
Duchess Snorkel
Count Bojangles
Wiggleworm
Sir Fizzlebottom
Lady Picklepie
Captain Sizzle
Princess Wobblepaws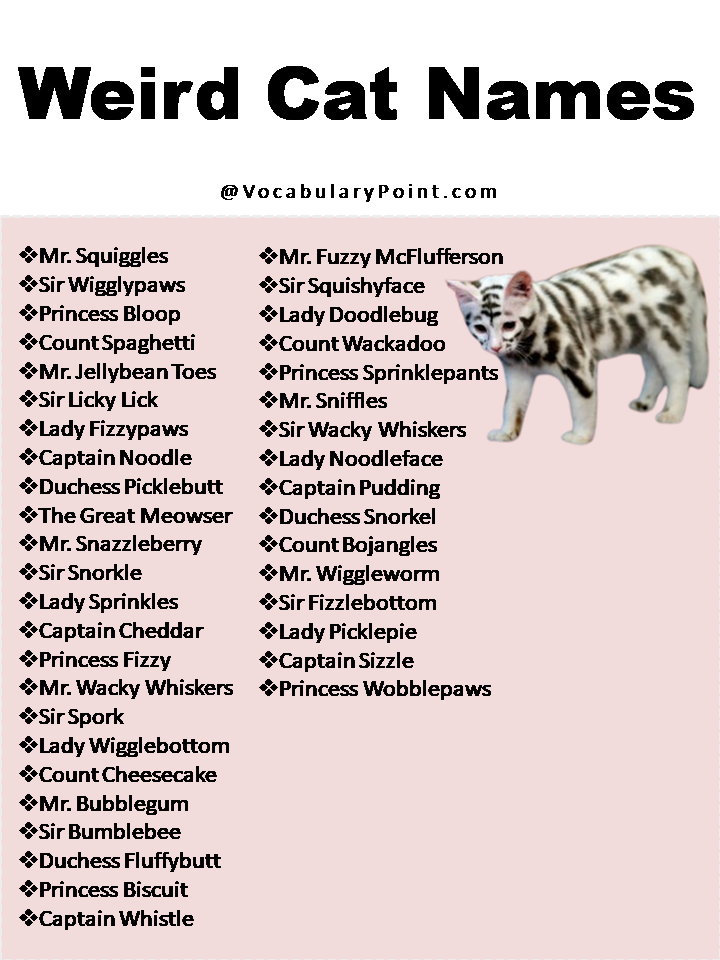 Cat Pun Names
Clawdia
Furrball
Meowly Cyrus
Purrfect
Chairman Meow
Purrsephone
Furricane
Purrkins
Catniss
Purrson
Kit-Kat
Purrfecto
Furrari
Catticus
Purrfessor
Purrfume
Clawdette
Purrmanently
Purrincess
Catillac
Purrito
Purrfectly Clear
Purrhaps
Clawd
Furrnando
Purrpetrator
Furrniture
Catrina
Purrvader
Purrize
Furrballz
Catfish
Purrseus
Clawdine
Furrst
Cattitude
Purrfectly Balanced
Purrsonality
Clawdia Cat
Furrnace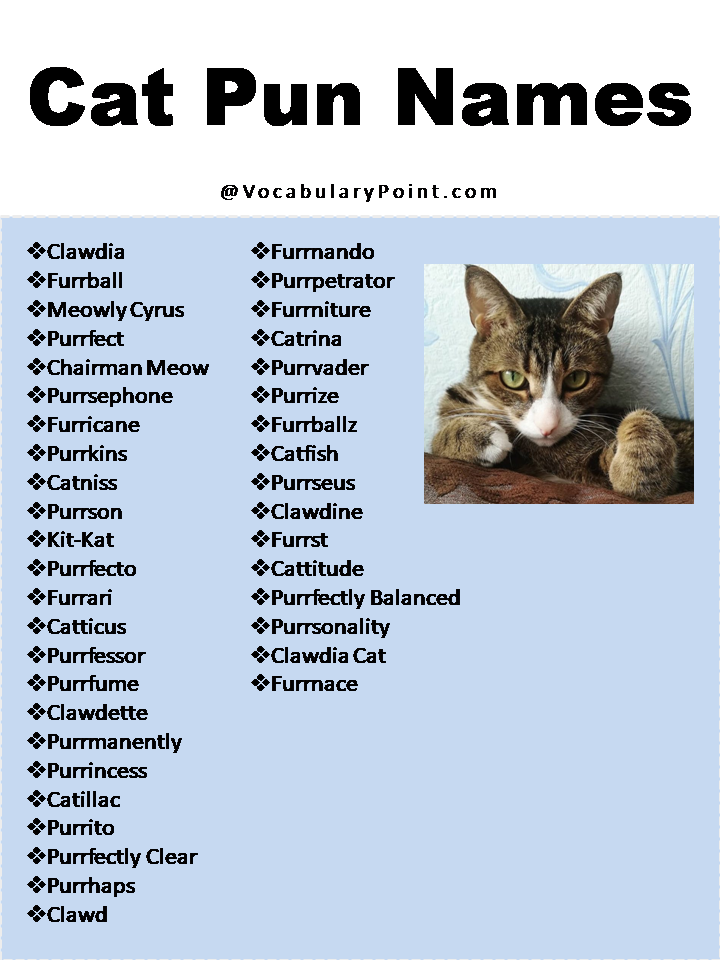 Funny Human Names for Cats
George Clawney
Oprah Whiskerfury
Tom Catterson
Ellen Purrdegeneres
Sir Reginald Meowington III
Betty Purrsley
Albert Whiskerpants
Luna Lovemew
Bob Scratchit
Princess Meow-Meow
Harry Purrter
Penelope Purrstopher
Winston Purrchill
Lady Fluffernutter
Bojangles Purrington
Henrietta Purrkins
Barkley Clawswell
Anastasia Whiskerbell
Billy Whiskersmith
Felicity Furrybottom
Edgar Allan Purr
Muffin McFlufferson
Napoleon Bonacat
Clawdia
Benny Cattowitz
Victoria Whiskerflick
Marley Meowley
Colby Purrkins
Beatrice Fluffernoodle
Leo Purrnardo Dicatprio
Felix Purrkins
Amelia Pawhart
Simon Scratch
Daisy Mae Purrkins
Winston Whiskerford
Queen Elizacat
Oliver Purrdin
Tabitha McMeowface
Franklin Clawsevelt
Gatsby Whiskerworth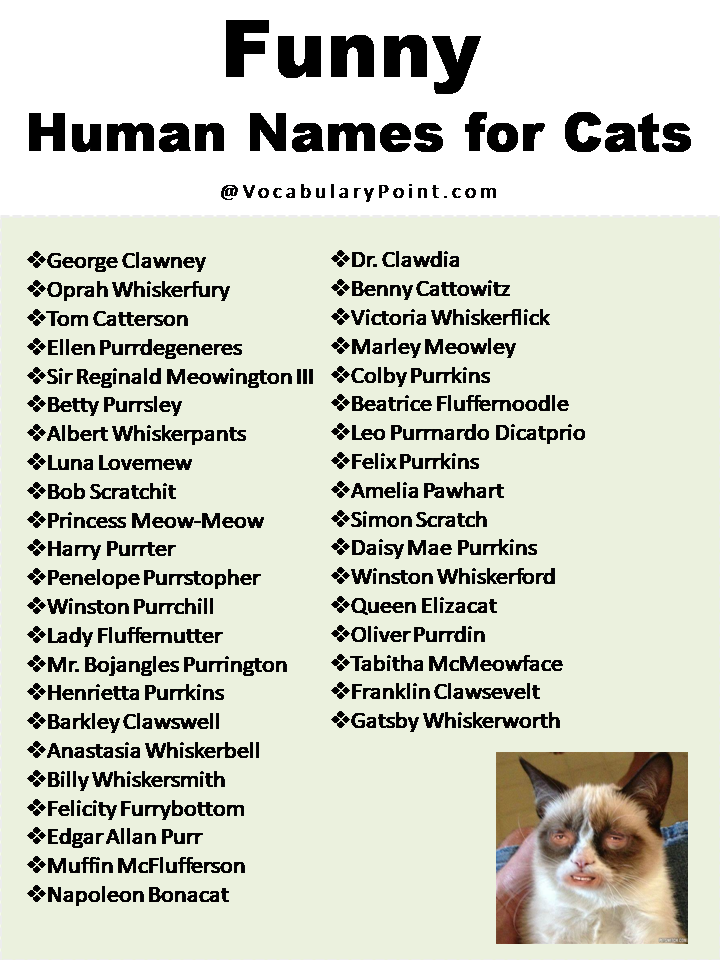 Funny Food Names for Cats
Tuna Turner
Sushi Socks
Sir Loin
Wonton Wally
Meatball
Biscuit
Bagel
Butterscotch
Cinnamon Roll
Hotdog
Muffin
Nacho
Olive
Pudding
Peanut Butter
Pickle
Quesadilla
Ramen
Ravioli
S'mores
Saltine
Spaghetti
Sprinkles
Strawberry Shortcake
Sugar
Taco
Toast
Twinkie
Vanilla Bean
Wasabi
Waffle
Zucchini
Baguette
Banana Bread
Blueberry Muffin
Broccoli
Brownie
Cherry Pie
Chocolate Chip
Coconut Cream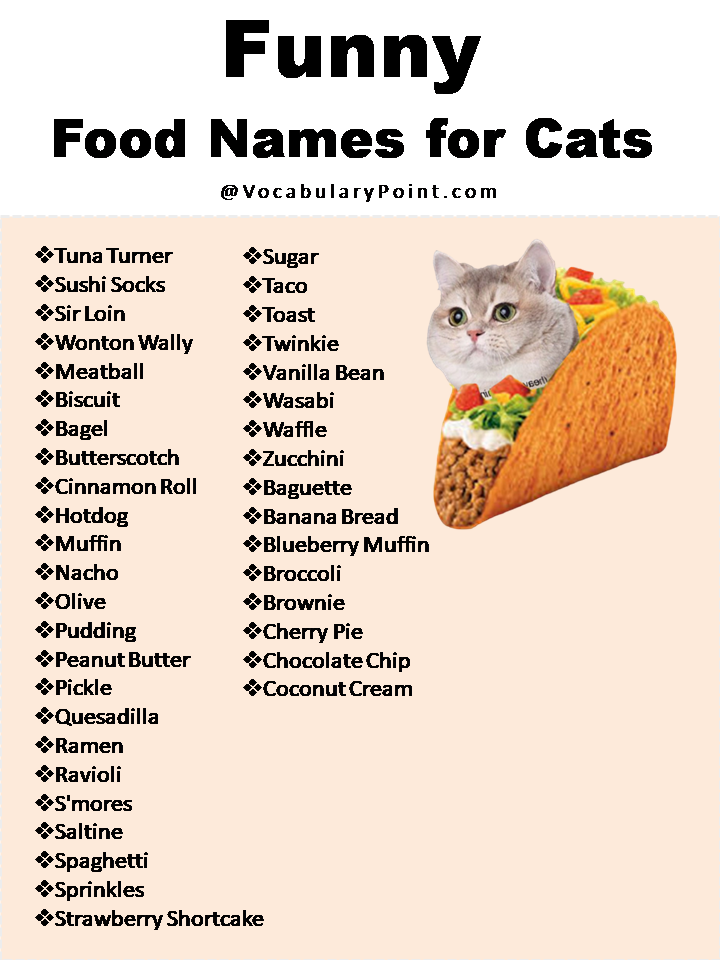 Best Funny Cat Names
Chairman Meow
Cleocatra
Colonel Mustard Paws
Furrball
Meowly Cyrus
Mittens McGraw
Bojangles Purrington
Whiskerson
Purrfect
Purrfecto
Purrkins
Purrmanently
Purrscilla
Purrsephone
Purrsey
Purrson
Purrvana
Scratchy McScratchface
Sir Pounce-a-Lot
Whisker Biscuit
Whiskerina
Catrick Swayze
Clawdia Cat
Colonel Meow
Fluffernutter
Inspector Clawseau
Kit-Kat
Madame Meow
Meow Zedong
Mittens Muffington
Nacho Cat
Napoleon Bonacat
Princess Purrfect
Purrl
Purrito
Sir Reginald Meowington III
Snowball
The Great Catsby
Whisker Doodle
Whiskerlicious