ENGLISH VOCABULARY GAMES. Learning a new language can be tough, but it can also be fun. Games are a great way to learn new vocabulary and practice using it in context. Here are some games to help you learn English vocabulary.
Hangman – This classic game is a great way to learn new words and improve your spelling skills. Take turns choosing a word and see how many letters your partner can guess before the man is hanged.
Word Ladder – This game is similar to Hangman, but with a twist. Each player takes turns making a new word using the last letter of the previous word. For example, if the first player says "cat", the next player could say "tar" or "rat".
Word Jumble – This game is great for practicing spelling and learning new vocabulary words.
Words With Friends
Word Search
Vocabulary Checkers
Vocabulary Bingo
Trashketball
Scrabble
      Read more: English Vocabulary Important Words
Rolling Words
Popsicle Vocabulary
Pop
Pictionary
Memory
Jeopardy
Headbanz
Hangman
Game Show
Crosswords
Classic Charades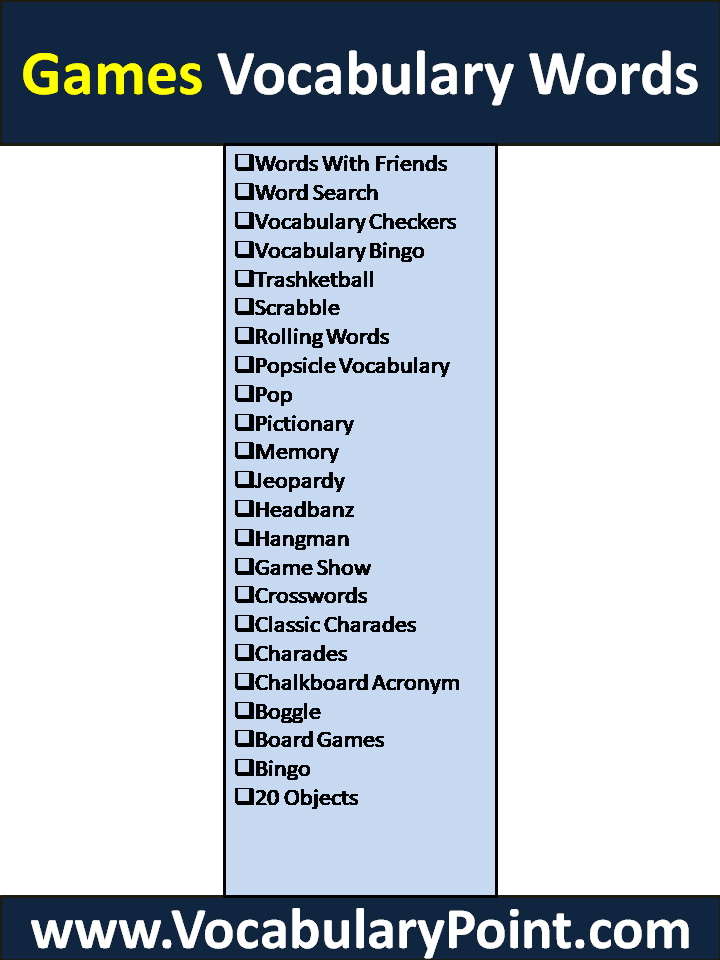 Charades
Chalkboard Acronym
Boggle
Board Games
Bingo
20 Objects