GEOMETRIC SHAPES NAMES. There are numbers of shapes in Geo metrics that are used in different kids of way. Here is a GEOMETRIC SHAPES NAMES, LIST OF GEOMETRIC SHAPES are listed below with Pictures and names.
Must Learn: 9 letter words start with A
What is Geometric?
Ans: Different kinds of lines are straight,  curved used in different ways and give them shapes as a name like Polygon, Heptagon, Circle, Plane, Equilateral and Heart etc are called Geo metrics.
GEOMETRIC SHAPES NAMES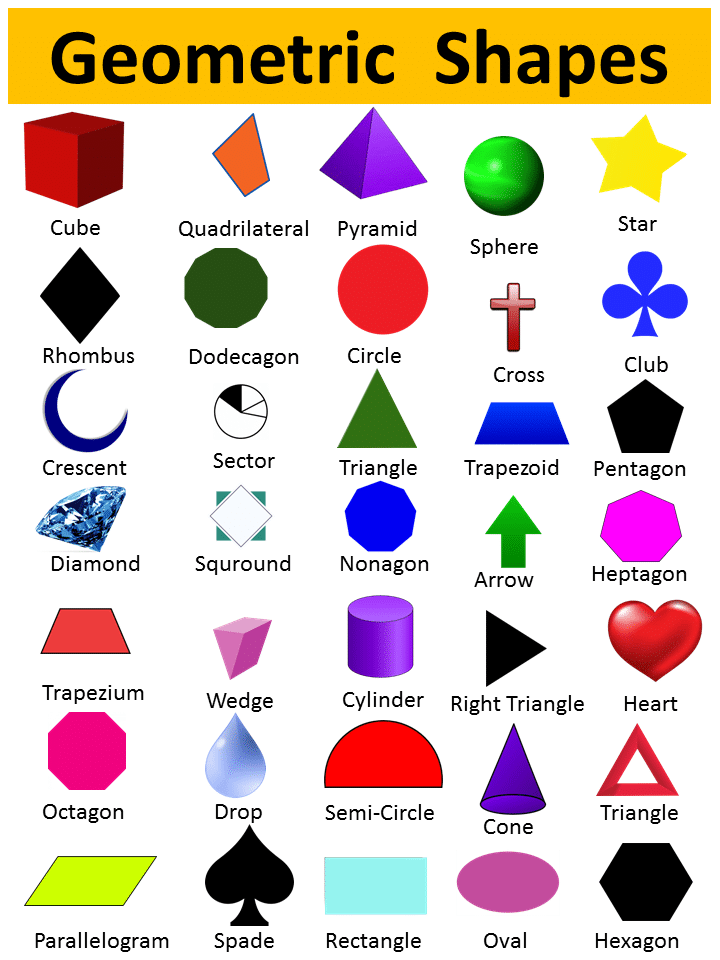 Prism
Parallelogram
Bi pyramid
Oval
Rhombus
Polygons
Cross
Pentagon
Cube
Hexagon
Conic Section
Polygon
Heptagon
Circle
Plane
Equilateral
Heart
Scalene Triangle
Quadrilateral
Dodecagon
Nonagon
Surround
Kite
Diamond
Cylinder
Semi-Circle
Star
Drop
Arrow
Right Triangle
Trapezium
Leaf
Spade
Bell
Triangle
Trapezoid
Cone
Pyramid
Fort quad Triangle
Club
Sector
Square
Wedge
Sphere
Crescent
You Can Download list of Geometric Shapes with PDF