Choosing a name for your baby is one of the most exciting and important decisions you will make as a parent. If you are expecting a little girl and looking for something unique, starting with the letter C might be just what you need. From classic to modern, there are plenty of options when it comes to choosing a unique girl name that starts with C.
Here are Top 20 Baby Girl Names Starting With C :
Camilla
Celeste
Clara
Coraline
Cassandra
Charlotte
Chloe
Cora
Cassidy
Calliope
Clementine
Cadence
Catalina
Camille
Clover
Celine
Capri
Cordelia
Colette
Coral
Unique Baby Girl Names That Start With C
Courtney
Calia
Cerise
Chaya
Cabella
Cerene
Constance
Cassiopeia
Cara
Cailyn
Catalyna
Chyanne
Chava
Cayenne
Cherry
Camryn
Cailin
Calla
Cadance
Casey
Charity
Chayse
Camden
Calantha
Cassy
Cheyenna
Catori
Cerina
Catia
Cadie
Celina
Cianna
Chantelle
Caley
Cleva
Cristal
Cristiana
Cataleena
Cori
Cindy
Catriona
Calista
Cali
Cloverly
Cerenity
Catalene
Coraline
Cosette
Caoimhe
Cymbeline
Cashlyn
Cassie
Cinnabar
Caryn
Cadence
Cambry
Clio
Caily
Clara
Cate
Carla
Cordella
Chyenne
Celin
Coralia
Calise
Caliann
Charmaine
Cinnia
Cecilia
Cecile
Charlie
Clarity
Cosima
Christa
Cascade
Coleen
Candace
Cora
Ciarra
Cornelia
Clarimond
Celia
Cozette
Cassandra
Chelsea
Ciel
Colbie
Coralee
Callista
Crimson
Ceridwen
Caliana
Cassidy
Carolin
Cordia
Chandra
Coralie
Cielo
Celestine
Cattleya
Clare
Clarisse
Camil
Charlee
Colette
Charlize
Charlotte
Carolyn
Chanel
Clementine
Cataleya
Cristabel
Carmella
Corinne
Carly
Celine
Cecily
Carson
Cleta
Cordelia
Cindel
Ceara
Carleigh
Chloette
Cameron
Camilla
Carlee
Carlotta
Charlene
Cherish
Corazon
Chandler
Coryn
Coral
Cygnus
Campbell
Claudia
Carmela
Chantal
Charleigh
Charis
Carter
Ceanna
Caelynn
Cloe
Cricket
Cerine
Camille
Chloe
Camiah
Corinna
Cianni
Cynthiana
Callie
Carolina
Cherisse
Carabelle
Carys
Celestin
Crista
Czarina
Chrysanthemum
Cambryn
Cashlynn
China
Chevelle
Celestia
Cailynn
Cobie
Carsyn
Christina
Chana
Clarke
Ciara
Cierra
Catalea
Carley
Chiara
Cristina
Cheyenne
Catalina
Caitlynn
Catarina
Carsten
Cybele
Camellia
Caleyah
Clover
Charolette
Camila
Charli
Cherlise
Camdyn
Celeste
Clarissa
Cyrene
Chantel
Crystal
Capri
Cienna
Caylee
Clementina
Cleora
Cypress
Calliope
Cynthia
Christine
Callyn
Celestial
Caelyn
Charm
Caroline
Chrystal
Cambrie
Cleo
Christabella
Carmen
Cecelia
Catherine
Cooper
Claire
Chelsey
Caitlyn
Carina
Charley
Cilla
Coley
Cambria
Corvina
Caidyn
Must Read : List Of Unique Baby Girl Names Start With D
Unique Girl Names That Start With C
Cressida
Clover
Celestia
Corinne
Cosima
Cassidy
Coralie
Calliope
Cambria
Camellia
Carmella
Celine
Cerelia
Coraline
Capri
Clarissa
Calista
Cyra
Cadence
Cerys
Clio
Charmaine
Cybil
Calantha
Crescent
Unique C Girl Names With Meanings
Calista – Meaning "most beautiful" in Greek.
Clementine – Derived from the Latin word for "merciful."
Cassandra – From Greek mythology, meaning "she who entangles men."
Coraline – A modern name derived from the word "coral."
Cressida – Meaning "golden" in Greek.
Celestia – Derived from the word "celestial," meaning "heavenly."
Coralie – A French name meaning "coral."
Camellia – A flower name, derived from the camellia plant.
Cosima – Meaning "order" or "harmony" in Greek.
Cadence – Referring to a rhythmic flow or sequence of sounds.
List Of Unique Girl Names Starting With C
Calla
Caprice
Carina
Cassia
Celestine
Cerise
Charmaine
Clea
Clover
Coralie
Cordelia
Cyra
Cymbeline
Cypress
Calypso
Cressida
Cybele
Cadeau
Caelia
Carmella
Celine
Cicely
Clarity
Cyan
Cyrena
Trendy Girl Names That Start With C
Camila
Charlotte
Chloe
Cora
Clara
Catalina
Celeste
Callie
Cassidy
Cadence
Cameron
Carmen
Camryn
Crystal
Cassidy
Clover
Corinne
Corina
Carly
Celine
Cleo
Colette
Coraline
Caitlyn
Casey
Trendy C Girl Names With Meanings
Celeste – Meaning "heavenly," this name evokes a sense of celestial beauty and grace.
Cora – Derived from the Greek word for "maiden," Cora signifies youthful charm and purity.
Clementine – This name, meaning "mild" or "merciful," exudes a gentle and compassionate nature.
Camila – Of Latin origin, Camila means "attendant at religious ceremonies" and represents a strong and devoted character.
Cassandra – Meaning "prophetess," Cassandra carries an air of mystique and foresight.
Clara – Derived from the Latin word for "clear" or "bright," Clara symbolizes intelligence and clarity.
Chloe – This name signifies "blooming" or "fertility" and is associated with youthful vitality and charm.
Caroline – Meaning "free woman," Caroline represents independence and resilience.
Calliope – Derived from Greek mythology, Calliope was the muse of epic poetry, representing creativity and inspiration.
Celine – This name, derived from the French word for "heaven," conveys a sense of ethereal beauty and elegance.
Catalina – Meaning "pure," Catalina embodies purity of heart and spirit.
Colette – This name signifies "victorious" and represents a strong and determined nature.
Coralie – Derived from the word for "coral," Coralie brings to mind the vibrant and colorful beauty of the sea.
Cosima – Meaning "order" or "beauty," Cosima is associated with grace and harmony.
Cadence – This name, representing rhythm and flow, symbolizes a vibrant and spirited personality.
List Of Trendy Girl Names Starting With C
Celeste
Cadence
Camila
Cassidy
Coraline
Callie
Chloe
Clara
Clementine
Catalina
Coral
Celine
Cora
Capri
Charlize
Calista
Cleo
Camryn
Carmela
Carmen
Casey
Collins
Corinne
Cynthia
Clover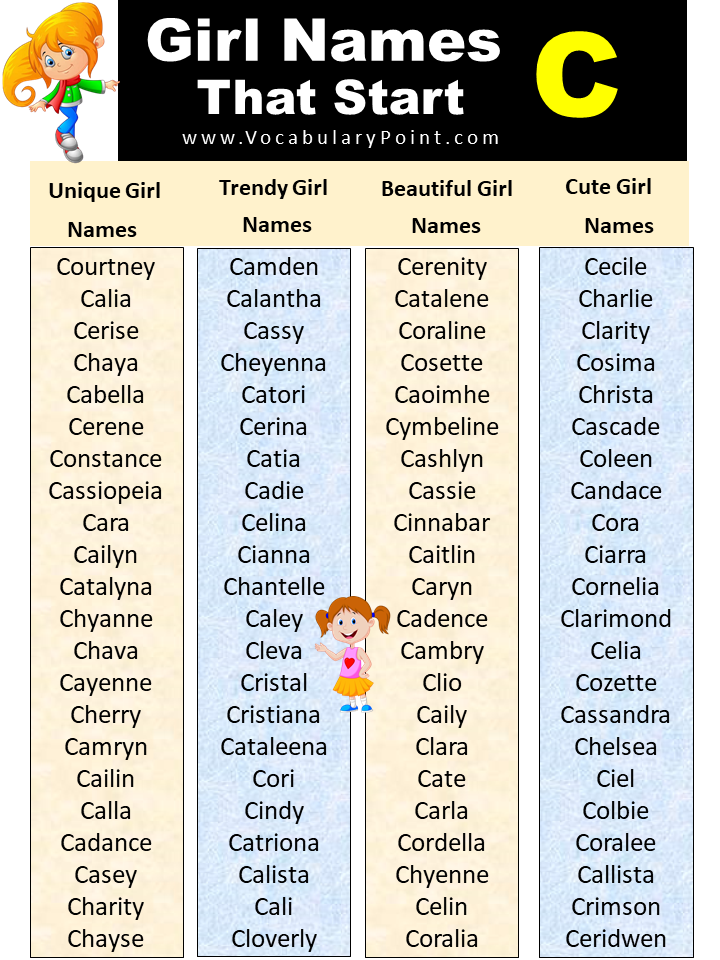 Beautiful Girl Names With C
Celeste
Cora
Camilla
Charlotte
Cassandra
Catalina
Coraline
Clara
Cecilia
Calista
Camille
Carmen
Clementine
Cynthia
Cassidy
Celine
Chiara
Clover
Constance
Cosette
Colette
Calliope
Cordelia
Cressida
Beautiful Rare Girl Names With C
Cressida
Calantha
Cerys
Celestia
Cordelia
Calliope
Catalina
Clarissa
Corinna
Cyra
Coralie
Capriana
Cymbeline
Caledonia
Carina
Charmaine
Cerelia
Cassiana
Caelia
Cambria
Coretta
Calypso
Cybelle
Cressentia
Caledra
Beautiful Girl Names In English With C
Charlotte
Claire
Camilla
Cassandra
Cecilia
Cassidy
Chloe
Cordelia
Cora
Celeste
Clara
Carolyn
Caitlin
Cynthia
Catalina
Cadence
Coraline
Colette
Callie
Clarissa
Celine
Colleen
Corinne
Clover
Celia
Read Also : Basic English Vocabulary Words
Pretty Girl Names That Start With C
Calla
Cecily
Camellia
Corinne
Catalina
Celestia
Clover
Clea
Celine
Coralie
Cassia
Cosima
Cyra
Carys
Clementine
Calliope
Caprice
Coral
Cadence
Carmella
Camila
Constance
Clio
Celeste
Cressida
Pretty C Girl Names With Meanings
Cassandra – Greek name meaning "shining upon men"
Celeste – Latin name meaning "heavenly"
Coraline – French name meaning "coral"
Calliope – Greek name meaning "beautiful voice"
Clementine – Latin name meaning "merciful"
Camilla – Latin name meaning "young ceremonial attendant"
Clara – Latin name meaning "bright" or "clear"
Celia – Latin name meaning "heavenly"
Carolina – Feminine form of Carl, meaning "free man"
Chloe – Greek name meaning "blooming" or "green shoot"
Calista – Greek name meaning "most beautiful" or "most lovely"
Coral – English name representing the underwater organic gemstone
Cosima – Greek name meaning "order" or "harmony"
Chiara – Italian name meaning "clear" or "bright"
Cynthia – Greek name meaning "moon goddess"
List Of Pretty Girl Names Starting With C
Celia
Clara
Camilla
Celeste
Coralie
Cosette
Calista
Cassandra
Clementine
Catalina
Clover
Celestia
Carolina
Corinne
Calliope
Celine
Cordelia
Cecilia
Calla
Camille
Cora
Cassia
Chiara
Clover
Constance
Popular Girl Names That Start With C
Charlotte
Chloe
Claire
Camila
Caroline
Cassidy
Cadence
Catherine
Cecilia
Clara
Cora
Callie
Crystal
Cynthia
Cassidy
Chelsea
Colette
Courtney
Christina
Carly
Carmen
Casey
Camille
Colleen
Caitlyn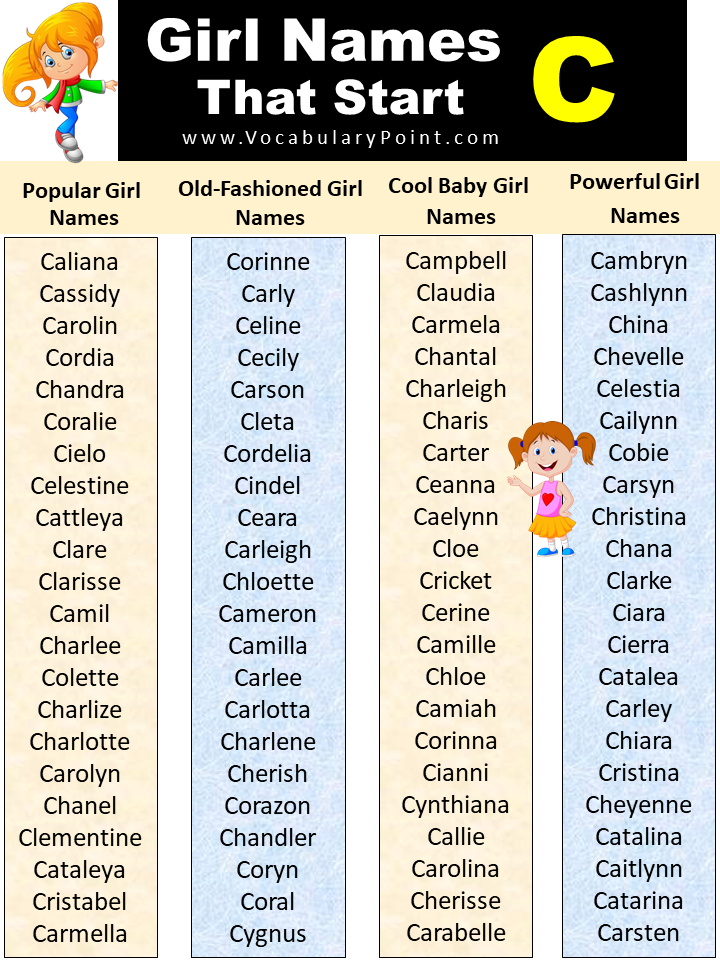 Popular C Girl Names With Meanings
Charlotte – French name meaning "free man"
Chloe – Greek name meaning "blooming" or "green shoot"
Catherine – Greek name meaning "pure" or "clear"
Cassandra – Greek name meaning "shining upon men"
Caroline – French name meaning "free woman"
Clara – Latin name meaning "bright" or "clear"
Camilla – Roman name meaning "young ceremonial attendant"
Cecilia – Latin name meaning "blind" or "seer"
Cynthia – Greek name meaning "moon goddess"
Cadence – English name meaning "rhythm" or "flow"
Caitlin – Irish name meaning "pure"
Callie – Greek name meaning "beautiful" or "lovely"
Courtney – French name meaning "from the court"
Cora – Greek name meaning "maiden"
Colleen – Irish name meaning "girl" or "young woman"
List Of Popular Girl Names Starting With C
Chloe
Charlotte
Claire
Camila
Caroline
Catherine
Cassidy
Cadence
Chelsea
Cecilia
Clara
Cora
Callie
Crystal
Courtney
Cynthia
Camille
Colleen
Caitlin
Carmen
Carly
Chloe
Corinne
Cassidy
Chloe
Cute Girl Names That Start With C
Callie
Coco
Celia
Coral
Cleo
Cora
Carly
Cassie
Clover
Crystal
Clara
Cami
Candy
Celeste
Chloe
Corinne
Casey
Cosette
Charli
Cricket
Cyndi
Cici
Cori
Cinnamon
Cupcake
Also Read : English Vocabulary Easy Words
Cute C Girl Names With Meanings
Clara – Latin name meaning "bright" or "clear"
Coco – A nickname derived from "Colette" or "Nicole"
Cora – Greek name meaning "maiden"
Callie – Greek name meaning "beautiful" or "lovely"
Cherry – Referring to the sweet fruit
Cassie – Diminutive of Cassandra, meaning "shining upon men"
Clementine – Latin name meaning "merciful" or "gentle"
Chloe – Greek name meaning "blooming" or "green shoot"
Coral – Referring to the underwater organic gemstone
Celine – French name meaning "heavenly"
Charli – Diminutive of Charlotte, meaning "free man"
Cookie – Referring to a sweet baked treat
Cali – Derived from California, a place name meaning "hot" or "fertile land"
Cupcake – Referring to a small, sweet baked dessert
Cutie – Term of endearment meaning "adorable" or "lovely"
List Of Cute Girl Names Starting With C
Calista
Celeste
Clementine
Coraline
Cordelia
Cosette
Colette
Cora
Camilla
Calliope
Clover
Carolina
Catalina
Celine
Cassandra
Celia
Celestia
Cleo
Cynthia
Cadence
Charis
Charmaine
Coral
Clover
Cassidy
Old-Fashioned Girl Names That Start With C
Constance
Corinne
Cecilia
Clarissa
Clementina
Cornelia
Celia
Cynthia
Charlotte
Celestine
Cordelia
Claudia
Caroline
Constance
Cassandra
Cecily
Clarice
Celine
Colette
Clara
Colleen
Cressida
Cynthia
Catherine
Christabel
Old-Fashioned C Girl Names With Meanings
Cora – Meaning "maiden" or "heart."
Cecilia – Derived from the Roman family name, meaning "blind."
Clara – Derived from the Latin word for "clear" or "bright."
Charlotte – A feminine form of the name Charles, meaning "free man" or "petite."
Clementine – Derived from the Latin word for "merciful" or "gentle."
Constance – Meaning "steadfast" or "constant."
Cordelia – Derived from the Celtic words for "heart" and "daughter of the sea."
Camilla – Meaning "attendant" or "young ceremonial servant."
Celeste – Derived from the Latin word for "heavenly" or "celestial."
Cassandra – Derived from the Greek word for "prophetess" or "shining upon men."
Colette – Meaning "victorious" or "people of victory."
Clarissa – Derived from the Latin word for "clear" or "bright."
Cynthia – Derived from the Greek word for "moon goddess" or "moon."
Cornelia – Meaning "horn" or "strong-willed."
Cecily – Derived from the Roman family name, meaning "blind."
List Of Old-Fashioned Girl Names Starting With C
Clara
Constance
Cordelia
Cecilia
Charlotte
Cora
Catherine
Camilla
Cynthia
Caroline
Clementine
Celeste
Clarissa
Colleen
Cornelia
Corinne
Celia
Christine
Constance
Camille
Carlotta
Celine
Cassandra
Christabel
Cordella
Cool Baby Girl Names That Start With C
Cleo
Camryn
Cadence
Callie
Catalina
Celeste
Cassidy
Capri
Coraline
Celine
Colette
Clover
Cyra
Cambria
Clio
Cyan
Carmela
Cali
Caprice
Cressida
Charmaine
Cheyenne
Chaya
Ciel
Calista
Resources Related To C Girl Names
Baby Name Wizard – A website offering a comprehensive database of baby names, including girl names starting with "C."
Behind the Name – An online database with a collection of names and their meanings, including girl names starting with "C."
Nameberry – A popular website dedicated to baby names, providing lists, meanings, and inspiration, including girl names beginning with "C."
The Bump – A resourceful website with a section dedicated to baby names, including girl names starting with "C."
Mom365 – A website offering information and resources for new parents, including a section on baby names that includes girl names starting with "C."
BabyCenter – An online resource for pregnancy and parenting, including a baby names section featuring girl names starting with "C."
Social Security Administration – The official U.S. Social Security Administration website provides lists of popular baby names, including girl names beginning with "C."
Nameberry Forums – An online community where users can discuss and seek advice on baby names, including girl names starting with "C."
Pinterest – A popular visual discovery platform with numerous boards and pins dedicated to baby names, including girl names beginning with "C."
Parenting blogs and forums – Various parenting blogs and forums often have discussions and suggestions for baby names, including girl names starting with "C."
Powerful Girl Names That Start With C
Cleopatra
Camilla
Catalina
Celestia
Cordelia
Cressida
Cassandra
Carlotta
Calista
Celine
Cybill
Camille
Constance
Cora
Calliope
Clarissa
Carys
Cadence
Carmela
Corinne
Colette
Chiara
Clio
Caprice
Cymbeline
Indian Baby Girl Names Starting With C
Chandra
Charvi
Chhaya
Chandani
Chitra
Chaitali
Charu
Chavi
Chitralekha
Chandrika
Chetna
Charita
Chanchal
Chandni
Chitraja
Chandana
Charulata
Chitrangada
Chandrakala
Chinmayi
Chhavi
Charisma
Chhavi
Chhaya
Charvi