R-names are becoming increasingly popular among parents who want to give their daughters distinctive and unforgettable names. From classic options like Rose and Ruth to modern choices like Raven and Rory, there's no shortage of beautiful R-names to choose from. In this article, we'll showcase some of the most unique girl names that start with R, each one with its own special meaning and charm.
Here are Top 20 Baby Girl Names Starting With R :
Rosalind
Rebecca
Raquel
Rowena
Ramona
Rhiannon
Rosalie
Regina
Ruby
Rayna
Renata
Raven
Romina
Roselyn
Remy
Roxanne
Rhea
Raya
Renesmee
Rosetta
Unique Baby Girl Names that Start With R
Rhyan
Reem
Randa
Ridley
Ryann
Raegan
Rana
Rachelyn
Roxana
Reid
Royal
Rumi
Rayleigh
Raelyn
Rayven
Rosalee
Raveena
Rayah
Reilynn
Renny
Rosanna
Rue
Romina
Rainbow
Rennie
Regan
Roberta
Ramiyah
Raina
Rayne
Rosabel
Romi
Remedy
Raleigh
Rivers
Ria
Ralina
Rebel
Renley
Royalty
Reese
Raphaela
Royce
Rylynn
Rosalinda
Rhiannon
Rashida
Raye
Rida
Rihanna
Ryanne
Rebeca
Roselyn
Roan
Roslyn
Raena
Rina
Rita
Ren
Rylan
Reyna
Reba
Riya
Rea
Raylene
Rebelle
Rianne
Rosalia
Rowyn
Raeleigh
Rania
Rylee
Reed
Raylynn
Rena
Rivky
Ravana
Rain
Rachel
Ravenna
Rochelle
Rejoice
Ramsey
Rumer
Rosalina
Roxanne
Rhylee
Reina
Renesmee
Reeve
Rhoda
Rila
Rilynn
Ruby
Rikki
Revel
Remi
Reece
Raeanne
Ripley
Randi
Rey
Risa
Ryan
Rhonda
Rani
Rylie
Roselynn
Runa
Rowan
Rosalyn
Regina
Reagan
Raizy
Reanna
Rosalind
Resa
Rosa
Ravinia
Rose
Raissa
Rowen
Refugio
Raylee
Rebekah
Rayna
Rori
Ramona
Ramla
Raven
Reign
Rio
Reverie
Raleah
Rae
Romy
Robin
Rella
Rapunzel
Renata
Raya
Ryleigh
Riley
Renna
Raisa
Remy
Rianna
Remington
Rivka
Reaghan
Refika
Riverlyn
Richard
Raewyn
Reiko
Rainelle
Raelynn
Rubi
Rosemarie
Rayelle
Reya
Rory
Raizel
Rhea
Rosie
Rebecca
Renee
Rhett
Rochel
Raquel
River
Rosetta
Riverlynn
Roxy
Ruth
Ruthie
Rayla
Rosalynn
Rosemary
Riva
Reva
Raneen
Raja
Rowena
Romilly
Rooney
Robyn
Raine
Ryder
Must Read : List of Unique Baby Girl Names Start With S
Unique Girl Names That Start With R
Raya
Rosalind
Rhiannon
Rayna
Rowena
Ramona
Rosalie
Romilly
Renata
Raquel
Rivka
Rosamund
Remy
Rayne
Reina
Raven
Rosetta
Riona
Roslyn
Raina
Rayaan
Rina
Rochelle
Remi
Unique R Girl Names With Meanings
Rumi – Meaning "beautiful" in Japanese.
Rhea – Derived from Greek mythology, Rhea was the mother of the gods.
Rosalba – A Spanish name meaning "white rose."
Rayna – A Slavic name meaning "queen" or "pure."
Reeva – Derived from Sanskrit, Reeva means "one who moves swiftly."
Romina – Of Latin origin, Romina means "from Rome."
Rivka – A Hebrew name meaning "to bind" or "to tie."
Roshan – A Persian name meaning "bright" or "radiant."
Rayaan – An Arabic name meaning "door to paradise."
Rowan – Of Gaelic origin, Rowan means "little redhead" or "tree with red berries."
Rosabelle – Combining the elements "rose" and "belle," this name means "beautiful rose."
Reina – A Spanish name meaning "queen" or "pure."
Renata – Derived from Latin, Renata means "reborn" or "born again."
Rosita – A diminutive of Rosa, Rosita means "little rose."
Rune – A Scandinavian name meaning "secret" or "whisper."
List Of Unique Girl Names Starting With R
Raya
Remy
Rowan
Rosalia
Renegade
Romina
Rayne
Roxie
Reign
Rosalba
Rue
Riviera
Rhapsody
Roslyn
Rayaan
Rina
Rogue
Rumer
Ravenna
Rosalina
Revel
Ramira
Reeva
Rainey
Rayna
Trendy Girl Names That Start With R
Rosalind
Rowan
Remi
River
Rhea
Ruby
Raina
Reese
Rylie
Raven
Rosalie
Reese
Remy
Raquel
Regina
Roslyn
Raya
Rory
Remy
Rylie
Reagan
Romina
Roxanne
Reina
Rhiannon
Trendy R Girl Names With Meanings
Rosalie – "rose" or "beautiful"
Rhea – "flowing" or "stream"
Rowan – "little red-haired one"
Raina – "queen" or "pure"
Ruby – a precious gemstone, symbolizing passion and vitality
Reese – "enthusiastic" or "ardent"
Remy – "oarsman" or "remedy"
Raya – "friend" or "loved one"
Raven – a bird known for its dark plumage, symbolizing wisdom and mystery
Roslyn – "little rose" or "pretty rose"
Rylie – "courageous" or "valiant"
Romina – "from Rome" or "citizen of Rome"
Roxanne – "bright" or "dawn"
Reina – "queen" or "ruler"
Rhiannon – "divine queen" or "great queen"
List Of Trendy Girl Names Starting With R
Rosalind
Rowan
Remi
River
Rhea
Ruby
Raina
Reese
Rylie
Raven
Rosalie
Raquel
Romi
Rayna
Ramona
Roslyn
Raya
Remy
Reagan
Rina
Rochelle
Roya
Rosanna
Regina
Remy
Ryleigh
Roxanne
Reese
Renee
Rosetta
Beautiful Girl Names With R
Rosalind
Ramona
Rowan
Rhiannon
Ruby
Rhea
Reagan
Rosalina
Raina
Rosalie
Remy
Rosemary
Rowena
Raquel
Roxanne
Raya
Roselyn
Raven
Renata
Regina
Rosalynn
Romilly
Reina
Rosetta
Rayna
Beautiful Rare Girl Names With R
Rosamund
Rivka
Rhapsody
Rosalba
Reverie
Romina
Rosaline
Rhiana
Rhiannon
Raelene
Roxana
Rosetta
Rhianna
Rune
Rosabelle
Reeva
Rezina
Roslyn
Roshanara
Rainelle
Rubina
Rhoswen
Rosina
Rumer
Riona
Read Also : 9 Letter Words Starting With R
Beautiful Girl Names In English With R
Rose
Ruby
Rachel
Rebecca
Riley
Rosalind
Rowan
Ruth
Reagan
Regina
Reese
Rayna
Renata
Remy
Rosalie
Ramona
Roselyn
Rhea
Rosanna
Remi
River
Romina
Rhiannon
Rory
Royce
Pretty Girl Names That Start With R
Rosalind
Ruby
Rachel
Rhiannon
Rosemary
Rowan
Rebecca
Ramona
Rosalie
Remy
Roxanne
Regina
Ruby-Grace
Rhea
Raina
Roselyn
Reagan
Rosanna
Roxana
Rosabella
Renata
Raya
Ryleigh
Rylie
Remya
Rosetta
Romilly
Rayna
Raquel
Rosalynn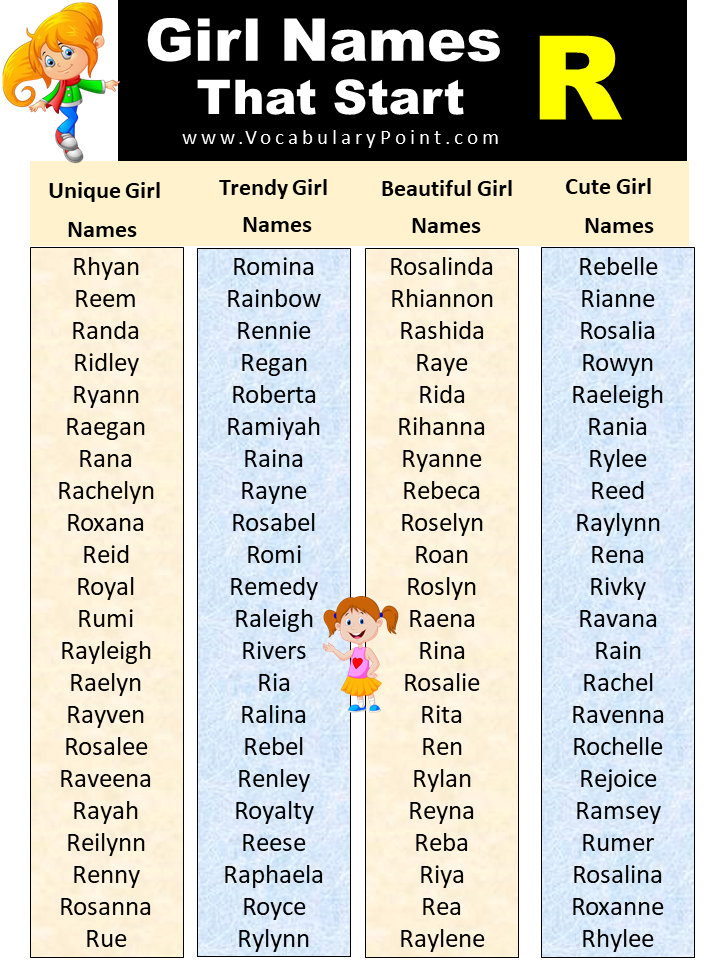 Pretty R Girl Names With Meanings
Aurora – Meaning "dawn," Aurora represents the beauty and freshness of a new day.
Serena – Derived from the Latin word for "serene" or "calm," Serena evokes a sense of peace and tranquility.
Isabella – A name of Spanish and Italian origin, Isabella means "devoted to God" or "God is my oath."
Amara – With roots in both Igbo and Sanskrit, Amara signifies "eternal" or "immortal," reflecting everlasting beauty.
Maya – Originating from various cultures, Maya can mean "illusion" in Sanskrit or "water" in Hebrew, representing mystery and fluidity.
Lily – Derived from the flower of the same name, Lily symbolizes purity, innocence, and beauty.
Penelope – A Greek name meaning "weaver," Penelope embodies creativity, resourcefulness, and intelligence.
Valentina – Coming from the Latin word for "strong" or "vigorous," Valentina represents resilience and determination.
Nora – Derived from the Greek name Eleonora, Nora signifies "light" or "honor," shining with grace and dignity.
Celeste – Meaning "heavenly" or "celestial" in French, Celeste conveys a sense of ethereal beauty and grace.
List Of Pretty Girl Names Starting With R
Rosalind
Rebecca
Rhiannon
Ramona
Ruby
Rowan
Rachel
Raquel
Rosalie
Renata
Roselyn
Rayna
Raven
Rosalyn
Regina
Reese
River
Riley
Remy
Rosanna
Rosina
Roxanne
Raya
Rosemary
Rhea
Popular Girl Names That Start With R
Riley
Ruby
Reagan
Rachel
Rebecca
Rose
Reese
Raegan
Ruby
Ruth
Rosalie
Regina
Rowan
Rosemary
Rylee
Ryleigh
Remi
Reese
Ryan
Rylie
Rosalyn
Rayna
Raven
Rebecca
Remy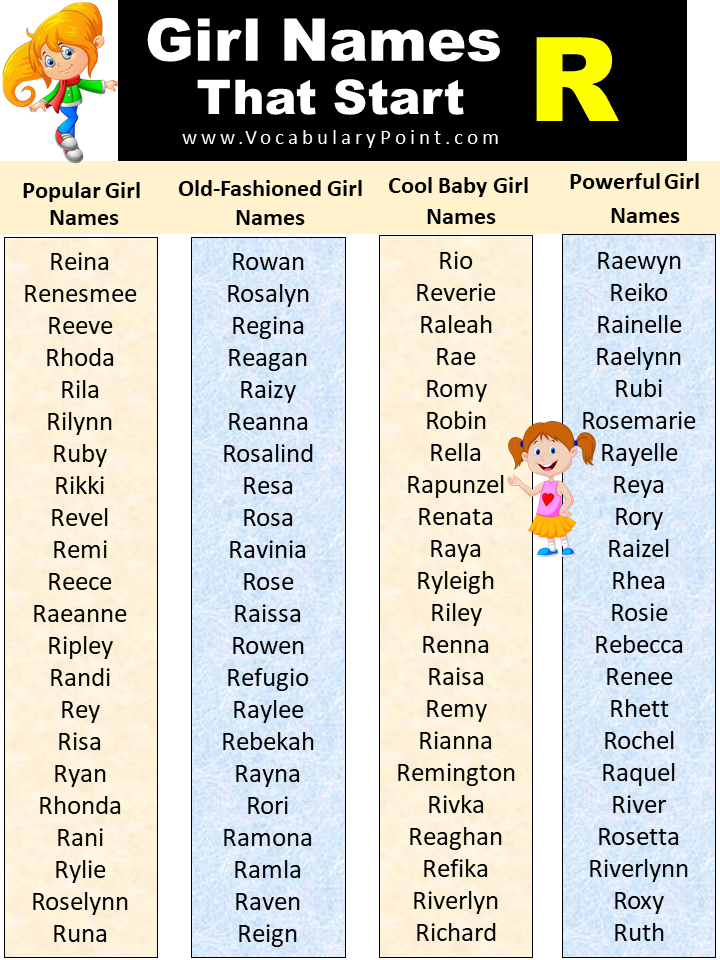 Popular R Girl Names With Meanings
Olivia – Olive tree
Sophia – Wisdom
Emma – Universal
Ava – Life
Mia – Mine or bitter
Isabella – Devoted to God
Charlotte – Free man
Amelia – Industrious
Harper – Harp player
Evelyn – Desired
Abigail – Father's joy
Emily – To excel or strive
Elizabeth – God is my oath
Scarlett – Red
Victoria – Victory
Grace – Elegance or divine favor
Madison – Son of a mighty warrior
Chloe – Blooming or fertility
Penelope – Weaver
Layla – Night
Lily – Pure or flower
Zoey – Life
Hannah – Grace or favor
Natalie – Christmas Day
Stella – Star
Aurora – Dawn
Savannah – Open plain
Brooklyn – Water or stream
Audrey – Noble strength
Lucy – Light
List Of Popular Girl Names Starting With R
Ruby
Rachel
Rebecca
Riley
Rose
Reagan
Reese
Rylee
Raegan
Ruth
Raven
Rosalie
Rowan
Raelyn
Remi
Reese
Remy
River
Royce
Regina
Renata
Roselyn
Rhiannon
Rosalind
Rayna
Cute Girl Names That Start With R
Ruby
Rosalie
Remy
Reese
Raelyn
Rowan
Rhea
Roselyn
River
Rayna
Rylie
Ramona
Raina
Rhiannon
Raya
Rosalyn
Remi
Roxanne
Ryleigh
Rina
Rosalinda
Remy
Reina
Rylie
Renata
Cute R Girl Names With Meanings
Ruby – Precious gemstone
Rosalie – Gentle rose
Remy – Oarsman
Reese – Enthusiasm
Raelyn – Lamb of God
Rayna – Queen or pure
Rina – Joyous melody
Ramona – Wise protector
Raina – Queen
Rosalyn – Beautiful rose
List Of Cute Girl Names Starting With R
Remy
Rowan
Rae
Ruby
Raina
Reese
Rosalie
Rhiannon
Raya
Roxanne
Ramona
Rina
River
Raegan
Rylie
Raven
Rosemary
Regina
Renata
Ruthie
Riley
Rosalind
Rayna
Rhea
Reina
Old-Fashioned Girl Names That Start With R
Ruth
Rosalind
Ruby
Rosemary
Ramona
Regina
Roberta
Rhea
Rowena
Rosamund
Rachel
Rebecca
Rosetta
Roxanne
Rosalie
Rilla
Rhiannon
Rosina
Rosanna
Romilda
Rubina
Romaine
Rosetta
Roxie
Rosina
Old-Fashioned R Girl Names With Meanings
Rosalind – "gentle horse; beautiful rose"
Ramona – "wise protector"
Ruby – "deep red precious stone"
Ruth – "companion; friend"
Rosemary – "dew of the sea; bitter rose"
Rosamund – "horse protection"
Rhiannon – "great queen"
Regina – "queen; ruler"
Rowena – "fame and happiness"
Rachel – "ewe; innocent lamb"
Rebecca – "captivating; bound"
Rilla – "small brook"
Rosina – "rose; gentle"
Rosanna – "gracious rose"
Romilda – "famous battle"
List Of Old-Fashioned Girl Names Starting With R
Ruth
Rose
Rosalind
Ruby
Rachel
Rebecca
Regina
Ramona
Rosamund
Rowena
Roberta
Rosetta
Rhea
Rosalie
Rosina
Rilla
Romilda
Rosanna
Roxanne
Remy
Rachel
Roslyn
Rosabelle
Rosina
Renata
Cool Baby Girl Names That Start With R
Rosaline
Rowan
Reyna
Raven
River
Remy
Rosalind
Remi
Rhea
Raquel
Reese
Rayna
Romina
Renata
Regina
Remya
Ruby
Ramona
Rayne
Rhiannon
Roxy
Remyra
Reina
Rosalie
Rory
Resources Related To R Girl Names
Nameberry
BabyCenter
The Bump
Behind the Name
Oh Baby! Names
com
MomJunction
net
Belly Ballot
Namey
Pampers Baby Names
org
Cute Baby Names
Baby Name Wizard
SheKnows Baby Names
Powerful Girl Names That Start With R
Raven
Rowan
Reagan
Rayne
Rhea
Remy
Rosalind
Roxanne
Reese
Regina
Ramona
Ruth
Raquel
Rosalie
Roslyn
Remington
Reina
Ruby
Reya
River
Renata
Rhiannon
Roxana
Romina
Rooney
Indian Baby Girl Names Starting With R
Radha
Rani
Ria
Riya
Reena
Ritu
Roshni
Reshma
Rukhsar
Rupal
Riddhi
Roopa
Rekha
Ruhi
Raji
Reya
Rituja
Rohini
Rajani
Rakhi
Riddhima
Rishika
Renuka
Ruma
Rucha
Rishita
Rashmi
Reeva
Reetha
Ruqaiya