List Of Funny Words In English. Words have the power to evoke emotions in people. They can make someone feel happy, sad, excited, or even scared. But sometimes, words can just be downright funny. We all have those words that we hear or say that make us chuckle for no apparent reason.
Must Learn: 500+Formal And Informal Words
List Of Funny Words In English
Blubber – I cried so hard I had blubber on my face.
Bumfuzzle – Don't bumfuzzle me with all those technical terms.
Collywobbles – I get collywobbles just thinking about public speaking.
Doozy – That was a doozy of a storm last night.
Flummox – The complicated instructions really flummoxed me.
Gobbledygook – I can't understand this legal document – it's full of gobbledygook.
Hocus-pocus – Don't try any hocus-pocus on me, I know what you're up to.
Kerfuffle – There was a kerfuffle at the party when the cake got dropped.
Lollygag – Stop lollygagging around and get to work.
Malarkey – I don't believe a word of that malarkey.
Nincompoop – You're such a nincompoop for thinking that would work.
Piffle – That's a load of piffle – it'll never work.
Razzmatazz – The circus was full of razzmatazz and excitement.
Skedaddle – Let's skedaddle before the boss sees us.
Snollygoster – He's a real snollygoster, always up to something sneaky.
Spiffy – Your outfit looks spiffy today.
Tchotchke – I don't need any more tchotchkes cluttering up my house.
Whippersnapper – You young whippersnapper, back in my day we did things differently.
Widdershins – He's always going widdershins instead of following directions.
Ziggurat – I built a ziggurat out of Legos last weekend.
Brouhaha – The brouhaha over the dress color was ridiculous.
Codswallop – Don't give me any of that codswallop, I know the truth.
Flapdoodle – I'm not listening to your flapdoodle anymore.
Gobbledygoo – That report was filled with gobbledygoo.
Higgledy-piggledy – The books on the shelf were all higgledy-piggledy.
Lickety-split – We need to finish this project lickety-split.
Mumbo jumbo – I can't make sense of this mumbo jumbo.
Skedoodle – Let's skedoodle out of here before things get worse.
Skedoodle – I left my skedoodle at home, can you lend me a pen?
Wacky – You have such a wacky sense of humor, I love it.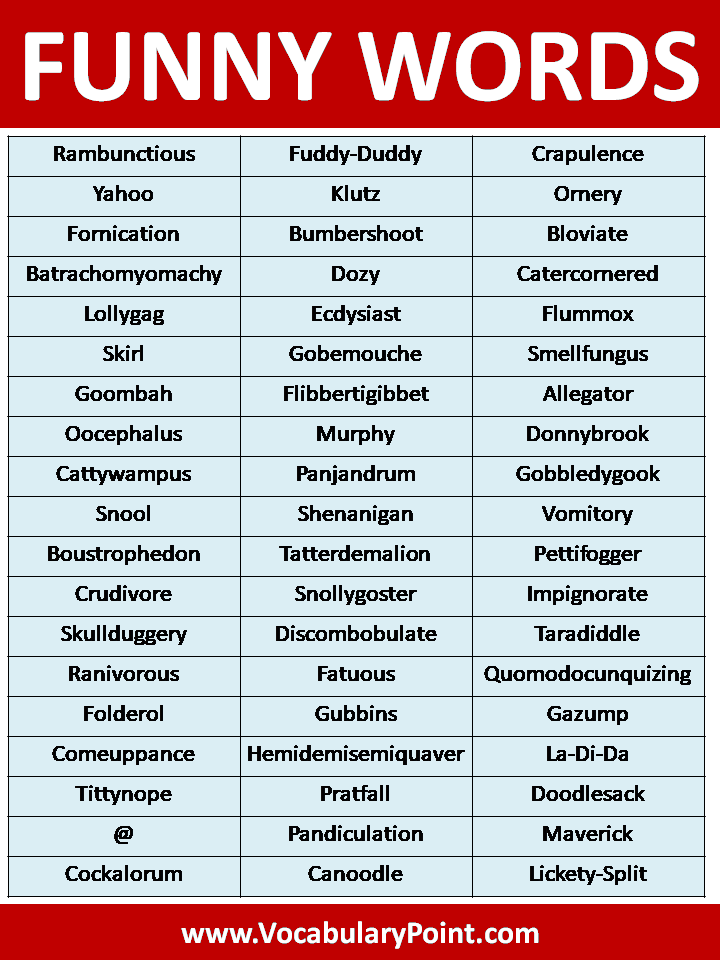 | | |
| --- | --- |
| Rambunctious | Canoodle |
| Yahoo | Klutz |
| Fornication | Bumbershoot |
| Batrachomyomachy | Dozy |
| Lollygag | Ecdysiast |
| Skirl | Gobemouche |
| Goombah | Flibbertigibbet |
| Oocephalus | Murphy |
| Cattywampus | Panjandrum |
| Snool | Shenanigan |
| Boustrophedon | Tatterdemalion |
| Crudivore | Snollygoster |
| Skullduggery | Discombobulate |
| Ranivorous | Fatuous |
| Folderol | Gubbins |
| Comeuppance | Hemidemisemiquaver |
| Tittynope | Pratfall |
| Hippo tipo | Pandiculation |
| Cockalorum | Troglodyte |
| Crapulence | Logorrhea |
| Ornery | Hocus-Pocus |
| Bloviate | Lickspittle |
| Catercornered | Widdershins |
| Flummox | Gastromancy |
| Smellfungus | Abibliophobia |
| Allegator | Filibuster |
| Donnybrook | Dudgeon |
| Gobbledygook | Nincompoop |
| Vomitory | Collop |
| Pettifogger | Anencephalous |
| Impignorate | Brouhaha |
| Taradiddle | Cantankerous |
| Quomodocunquizing | Woebegone |
| Gazump | Codswallop |
| La-Di-Da | Unremacadamized |
| Doodlesack | Cockamamie |
| Maverick | Skedaddle |
| Lickety-Split | Finifugal |
| Fuddy-Duddy | Rigmarole |
| Inkle | Quean |
| Snickersnee | Wabbit |
| Lackadaisical | Mollycoddle |
| Blunderbuss | Malarkey |
| Diphthong | Funambulism |
| Fanty-Sheeny | Hoosegow |
| Bibble | Maltipoo |
| Gonzo | Zoanthropy |
| Borborygm | Borborygmus |
| Namby-Pamby | Absquatulate |
| Furbelow | Blatherskite |
| Mumpsimus | Eructation |
| Sialoquent | Callipygian |
| Hootenanny | Winkle picker |
| Godwottery | Slangwhanger |
| Argle-Bargle | Collywobbles |
| Nudiustertian | Bumfuzzle |
| Gongoozle | Wassail |
| Fard | Gardyloo |
| Hobbledehoy | Billingsgate |
| Hullaballoo | Bowyang |
| Jackanapes | Mugwump |
| Turdiform | Kerfuffle |
| Fartlek | Firkin |
| Eeksie-Peeksie | Lagopodous |
| Sozzled | Gaberlunzie |
Another Word For Funny