Words That Rhyme With Me. Words that rhyme with me are typically found in the English language and include words such as "key," "see," and "tea."
These English words all have similar vowel sounds, which is why they rhyme. In order to create a rhyme, the words must have at least one consonant sound in common.
This is why "sky" and "high" do not rhyme, despite having similar vowel sounds.
Must Learn: Animal and Birds Sound List
What Are Words That Rhyme With Me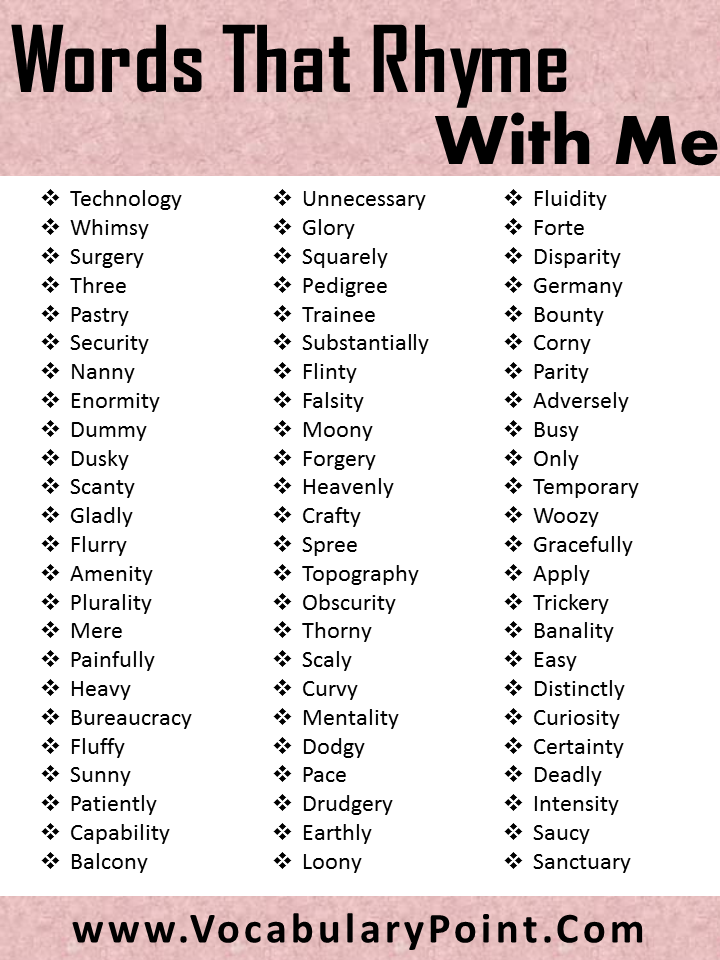 List Of Words That Rhyme With Me
Technology
Whimsy
Surgery
Three
Pastry
Security
Nanny
Enormity
Dummy
Dusky
Scanty
Gladly
Flurry
Amenity
Plurality
Mere
Painfully
Heavy
Bureaucracy
Fluffy
Sunny
Patiently
Capability
Balcony
Unnecessary
Tree
Glory
Squarely
Pedigree
Trainee
Substantially
Flinty
Falsity
Moony
Forgery
Heavenly
Crafty
Spree
Topography
Obscurity
Thorny
Scaly
Curvy
Mentality
Dodgy
Pace
Drudgery
Earthly
Loony
Fluidity
Forte
Lanky
Disparity
Germany
Bounty
Corny
Parity
Adversely
Busy
Only
Temporary
Woozy
Gracefully
Apply
Trickery
Banality
Easy
Distinctly
Curiosity
Certainty
Deadly
Intensity
Saucy
Sanctuary
Oversee
Money
Cursory
Intermediary
Messy
Testimony
Pretty
Excessively
Decency
Severely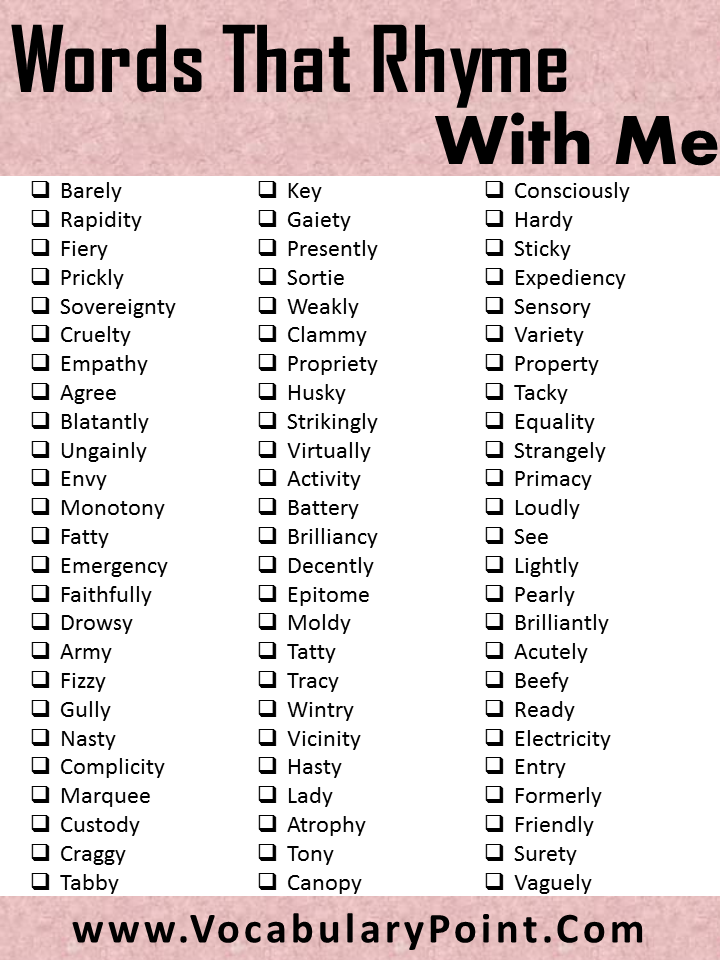 Words That Rhyme With Me
Gloomy
Weedy
Orderly
Tragedy
Family
Secretly
Shiny
Ugly
Topsy-turvy
Degree
Groovy
Early
Popularity
Tangy
Goodly
Journey
Proficiency
Daddy
Bossy
Silly
Plea
Privy
Sorcery
Sloppy
Unearthly
Dizzy
Happy
Parody
Balmy
Watery
Daily
History
Barbarity
Bully
Tyranny
Quality
Easily
Free
Complementary
Dirty
Cowardly
Scarcity
Bleary
Furiously
Cloudy
Entirely
Nappy
Unsavory
Subtly
Desperately
Lethargy
Catastrophe
Diversity
Absurdly
Baggy
Sake
Vainly
Unruly
Instantly
Efficiency
Woolly
Chimney
Routinely
Devotee
Complimentary
Generally
Company
Destiny
Personality
Plenty
Gee
Mastery
Uneasy
Psyche
Maturity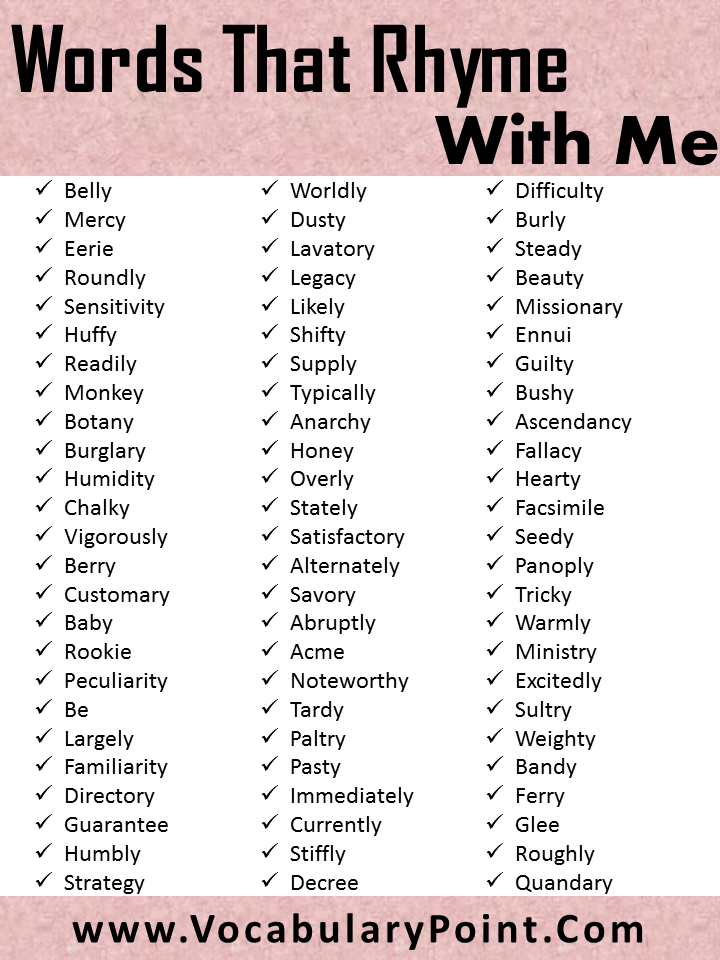 Curry
Cadre
Bogey
Hurry
Leafy
Theory
Curly
Muddy
Conformity
Territory
Coffee
Madly
Auxiliary
Scarcely
Completely
Ely
Rocky
Previously
Parry
Empty
Thee
Jolly
Tidy
Reactionary
Plushy
Bendy
Holy
Squawky
Courtesy
Blindly
Hobby
Academy
Petty
Serenity
Obscenity
Primary
Foamy
Stationary
Mighty
Crazy
City
Narrowly
Mole
Jockey
Bury
Fidelity
Jointly
Prodigy
Regularly
Soupy
Savagery
Irony
Mossy
Carry
Ambiguity
Uncertainty
Slimy
Smoothly
Belfry
Mercenary
Volley
Yearly
Amply
Rosy
Barbie
Creamy
Fishy
Rapidly
Portly
Barely
Rapidity
Fiery
Prickly
Sovereignty
Cruelty
Empathy
Agree
Blatantly
Ungainly
Envy
Monotony
Fatty
Emergency
Faithfully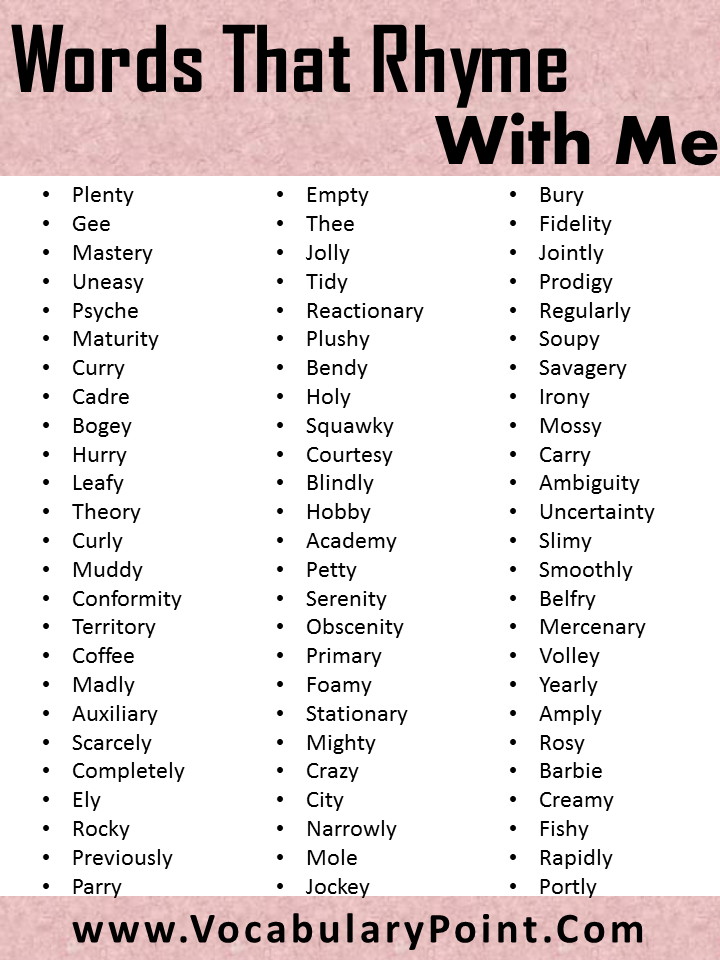 Drowsy
Army
Fizzy
Gully
Nasty
Complicity
Marquee
Custody
Craggy
Tabby
Key
Gaiety
Presently
Sortie
Weakly
Clammy
Propriety
Husky
Strikingly
Virtually
Activity
Battery
Brilliancy
Decently
Epitome
Moldy
Tatty
Tracy
Wintry
Vicinity
Hasty
Lady
Atrophy
Tony
Canopy
Consciously
Hardy
Sticky
Expediency
Sensory
Variety
Property
Tacky
Equality
Strangely
Primacy
Loudly
See
Lightly
Pearly
Brilliantly
Acutely
Beefy
Ready
Electricity
Entry
Formerly
Friendly
Surety
Vaguely
Belly
Mercy
Eerie
Roundly
Sensitivity
Huffy
Readily
Monkey
Botany
Burglary
Humidity
Chalky
Vigorously
Berry
Customary
Baby
Rookie
Peculiarity
Be
Largely
Familiarity
Directory
Guarantee
Humbly
Strategy
Worldly
Dusty
Lavatory
Legacy
Likely
Shifty
Supply
Typically
Anarchy
Honey
Overly
Stately
Satisfactory
Alternately
Savory
Abruptly
Acme
Noteworthy
Tardy
Paltry
Pasty
Immediately
Currently
Stiffly
Decree
Difficulty
Burly
Steady
Beauty
Missionary
Ennui
Guilty
Bushy
Ascendancy
Fallacy
Hearty
Facsimile
Seedy
Panoply
Tricky
Warmly
Ministry
Excitedly
Sultry
Weighty
Bandy
Ferry
Glee
Roughly
Quandary
Seriously
Gassy
Bunny
Dainty
Casualty
Testy
Personally
Fancy
Crabby
Stuffy
Shimmy
Prosperity
Lazy
Certainly
Unduly
Society
Jimmy
Pleasantly
Explicitly
Scruffy
Fertility
Fairy
Factory
Multiply
Summary
Inquiry
Pygmy
Big Words That Rhyme With Me
Extraordinary
Nationality
Slippery
Savvy
Contrary
Cranky
Chilly
Duly
Intimacy
Wacky
Modesty
Gritty
Bouncy
Sickly
Roily
Fury
Foxy
Goofy
Preliminary
Gaudy
Accurately
Boundary
Body
Grossly
Effectively
Fee
Plucky
Cozy
Vary
Copy
Atrocity
Bee
Sundry
Unlikely
Secrecy
Filmy
Machinery
Victory
Flimsy
Paucity
Lively
Sturdy
Expectancy
Fifty
Kooky
Ghastly
Justly
Tenacity
Credibility
Knee
Heady
Pregnancy
Maybe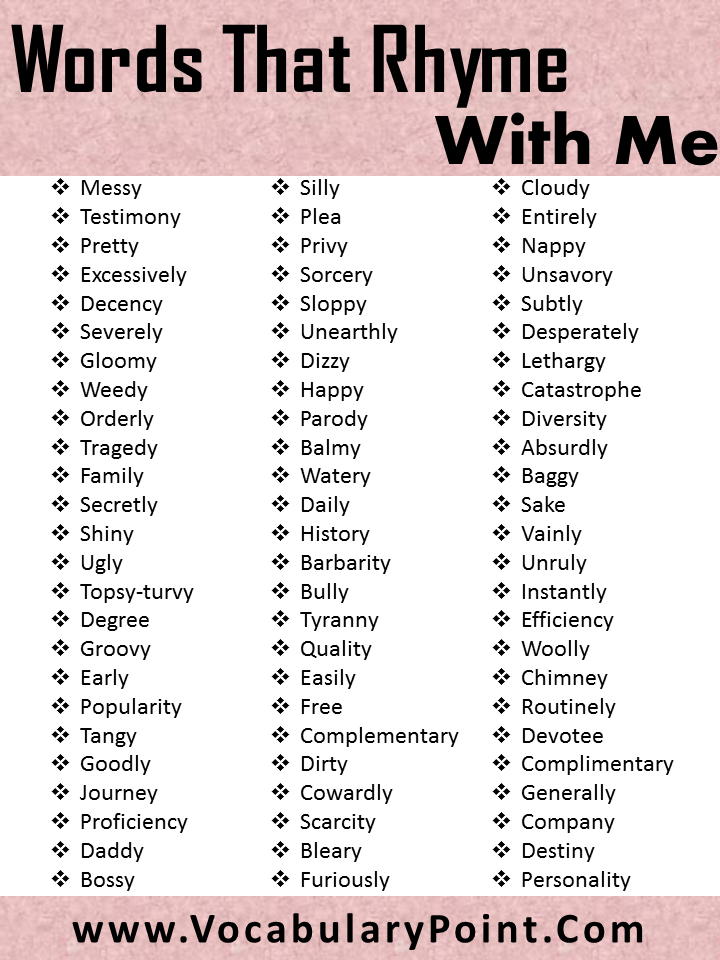 You Can Download List of Words that Rhyme with Me