Islamic Words In English. Here is a collection of 100+ Islamic words in English. This page will provide a collection of often used Islamic terms.
Knowing the jargon used by Muslims in everyday conversation will help you avoid feeling embarrassed when you think you should know what something means but don't. You're embarrassed even to inquire.
This isn't your fault; we've all been there. Sometimes the memo was just ignored. That is why we have arrived.
This comprehensive collection serves as a lexicon of the most often used Muslim words in regular discourse.
List Of Islamic Words In English
Eid
Malak
Ummah
Subhanallah
Isha'
Islam
Sahaba
Zakah
Dawah
Dhuhr
Assalamu Alaikum
Iman
Jahannam
Audhu billahi min ash-shaytan ir-rajim
Allahu Akbar
Ibadah
Aya
Rakat
Nabi
Khutbah
Sabr
Deen
Barakah
Waalaikum Salam
Eid Al-Adha
Iftar
Muslim
Sujood
Jinn
Jazak Allahu Khair/Khayrun
Iqamah
Hafiz
Caliph
Fajr
Shaitaan
Qur'an
Umrah
Haram
Imam
Islamic Words of Love
Qibla
Hajj
Fard
Ghusl
Eid Al-Fitr
Allah
Rukoo
Mahram
Inna lillahi wa inna ilayhi raji'un
Salah/Salat
Salam
Jannah
Dua
Surah
Juz
Bismillah
Jumu'ah
Masjid
Tawaf
Mashallah
Astaghfirullah
Niyyah
Akhirah
Shahadah
Asr
Dhikr
Mabrook
Dunya
Khalifah
Also Learn: Negative Adjectives
Hadith
Tawheed
Sheikh
Hijab
PBUH
Alhamdulillah
Wallah
Ka'bah
Fatwa
Jihad
Shukran
Awrah
Insha'Allah
Maghreb
Quraysh
Halal
Kafir
Athan
La Ilaha Illalah
Mustahab
Wudu
Taqwa
Ramadan
Islamic Words In English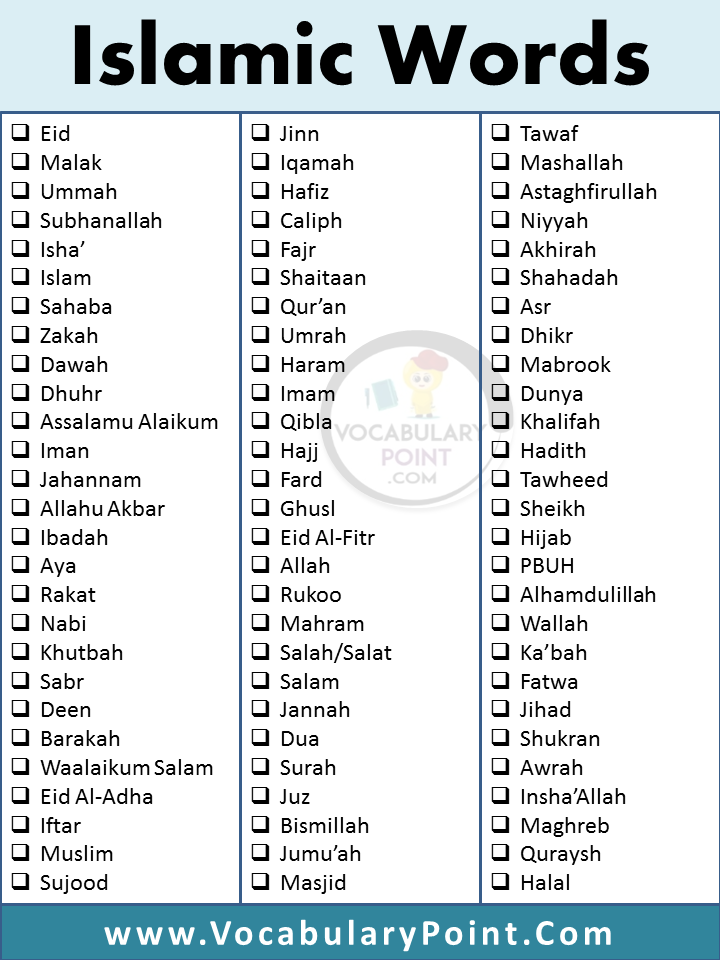 You can Download Islamic Words in English pdf