Are you tired of the same old boring pet names? Well, it's time to turn up the volume and add some color to your life with parrot names that are as vibrant and unique as these feathered friends themselves! Whether you're a first-time parrot owner or a seasoned bird enthusiast looking to add another member to your flock, this article is packed with ideas that will make your parrot stand out from the crowd.
Here Are Top 10 Parrot Names:
Rio
Sunshine
Jasper
Mango
Peaches
Rainbow
Coco
Skittles
Emerald
Gizmo
Popular Parrot Names
Mango
Coco
Charlie
Peppermint
Olive
Apollo
Ziggy
Peaches
Luna
Kiko
Muffin
Louie
Bubbles
Willow
Rosie
Tiki
Tango
Jasper
Kiwi
Lily
Nala
Zara
Sunny
Rio
Skittles
Ruby
Merlin
Bella
Peanut
Echo
Gizmo
Blue
Marley
Saffron
Pippin
Poppy
Pickles
Must Learn: 999+ Best Chicken Names (Cute, Funny, Clever & Baby Chick Names)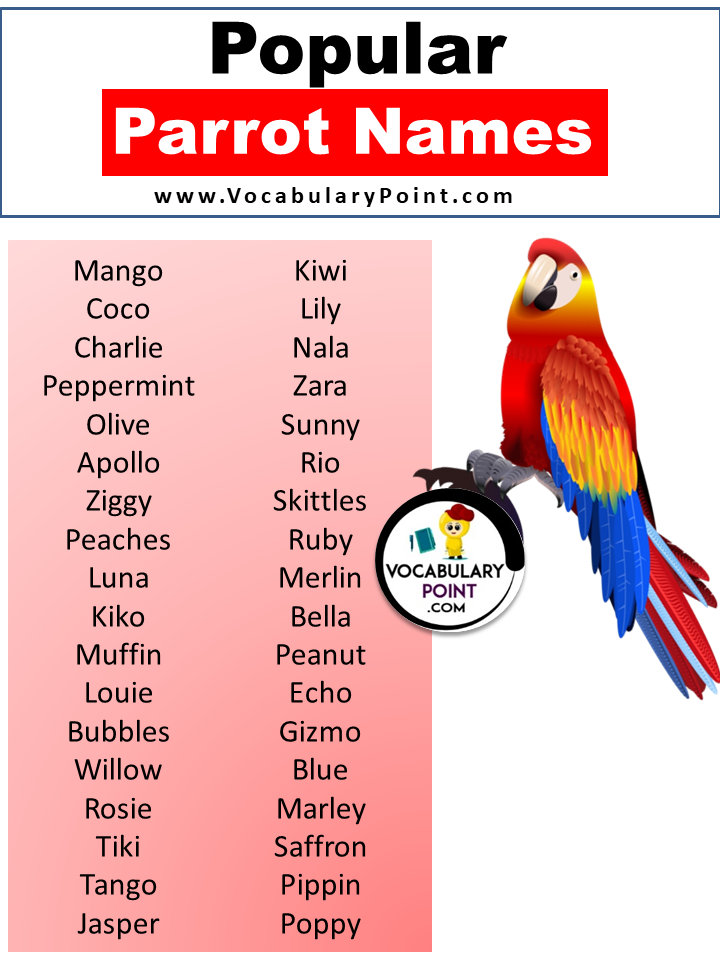 Famous Parrot Names
Mango
Tiki
Chico
Mateo
Beaker
Captain Flint
Polly
Cookie
Rambo
Apollo
Rosie
Iago
Arturo
Louie
Zazu
Diego
Paco
Cujo
Tookie
Snowball
Charlie
Truman
Mojo
Chiquita
Chet
Paulie
Inca
Rocky
Skittles
Pandora
Alex
Yago
Merlin
Baby
Snowy
Bandit
Koko
Pickles
Gabby
Einstein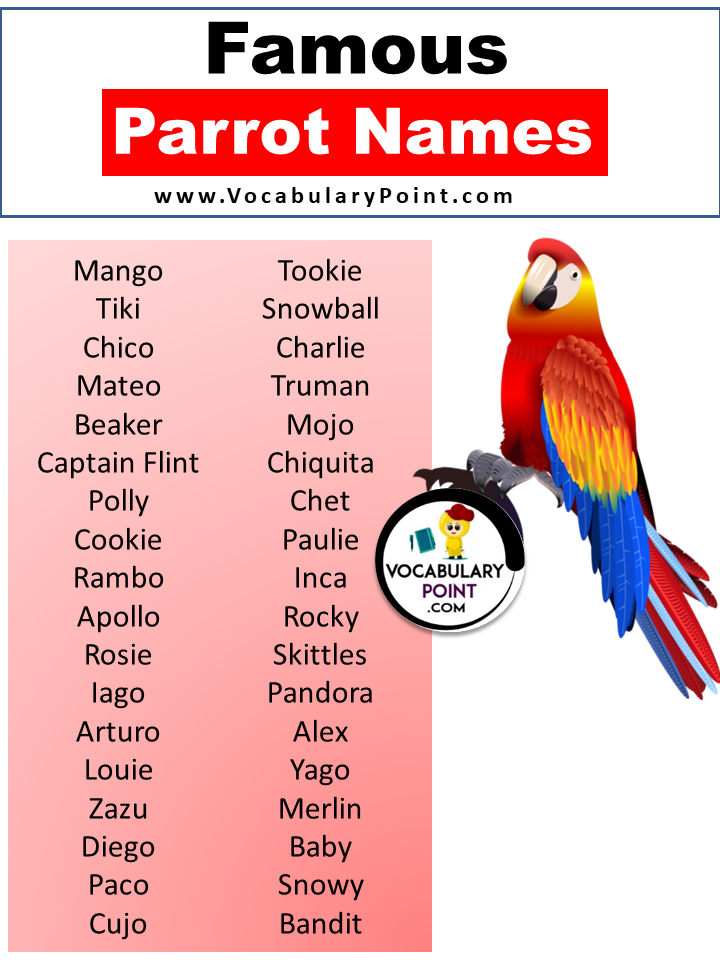 Cute Parrot Names
Marshmallow
Sunny
Twinkle
Peaches
Jellybean
Peanut
Tootsie
Poppy
Muffin
Bubbles
Nibbles
Bluebell
Dolly
Cupcake
Cinnamon
Pickles
Squeaky
Buttercup
Clover
Giggles
Tinker
Waffles
Hootie
Tinkerbell
Dottie
Chirpy
Pudding
Wiggles
Fluffy
Jelly
Breezy
Cupid
Munchkin
Sprinkles
Sparky
Mango
Snickers
Biscuit
Pippin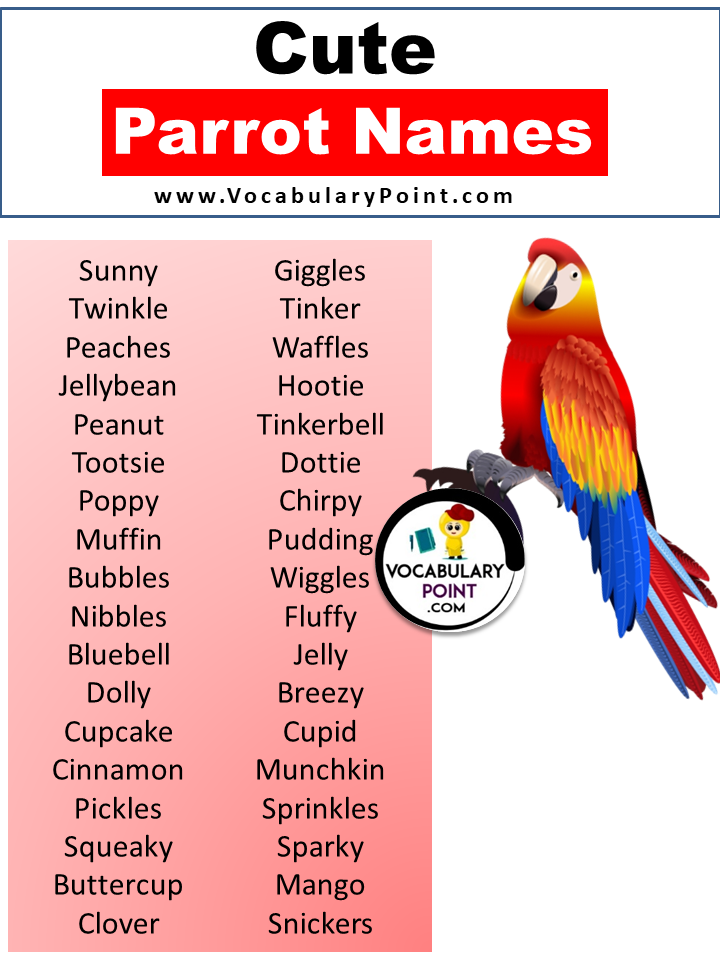 Funny Parrot Names
Bumble Beak
Chuckle Feathers
Polly Gigglesworth
Buzzy Beakerson
Feather Funnypants
Feathers McChatter
Wingnut
Chirpy McChew
Chirpy Chuckles
Giggles Featherbottom
Parrot-dox
Noodle Beak
Quirk E. Bird
Laughing Loco
Squawkerella
Captain Chatterbox
Sir Tweet-a-Lot
Feather Flapdoodle
Babble Beak
Hootie McLaugh
Jabber Jaws
Cracker Jack
Squeaky Cheeks
Pecky Blinders
Squawkzilla
Tweetie Pie
Tweetle Dee
Cracker Quacker
Pecky Monster
Sir Chirps-a-Lot
Squawkenstein
Nutty Nibbler
Squabble Dabble
Sir Squawks-a-Lot
Giggle Beak
Polly Want-a-Cracker
Wacky Wingster
Beaky Bluster
Squawkie Talkie
Wing Ding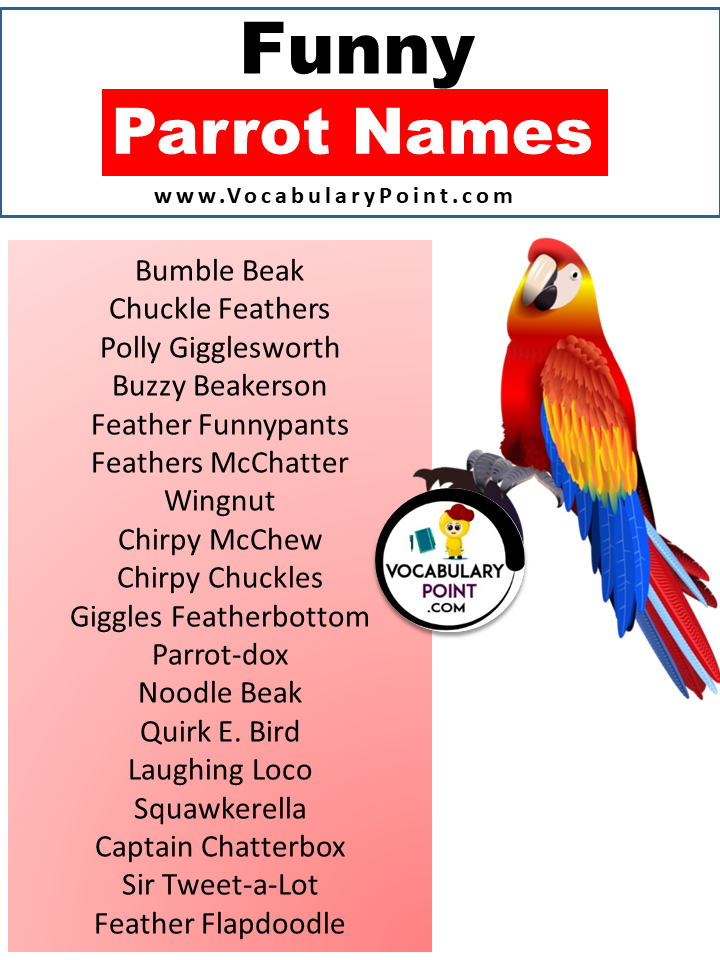 Female Parrot Names
·         Cupcake – Sweet
·         Pearl – Timeless
·         Cinnamon – Spicy
·         Tiffany – Sophisticated
·         Cherry – Red
·         Feather – Prominent
·         Willow – Graceful
·         Pepper – Spunky
·         Blossom – Blooming
·         Star – Shining
·         Sapphire – Blue
·         Pebbles – Small
·         Opal – Precious
·         Coco – Sweet
·         Fiona – Elegant
·         Ruby – Vibrant
·         Mango – Delicious
·         Mocha – Rich
·         Sandy – Earthy
·         Petal – Delicate
·         Dottie – Spotted
·         Tinker – Playful
·         Skye – Soaring
·         Honey – Affectionate
·         Lily – Graceful
·         Peaches – Sweet
·         Ivy – Green
·         Misty – Mysterious
·         Belle – Beautiful
·         Zara – Unique
·         Luna – Moon
·         Sunny – Cheerful
·         Ginger – Fiery
·         Velvet – Luxurious
·         Nova – New
·         Jewel – Valuable
·         Jasmine – Fragrant
·         Sparrow – Cute
·         Daisy – Fresh
·         Rosie – Rosy
Male Parrot Names
·         George – Farmer
·         Zeus – King of the gods
·         Buddy – Friend
·         Teddy – Protector
·         Buddy – Companion
·         Mango – Fruity
·         Peanut – Nutty
·         Oliver – Olive tree
·         Dexter – Skillful
·         Jasper – Semiprecious stone
·         Spike – Spiky
·         Cody – Helpful
·         Ziggy – Zigzag
·         Harley – Meadow
·         Felix – Happy
·         Toby – God is good
·         Rocky – Strong
·         Benji – Son of my right hand
·         Leo – Lion
·         Cooper – Barrel maker
·         Louie – Famous warrior
·         Paco – Relaxed
·         Sunny – Cheerful
·         Rocko – Rock
·         Charlie – Free
·         Rio – River
·         Joey – Young
·         Scooter – Speedy
·         Mickey – Who is like God
·         Oscar – Distinguished
·         Bentley – Meadow
·         Sam – Listens
·         Charlie – Friendly
·         Max – Maximum
·         Rex – King
·         Blue – Colorful
·         Rusty – Red-haired
·         Bobby – Bright fame
Unisex Parrot Names
Tango
Pepper
Sky
Gizmo
Sunny
Rio
Ruby
Casey
Lucky
Riley
Ziggy
Angel
Echo
Peanut
Sparky
Jasper
Cricket
Charlie
Blue
Avery
Luna
Skyler
Quincy
Coco
Mango
Kiwi
Related: 250 + Best Cow Names (Cute, Funny& Unique)
450+ Best Goat Names (Pet, Cute & Funny)
Frog Names (Best, Funny, Cute, Male & Female)
Tips For Choosing A Parrot Name
·         Double Syllables:

Many parrots respond well to names with two syllables.
·         Historical Figures:

Consider names inspired by historical figures or celebrities.
·         Name Evolution:

Be open to changing the name if it doesn't seem to fit.
·         Ease of Pronunciation:

Pick a name that's easy to say and remember.
·         Distinctive Traits:

Choose a name that highlights your parrot's unique features or behaviors.
·         Species Reference:

Research your parrot's species and find a name related to it.
·         Personality:

Observe your parrot's personality and select a name that suits it.
·         Favorite Food:

Name your parrot after its favorite treat or food.
·         Cultural References:

Explore names from your favorite cultures or languages.
·         Playful Names:

Fun and playful names can suit a lively parrot.
·         Familiar Sounds:

Choose a name that has sounds your parrot can mimic.
·         Nature-Inspired:

Nature-themed names like "Sky" or "Flower" can be charming.
·         Ask for Input:

Involve friends and family in the naming process for more ideas and perspectives.
·         Meaningful Names:

Select a name with a special meaning or significance to you.
·         Short and Sweet:

Short names are often easier for your parrot to learn and remember.
·         Color Inspiration:

Consider your parrot's plumage color for name ideas.
·         Avoid Negative Associations:

Stay away from names with negative connotations.
·         Family Names:

Consider names from your own family history or traditions.
·         Human Names:

Some parrots respond well to human names like "Charlie" or "Lucy."
·         Gender-Neutral:

Opt for a name that works regardless of your parrot's gender.
Great Parrot Names
Willow
Jasper
Rosie
Gizmo
Luna
Sunny
Mango
Pepper
Peanut
Bella
Max
Leo
Echo
Ivy
Ziggy
Skye
Oliver
Tiki
Kiwi
Ruby
Angel
Saffron
Charlie
Peaches
Skittles
Merlin
Louie
Coco
Pickles
Zara
Rio
Nala
Daisy
Felix
Spanish Parrot Names
Felipe
Mariano
Joaquin
Javier
Sofia
Esteban
Esperanza (Hope)
Manuel
Paco
Isadora
Bella
Salvador
Valeria
Mariposa (Butterfly)
Miguel
Adriana
Lucia
Clara
Carlos
Alejandro
Rafael
Santiago
Rafaela
Isla (Island)
Mateo
Pablo
Valentina
Maria
Antonio
Rico
Isabella
Elena
Carmen
Juanita
Rosita
Paloma (Dove)
Diego
Esmeralda (Emerald)
Parrot Baby Names
Pip
Plumage
Petey
Chubby
Sprout
Peep
Beaklet
Bobble
Tiny
Nugget
Giggles
Lark
Fluff
Chirpy
Chick
Budgie
Winglet
Cutie Pie
Tidbit
Skittle
Tater Tot
Baby Blue
Feather
Bumble
Snuggle
Fledgling
Flutter
Tweety
Doodle
Nestling
Dinky
Sprinkle
Cheep
Sunny
Hatch
Quill
Puffy
Kiwi
Pippin
Cuddle
African Parrot Names
Sanaa
Jabari
Rafiki
Barika
Nala
Zara
Kofi
Kamaria
Jengo
Zalika
Imani
Zahara
Kwesi
Kito
Zuri
Kwame
Azibo
Nia
Jamila
Kazi
Malaika
Amina
Simba
Nuru
Akua
Kweku
Kumbuka
Zola
Aziza
Tariku
Mufasa
Biko
Amadi
Shani
Amara
Asha
Cute And Adorable Baby Parrot Names
Puffy
Twinkle
Tinker
Dottie
Cookie
Snuggle
Sprinkles
Peanut
Wiggles
Biscuit
Skittles
Lollipop
Cupcake
Doodles
Fluffy
Munchkin
Sunny
Snickers
Tootsie
Squeaky
Hootie
Pippin
Peep
Cuddle
Giggles
Nibbles
Bubbles
Buttercup
Gizmo
Pickles
Chirpy
Breezy
Jellybean
Cheeky
Pudding
Sweetie
Sparky
Marshmallow
Muffin
Feather
FAQS
What Is Good Name For Parrot?
A good name for a parrot should reflect its personality, appearance, or unique traits. Some popular choices are Sunny, Mango, Charlie, or Luna. Consider what stands out about your parrot and choose a name that suits it well.
What Is The Most Famous Parrot Name?
One of the most famous parrot names is "Polly." This name has become synonymous with parrots and is often used as a playful and traditional choice for pet parrots. It's been featured in various literature, songs, and media, contributing to its fame in the world of pet birds.
What Is The Cutest Bird Name?
The cutest bird name is subjective and can vary from person to person, but some bird names that are often considered cute include "Tweetie," "Buddy," "Sparrow," "Chirpy," and "Peanut." These names evoke a sense of charm and endearment, making them popular choices for pet birds.
What Is The God Parrot Name?
There is no specific "God Parrot" name in popular culture or mythology. However, in some cultures, parrots have been associated with deities and considered sacred birds. In Hinduism, for example, the parrot is linked to the goddess Meenakshi. If you're looking for a divine or regal name for your parrot, you could consider names like "Apollo" or "Zeus," which are associated with gods in Greek mythology.
You Can Download List of All Parrot Names Pdf