From sultry whispers to sweet serenades, from stolen glances to secret rendezvous, let us explore the captivating realm of romantic words that start with S and discover the magic they hold in their syllables.
Here are Top 10 Romantic words that start with S:
Sunshine
Sincere
Sensuous
Surrender
Sparkling
Serendipity
Serenade
Sweetheart
Scintillating
Silhouette
What are Romantic words with S?
Romantic words that start with "S" include "sweetheart," "sincere," "sensuous," "serendipity," "sparkling," "sunshine," "serenade," "starry," "softly," and "soulmate."
Romantic Words That Start With S
Sweetness – Sugary
Sparkling – Glittering
Savor – Enjoy
Silver – Precious metal
Swan – Graceful
Spellbinding – Enchanting
Serendipity – Chance
Stellar – Outstanding
Swirl – Twirl
Soulful – Expressive
Sumptuous – Luxurious
Sensational – Exciting
Swoosh – Rush
Swoon – Faint
Symmetrical – Balanced
Sparrow – Bird
Smile – Grin
Sunbeam – Sunlight
Sensual – Erotic
Splendid – Magnificent
Swing – Sway
Succulent – Juicy
Starlight – Celestial
Spark – Ignite
Symphony – Harmony
Silhouette – Outline
Salient – Prominent
Sensuous – Passionate
Sudden – Abrupt
Soulmate – Beloved
Solace – Comfort
Sensualism – Hedonism
Swoop – Dive
Starry – Celestial
Swain – Suitor
Seraphic – Angelic
Sophisticated – Elegant
Sculpted – Shaped
Sapphire – Gemstone
Surrender – Yield
Sunshine – Radiance
Steal – Pilfer
Sprightly – Lively
Sizzle – Crackle
Sailor – Mariner
Solicitous – Concerned
Subtlety – Delicacy
Savoring – Relishing
Sweetheart – Beloved
Symbiotic – Mutual
Seductive – Alluring
Sacred – Holy
Starstruck – Enamored
Serendipitous – Fortuitous
Shimmer – Gleam
Sun-kissed – Radiant
Sentiment – Feeling
Solitary – Alone
Scintillating – Dazzling
Spice – Flavor
Serenade – Music
Softly – Gently
Stolen – Taken
Sincere – Honest
Solitude – Seclusion
Shiver – Tremor
Swept – Carried
Silken – Smooth
Sentimental – Emotional
Softness – Tenderness
Sweater – Knit garment
Sustenance – Nourishment
Soft-spoken – Gentle
Secretive – Mysterious
Serenity – Peace
Smitten – Infatuated
Spectacular – Impressive
Stardust – Celestial
Sanctuary – Refuge
Symbiosis – Interdependence
Storybook – Fairytale
Surreal – Dreamlike
Shine – Gleam
Satin – Smooth fabric
Symptom – Indication
Sublime – Exquisite
Splendor – Grandeur
Songbird – Melody
Synchronize – Coordinate
Sincerity – Genuineness
Sensualize – Arouse
Scarlet – Red
Sprinkle – Scatter
Sunset – Dusk
Smoldering – Burning
Supreme – Ultimate
Sapphic – Lesbian
Secret – Confidential
Safeguard – Protect
Must Learn: 200 + Best Romantic Words That Start With T
Romantic Words That Start With M (Love Words With M)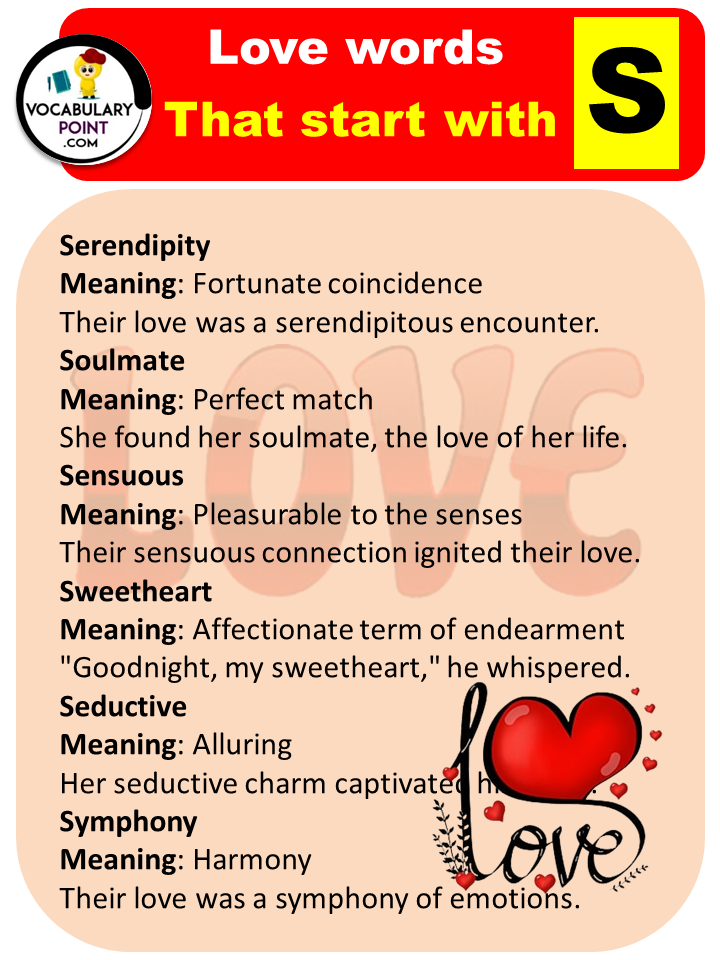 Top 100 Love words that start with S
Serendipity
Meaning: Fortunate coincidence
Their love was a serendipitous encounter.
Soulmate
Meaning: Perfect match
She found her soulmate, the love of her life.
Sensuous
Meaning: Pleasurable to the senses
Their sensuous connection ignited their love.
Sweetheart
Meaning: Affectionate term of endearment
"Goodnight, my sweetheart," he whispered.
Seductive
Meaning: Alluring
Her seductive charm captivated his heart.
Symphony
Meaning: Harmony
Their love was a symphony of emotions.
Sunrise
Meaning: Dawn
Love feels like a beautiful sunrise every day.
Serenade
Meaning: Musical performance for a loved one
He sang a serenade to express his love.
Sparkle
Meaning: Shine brightly
Her eyes had a sparkle of love.
Sanctuary
Meaning: Safe haven
In your arms, I've found my sanctuary of love.
Security
Meaning: Safety and trust
Love provides a sense of security.
Sincerity
Meaning: Honesty
The sincerity of his love was evident in his actions.
Symbiosis
Meaning: Mutual benefit
Their love was a perfect symbiosis of hearts.
Starry
Meaning: Filled with stars
Their love was as bright as a starry night.
Solace
Meaning: Comfort in distress
In times of sorrow, their love offered solace.
Sentiment
Meaning: Feeling or emotion
Love is a sentiment that knows no boundaries.
Shine
Meaning: Emit light
Their love had the power to shine through darkness.
Sustenance
Meaning: Nourishment
Love provides emotional sustenance.
Spontaneity
Meaning: Being impulsive
Their love was full of exciting spontaneity.
Sunset
Meaning: Evening twilight
Watching the sunset together was their special love ritual.
Snuggle
Meaning: Cuddle closely
They loved to snuggle on cold winter nights.
Star-crossed
Meaning: Fated to love
They were truly star-crossed lovers, destined to be together.
Support
Meaning: Backing and assistance
Love comes with unwavering support.
Sacred
Meaning: Holy and revered
Their love was a sacred bond that nothing could break.
Symposium
Meaning: Meeting for discussion
Their relationship was like a love symposium, always evolving and growing.
Spellbound
Meaning: Enchanted
He was spellbound by her beauty and love.
Sublime
Meaning: Grand and impressive
Their love was a sublime experience that left others in awe.
Sanctify
Meaning: Make holy
They wanted to sanctify their love with a sacred ceremony.
Sizzle
Meaning: To make a hissing sound
Their chemistry made their love sizzle with passion.
Softness
Meaning: Gentle and tender quality
She admired the softness of his love and touch.
Secret
Meaning: Hidden and confidential
Their love was a beautiful secret known only to them.
Solemnity
Meaning: Seriousness and earnestness
The solemnity of their love was evident in their commitment.
Safeguard
Meaning: Protect and ensure safety
They promised to safeguard each other's hearts in love.
Soulful
Meaning: Expressing deep emotion
His soulful music resonated with her heart, creating love.
Sprinkle
Meaning: Scatter lightly
Their love was like confetti, sprinkled with joy and celebration.
Satisfy
Meaning: Fulfill and meet desires
His love had the power to satisfy her every need.
Stratosphere
Meaning: A high level of the atmosphere
Their love soared to the stratosphere, reaching new heights.
Symbiotic
Meaning: Mutually beneficial
Their love was a symbiotic relationship, making both better.
Sustain
Meaning: Keep going and support
Love has the power to sustain us through challenges.
Sparkler
Meaning: A firework that sparkles
Their love was like a dazzling sparkler, lighting up the night.
Supreme
Meaning: Highest in rank or quality
Their love was of supreme importance in their lives.
Starlet
Meaning: A young actress
She was the starlet of his love story, stealing the show.
Sacrosanct
Meaning: Sacred and inviolable
Their love was sacrosanct, untouchable and pure.
Sensation
Meaning: A strong feeling
Their love was a sensation, making their hearts race.
Skylight
Meaning: A window in the roof to view the sky
Their love story had a skylight, letting in the beauty of the world.
Sentinel
Meaning: A guardian or protector
He was the sentinel of her heart, keeping it safe in love.
Subtlety
Meaning: Delicate and understated quality
The subtlety of their love was evident in their gestures.
Synthesize
Meaning: Combine and create something new
Their love seemed to synthesize all their best qualities.
Storybook
Meaning: Like a fairy tale
Their love was a storybook romance, straight from a fairy tale.
Synchrony
Meaning: Harmony in time
Their love operated in perfect synchrony, like a well-timed dance.
Sunkissed
Meaning: Touched by the sun
Her cheeks were always sunkissed with the warmth of love.
Selflessness
Meaning: Altruism and unselfishness
Their love was defined by selflessness and giving.
Stellar
Meaning: Exceptional and outstanding
Their love was a stellar example of devotion.
Special
Meaning: Unique and significant
Their love was truly special and one-of-a-kind.
Scenic
Meaning: Beautiful and picturesque
Their love blossomed in scenic settings and moments.
Sculpture
Meaning: Artistic creation
Their love was like a beautiful sculpture, a work of art.
Symphonic
Meaning: Musical and harmonious
Their love was symphonic, filling their hearts with melody.
Serene
Meaning: Calm and peaceful
In each other's arms, they found serenity and love.
Sunflower
Meaning: Bright and cheerful flower
She was his sunflower, radiating love and happiness.
Soul-stirring
Meaning: Arousing deep emotions
Their love letters were soul-stirring, touching the heart.
Scribbles
Meaning: Playful doodles and writings
The margins of their love letters were filled with sweet scribbles.
Scorching
Meaning: Intensely hot and passionate
Their love was scorching, igniting their desires.
Secretive
Meaning: Concealing and hidden
Their love notes were filled with secretive confessions.
Succulent
Meaning: Juicy and delicious
Her kisses were like succulent fruits of love.
Sentimental
Meaning: Nostalgic and emotional
Their love was deeply sentimental, filled with memories.
Sunset-glow
Meaning: The warm light of a setting sun
Their love had a sunset-glow, a golden and serene hue.
Scintillate
Meaning: Sparkle and shine
Her eyes would scintillate with love when she saw him.
Stalwart
Meaning: Strong and dependable
He was her stalwart protector and love.
Symposium
Meaning: Gathering for intellectual discussion
Their love was a symposium of shared thoughts and feelings.
Synergy
Meaning: The combined power of elements
Their love was a synergy of passion and affection.
Sweeping
Meaning: Extensive and all-encompassing
Their love was a sweeping force that covered their lives.
Satiation
Meaning: Satisfied to the fullest
In his love, she found satiation and contentment.
Sheltered
Meaning: Protected and secure
In his embrace, she felt sheltered and loved.
Signature
Meaning: Distinctive mark or quality
Their love had a signature warmth that was uniquely theirs.
Sentimentality
Meaning: Nostalgic affection
The sentimentality of their love made it even more special.
Succor
Meaning: Assistance and support
In times of need, their love provided succor and solace.
Sybaritic
Meaning: Luxurious and indulgent
Their romantic getaway was a sybaritic escape.
Sesquipedalian
Meaning: Long-winded and verbose
He couldn't help but use sesquipedalian words to express his love.
Steadfastness
Meaning: Loyalty and commitment
Their love was defined by its steadfastness and dedication.
Suffusion
Meaning: Gradual spreading
Love's suffusion filled every corner of their lives.
Serpentine
Meaning: Winding and unpredictable
Love's path can be serpentine, but it's worth the journey.
Symbiotism
Meaning: Mutualistic relationship
Their love had a symbiotism that made them stronger together.
Swain
Meaning: A young lover or suitor
The swain was captivated by her beauty.
Sough
Meaning: Gentle murmuring sound
Their love's sough was like a soothing melody.
Shimmering
Meaning: Glistening and shining
Their love was like a shimmering ocean at sunset.
Solicitude
Meaning: Deep care and concern
His solicitude for her well-being was a testament to his love.
Seraphic
Meaning: Angelic and pure
Her seraphic smile melted his heart.
Sparkling
Meaning: Bright and lively
Their eyes were sparkling with love during the dance.
Steadiness
Meaning: Reliability and constancy
Love's steadiness was their rock in uncertain times.
Subtly
Meaning: In a delicate and understated manner
He expressed his love subtly, with quiet gestures.
Sentimentalize
Meaning: To make emotional
Their shared memories would always sentimentalize their love.
Sorcery
Meaning: Magical enchantment
Their love felt like a powerful sorcery.
Shangri-la
Meaning: A utopian and ideal place
Being with her felt like being in a romantic Shangri-la.
Syntropy
Meaning: A force of mutual attraction
Their love had a powerful syntropy, drawing them closer.
Serenissimo
Meaning: Extremely serene and peaceful
Their love created a serenissimo haven of tranquility.
Starry-eyed
Meaning: Dreamy and hopeful
They were starry-eyed lovers, seeing a future filled with love.
Soft-spoken
Meaning: Gentle and quiet in speech
Her soft-spoken words carried the warmth of love.
Sultriness
Meaning: Intense heat and passion
Their sultriness in love was undeniable and magnetic.
Spirited
Meaning: Lively and enthusiastic
Their love was a spirited adventure filled with laughter.
Singularize
Meaning: Make unique
Their love had the power to singularize their connection among all others.
Loving Words Beginning With S
Sizzling
Sweetness
Sacred
Steadfast
Satisfying
Secure
Sway
Smitten
Smile
Solace
Sensual
Sensitive
Scrumptious
Softness
Serenity
Stellar
Supportive
Surprising
Sparkling
Special
Sunshine
Sincere
Silent
Shimmering
Seductive
Sympathy
Serendipity
Soft-spoken
Sweetheart
Succulent
Significant
Sublime
Sharing
Shining
Sensation
Strong
Synergy
Salty
Sprinkle
Support
Secret
Soulmate
Sanctuary
Scintillating
Splendid
Serenade
Satisfaction
Snuggle
Spontaneous
Spark
Other "S" Love Words
Smiles
Stardom
Sightseeing
Spiritual
Social
Sweet-talking
Solidarity
Soft-hearted
Silhouette
Snuggled
Spousal
Sparkle
Settle
Sympathetic
Sunshiney
Sustaining
Sentiment
Star-crossed
Sparkler
Spree
Secrets
Sensuality
Secretive
Supportive
Shared
Sentimentalism
Satisfied
Sensualize
Satiny
Sentimentality
Sentiments
Sweeping
Solitary
Satisfaction
Security
Souvenir
Succumb
Smitten
Simplicity
Swooning
Sensory
Subtlety
Saucy
Smooch
Soothing
Surprises
Splurge
Sought-after
FAQS
What is a romantic word that starts with "S" and means deep love and devotion? Soulmate represents deep love and devotion in a romantic relationship.
What's a sweet and endearing term that starts with "S" for your loved one?
"Sweetheart" is a charming term for expressing affection to your loved one.
What word beginning with "S" can describe the sensation of being deeply in love? "Sensuous" describes the feeling of being deeply in love and filled with desire.