Russia is a country with a long and rich history, filled with inspiring tales of bravery, strength and resilience. It also has an incredible variety of culture, from art and literature to music and cuisine. This same diversity is reflected in the range of Russian dog names that are available for pet owners who want to give their furry friend a unique identity.
Top 20 Good Russian Dog Names
Sasha
Ivan
Olga
Boris
Kira
Maxim
Yulia
Anton
Katya
Dmitri
Misha
Nadia
Sergei
Lada
Nikolai
Tanya
Yuri
Anya
Roman
Zoya
Russian Dog Names
Barsik
Belka
Bimka
Bobik
Buran
Vesna
Viktor
Vinny
Volk
Garik
Graf
Grom
Jack
Jessie
Julietta
June
Druzhok
Zhuzha
Zeus
Ziggy
Zlata
Izzi
Iks
Iris
Kapitan
Karel
Karma
Kasper
Keks
Kim
Kir
Kler
Kolumb
Konfetka
Korol
Kostya
Kraft
Kristi
Kubik
Laika
Larik
Lev
Lena
Lolita
Luna
Lyusya
Maks
Mango
Margo
Marsel
Masya
Mia
Miki
Milka
Milyy
Miranda
Mokko
Mona
Montana
Monte
Murzik
Natasha
Neva
Nemo
Nika
Nikki
Olli
Oskar
Piper
Pandora
Panda
Patrik
Piksel
Piter
Polina
Ponchik
Pushok
Must Read: Most Popular Italian Dog Names
Cool Russian Dog Names
Russian Dog names are known for their strong and melodious sounds, which can make for an excellent fit for a canine companion.
Ruslan
Tundra
Zoya
Lada
Yaroslav
Natasha
Kirov
Lyudmila
Maxim
Anushka
Vladimir
Maksimka
Anya
Nikita
Darya
Vanya
Niko
Zara
Ivanushka
Sonya
Yegor
Zhivago
Kostya
Sable
Kolya
Aurora
Dima
Tarka
Svetlana
Sasha
Pyotr
Misha
Zhanna
Oleg
Alina
Viktoriya
Kazan
Rurik
Aslan
Nika
Yuriy
Dov
Liza
Grigoriy
Anyuta
Faina
Vlad
Svyatopolk
Kira
Leo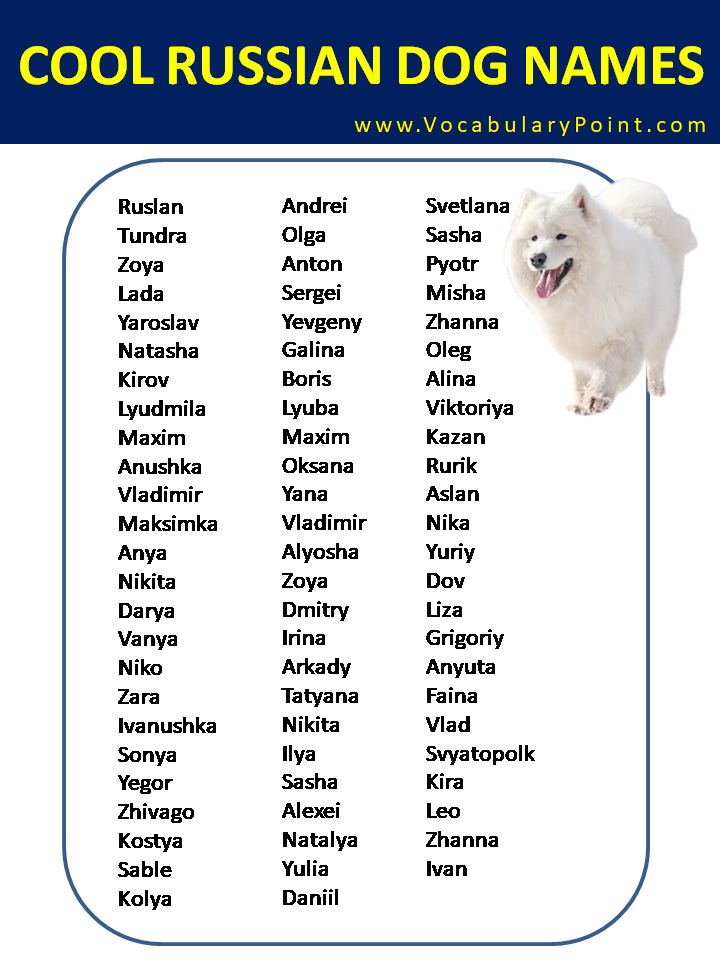 Common Russian Dog Names
Zhanna
Ivan
Kolya
Natasha
Masha
Semyon
Andrei
Olga
Anton
Sergei
Yevgeny
Must Read: 800+ Spider Names
Galina
Boris
Lyuba
Maxim
Oksana
Yana
Vladimir
Alyosha
Zoya
Dmitry
Irina
Arkady
Tatyana
Nikita
Ilya
Sasha
Alexei
Natalya
Yulia
Daniil
Grisha
Marina
Nikolai
Kostya
Larisa
Pavel
Sonya
Viktor
Yaroslav
Dmitryi
Anastasia
Vasilisa
Fyodor
Svetlana
Lyonya
Marusya
Mitya
Oleg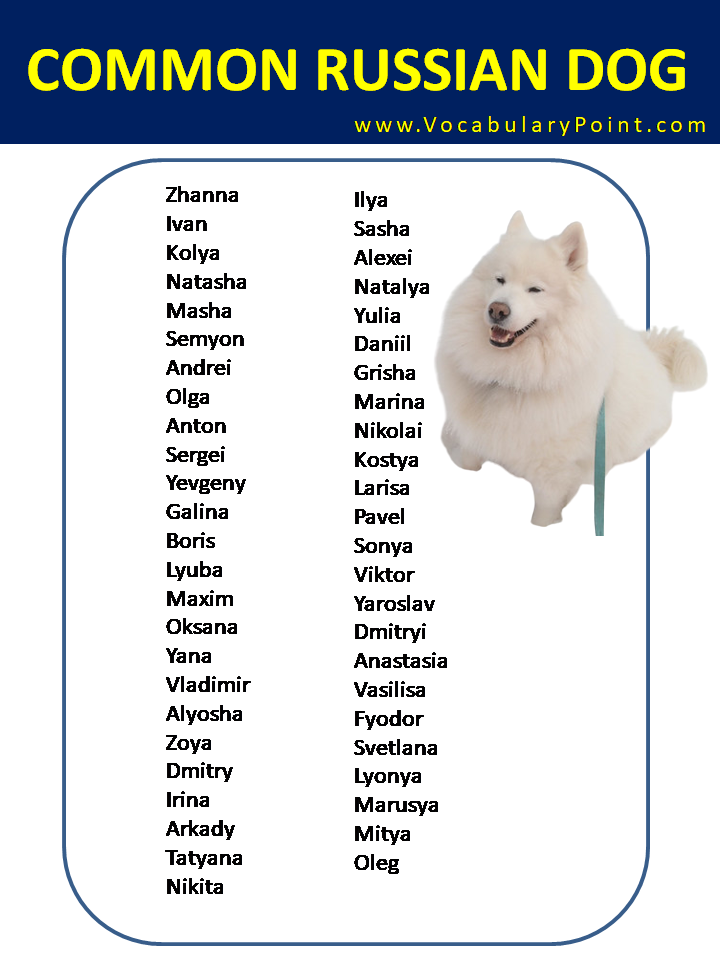 Russian Dog Names Male
Artyom
Boris
Dmitry
Ivan
Kirill
Maxim
Nikolai
Oleg
Pavel
Sergei
Vadim
Yuri
Alexei
Anatoly
Anton
Danil
Egor
Evgeny
Fedor
Gennady
Igor
Ilya
Kostya
Leonid
Mikhail
Nikita
Roman
Ruslan
Stanislav
Timofey
Viktor
Vladimir
Yaroslav
Zakhar
Almaz
Andrey
Artemiy
Daniil
Denis
Eremey
Gleb
Grigory
Konstantin
Lev
Matvey
Nikifor
Pyotr
Rodion
Semyon
Taras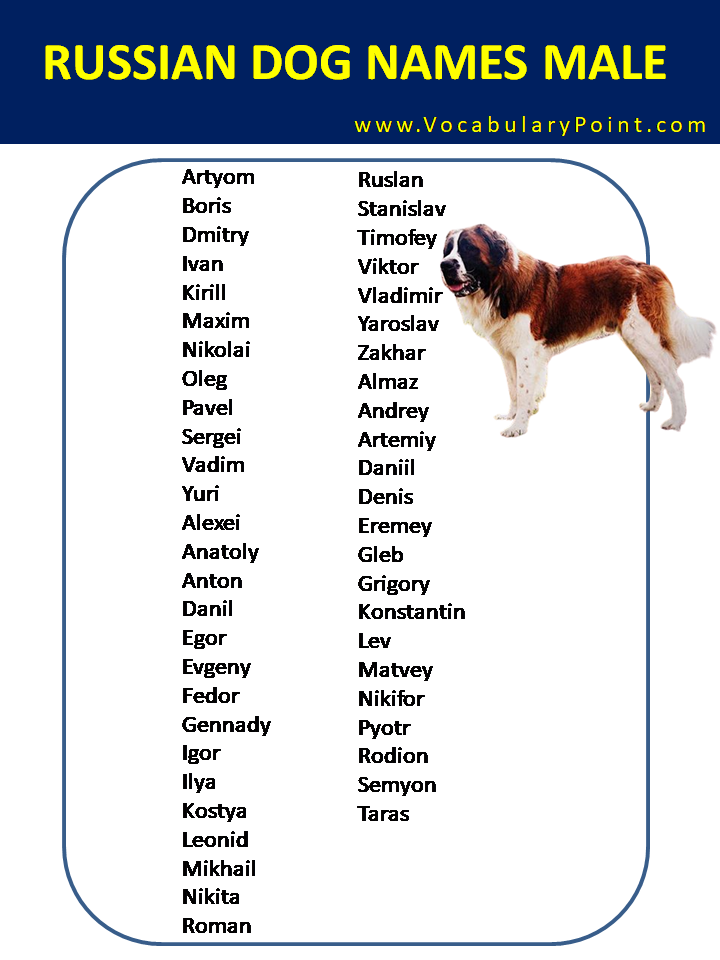 Russian Female Dog Names
Anastasia
Darya
Elena
Galina
Irina
Kira
Lilia
Maria
Natalia
Olga
Polina
Svetlana
Taisiya
Valentina
Yelena
Alina
Anna
Darina
Ekaterina
Faina
Galya
Inna
Yana
Karina
Lada
Margarita
Nadezhda
Oksana
Pelageya
Raisa
Sofia
Tamara
Ulyana
Varvara
Xenia
Yekaterina
Zinaida
Adelina
Bogdana
Vera
Dina
Lera
Mira
Nika
Radmila
Roza
Snezhana
Uliya
Yuliya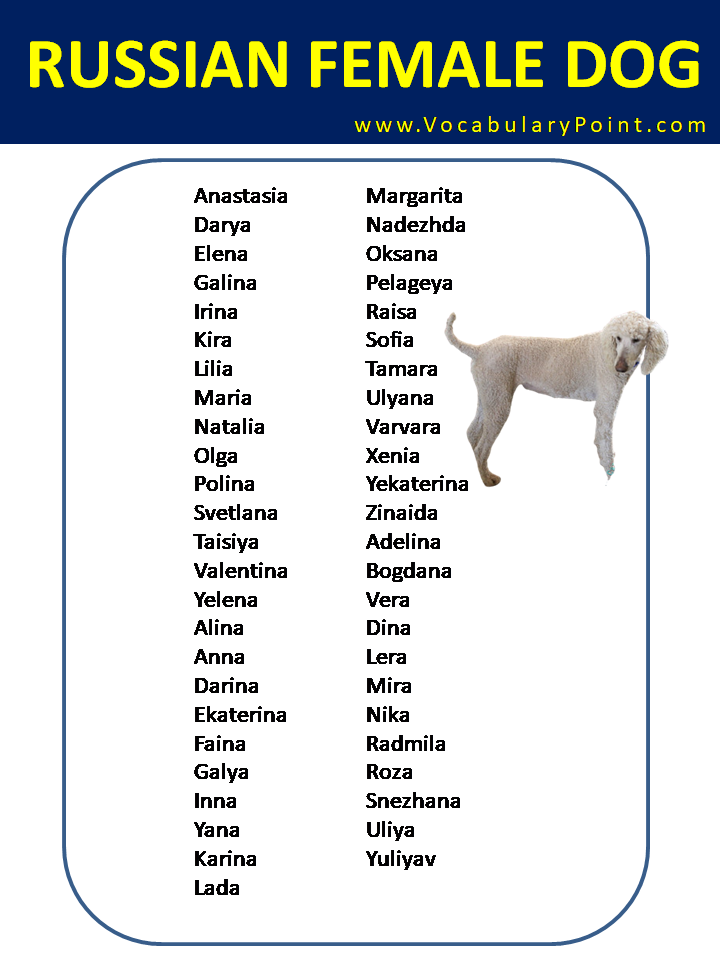 Badass Russian Dog Names
Akim
Aleksei
Anatoli
Antonin
Arseniy
Boris
Demyan
Dimitri
Dmitriy
Eduard
Evgeniy
Fyodor
Gavril
Georgiy
Grigoriy
Ilya
Ivan
Kirill
Konstantin
Leonid
Lev
Maksim
Mark
Mikhail
Nikita
Nikodim
Nikolai
Oleg
Pavel
Petr
Pyotr
Roman
Ruslan
Sergei
Semyon
Stepan
Taras
Timur
Vadim
Valentin
Vasiliy
Viktor
Vlad
Vladislav
Yakov
Yaroslav
Yegor
Yuri
Zhenya
Zinovy
Slavic Dog Names
Adam
Andrej
Bela
Bojan
Borislav
Branimir
Dalibor
Danijel
Darko
Dragana
Dragan
Dunja
Filip
Goran
Irena
Ivana
Jana
Janko
Jasmina
Katarina
Ljubomir
Magdalena
Mara
Marko
Mihailo
Mila
Milena
Milan
Milena
Mirko
Miroslav
Nada
Nadia
Nevena
Nikola
Petar
Radmila
Radoslav
Rastko
Sasa
Slaven
Slobodan
Sofija
Stana
Stanimir
Stefan
Tamara
Tatiana
Vasil
Zoran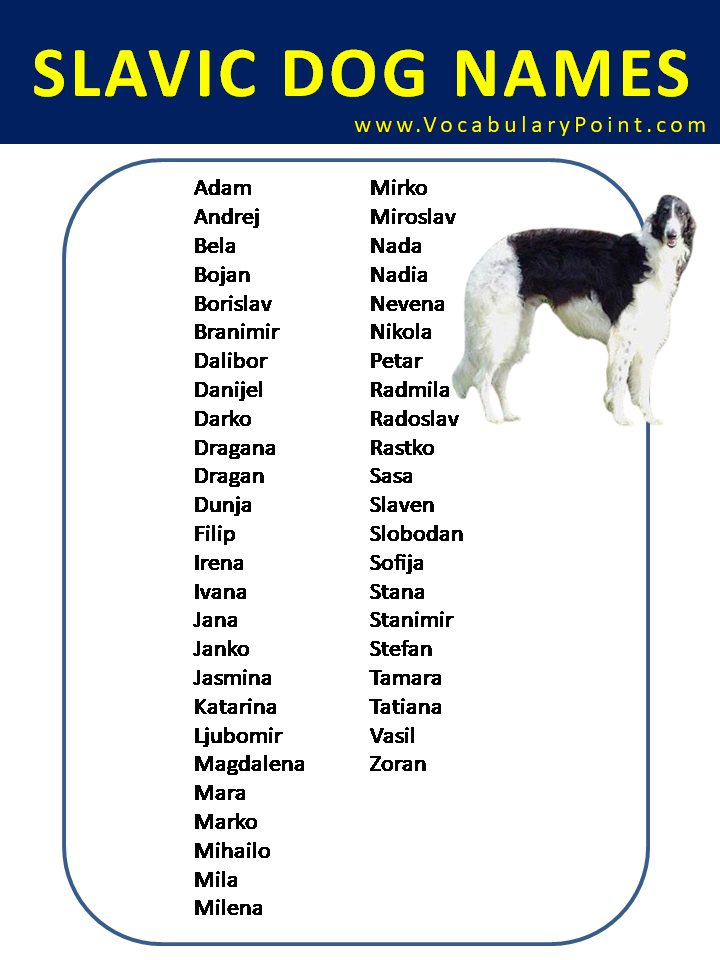 Unique Russian Dog Names
Aslan
Balto
Chyorniy
Dazhdbog
Evtimiy
Fedya
Glebka
Hana
Igoria
Jarka
Karamazov
Kikimora
Lomonosov
Mstislav
Nastasya
Orlan
Petya
Pyshka
Rurik
Semyonka
Shurik
Svarog
Tvardovsky
Ulita
Ushanka
Vasyutka
Vasilisk
Venedikt
Vikenti
Volchya
Voron
Xariton
Yakovka
Yaropolk
Yerofei
Yuliy
Zakharov
Zarina
Zaryadka
Zaychik
Zephyr
Zvenislav
Zvereva
Zvyozdochka
Zhivago
Zhukov
Zhuravli
Zolotinka
Zveroboy
Zvezdana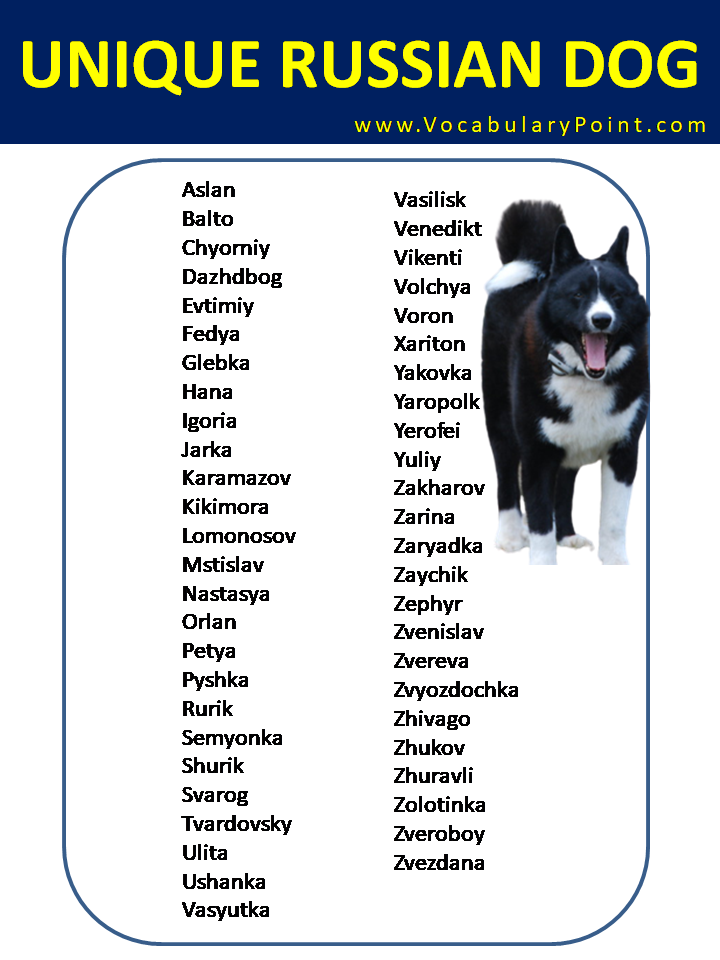 Cute Russian Dog Names
Alinka
Anya
Belka
Borisova
Chudo
Dasha
Dobrynya
Dorofey
Faina
Fido
Fyodorovna
Gavryusha
Gerasim
Iriska
Ivanovna
Kira
Kolya
Koshka
Krasota
Ksyusha
Laska
Lera
Luchik
Lyubochka
Matryoshka
Mishka
Mokka
Mosya
Moya
Nadia
Nika
Nyusha
Oksana
Pelmeni
Polina
Pyatnashka
Rada
Ryzhik
Sasha
Shusha
Sibirka
Solnyshko
Sonya
Stasya
Svetik
Tanya
Tishka
Ulya
Vasilisa
Zhanna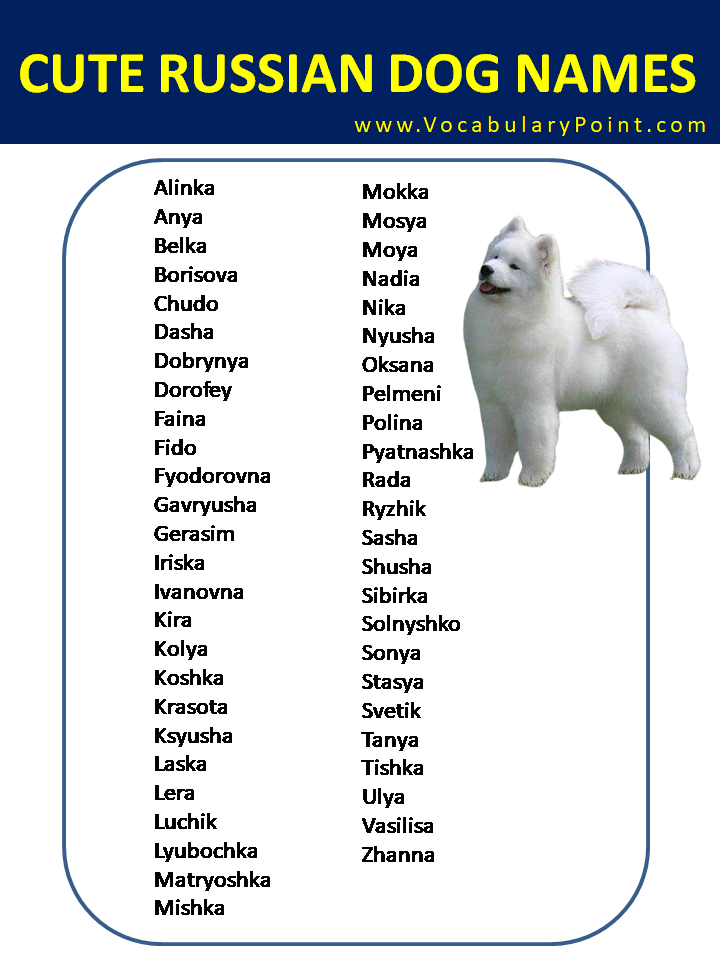 Russian Puppy Names
Amelka
Andreika
Belochka
Bimka
Borisik
Charochka
Chizhik
Damirka
Daryushka
Deniska
Dmitrichka
Fedorik
Garik
Gavrilka
Grishenka
Ivanushka
Klimka
Kostyushka
Ksenyushka
Lada
Lapochka
Laska
Lelik
Levka
Lyalya
Lyusya
Matilda
Mitya
Mokhovik
Nadezhda
Narkiss
Nastenka
Olenka
Palych
Petyushka
Polkan
Rada
Redik
Ryzhik
Serega
Sivka
Snejka
Solnyshka
Sonyushka
Tikhonka
Tima
Tosya
Ulyana
Vasenka
Zhuzhka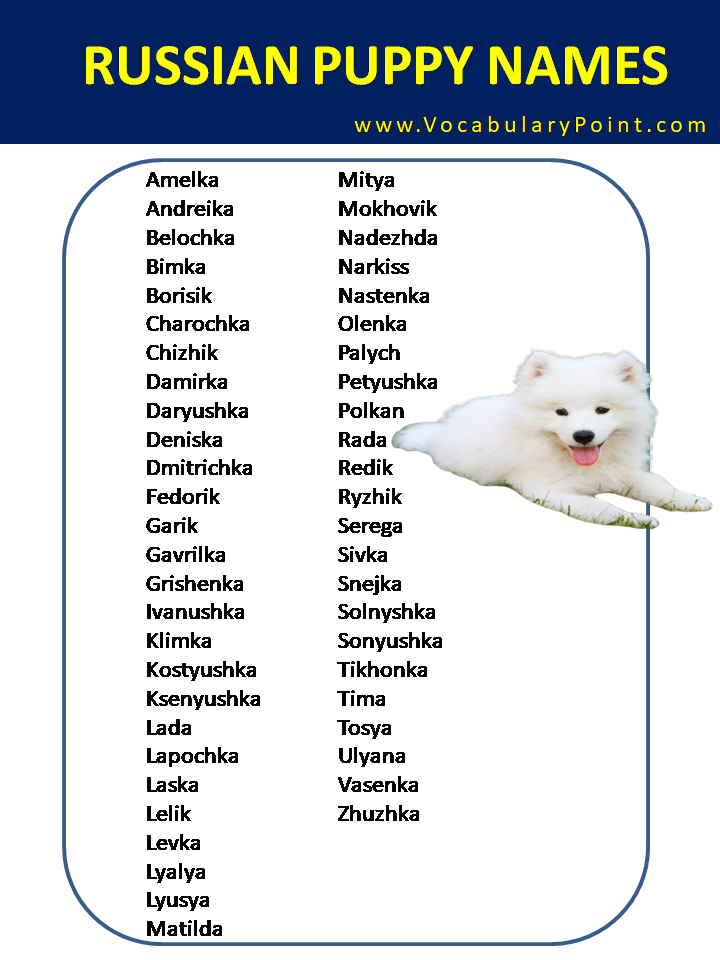 Cool Russian Dog Names
Arktik
Barynya
Belomor
Borzoi
Bulat
Cherkas
Chernobog
Chudovishe
Dimitry
Dushka
Dzhokhar
Egor
Gaidar
Grom
Grusha
Ivanov
Kalashnikov
Kazimir
Kirill
Kolchak
Koshmar
Kupala
Lada
Lapot
Luchezarny
Lyovka
Medved
Mishka
Morozko
Narkotik
Nikita
Oleg
Orlov
Pavlov
Rasputin
Rodion
Sable
Serebryakov
Shurshik
Sidorov
Sobaka
Solovey
Stark
Tverskoi
Ulan
Ursula
Vasiliev
Vsevolod
Zoya