Are you ready to embark on a linguistic adventure through the Spanish language? Today, we will dive into the fascinating world of Spanish words that start with the letter S.
From snappy slang terms to savory culinary delights, this diverse collection of words will transport you to the vibrant streets of Spain and Latin America.
So grab your passport and let's explore the enchanting sounds and meanings behind these captivating Spanish words.
Spanish Words That Start With S
Sol – Sun
Sí – Yes
Sabor – Taste
Sal – Salt
Sala – Living room
Sapo – Toad
Sur – South
Sombra – Shadow
Seda – Silk
Salto – Jump
Sitio – Place
Sabio – Wise
Silbo – Whistle
Sello – Stamp
Suelo – Ground
Salud – Health
Seco – Dry
Suma – Sum
Sano – Healthy
Salsa – Sauce
Spanish Nouns That Start With S
Sombrero – Hat
Sistema – System
Sorpresa – Surprise
Sueño – Dream
Sonrisa – Smile
Sociedad – Society
Sofá – Sofa
Servicio – Service
Señal – Signal
Soledad – Loneliness
Sandía – Watermelon
Silencio – Silence
Secreto – Secret
Sustancia – Substance
Sabiduría – Wisdom
Sentido – Sense
Sartén – Frying pan
Sobrino – Nephew
Suplemento – Supplement
Símbolo – Symbol
Spanish Verbs That Start With S
Ser – To be
Sentir – To feel
Saber – To know
Salir – To leave
Seguir – To follow
Soñar – To dream
Sugerir – To suggest
Suspirar – To sigh
Sonreír – To smile
Sustituir – To substitute
Señalar – To point out
Sorprender – To surprise
Satisfacer – To satisfy
Sujetar – To hold
Sumergir – To submerge
Sobrevivir – To survive
Subir – To go up
Suceder – To happen
Sacar – To take out
Sintetizar – To synthesize
Spanish Adjectives That Start With S
Simpático – Nice
Serio – Serious
Suave – Soft
Sólido – Solid
Secundario – Secondary
Sutil – Subtle
Sensato – Sensible
Salvaje – Wild
Sano – Healthy
Sabroso – Tasty
Sincero – Sincere
Sorprendente – Surprising
Superficial – Superficial
Supremo – Supreme
Sagrado – Sacred
Sostenible – Sustainable
Satisfecho – Satisfied
Significativo – Significant
Silencioso – Silent
Seguro – Safe
Spanish Objects That Start With S
Silla – Chair
Sombrilla – Umbrella
Sartén – Pan
Sacapuntas – Pencil sharpener
Sábana – Sheet
Sandalias – Sandals
Sello – Seal/stamp
Sedán – Sedan (car type)
Suéter – Sweater
Sofá – Sofa
Secadora – Dryer
Salero – Salt shaker
Sirena – Siren/alarm
Saco – Bag
Sierra – Saw
Sujetapapeles – Paperclip
Secador – Hairdryer
Satélite – Satellite
Serpiente – Snake (toy)
Saxofón – Saxophone
Related Posts: 250 + Spanish Words That Start With R
Spanish Words That Start With A (Nouns, Verbs & Objects)
Spanish Words That Start With B (Nouns, Verbs and Adjectives)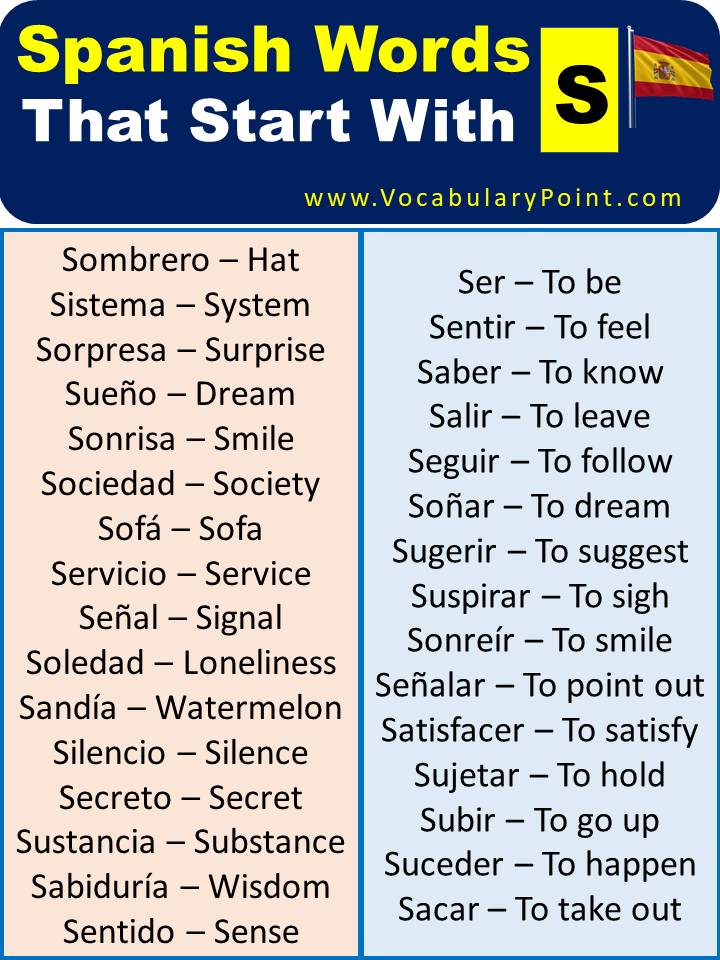 5 Letter Spanish Words That Start With S
Salvo – Except
Sabor – Flavor
Sedan – They sedate
Salud – Cheers/health
Sutil – Subtle
Saeta – Arrow
Sonar – To sound
Soplo – Blow
Salmo – Psalm
Soñar – To dream
Sabio – Wise
Sonda – Probe
Sierra – Mountain range
Salma – Cure
Siglo – Century
Surco – Furrow
Sismo – Earthquake
Sabor – Flavor
Sofá – Sofa
Sumir – To sink
6 Letter Spanish Words That Start With S
Salida – Exit
Sueldo – Salary
Sábado – Saturday
Seguro – Insurance
Sendero – Path
Salvaje – Wild
Sistema – System
Sencillo – Simple
Suéter – Sweater
Sosten – Bra
Suerte – Luck
Serrano – Mountain
Sentido – Feeling
Sazón – Seasoning
Silente – Silent
Sincero – Sincere
Sólido – Solid
7 Letter Spanish Words That Start With S
Secreto – Secret
Soltero – Single
Servicio – Service
Suceder – Happen
Sustento – Livelihood
Siquiera – Even if
Subir – To go up
Suspiro – Sigh
Supongo – I suppose
Sonrisa – Smile
Sentirse – To feel
Sabiduría – Wisdom
Sucursal – Branch
Serranía – Highlands
Simbolismo – Symbolism
Supremo – Supreme
Saboroso – Flavorful
Síntesis – Synthesis
Sobrino – Nephew
Surcador – Plowman
8 Letter Spanish Words That Start With S
Sanatorio – Sanatorium
Sobrepeso – Overweight
Sabiduría – Wisdom
Sintonía – Tuning
Silencioso – Silent
Simpatía – Sympathy
Satisfacer – To satisfy
Solitario – Lonely
Sorpresa – Surprise
Señorita – Miss
Suculento – Juicy
Sombreado – Shading
Susurrar – Whisper
Subrayar – Underline
Sugerente – Suggestive
Situación – Situation
Sacrificio – Sacrifice
Sencillo – Simple
Solución – Solution
Sospecha – Suspicion