Are you someone who loves making lists? Do you have a constant need to organize everything around you, from your belongings to your thoughts? Then this article is for you! We've compiled a comprehensive list of things starting from A to Z that will not only satisfy your urge to categorize but also give you some interesting insights into the world we live in.
From everyday objects like apples and bicycles to more obscure entities like quarks and yurts, this list covers it all. It's not just limited to tangible items either; we've included everything from emotions and states of mind to countries and historical events.
A: Apple – Juicy fruit, vitamin-rich.
B: Bicycle – Two-wheeled transportation device.
C: Camera – Captures precious memories.
D: Dog – Loyal, friendly companion.
E: Elephant – Majestic, gentle giant.
F: Fireworks – Spectacular bursts of color.
G: Guitar – Melodies in six strings.
H: Hammock – Relaxing, suspended retreat.
I: Ice cream – Sweet, creamy delight.
J: Jacket – Warm outerwear garment.
K: Kite – Soaring in the sky.
L: Lemon – Tangy citrus fruit.
M: Mountain – Majestic, towering peak.
N: Necklace – Adorned around neck.
O: Ocean – Vast, mysterious depths.
P: Piano – Elegant musical instrument.
Q: Quilt – Cozy, patchwork blanket.
R: Rainbow – Colorful natural phenomenon.
S: Sunflower – Bright, cheerful bloom.
T: Telescope – Glimpse into cosmos.
U: Umbrella – Shield from rain.
V: Violin – Soulful stringed instrument.
W: Waterfall – Cascading natural wonder.
X: Xylophone – Musical percussion instrument.
Y: Yogurt – Creamy, probiotic treat.
Z: Zebra – Striped African mammal.
Things Name List A To Z
Aardvark
Abacus
Abalone
Abdomen
Accordion
Acorn
Acorn Squash
Acoustic Guitar
Acre
Active Wear
Activity Mat
Adaptor
Adder
Address Book
Adhesive
Advent Calendar
African Daisy
Agate
Air
Air Conditioner
Air Fryer
Aircraft
Airplane
Airport
Alarm
Alarm Clock
Albatross
Album
Alfalfa
Algae
Alien
Alligator
Allosaurus
All-Purpose Cleaner
Allspice
Almanac
Almond
Almond Joy
Aloe
Alpaca
Alphabet Book
Alphabet Soup
Alpine Village
Alto Saxophone
Amaryllis
Amber
Ambulance
American Cheese
Ammunition
Amp
Amphibian
Amusement Park
Anaconda
Anchor
Anchovy
Ancient Coin
Anemone
Angel
Angel Food Cake
Angelfish
Angels
Angle
Angora Sweater
Animals
Anise
Ankle
Anklet
Anorak
Ant
Anteater
Antelope
Antenna
Antibacterial Soap
Antiperspirant
Antiques
Antlers
Anvil
Aorta
Ape
Aphid
Aphids
Appalachian Dulcimer
Apparel
Appetizer
Apple
Apple Blossoms
Apple Pie
Apples
Applesauce
Appliances
Apricot
April Showers
Apron
Aquarium
Arch
Arctic Air
Area Rug
Argyle Socks
Ark
Arm
Armadillo
Armband
Armchair
Armoire
Armpit
Aromatherapy Oil
Arrow
Art
Artery
Artichoke
Artificial Tree
Artwork
Arugula
Ashes
Asian Pear
Asparagus
Asphalt
Aspirin
Aster
Atlas
Attire
Auger
Aunt
Autoharp
Automobile
Avalanche
Avocado
Award
Awning
Axel
Backpack
Bag
Banana
Banknote
Baseball
Basketball
Beach
Bed
Bicycle (Bike)
Birdhouse
Blanket
Blouse
Book
Bookcase
Bookshelf
Butterfly
Cake
Camera
Candle
Car
Cat
Chair
Clock
Coffee Maker
Coin
Computer
Couch
Cup
Cupboard
Desk
Diamond
Dice
Dish
Dog
Donut
Door
Dragon
Dress
Drum
Duck
Earbuds
Earring
Egg
Elephant
Eraser
Espresso Machine
Eyeglasses
Fireworks
Fish
Flamingo
Flower
Fork
Fountain
Fridge
Gasoline
Gazebo
Gemstone
Generator
Geology
Geranium
Ginger
Giraffe
Glass
Glider
Global Warming
Gloves
Glue
Gold
Golf
Goose
Gossip
GPS
Graduation
Grape
Grapes
Grass
Gratitude
Gravity
Greed
Green Tea
Greyhound
Grocery Store
Groundhog
Grouper
Grown-Up
Guava
Guitar
Habitat
Hair
Hairstyle
Halloween
Hammer
Handicap
Hang Gliding
Happiness
Hard Work
Hardwood
Harp
Harvest
Hawk
Hay
Headache
Healing
Hearing
Heart
Heaven
Hedgehog
Hell
Helmet
Help
Herb
Herd
Hero
Hesitation
Hiking
Hills
Hippopotamus
Historic
Hobbit
Holiday
Ice
Ice Cream
Idea
Identity
Idiot
Ignorance
Illusion
Image
Imagination
Immigration
Imperfection
Importance
Improvement
Incentive
Incident
Income
Independence
Indian Cuisine
Indigenous
Indigo
Individual
Indoor
Industrial
Industry
Inertia
Infant
Infertility
Inflation
Influence
Information
Infrastructure
Inheritance
Initiative
Injection
Injustice
Ink
Inmate
Inner Peace
Innovation
Insects
Insomnia
Inspiration
Instagram
Instruction
Insurance
Integrity
Intelligence
Intention
Interact
Internet
Jacket
Jackfruit
Jaguar
Jalapeno
Jam
James Bond
January
Japan
Jasmine
Javelin
Jaybird
Jazz
Jeans
Jeep
Jelly
Jellyfish
Jet
Jet Ski
Jewelry
Jigsaw Puzzle
Jingle Bells
Job
Jockey
Jogging
Juice
Jujube
Jungle
Juniper
Junk Food
Ketchup
Kettle
Key
Keyboard
Keychain
Keystone
Kickboxing
Kidney
Kilt
Kindle
King
Kitchen
Kiwi
Knife
Koala
Koi Fish
Konjac
Kraken
Krypton
Lab Coat
Labrador
Lace
Ladder
Ladybug
Lager
Lake
Lamb
Lamborghini
Lamp
Lance
Land
Landmark
Landscape
Language
Lantern
Laptop
Lark
Lasagna
Laser
Lasso
Latitude
Laugh
Laurel
Lava
Lawn
Lawnmower
Lawsuit
Layer
Leash
Leather
Lecture
LED
Leechee
Leg
Leggings
Lemon
Lemonade
Lemur
Lens
Leopard
Letter
Lettuce
Level
Liar
Library
License
Lighthouse
Lightning
Lilies
Lily
Lime
Limousine
Limpet
Limpid
Line
Lingerie
Lion
Lipstick
Liquid
List
Listening
Literature
Litter
Liver
Lizard
Llama
Locket
Locomotive
Lollipop
Loner
Longboard
Longitude
Lookout
Loon
Lorry
Lottery
Lounge
Love
Lovebird
Luggage
Lullaby
Lumber
Luminous
Lunch
Lungs
Lute
Lychee
Lying
Lynx
Lysosome
Magnifying Glass
Mailbox
Map
Marker
Matches
Megaphone
Microphone
Mirror
Money Clip
Monitor
Mouse
Mug
Nail File
Necklace
Notebook
Oil Lamp
Otebook
Paintbrush
Palette
Pants (US)
Paper
Paper Clip
Pen
Pencil
Phone
Piano
Picture Frame
Pillow
Ping Pong Ball
Pipe
Pitcher
Pizza Cutter
Placemat
Plate
Playing Cards
Pocketknife
Popsicle Stick
Pot
Potato Peeler
Printer
Puzzle
Quill
Quilt
Rabbit
Racecar
Racquet
Radio
Radish
Raft
Rag
Ragdoll
Ragweed
Rail
Railroad
Rain
Rainbow
Raincoat
Raindrop
Rainforest
Rainstorm
Rainy Day
Raisin
Ram
Ramp
Ranch
Rancor
Rangefinder
Raspberry
Ratchet
Ravioli
Ray
Rayon
Razor
Reading
Real Estate
Receipt
Recipe
Recorder
Rectangle
Red
Red Cabbage
Red Carpet
Red Snapper
Redwood
Reeds
Reef
Referee
Refrigerator
Regret
Reindeer
Relay
Relief
Remote Control
Renaissance
Rendezvous
Rental Car
Repellent
Reporter
Reptile
Reservoir
Resort
Restaurant
Restroom
Retirement
Return
Reunion
Reusable Bag
Revolver
Rhinestone
Rhinoceros
Rhythm
Ribbon
Rice
Rickshaw
Rifle
Ring
River
Road
Roadster
Roast
Robe
Robin
Robot
Rock
Rocket
Rocking Chair
Rod
Roller Blades
Roller Coaster
Rolling Pin
Roof
Room
Rooster
Rope
Rose
Rotisserie
Roulette
Roundabout
Router
Rowboat
Rubber Band
Rubber Duck
Rubber Gloves
Rubbish
Ruby
Rucksack
Rug
Rugby
Ruler
Rum
Run
Runner
Running Shoes
Rush Hour
Rust
Rustic
Rusty
Sack
Saddle
Safe
Saffron
Sage
Sailboat
Sailing
Sailor
Saint
Salad
Sale
Salmon
Salt
Sand
Sandal
Sandbox
Sandcastle
Sandpaper
Sandwich
Sangria
Santa Claus
Sapphire
Sarong
Sash
Satellite
Satin
Saturn
Sauna
Sausage
Sauté Pan
Savannah
Saw
Saxophone
Scale
Scar
Scarf
Scavenger Hunt
Scene
Scenery
Scent
Schedule
Schism
School
Science
Scissors
Scoop
Scooter
Score
Scorpion
Scotch
Shirt
Shoe
Sink
Sofa
Spoon
Stool
Stove
Sweater
Tabby Cat
Table
Tablet
Tachometer
Taco
Tadpole
Tag
Tail
Talc
Talisman
Talk Show
Talking
Tambourine
Tampon
Tan
Tandoori Chicken
Tank
Tank Top
Tap
Tape
Tape Measure
Tapestry
Tapeworm
Tapioca
Tarmac
Tarragon
Tart
Tartar Sauce
Tassel
Taste
Tasty
Tattoo
Tavern
Tax
Taxi
Tea
Teach
Teacher
Teaching
Team
Teamwork
Teapot
Tear
Tear Gas
Teardrop
Teddy Bear
Tee
Teen
Teenager
Teeth
Telecommuting
Telegram
Telephone
Telescope
Television
Teller
Temper
Temperature
Template
Temple
Tempo
Ten
Tennis
Tent
Termite
Terrier
Territory
Test
Test Tube
Text
Textbook
Texture
Thank You
Thanksgiving
Thatch
Theater
Theme Park
Therapy
Thermometer
Thigh
Thimble
Thin
Thing
Think
Third
Thirst
Thirteen
Thirty
Thread
Threat
Three
Thrift Store
Thrill
Throat
Throne
Throw
Thug
Thumb
Thunder
Thunderstorm
Thyme
Tiara
Ticket
Tickle
Tidal Wave
Tie
Tiger
Tightrope
Tile
Till
Timber
Time
Time Capsule
Time Machine
Time-Out
Timer
Tin
Tinsel
Tip
Tiramisu
Tire
Tissue
Tithe
Title
Toad
Toast
Tobacco
Tocino
Toddler
Toe
Toenail
Toilet
Tomato
Tomb
Tombstone
Tongue
Tonkatsu
Tonsil
Tool
Tooth
Toothbrush
Toothpaste
Top
Top Hat
Topiary
Torch
Tornado
Torso
Tortilla
Tortoise
Toss
Total
Tote Bag
Touch
Touchdown
Touchscreen
Tough
Tour
Tourism
Tourist
Tower
Town
Trousers (UK)
Umbrella
Underwear
Unicorn
Uniform
Uranium
Vacuum
Valentine
Van
Vase
Vegetable
Vehicle
Vest
Vine
Violin
Vitamin
Volcano
Volleyball
Waffle
Wall
Wallet
Walrus
Washing Machine
Watch
Water
Watermelon
Wax
Web
Wedding
Whale
Wheel
Whistle
Whiteboard
Wi-Fi
Window
Wine
Winter
Wire
Wolf
Wood
Work
Worm
X-Ray
Xylophone
Yacht
Yak
Yard
Yarn
Year
Yellow
Yoga
Yolk
Yo-Yo
Zebra
Zinc
Zipper
Zoo
Must Read: 350+ List of Things That Are Blue In Nature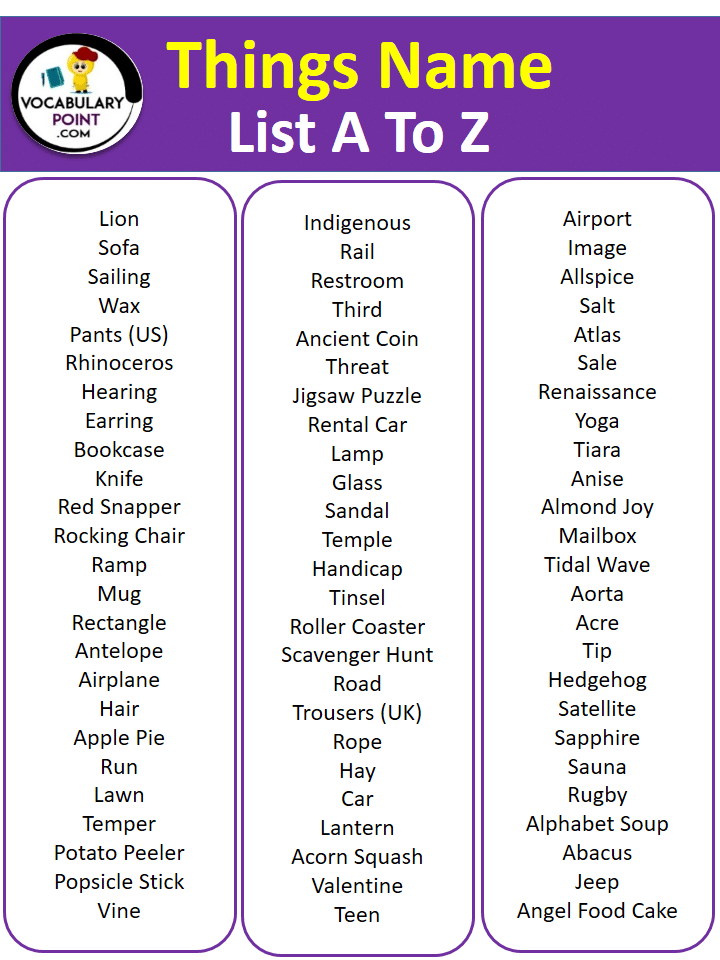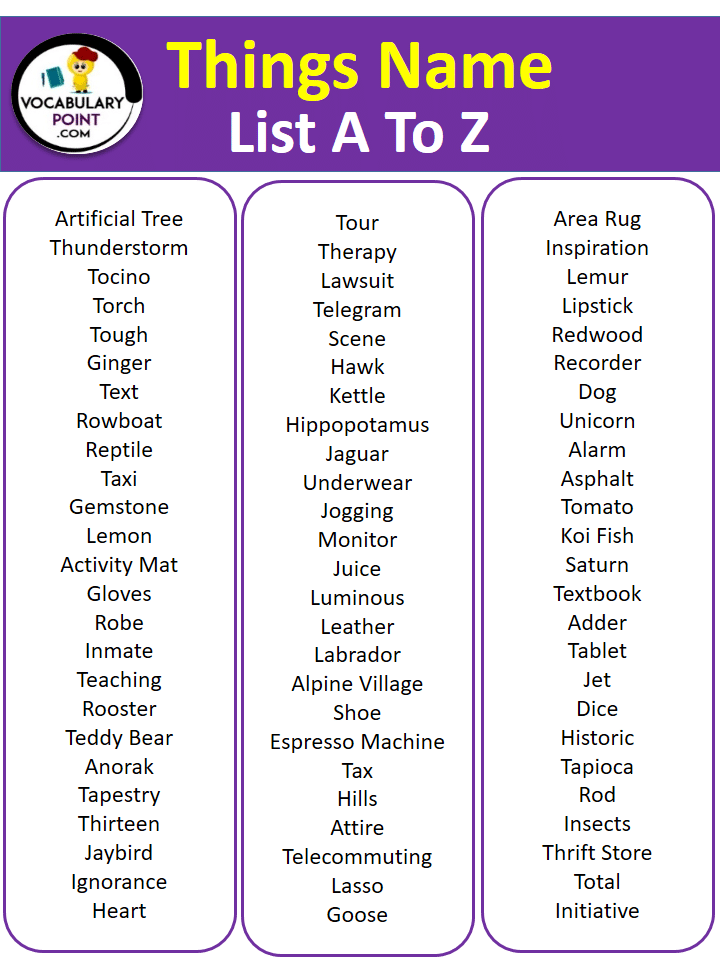 A To Z Things Names
Banana
Cactus
Dolphin
Elephant
Feather
Guitar
Honey
Iceberg
Jaguar
Kangaroo
Lighthouse
Moon
Narwhal
Owl
Peacock
Quill
Rainbow
Sunflower
Tiger
Umbrella
Violin
Xylophone
Yak
Dragonfly
Firefly
Giraffe
Honeysuckle
A To Z Things Name List
Apple
Banana
Cactus
Dolphin
Elephant
Feather
Guitar
Honey
Iceberg
Jaguar
Kangaroo
Lighthouse
Moon
Narwhal
Owl
Peacock
Quill
Rainbow
Sunflower
Tiger
Umbrella
Violin
Whale
Xylophone
Yak
Zebra
Dragonfly
Firefly
Giraffe
Honeysuckle
Iguana
Jellyfish
Koala
Lantern
Mushroom
Also Learn: 500+ Things That Are Yellow 
Things Name That Starts With A
Apple
Avocado
Airplane
Anchor
Acorn
Antelope
Arrow
Aquarium
Ambulance
Apricot
Ashtray
Atlas
Albatross
Ampersand
Artichoke
Anemone
Archipelago
Autograph
Armadillo
Asteroid
Azalea
Abacus
Alpaca
Anvil
Aardvark
Axolotl
Agate
Amethyst
Angelfish
Arrowhead
Aster
Awning
Aloe vera
Arboretum
Astrolabe
Things Name That Starts With B
Banana
Bicycle
Butterfly
Balloon
Beach
Bird
Book
Bridge
Brush
Baseball
Bag
Ball
Bakery
Bark
Barn
Belt
Bench
Berry
Bottle
Brick
Broccoli
Buckle
Bus
Button
Bowl
Bull
Badge
Bagel
Banner
Bangle
Things Name That Starts With C
Car
Cake
Chair
Cloud
Computer
Cup
Candle
Camera
Clock
Coat
Castle
Chalk
Cookie
Coin
Cactus
Crayon
Crown
Cucumber
Compass
Cello
Coconut
Chest
Charm
Cane
Cone
Coral
Cabin
Chimney
Canteen
Things Name That Starts With D
Dog
Duck
Dolphin
Diamond
Door
Desk
Drum
Dinosaur
Dress
Donut
Dragon
Dandelion
Domino
Dice
Diary
Dollar
Dagger
Deer
Drumstick
Disco ball
Dartboard
Duckling
Dumbbell
Daisy
Duster
Dish
Drawbridge
Decanter
Dustpan
Dune
Things Name That Starts With E
Elephant
Eagle
Earth
Egg
Envelope
Eraser
Earring
Engine
Easel
Eclipse
Elm tree
Emerald
Escalator
Espresso
Evening
Exercise
Extension cord
Eyeglasses
Exam
Explorer
Elevator
Eucalyptus
Encyclopedia
Evening gown
Exfoliator
Espresso machine
Earmuffs
Equation
Ermine
Things Name That Starts With F
Fish
Fox
Flower
Fan
Feather
Fork
Fire
Flag
Frog
Fountain
Fruit
Fence
Flamingo
Fig
Frisbee
Flute
Forklift
Fedora
Ferris wheel
Fossil
Fridge
Fireworks
Fern
Felt
Flashlight
Fortress
Football
Freckles
Faucet
Fleece
Things Name That Starts With G
Giraffe
Guitar
Grapes
Globe
Glass
Garden
Gate
Goose
Gift
Glider
Gingerbread
Garnet
Grasshopper
Goggles
Golf
Gummy bear
Galaxy
Gazelle
Grapefruit
Garlic
Game
Gemstone
Gym
Glitter
Gondola
Gavel
Geode
Guava
Gum
Goldfish
Things Name That Starts With H
Horse
Helicopter
Hurricane
Hamburger
Hyena
Harp
Honey
Hawk
Hammock
Hat
House
Hammurabi (Ancient Babylonian king)
Hummingbird
Hot air balloon
Hiking
Haystack
Hibiscus
Hive
Harpoon
Herbivore
Heart
Horseshoe
Harlequin
Hydrangea
Hang gliding
Hourglass
Handbag
Harvest
Hash browns
Hula hoop
Things Name That Starts With I
Ice cream
Island
Igloo
Incense
Iguana
Ink
Ivy
Ice skates
Inflatable raft
Impala
Incubator
Insect
Iron
Iris (flower)
Ivory
Indigo (color)
Igneous rock
Inflatable mattress
Incandescent light bulb
Ingot
Interpreter
Isopod
Iceberg
Illustration
Inflatable pool
Illusion
Ice pick
Ice fishing
Indian cuisine
Icicle
Things Name That Starts With J
Jaguar
Jellyfish
Juice
Jet
Jeans
Jacket
Jam
Jigsaw puzzle
Journal
Jackfruit
Javelin
Jade
Jockey
Jelly
Jester
Jogging
Jasmine (flower)
Jet ski
Jewelry
Jerky
Jar
Jazz
Joystick
Jingle bells
Jumper
Janitor
Juggler
Jojoba oil
Juice box
Jute
Things Name That Starts With K
Kangaroo
Kiwi (fruit)
Kite
Koala
Key
Kettle
Kingfisher
Karate
Knapsack
Kaleidoscope
Knot
Krypton (chemical element)
Keyboard
Kimono
Kelp
Kidney beans
Kit (set of tools)
Kernel
Kitchen
Kiss
Kitten
Khaki
Kamikaze
Kickboxing
Kumquat
Kilogram
Keg
Ketchup
Knuckle
Kiteboarding
Also Related: Most Popular Things That Are Brown
Things Name That Starts With L
Lion
Lemon
Lighthouse
Laptop
Lake
Lollipop
Lantern
Lavender
Leaf
Lizard
Lemonade
Library
Loaf of bread
Lamp
Leggings
Lotus
Lime
Lobster
Luggage
Leather
Lantern
Lavatory
Lipstick
Lifeguard
Llama
Lock
Lawn
Landscape
Leotard
Lullaby
Things Name That Starts With M
Moon
Mountain
Maple
Melody
Mango
Magician
Monarch
Meditation
Monastery
Museum
Mansion
Motorcycle
Mask
Marble
Meteor
Marshmallow
Mint
Microscope
Marine
Mosaic
Medicine
Marigold
Mirage
Matinee
Mistletoe
Mandolin
Maze
Mascot
Marmalade
Medal
Things Name That Starts With N
Nectarine
Nightfall
Novelist
Neutron
Necklace
Noodle
Nutmeg
Nursery
Nautical
Nymph
Napkin
Narwhal
Nest
Nimbus
Navigator
Nomad
Nectar
Nucleus
Nectarine
Nanny
Nebula
Novelty
Nutcracker
Needle
Notebook
Neighbour
Noise
Nibble
Nocturne
Numerical
Things Name That Starts With O
Ocean
Orchid
Otter
Oxygen
Oasis
Omelette
Oak
Origami
Opal
Orchestra
Observatory
Olive
Orbit
Octopus
Onion
Oyster
Owl
Overcoat
Oboe
Onyx
Offspring
Outback
Outpost
Oatmeal
Overhead
Overpass
Overjoyed
Ovation
Overdrive
Overture
Things Name That Starts With P
Panda
Piano
Pearl
Pineapple
Parrot
Palette
Pencil
Popcorn
Peanut
Penguin
Passport
Pillow
Panorama
Prism
Pegasus
Pinecone
Parka
Pendulum
Peacock
Potion
Piccolo
Popsicle
Pumpkin
Palace
Plush
Paddle
Portico
Pebble
Plumeria
Propeller
Things Name That Starts With Q
Quilt
Quill
Quiver
Quokka
Queen
Quinoa
Quillotine
Quasar
Quicksand
Quake
Quartz
Quill pen
Quaint
Quibble
Quest
Quark
Quail
Quince
Quandary
Quench
Quiff
Quip
Quicksilver
Quorum
Quiche
Quicksilver
Quarter
Quiet
Quotient
Quirky
Things Name That Starts With R
Rainbow
Rose
River
Ruby
Rabbit
Rock
Ring
Racket
Radio
Rollercoaster
Ranch
Reindeer
Radar
Ribbon
Robot
Rooster
Raspberry
Rocket
Rustic
Rhythm
Raincoat
Roadster
Rattle
Ramp
Rhinestone
Rug
Rumba
Rustle
Recliner
Retreat
Things Name That Starts With S
Sun
Sky
Star
Sand
Sea
Shell
Sailboat
Soccer
Strawberry
Sunglasses
Spider
Statue
Squirrel
Snake
Swan
Swing
Slippers
Suitcase
Scissors
Sushi
Scooter
Shovel
Snowflake
Snorkel
Saddle
Sombrero
Sleigh
S'mores
Stopwatch
Seashell
Things Name That Starts With T
Telescope
Tomato
Tornado
Taffy
Toucan
Turtleneck
Tambourine
Teapot
Thimble
Tugboat
Typewriter
Tuba
Tackle
Tick
Trampoline
Tractor
Tabasco
Turquoise
Tambour
Trellis
Tangerine
Tofu
Tacklebox
Tentacle
Thermostat
Toothbrush
Tulip
Topaz
Tweezers
Things Name That Starts With U
Umbrella
Unicorn
Utensils
Umpire
Uniform
Unicycle
Ultraviolet
Uranus
U-turn
Ukelele
Upstairs
Unleashed
Urn
Unison
Underpass
Uplift
Unwind
Upbeat
Upholstery
Uncharted
Unveil
Usurp
Unzip
Upgrade
Urban
Utter
Unison
Usher
Utterance
Unravel
Things Name That Starts With V
Vase
Velvet
Victory
Vacation
Vehicle
Vanilla
Vineyard
Vision
Vibrant
Vortex
Voyager
Voyage
Veil
Vortex
Verse
Violin
Vitamin
Volcano
Vest
Volunteer
Vial
Viking
Vault
Vendetta
Vigilant
Ventilation
Vicinity
Vow
Vulcan
Valiant
Things Name That Starts With W
Whale
Waterfall
Windmill
Wilderness
Willow
Whistle
Wave
Winter
Waffle
Wigwam
Wombat
Wallpaper
Wilderness
Walnut
Wrench
Wizard
Wheelbarrow
Woodpecker
Warthog
Wristwatch
Weasel
Wheat
Whisker
Whirlwind
Watermelon
Wanderlust
Wafer
Wisteria
Wallpaper
Wreath
Things Name That Starts With X
Xenophobia
Xylophone
X-ray
Xanadu
Xerox
Xebec
Xenon
Xylograph
Xeriscape
Xylitol
Xystus
Xanthan
Xerophyte
Xeroderma
Xylocarp
Xebu
Xyst
Xylography
Xanthein
Xenolith
Xiphisternum
Xenogamy
Xerochilia
Xylidine
Xenotropic
Xeroxing
Xylographer
Xanthippe
Xylographical
Xenocryst
Things Name That Starts With Y
Yellow
Yoga
Yacht
Yarn
Yearbook
Yawn
Yolk
Youth
Yo-yo
Yodel
Yucca
Yield
Yankee
Yardstick
Yam
Yearning
Yacht
Yoga mat
Yeast
Yacht club
Yarrow
Yesteryear
Yearly
Yummy
Yonder
Yin and yang
Yuletide
Yellowhammer
Youthful
Yacht race
Things Name That Starts With Z
Zebra
Zucchini
Zigzag
Zephyr
Zenith
Zest
Zipper
Zircon
Zesty
Zither
Zonal
Zoom
Zany
Ziggurat
Zodiac
Zucchini bread
Zephyr wind
Zen garden
Zucchini noodles
Zestful
Zirconia
Zip line
Zumba
Zipline adventure
Zest for life
Zombie
Zoot suit
Zoologist
Zestfully
Zeppelin