Winter Words Starting With A To Z. Looking for some wintertime inspiration? Check out this list of winter words that start with every letter of the alphabet! From "avalanche" to "zero degrees," this list has everything you need to get started on your next writing project about the winter season.
When it comes to winter, there are a lot of words that start with the letter "A". Antifreeze, for example, is a substance added to water or other liquids to lower the freezing point. It's used in everything from your car's radiator to the pipes in your home.
Asphalt is another winter word that starts with "A". It's a black, sticky substance made from petroleum that's used to pave roads and sidewalks. It can be pretty slippery when it's wet, so be careful if you're walking on it when it's raining or snowing.
And finally, there's ice. Ice is frozen water that can be found on ponds, lakes, and rivers in cold climates. It can also form on your windshield or in your freezer if the temperature is low enough.
Winter Words Starting With A To Z
Aroma
Assistance
Alpine
Active
Areas
Arctic
Affect
Air
Avalanche
Abrasion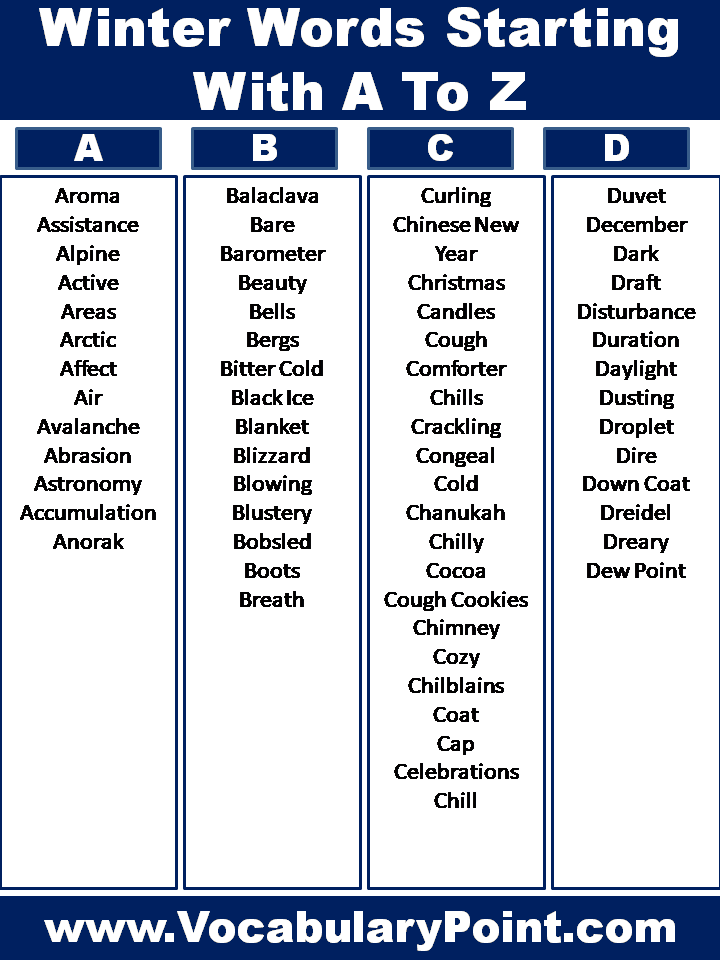 Astronomy
Accumulation
Anorak
Balaclava
Bare
Barometer
Beauty
Bells
Bergs
Bitter Cold
Black Ice
Blanket
Blizzard
Blowing
Blustery
Bobsled
Boots
Breath
Curling
Chinese New Year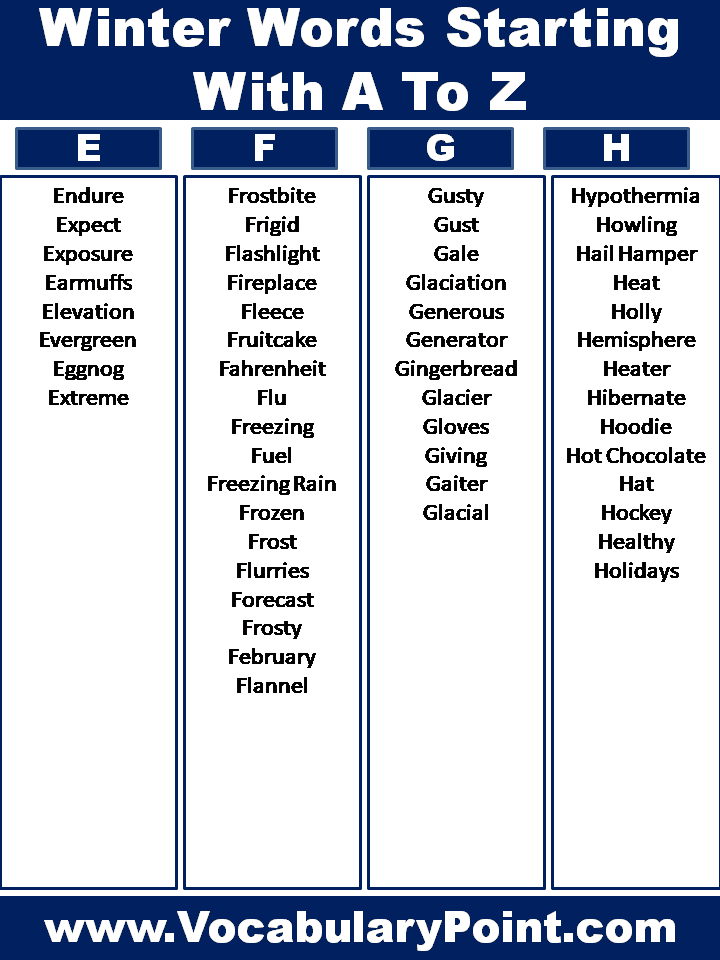 Christmas
Candles
Cough
Comforter
Chills
Crackling
Congeal
Cold
Chanukah
Chilly
Cocoa
Cough Cookies
Chimney
Cozy
Chilblains
Coat
Cap
Celebrations
Chill
Duvet
December
Dark
Draft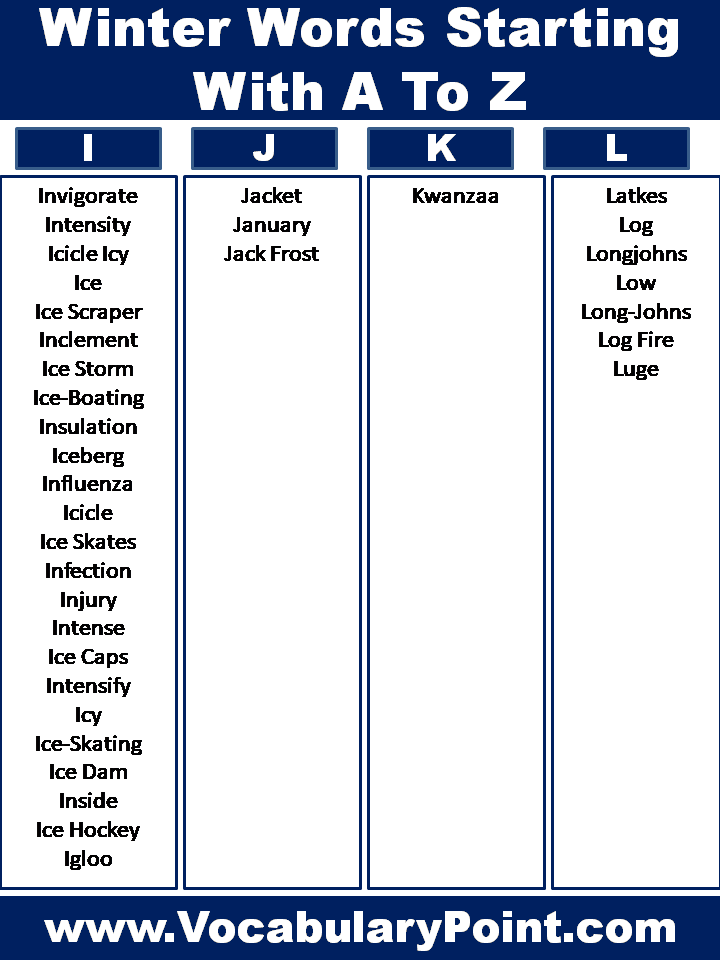 Disturbance
Duration
Daylight
Dusting
Droplet
Dire
Down Coat
Winter Words Start With A To Z
Dreidel
Dreary
Dew Point
Endure
Expect
Exposure
Earmuffs
Elevation
Evergreen
Eggnog
Extreme
Frostbite
Frigid
Flashlight
Fireplace
Fleece
Fruitcake
Fahrenheit
Flu
Freezing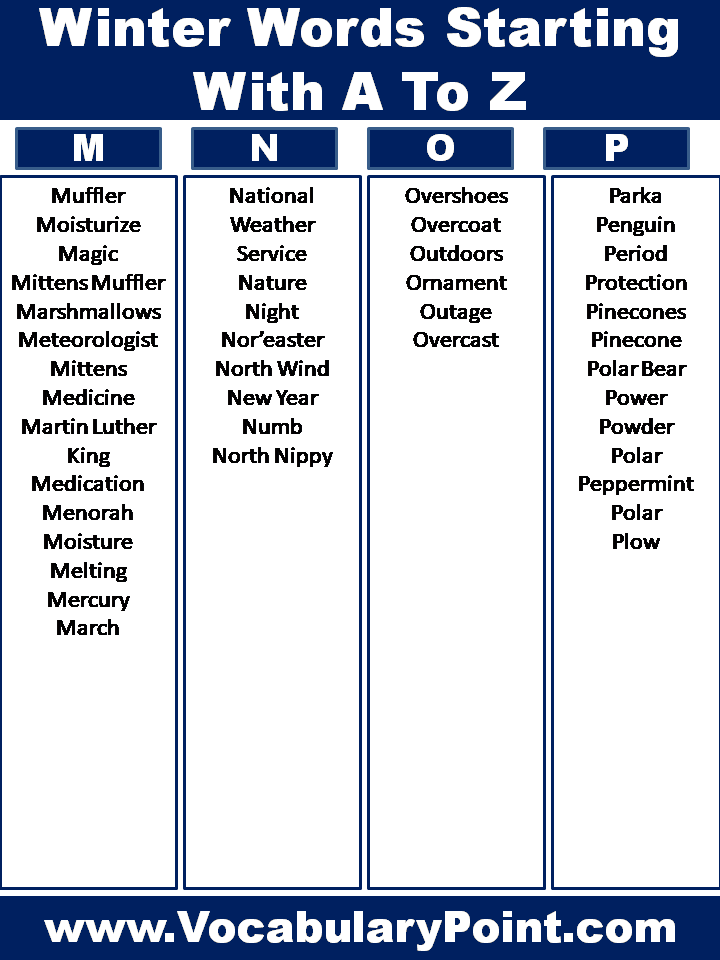 Fuel
Freezing Rain
Frozen
Frost
Flurries
Forecast
Frosty
February
Flannel
Gusty
Gust
Gale
Glaciation
Generous
Generator
Gingerbread
Glacier
Gloves
Giving
Gaiter
Glacial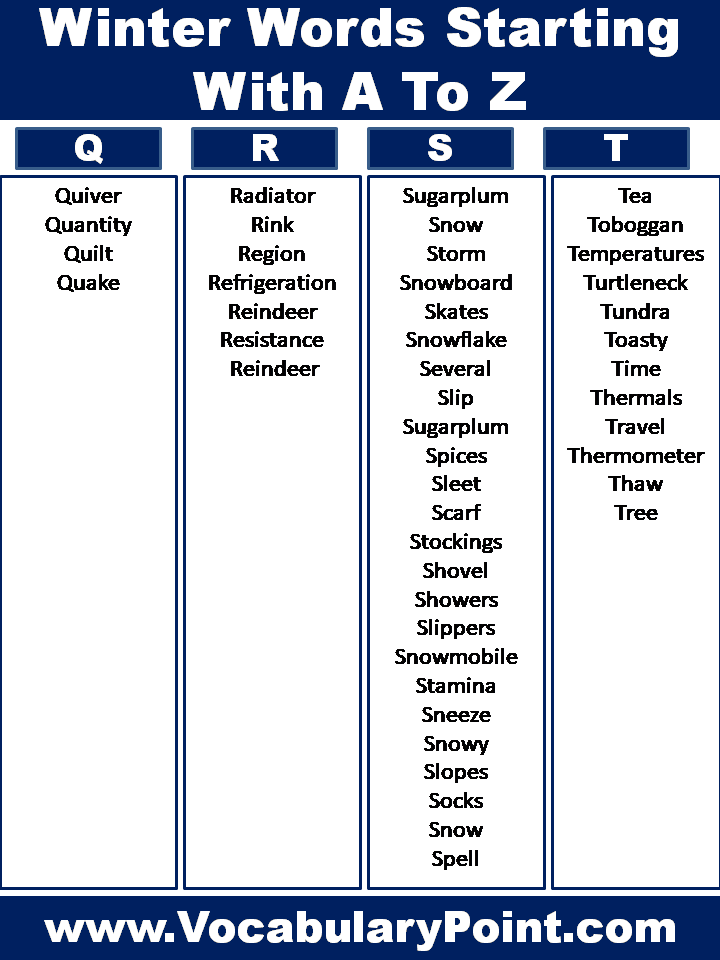 Hypothermia
Howling
Hail Hamper
Heat
Holly
Hemisphere
Heater
Hibernate
Hoodie
Hot Chocolate
Hat
Hockey
Healthy
Holidays
Invigorate
Intensity
Icicle Icy
Ice
Ice Scraper
Inclement
Ice Storm
Ice-Boating
Insulation
Iceberg
Influenza
Icicle
Ice Skates
Infection
Injury
Intense
Ice Caps
Intensify
Icy
Ice-Skating
Ice Dam
Inside
Ice Hockey
Igloo
Instability
Jacket
January
Jack Frost
Kwanzaa
Latkes
Log
Longjohns
Low
Long-Johns
Log Fire
Luge
Muffler
Moisturize
Magic
Mittens Muffler
Marshmallows
Meteorologist
Mittens
Medicine
Martin Luther King
Medication
Menorah
Winter Words Beginning With A To Z
Melting
Mercury
March
National Weather Service
Nature
Night
Nor'easter
North Wind
New Year
Numb
North Nippy
Overshoes
Overcoat
Outdoors
Ornament
Outage
Overcast
Parka
Penguin
Period
Protection
Pinecones
Pinecone
Polar Bear
Power
Powder
Polar
Peppermint
Polar
Plow
Quiver
Quantity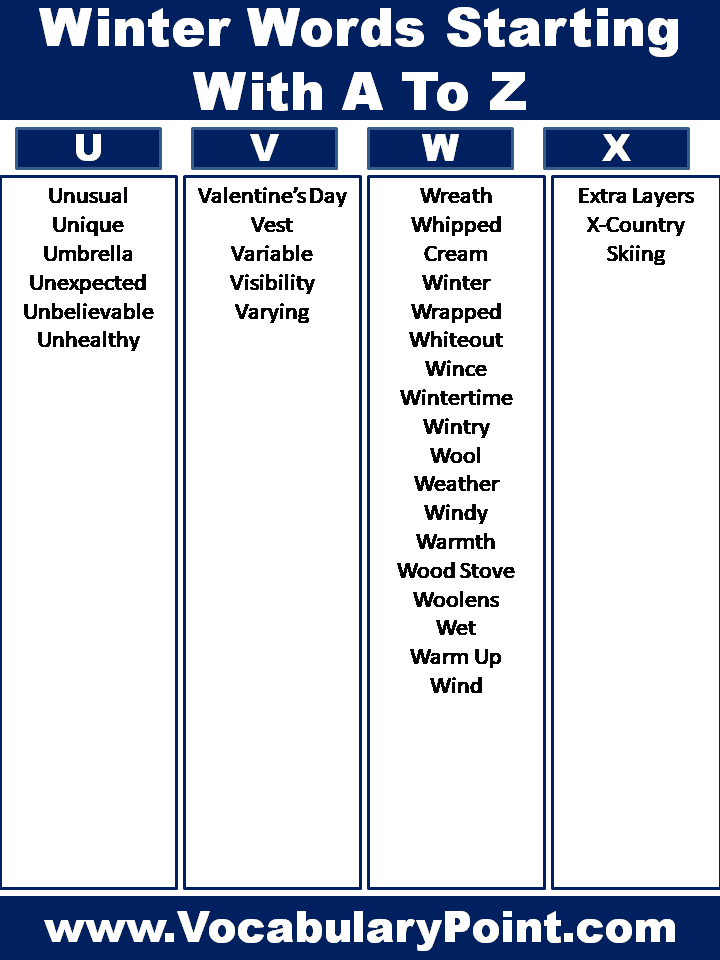 Quilt
Quake
Radiator
Rink
Region
Refrigeration
Reindeer
Resistance
Reindeer
Sugarplum Snow
Storm
Snowboard
Skates
Snowflake
Several
Slip
Sugarplum
Spices
Sleet
Scarf
Stockings
Shovel
Showers
Slippers
Snowmobile
Winter Words Starting With S
Stamina
Sneeze
Snowy
Slopes
Sledge (U.K)/Sled (U.S)
Socks
Snow
Spell
Snow Shovel
Solstice
Skating
Snowblower
Slide
Slush
Snowflakes
Slippery
Snowshoeing
Saturation
Skiing
Snowfall
Sleigh
Snowman
Sled
Squall
Snowplow
Subzero
Snowball
Shiver
Soup
Season
Snowboarding
Tea
Toboggan
Temperatures
Turtleneck
Tundra
Toasty
Time
Thermals
Travel
Thermometer
Thaw
Tree
Unusual
Unique
Umbrella
Unexpected
Unbelievable
Unhealthy
List Of Winter Words With V
Valentine's Day
Vest
Variable
Visibility
Varying
Wreath
Whipped Cream
Winter
Wrapped
Whiteout
Wince
Wintertime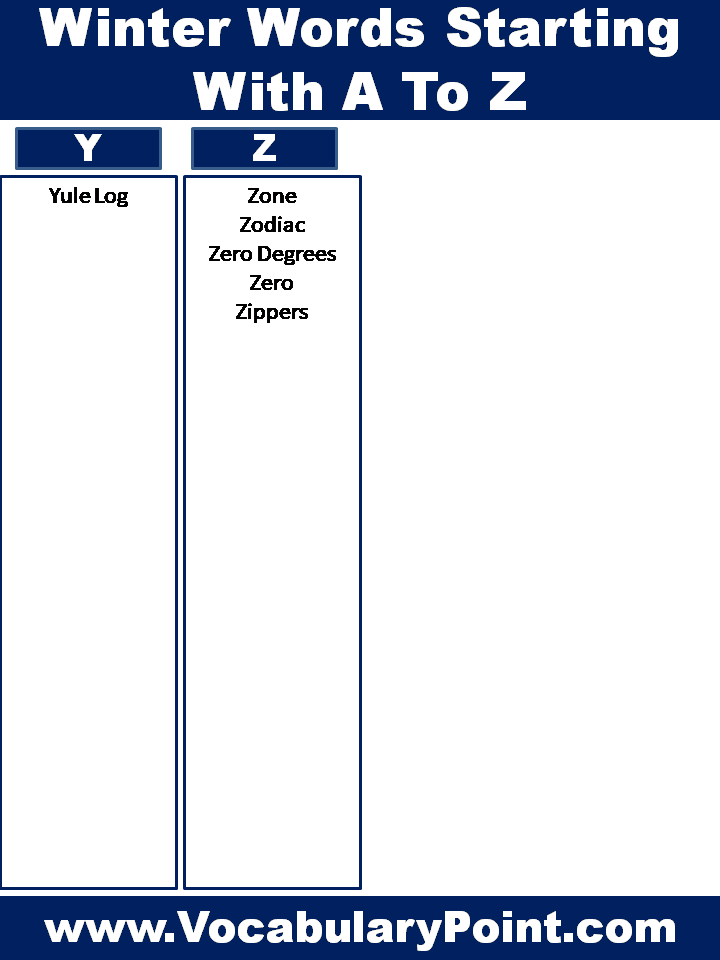 Wintry
Wool
Weather
Windy
Warmth
Wood Stove
Woolens
Wet
Warm Up
Wind
Yule log
Extra layers
X-country skiing
Zone
Zodiac
Zero Degrees
Zero
Zippers