Words that rhyme with blue are often used in poetry, song lyrics, and other forms of creative writing. From simple one-syllable words like "glue" to more complex multisyllabic ones like "subdue," there are countless possibilities for writers looking to add some musicality to their work.
Rhyming is a powerful tool that can help create rhythm and flow in language. It can also add emphasis or create contrast between different ideas or emotions. But finding the right rhyme can sometimes be a challenge, especially when working with words that have limited options. In this article, we will explore some of the most common and interesting words that rhyme with blue, as well as tips for using rhymes effectively in your writing.
Here are Top 20 Rhyme Words With Blue:
True
Clue
Hue
Sue
View
Pursue
Crew
Renew
Dew
Undo
Review
Adieu
Issue
Preview
Avenue
Tattoo
Bamboo
Subdue
Value
Imbue
Words That Rhyme With Blue
Gu
Virtue
Purple-Blue
Prue
Soo
Taklu
Fairview
Stinkeroo
Oceanview
Roux
Misconstrue
Dubu
Battu
Supertrue
Upblew
Approve
Reglue
Ensue
Lakeview
Didjeridu
Overblew
Ecu
Potoroo
Kazoo
Waterloo
Credo
Cashoo
Ru
Embrew
Whew
Fugue
Doodle-Do
Subdue
Bumboo
Ladue
Eigenvalue
Ew
Baku
Doru
Becue
Reflew
Jammu
Igloo
Tatu
Vertu
Kundru
Ku
Who
Ambigu
Ado
Mindscrew
Fue
Wallaroo
Hew
Due
Shrew
Breakthrough
Toodeloo
Hairdoo
Caoshu
Hue
Zebu
Multiview
Mew
Menstrue
Revenue
Laddoo
Untrue
Cybercrew
Rvalue
Wakashu
Withdrew
Sew
Reissue
Endue
Tolu
Downvalue
Leu
Dvigu
Virgalieu
Imu
Umeshu
Preinterview
Turnscrew
Smew
Haiku
Aitu
Smackeroo
Kwangju
Ohu
Cockatoo
Cpu
Crewe
Englue
Crue
Dew
Disvalue
Thru
Guru
Atishoo
Imbue
Wahoo
Ju
Stinkaroo
Emew
Biotissue
Mallku
Overvalue
Overshoe
Mieux
Cebu
Chandoo
Nandoo
Lassu
Issue
Liou
Moo
Overdrew
Jew
Plew
Vue
Timbutku
Shewe
Houtou
Jairou
Grugru
Gardyloo
Revue
Stereoview
Semitrue
Seethrough
Embrue
Screw
Flew
Hitherto
Tissue
Chanoyou
Fescue
Undervalue
Basque
Yu
Du
You
Bugaboo
Outgrew
Bantu
Feu
Nandou
Rendezvous
Shou
Stepnephew
Qinpu
Boo
Scoubidou
Noninterview
Cuckoo
Grew
Cashew
Misdrew
Kangaroo
Bushrue
Sunview
Loux
Choo
Nonshoe
Flue
Tatou
Pursue
Reskew
New
Shiatzu
Midinterview
Do
Whoo
Canoe
Revenewe
Koo
Kyu
Gskew
Through
Instrew
Honeydew
Jakeloo
Amu
Subvue
Lew
Hereto
Taboo
Medireview
Glew
Doo
Prague
Foreknew
Makrooh
Improve
Baby-Blue
Threw
Trabue
Flythrough
Skew
Congrue
Bottlescrew
Kew
Poo
Downdrew
Glue
Thew
Bestrew
Overthrew
Purview
Fondue
Grandnephew
Shoe
Renew
Ingrew
Leku
Flowthrough
Hewe
Gue
Chew
Gismu
Whereto
Marque
Wou
Tou
Undue
Eschew
Wazoo
Lasso
Thumbscrew
Hu
Roughhew
Coup
Inconnu
Megabrew
Setscrew
Brogue
Kansu
Tabu
Outthrew
Bellew
Blew
Arew
Joo
Deskew
Jusqu
Mushbooh
Giraudoux
Everwho
Noo
Anyhoo
Shoo
Zu
Lou
Rogue
Immew
Cariboo
Ooh
Fogou
Undo
Woo
Brou
Decrew
Thu
Cadew
Mu
Adieu
Tattoo
Strikethrough
Greenshoe
Monoblue
Hugh
Upto
Depew
Kung Fu
Horseshoe
Askew
Upvalue
TRUE
Impromptu
Slue
Deconstrue
Marcoux
Sou
Brubru
Emmew
Vendue
Yahoo
Caribou
Outdo
Clique
Mchugh
To
Damfoo
Gnu
Yeu
Flu
Cotonou
Babassu
Dodgerblue
Gehu
Stew
Debut
Iou
Roadcrew
Rearview
Tu
Halloo
Preview
Rescue
Forthdrew
Virtu
Avenue
Fondu
Lieu
Jackeroo
Forgrew
Vu
Jujitsu
Enstrew
Vous
Rompu
Transvalue
Grue
Shu
Overgrew
Depue
Ledoux
Chu
Ballyhoo
Shew
Zoo
Nu
Undergrew
Adrew
Sinew
Unvalue
Fitzhugh
Qu
Brew
Hairdo
Marabou
Superglue
Sockeroo
Meadowrue
Unmew
Minizoo
Boldu
Ragu
Traincrew
Phew
Imbrew
Curfew
Knew
Wapatoo
Megamenu
Ague
Paythrough
Barbeque
Unglue
Degu
Silver-Blue
Concrew
Resubdue
Bespew
Few
Enmew
Accrue
Statue
Hoopoo
Laddu
Overdo
Yoohoo
Tendu
Drew
Into
Coendoo
Retinue
Narpoo
Jackscrew
Liu
Pooh
Broo
Parleyvoo
Reconstrue
Value
Sudoku
Cheque
Fordo
Seaview
Kathmandu
Mcgrew
Murukku
Vou
Prevue
Miscue
Pique
Loo
Cachou
Voodoo
Shivoo
Emu
Nonvalue
Pew
Shampoo
Phu
Ninety-Two
Goo
Poohpooh
Buckaroo
Deux
Ipu
Therethrough
Barbecue
Overflew
Fu Manchu
Umu
Followthrough
Wanderoo
Pageview
Rublu
Wu
Walkthrough
Continue
Stu
Edu
Pagev
Zhu
Unscrew
Iru
Imbrue
Hoo
Surview
Counterview
Bienvenue
Choochoo
Twenty-Two
Booboo
Hezrou
Xu
Gochugaru
Corkscrew
Bru
Passthru
Boubou
Onto
Chengdu
Rew
Overview
Sue
Interview
Intrude
Clue
Misthrew
Postpreview
Spew
Refute
Unshoe
Aview
Antiflu
Gasperoo
Leadscrew
Anew
Cue
Redo
Fakeloo
League
Peru
Overdue
Passu
Gillaroo
Urubu
Handcrew
Risque
Calalu
Plaque
Hindu
Tzu
Underdo
Blanscue
Playthrough
Indue
Rewe
Nevew
Muskshrew
Masque
Two
Achoo
Usu
Mallu
Sault
View
Tiramisu
Sprue
Peekaboo
Regrew
Neotissue
Queue
Valew
Que
Marylou
Too
Miniscrew
Ewe
Luzzu
Coumarou
Skiddoo
Flamfew
Cru
Komku
Argue
Blu
Hsu
Misgrew
Venue
Ingenue
Fallthrough
Lemieux
Twigloo
Crew
Mildew
Intratissue
Ballou
Vogue
Antiblue
Coo
Rue
Bamboo
Malibu
Lue
Clearview
Clou
Foredo
Ninjutsu
Marine-Blue
Yew
Extrude
Listview
Clew
Nonglue
Alu
Slough
Booru
Afterview
Perdue
Capscrew
Strew
Maribou
Unsew
Mortrew
Construe
Outdrew
Tew
Menu
Bloo
Slew
Ubuntu
Larue
Pu
Adview
Plague
Outblew
Nontrue
Pourlieu
Review
Outflew
Enqueue
Foo
Residue
Piu
Must Read: Words that Rhyme with Best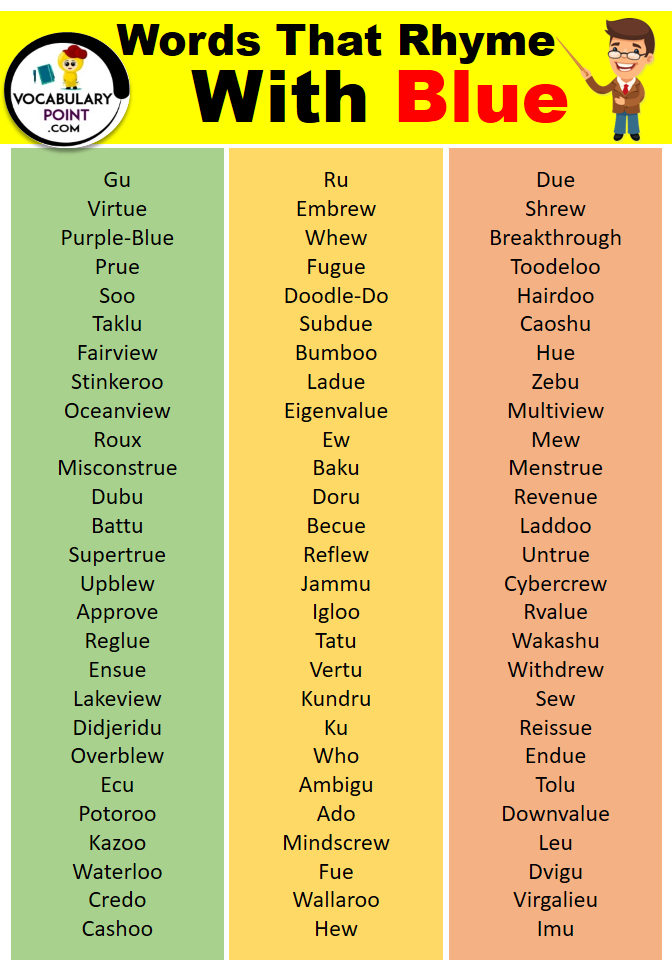 List Of Words That Rhyme With Blue
True
Clue
Hue
Cue
View
Jew
Stew
Dew
Chew
Flu
Screw
Renew
Pursue
Kangaroo
Tattoo
Emu
Issue
Rescue
Preview
Subdue
Cashew
Bamboo
Fondue
Value
Review
Also Related: 300 Examples of Words That Rhyme With All
Rhymes With Blue With Meanings
True – Genuine or real; in accordance with fact or reality.
Clue – A piece of evidence or information that helps solve a problem or mystery.
Hue – A color or shade.
Cue – A signal or indication to begin or do something.
View – The visual perception of something; a particular way of looking at something.
Dew – Tiny drops of water that form on surfaces during cool nights.
Slew – A large number or amount; a lot.
Sue – To take legal action against someone; to file a lawsuit.
Pursue – To follow or chase in order to catch or achieve something.
Through – Moving in one side and out of the other side of an object; completed or finished.
Review – An assessment or evaluation of something; a critical examination.
Subdue – To overcome or bring under control by force; to conquer or suppress.
Value – The worth, importance, or usefulness of something.
Crew – A group of people working together, typically on a ship, aircraft, or project.
Bamboo – A type of tall, woody grass with hollow stems, often used in construction and crafts.
Phrases That Rhyme With Blue
True
Hue
Chew
Dew
View
Crew
Stew
Clue
Flu
Few
Slew
Through
Queue
Undo
Pursue
Adieu
Renew
Subdue
Imbue
Preview
10 Common Words That Perfect Rhyme With Blue
Clue
Due
True
Sue
Through
Review
Value
Pursue
Debut
Subdue
Single-Syllable Words That Rhyme With Blue
Dew
Cue
Few
Hue
Jew
Knew
Moo
Pew
Queue
Rue
Shoo
Sue
Too
View
Woo
You
Achoo
Boo
Chew
Do
Ewe
Goo
Hoo
I do
Lou
Two-Syllable Words That Rhyme With Blue
Rescue
Issue
Tissue
Value
Preview
Continue
Pursue
Review
Accrue
Subdue
Excuse
Refuse
Amuse
Diffuse
Infuse
Abuse
Reuse
Defuse
Misuse
Excuse
Three-Syllable Words That Rhyme With Blue
Rescue
Subdue
Interview
Avenue
Continue
Value
Revenue
Review
Issue
Accrue
Overdue
Pursue
Excuse
Statute
Confuse
Refuse
Amuse
Abuse
Misuse
Reuse
Four-Syllable Words That Rhyme With Blue
Avenue
Continue
Interview
Revenue
Review
Residue
Interviewed
Reissue
Renewal
Misvalue
Preview
Subdue
Reviewer
Intervene
Venue
Subdue
Submenu
Misconstrue
Overdo
Misconstrued
Letter Words That Rhyme With Blue
Counterintuitive
Superstitious
Inconspicuous
Antidisestablishmentarianism
Unconsciousness
Inconsiderateness
Noninterference
Ultramodernistic
Misinterpretation
Unpredictability
Underrepresentation
Overcomplication
Nonaggression
Inquisitiveness
Inefficiency
Counterproductive
Nonintervention
Unavailability
Overcompensation
Disproportionate
Miscommunication
Indecisiveness
Disorganization
Underestimation
Nonparticipation
Two-Letter Words That Rhyme With Blue
Do
Go
Ho
Jo
Ko
Lo
Mo
No
Po
So
To
Vo
Wo
Yo
Zo
Ah
Eh
Oh
Uh
Ai
Three-Letter Words That Rhyme With Blue
Cue
Due
Hue
Dew
Pew
Jew
Few
Kew
New
Sue
Vue
You
Zoo
Boo
Flu
Who
Woo
Moo
Poo
Rue
Four-Letter Words That Rhyme With Blue
Clue
True
Glue
Slue
Spew
Brew
Flue
Stew
View
Grew
Crew
Skew
Chew
Drew
Screw
Quew
Prew
Yew
Shew
Blew
Five-Letter Words That Rhyme With Blue
Issue
Value
Venue
Rescue
Renew
Pursue
Preview
Subdue
Issue
Value
Value
Argue
Continue
Value
Slew
Taboo
Yahoo
Value
Accrue
Residue
Six-Letter Words That Rhyme With Blue
Rescue
Pursue
Issue
Subdue
Curfew
Review
Accrue
Renew
Preview
Value
Cashew
Imbue
Taboo
Avenue
Mildew
Endure
Seven-Letter (Or Longer) Words That Rhyme With Blue
Avenue
Subdue
Value
Preview
Pursue
Residue
Rescue
Issue
Misvalue
Venue
Revenue
Interview
Subvalue
Review
Construe
Continue
Overdue
Statute
Rescue
Subinterview
What Rhymes With Blue?
Clue
True
Due
Cue
View
Chew
Stew
Few
Crew
Grew
Pursue
Renew
Value
Subdue
Issue
Rescue
Accrue
Preview
Tattoo
Bamboo
Adieu
Curfew
Avenue
Review
Interview
Popular Blue Rhymes in Poetry and Lyrics
"True" – Often used to convey honesty and sincerity, such as "I'll stay true to you."
"Through" – Evoking the idea of moving forward or overcoming obstacles, as in "We'll make it through."
"Crew" – Referring to a group of people, often associated with teamwork or companionship, like "Sailing with my crew."
"View" – Describing a scenic sight or perspective, as in "The breathtaking view."
"Pursue" – Expressing the act of chasing dreams or goals, like "I'll pursue my passion."
"Cue" – A signal or indication, often used in theater or music, such as "He took his cue and started to sing."
"Due" – Referring to something that is owed or expected, as in "Payment is due by Friday."
"Hue" – Describing a color tone or shade, like "The painting had a vibrant hue."
"Sue" – Associated with legal actions or lawsuits, such as "She decided to sue for damages."
"Adieu" – A French term for saying goodbye or farewell, often used poetically, like "Bid them adieu and leave."
Frequently Asked Questions on Rhymes with Blue
What are some common words that rhyme with "blue"?
Some words that commonly rhyme with "blue" include "true," "crew," "pew," "knew," and "shoe." These words share the same ending sound as "blue" and can be used in various rhyming patterns or poetic compositions.
Can you provide examples of popular rhymes or songs that feature the word "blue"?
There are several well-known rhymes and songs that incorporate the word "blue." Examples include "Blue Suede Shoes" by Elvis Presley, "Blue Moon" by The Marcels, and "Feeling Blue" by Creedence Clearwater Revival. These songs often use the word "blue" metaphorically to represent sadness or melancholy.
Are there any nursery rhymes or children's songs that rhyme with "blue"?
While there aren't many traditional nursery rhymes specifically focused on rhyming with "blue," children's songs like "Little Boy Blue" and "Bluebird, Bluebird" include the word "blue" in their lyrics. These songs often introduce children to various colors and encourage their imagination through storytelling.
Are there any alternative spellings or variations of the word "blue" that rhyme differently?
The word "blew" is an alternative spelling of "blue" and has a different pronunciation, so it doesn't rhyme with the original word. However, "blew" can be used in rhymes with words like "stew," "threw," or "through." It's important to note that although "blue" and "blew" are spelled differently, they are homophones and sound the same when spoken.
Can you suggest some creative rhymes or phrases that incorporate the word "blue"?
Sure! Here are a few examples:

"In the ocean so wide and blue, dolphins leap and seals say 'moo.'"
"A robin's egg of delicate hue, nestled safely in its nest so true."
"Under the sky so vast and blue, children play and dreams come true."
"When feeling down, remember, it's true, the brightest skies follow the darkest blue."
"With brush and paint, the artist drew, a masterpiece in shades of blue."