10 Vocabulary Words. This article will introduce you to 10 essential English vocabulary words. These words are commonly used in everyday conversation, and understanding their meaning will help you communicate more effectively.
Do you want to improve your English vocabulary? Here are 10 great words to get you started.
Intrepid: adjective, showing fearless determination in the face of difficulties; brave. "an intrepid explorer"
Inexorable: adjective, impossible to stop or prevent; unstoppable. "an inexorable force"
Sagacious: adjective, having or showing keen insight and good judgment; wise. "a sagacious decision"
Onerous: adjective, involving great effort and difficulty; arduous. "an onerous task"
Tenuous: adjective, very frail or delicate; flimsy. "a tenuous grip on reality"
Equivocate: verb, to use ambiguous language in order to conceal the truth or avoid commitment in what one says.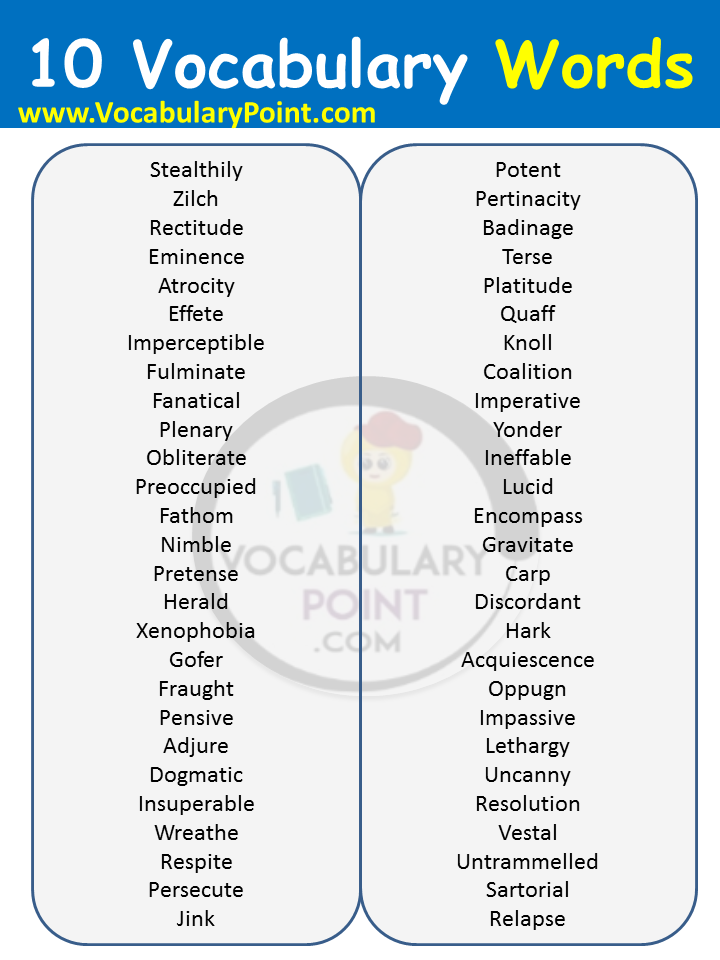 10 Vocabulary Words
Stealthily
Zilch
Rectitude
Eminence
Atrocity
Effete
Imperceptible
Fulminate
Fanatical
Plenary
Obliterate
Preoccupied
Fathom
Nimble
Pretense
Herald
Xenophobia
Gofer
Fraught
Pensive
Adjure
Dogmatic
Insuperable
Wreathe
Respite
Persecute
Jink
Potent
Pertinacity
Badinage
Terse
Platitude
Quaff
Knoll
Coalition
Imperative
Yonder
Ineffable
Lucid
Encompass
Gravitate
Carp
Discordant
Hark
Acquiescence
Oppugn
Impassive
Lethargy
Uncanny
Resolution
Vestal
Untrammelled
Sartorial
Relapse
Overhaul
Eloquent
Mettle
Languish
Clutter
Consensus