20 EXAMPLES OF PAST CONTINUOUS TENSE. The past continuous tense is used to describe an action that was happening at a specific point in the past. Here are 20 examples of the past continuous tense in action:
20 EXAMPLES OF PAST CONTINUOUS TENSE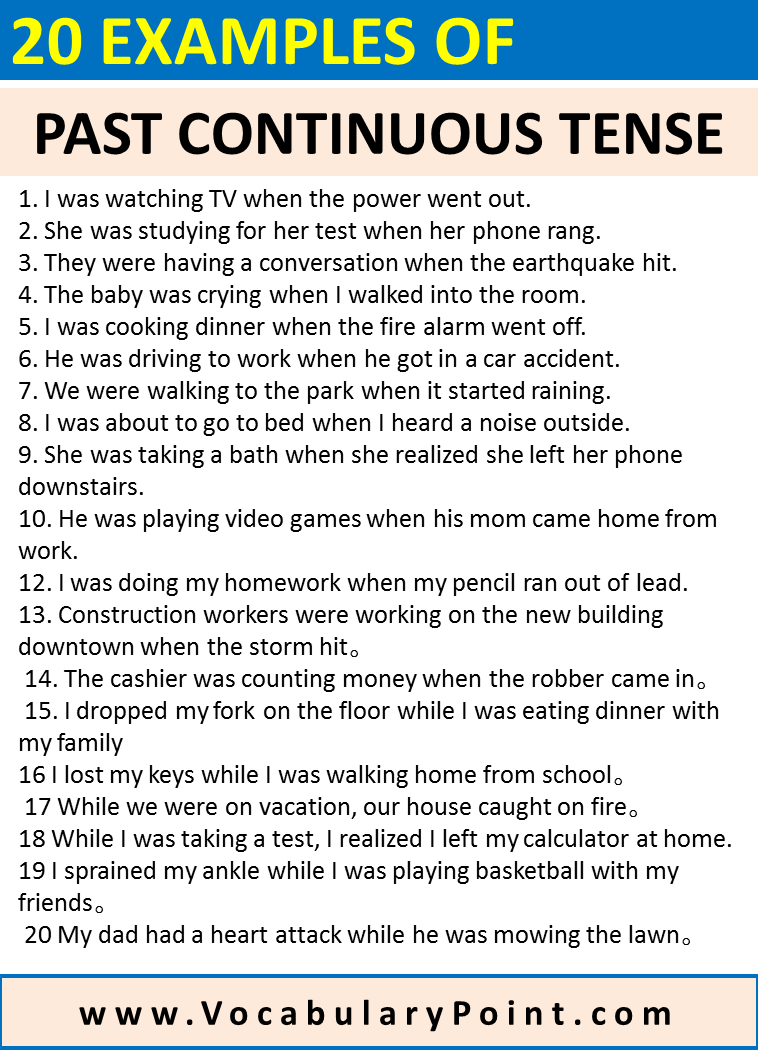 I was watching TV when the power went out.
She was studying for her test when her phone rang.
They were having a conversation when the earthquake hit.
The baby was crying when I walked into the room.
I was cooking dinner when the fire alarm went off.
He was driving to work when he got in a car accident.
We were walking to the park when it started raining.
I was about to go to bed when I heard a noise outside.
She was taking a bath when she realized she left her phone downstairs.
He was playing video games when his mom came home from work.
Must learn: 20 EXAMPLES OF PAST INDEFINITE TENSE
We were sitting in class when the teacher got a call from the principal
I was doing my homework when my pencil ran out of lead.
Construction workers were working on the new building downtown when the storm hit
The cashier was counting money when the robber came in
I dropped my fork on the floor while I was eating dinner with my family
 I lost my keys while I was walking home from school.
While we were on vacation, our house caught on fire
While I was taking a test, I realized I left my calculator at home
I sprained my ankle while I was playing basketball with my friends
 My dad had a heart attack while he was mowing the lawn