English Vocabulary in Daily Used PDF. A new PDF from English Vocabulary Daily Use promises to help learners of English expand their vocabulary with common, everyday words.
The PDF contains a list of 50 different words, each with a definition, example sentence, and accompanying image. The words are grouped into 5 categories: Food & Drink, House & Home, Clothing, Nature, and Body.

Each category has 10 words. The 50 words were chosen based on their frequency in the English language and their usefulness in daily life.

This PDF is a valuable resource for anyone looking to improve their English vocabulary. With clear explanations and examples, it's perfect for beginners or anyone who wants to brush up on their skills.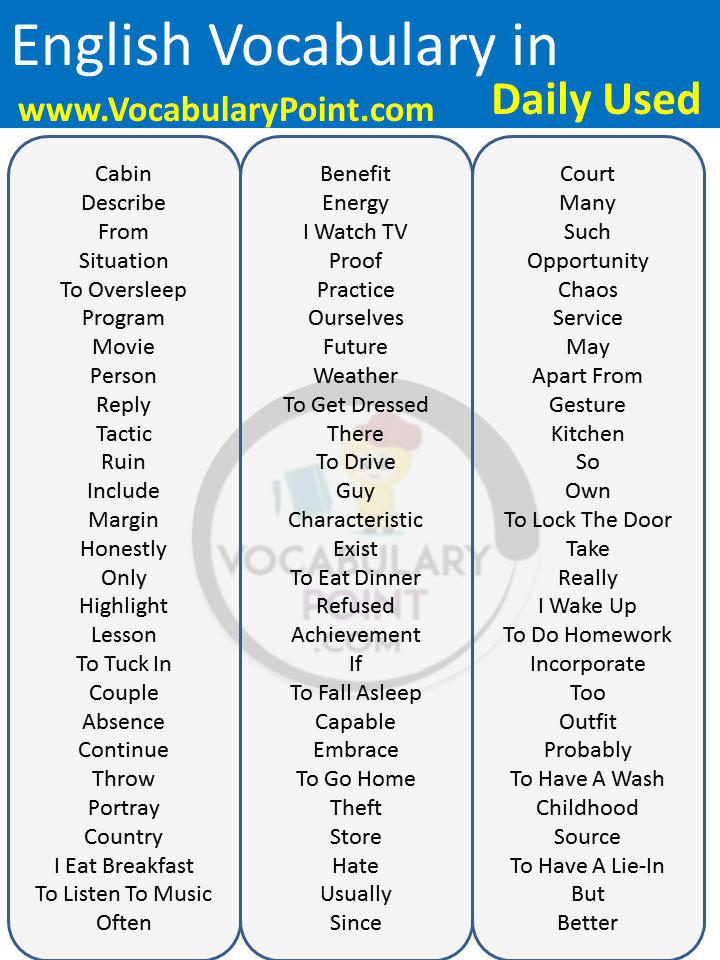 Cabin
To Answer Messages
Describe
From
Situation
To Oversleep
Program
Movie
Person
Reply
Tactic
To Prepare Dinner
To Go To An Evening Party
Interesting
I Meet Some Friends
Ruin
Include
Margin
Honestly
Only
Highlight
Lesson
To Tuck In
Couple
Absence
Continue
Throw
Portray
To Take The Bus/Subway
I Go To Bed Early/Late
Country
I Eat Breakfast
To Listen To Music
Often
Benefit
Energy
I Watch TV
Proof
Practice
Ourselves
Future
Weather
To Get Dressed
There
To Drive
Guy
Characteristic
Exist
To Eat Dinner
Refused
Achievement
If
To Fall Asleep
Capable
Embrace
To Go Home
Theft
Store
Hate
Usually
Since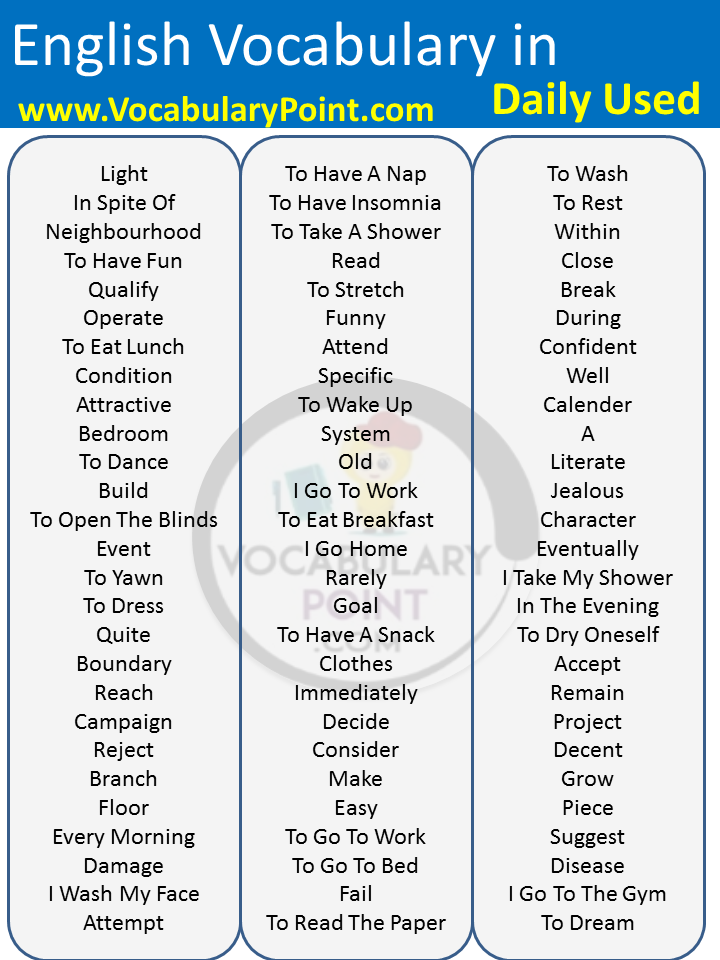 Court
To Draw The Curtains
Many
Such
To Water The Plants
Opportunity
Chaos
Service
May
Apart From
Gesture
Kitchen
So
Own
To Lock The Door
Take
Really
I Wake Up
To Do Homework
Incorporate
Too
Outfit
Probably
To Have A Wash
Childhood
Source
To Have A Lie-In
But
Better
Force
I Brush My Teeth
To Meet Friends
After
Ability
Naughty
To Open The Curtains
I Have Dinner
Balance
Shrink
Pay
Attract
Human
Allow
To Put On Make Up
To Discuss
Awful
Abuse
To Go To The Gym
Price
I Read A Book
To Have A Rest
To Hurry
Rapid
Cut
I Have Coffee
To Brush One's Teeth
Calculate
Foriegn
To Go To The Toilet
Humility
To Get Up
Develop
To Go To The Disco/Nightclub
To Make The Bed
To Feed The Cat/Dog
Nervous
To Groom Oneself
Particularly
Change
Knowledge
Absent
Might
To Come Back From School/Work
Talkative
Able
Champion
All
And
Or
Against
To Walk/Stretch One's Legs (Taking A Walk)
Behind
Cold
Contract
To Have A Coffee/Soda
Diplomatic
Never
Process
Attendance
For
Justify
At Least
Love
Paint
As Soon As
Common English words used in Daily Life
Leader
To Go To School
Game
To Switch The Light On/Off
Itself
Let
Obligation
To Sleep
Until
Although
Across
Definitely
Borrow
Early
Application
Happy
Scream
Know
Deny
Light
In Spite Of
Neighbourhood
To Have Fun
Qualify
Operate
To Eat Lunch
Condition
Attractive
Bedroom
To Dance
Build
To Open The Blinds
Event
To Yawn
To Dress
Quite
Boundary
Reach
Campaign
Reject
Branch
Floor
Every Morning
Damage
I Wash My Face
Attempt
To Have A Nap
To Have Insomnia
To Take A Shower
Read
To Stretch
Funny
Attend
Specific
To Wake Up
System
Old
I Go To Work
To Eat Breakfast
I Go Home
Rarely
Goal
To Have A Snack
Clothes
Immediately
Decide
Consider
Make
Easy
To Go To Work
To Go To Bed
Fail
To Read The Paper
To Wash
To Rest
Within
Close
Break
During
Confident
Well
Calender
A
Literate
Jealous
Character
Eventually
I Take My Shower
In The Evening
To Dry Oneself
Accept
Remain
Project
Decent
Grow
Piece
Suggest
Disease
I Go To The Gym
To Dream
Violatio
Anxious
Confuse
Dialogue
Hotel
Undergo
Between
Beginning
Due To
When
Similar
Teach
Village
I Have Lunch
Medical
To Walk (Going On Foot)
Hilarious
I Wait For The Bus
Buy
Month
Hold
An
Academic
In The Morning
Capacity
Dress
Actually
To Make Phone Calls
To Watch TV
To Walk The Dog
To Chat
Over
Here
Thus
Behavior
To Shave
Lead
Generate
Child
Ago
To Change
Control
To Undress
To Be Half-Asleep
To Have A Sleepless Night
To Study
Yeah
Bond
Palace
Fight
In The End
Language
Same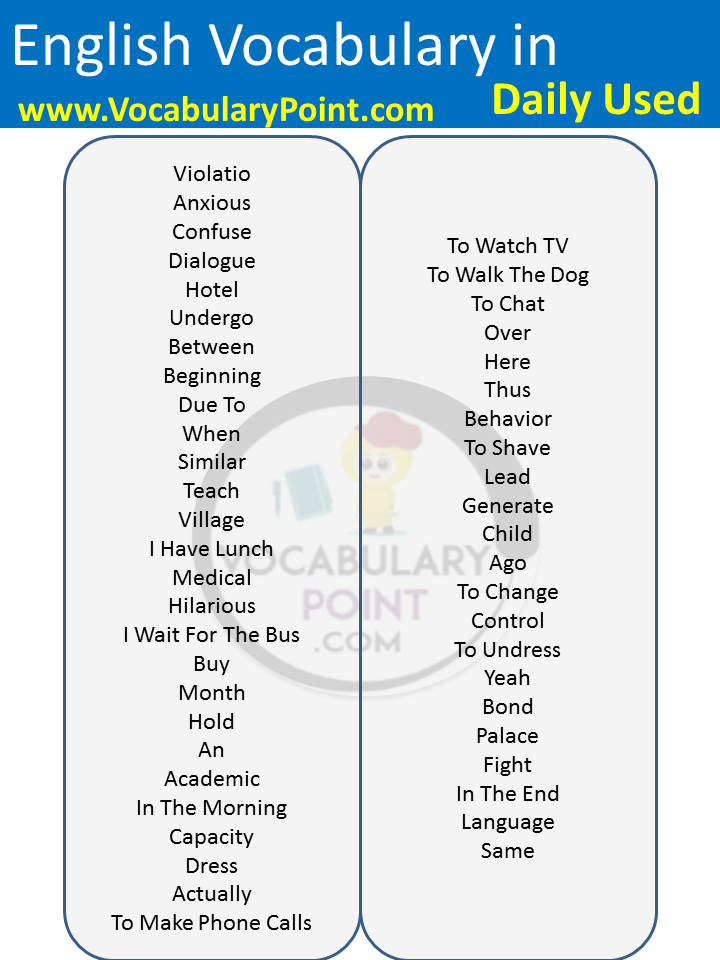 You can download vocabulary used in daily life PDF