English Vocabulary Words For Jobs. In order to get ahead in today's job market, it is essential to have a strong command of the English language. Here are 10 essential English vocabulary words that will help you succeed in any professional setting.
1. Communication – The ability to effectively communicate with others is key in any job setting. Whether you're writing an email to your boss or giving a presentation to a client, being able to express yourself clearly and concisely is crucial.
2. Teamwork – Most jobs require some level of teamwork. Being able to work well with others towards a common goal is an important skill to have.
3. Problem-solving – The ability to identify and solve problems is a valuable asset in any workplace.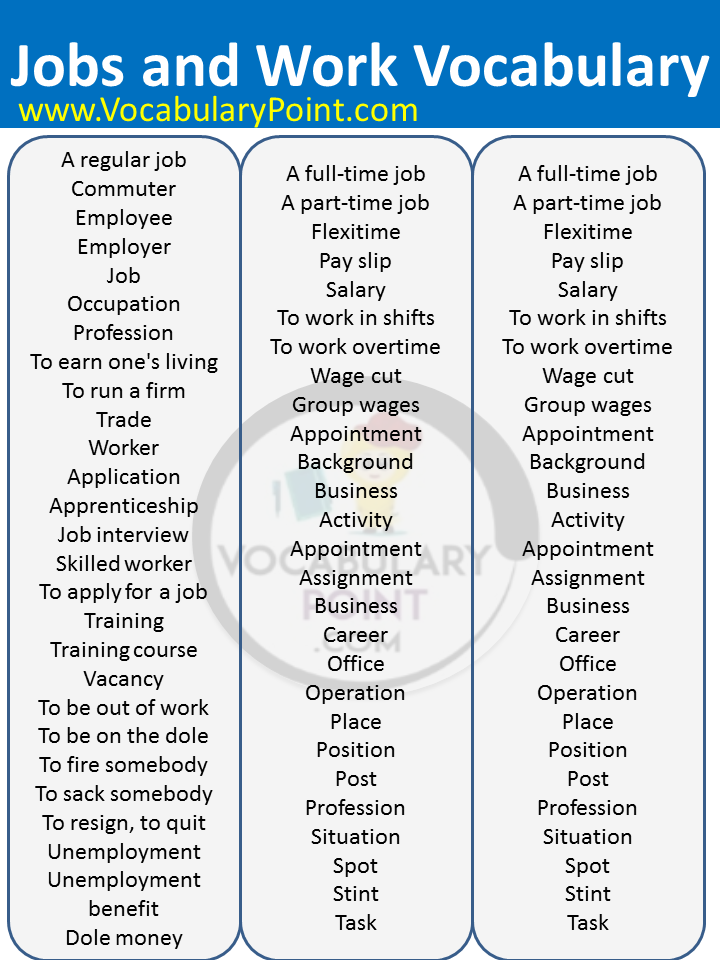 A regular job
Commuter
Employee
Employer
Job
Occupation
Profession
To earn one's living
To run a firm
Trade
Worker
Application
Apprenticeship
Job interview
Skilled worker
To apply for a job
Training
Training course
Vacancy
Period of notice
be unemployed
General Vocabulary Job And Occupation
To be out of work
To be on the dole
To fire somebody
to sack somebody
to resign, to quit
Unemployment
Unemployment benefit
Dole money
A full-time job
A part-time job
Flexitime
Pay slip
Salary
To work in shifts
To work overtime
Wage cut
Group wages
Appointment
Background
Business
Activity
Appointment
Assignment
Business
Career
Office
Operation
Place
Position
Post
Profession
Situation
Spot
Stint
Task
Trade
Work
Berth
Billet
Calling
Capacity
Chore
Connection
Craft
Engagement
Jobs And Occupations Vocabulary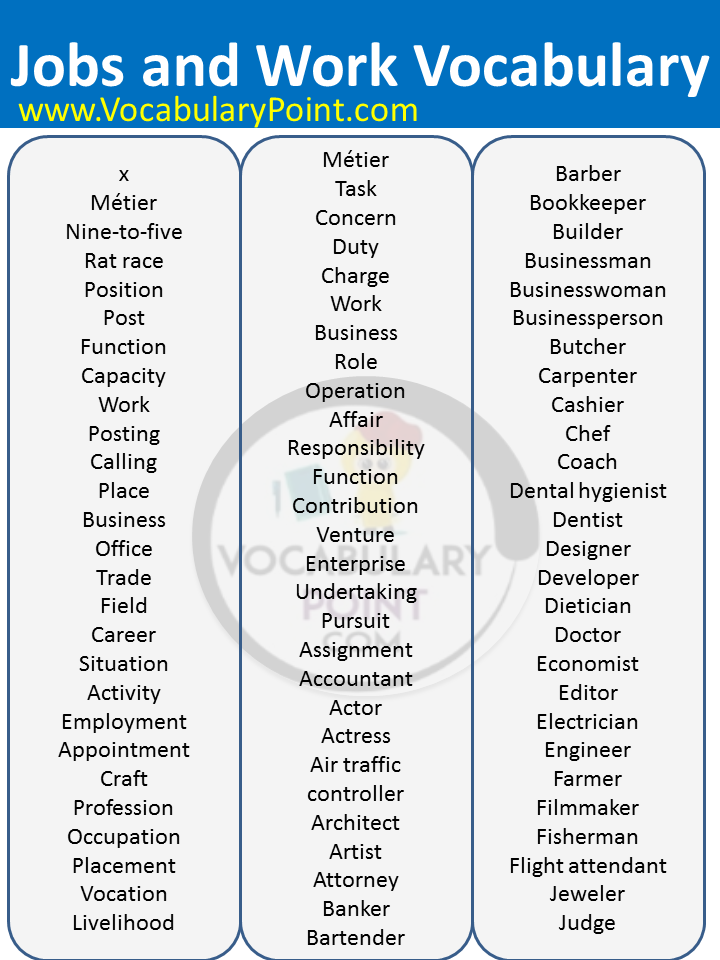 Faculty
Function
Gig
Grind
Handicraft
Line
Livelihood
Means
Niche
Occupation
Opening
Posting
Pursuit
Racket
Swindle
Vocation
Daily grind
Métier
Nine-to-five
Rat race
Position
Post
Function
Capacity
Work
Posting
Calling
Place
Business
Office
Trade
Field
Career
English Vocabulary Words For Jobs
Situation
Activity
Employment
Appointment
Craft
Profession
Occupation
Placement
Vocation
Livelihood
Métier
Task
Concern
Duty
Charge
Work
Business
Role
Operation
Affair
Responsibility
Function
Contribution
Venture
Enterprise
Undertaking
Pursuit
Assignment
Accountant
Actor
Actress
Air traffic controller
Architect
Artist
Attorney
Banker
Bartender
Barber
Bookkeeper
Builder
Businessman
Businesswoman
Businessperson
Butcher
Carpenter
Cashier
Chef
Coach
Dental hygienist
Dentist
Designer
Developer
Dietician
Doctor
Economist
Editor
Electrician
Engineer
Farmer
Filmmaker
Fisherman
Flight attendant
Jeweler
Judge
Lawyer
Mechanic
Musician
Nutritionist
Nurse
Optician
Painter
Pharmacist
Photographer
Physician
Physician's assistant
Pilot
Plumber
Police officer
Politician
Professor
Programmer
Psychologist
Receptionist
Salesman
Salesperson
Saleswoman
Secretary
Singer
Surgeon
Teacher
Therapist
Translator
Translator
Undertaker
Veterinarian
Videographer
Waiter
Waitress
Writer
Stint
Chore
Errand