English Vocabulary Words For School.  It's a new school year and that means it's time to review some basic vocabulary words that will be used frequently. Here are five school vocabulary words and their definitions to help get you started.
Classroom: A room in a school where lessons take place.
Student: A person who attends school.
Teacher: A person who works at a school and is responsible for teaching classes.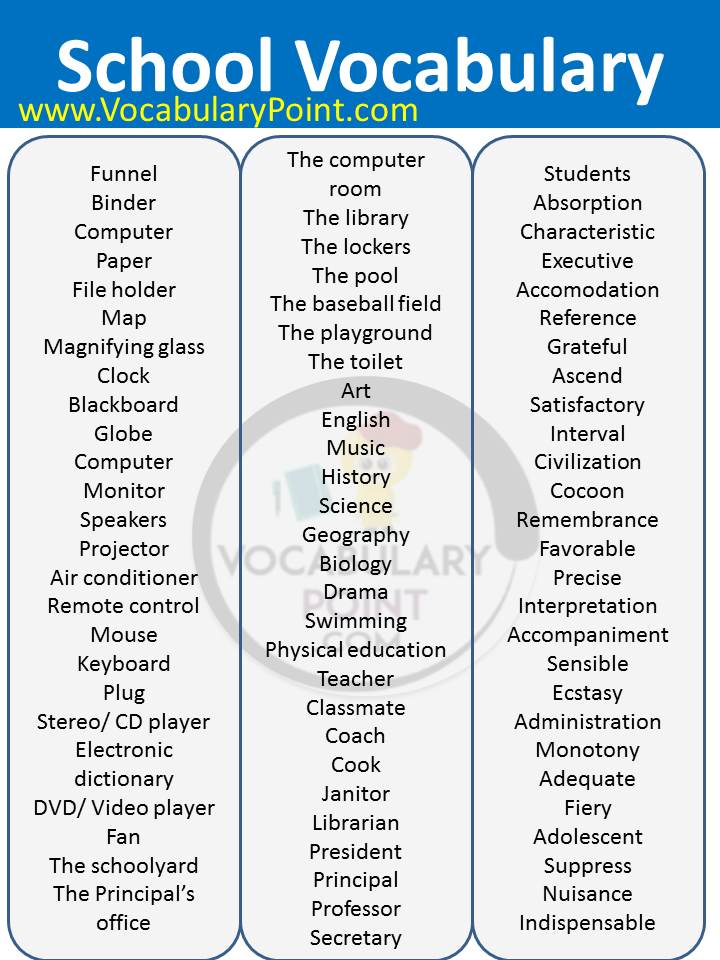 Desk
Chair
Book
Notebook
Pencil case
Backpack
Scissors
Compass
Pins
Clip
Pencil
Coloured pencil
Pencil sharpener
Stapler
Calculator
Ballpoint
Highlighter
Rubber(U.K) – eraser (U.S)
Scotch tape
Paint
Palette
Paint brush
Protractor
Set square
Ruler
Glue
Beaker
Flask
Test tube
Funnel
Binder
Computer
Paper
File holder
Map
Magnifying glass
Clock
Blackboard
Globe
Computer
Monitor
Interactive whiteboard
Speakers
Projector
Air conditioner
Remote control
Mouse
Keyboard
Plug
Stereo/ CD player
Electronic dictionary
DVD/ Video player
Fan
The schoolyard
The Principal's office
The classroom
English Classroom Vocabulary
The music room
The art room
The computer room
The library
The lockers
The pool
The baseball field
The playground
The toilet
Maths (U.K) – Math (U.S)
Art
English
Music
History
Science
Geography
Information technology
Biology
Drama
Swimming
Physical education
Teacher
Classmate
Coach
Cook
Janitor
Librarian
President
Principal
Professor
Secretary
Students
Absorption
Characteristic
Executive
Accomodation
Reference
Grateful
Ascend
Satisfactory
Interval
Civilization
Cocoon
Remembrance
Favorable
Precise
Interpretation
Accompaniment
Sensible
Ecstasy
Administration
Monotony
Adequate
Fiery
Adolescent
Suppress
Nuisance
Indispensable
Opposition
Lively
Commissioner
Hindrance
Circumvent
Indigenous
Estrange
Anarchy
Dormant
Derogatory
Belligerent
Unilateral
Stringent
Connotation
Assiduous
Obscure
Vindicate
Expedite
Bolster
Coalition
Perfunctory
Nonchalant
Impetuous
Disseminate
Dissident
Subordinate
Admonish
Jurisdiction
Travesty
Precipitate
Alternative
Redeem
Bureaucratic
Validate
Air conditioner
Art
Art room
Backpack
Bag
Ballpoint
Baseball field
Beaker
Bell
Biology
Blackboard
Blue stick
Book
Calculator
Chair
Classmate
Classroom
Clip
Clock
Coach
Coloured pencil
Compass
Computer
Computer room
Cook
Desk
Drama
Easel
Electronic dictionary
English
Eraser
Fan
File holder
Flask
Funnel
Geography
Globe
Glue
Highlighter
History
Homework
Information technology
Interactive whiteboard
Janitor
Keyboard
Lab
Librarian
Library
Lockers
Lunch box
Magnifying glass
Map
Markers
Maths
Monitor
Mouse
Music
Music room
Notebook
Paint
Paint brush
Palette
Paper
Pen
Pencil
Pencil case
Pencil sharpener
Physical education
Pins
Playground
Plug
Principal
Principal's office
Professor
Projector
Protractor
Puzzle
Ruler
Schoolyard
Science
Scissors
Scotch tape
Secretary
Set square
Slide
Speakers
Stapler
Stereo/ CD player
Students
Swimming
Swings
Teacher
Test tube
Toys
Triangle