ENGLISH  VOCABULARY  FOR  KIDS. In order to make sure that your kids have a strong foundation in English, it is important to start teaching them vocabulary at an early age. By expanding their vocabulary, they will be better able to understand what they read and hear, and be able to communicate more effectively.
There are a few simple ways that you can help your kids learn new English words.
Read more: English Vocabulary Words For School
One way is by reading aloud with them on a regular basis. As you read, point out new or interesting words and explain what they mean. You can also incorporate new words into conversation when talking with your kids. When they hear the words used in context, they will be more likely to remember them.
You can also find some great resources for teaching English vocabulary online or at your local library.
English Vocabulary Words For Kids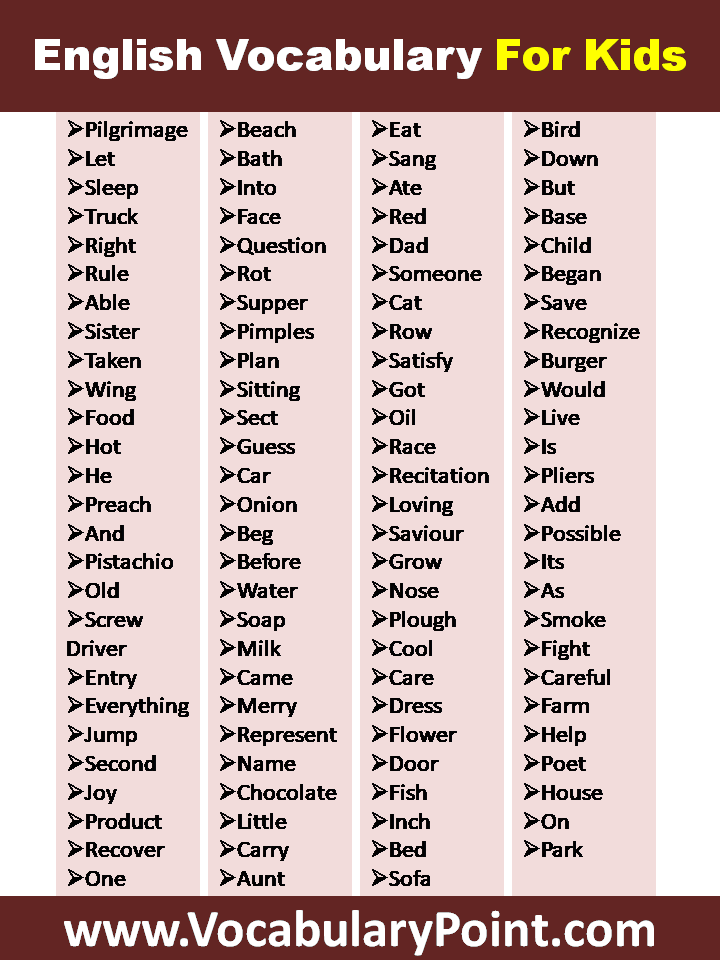 Vocabulary Words For Kids
| | | | |
| --- | --- | --- | --- |
| Seem | Full | City | Beauty |
| Deep | Deer | Rat | Fast |
| World | Here | Who | Like |
| Fun | Run | Hand | Pine Nut |
| Again | Bee | At | Buy |
| Wet | Apple | Bottle | Father |
| Polio | Swim | Real | In |
| Open | Roar | Road | Outside |
| Pound | Region | Call | Sacrifice |
| Scream | Home | Tree | Are |
| Black | Pomegranate Seed | Children | Form |
| Red Chili | Sun | Power | Produce |
| River | Her | Raisin | Pet |
| Baby | Very | Rosewater | Bill |
| Space | Pretend | Drink | A |
| Princess | Am | All | Once |
| Scale | Resign | Room | Paint |
| Poetess | Saliva | Ball | Rock |
| Flying | Reason | Boy | Seed |
| Shoes | Your | Air | Walk |
| Night | Pose | Can | Sail |
| Know | Any | Thought | Relative |
| Been | No | Bought | Brother |
| Family | Corner | End | Stairs |
| Go | Him | Bark | Above |
| Drop | Could | Scythe | Seen |
| Train | Because | Cry | Time |
| It | Potato | Pilgrimage | Let |
| Sleep | Truck | Right | Rule |
| Able | Sister | Taken | Wing |
| Food | Hot | He | Preach |
| And | Pistachio | Old | Screw Driver |
| Entry | Everything | Second | Joy |
| Product | Recover | One | Beach |
| Bath | Into | Face | Question |
| Rot | Supper | Pimples | Plan |
| Sitting | Sect | Guess | Car |
| Onion | Beg | Before | Water |
| Soap | Milk | Came | Merry |
| Represent | Name | Chocolate | Little |
| Carry | Recompense | Aunt | Grandmother |
| Eat | Sang | Ate | Red |
| Dad | Someone | Cat | Row |
| Satisfy | Got | Oil | Race |
| Recitation | Loving | Saviour | Grow |
| Nose | Plough | Cool | Care |
| Dress | Flower | Door | Fish |
| Inch | Bed | Sofa | Bird |
| Down | But | Base | Child |
| Began | Save | Recognize | Burger |
| Piper Cubeba | Pneumonia | Add | Possible |
| Its | As | Smoke | Fight |
| Careful | Farm | Help | Poet |
| House | On | Park | Hen |
| School | Would | Live | Is |
| Pliers | Take | Wagon | Body |
| Ride | Same | Present | Fishing |
| Saffron Pulp | Late | Dear | Bat |
| Scabies | Birthday | Sound | Oh |
| Simple | Yet | Fat | Bus |
| Rob | Dislike | Read | Seclusion |
| Long | Print | Wake | Plaque |
| Book | Saffron | Having | Barn |
| Relation | Be | Ran | Smooth |
| Do | Enjoy | Recital | Afraid |
| Day | Scissors | Under | Chair |
| Animal | Box | I | Eyes |
| Cow | His | Listless | Rosary |
| Sea | Empty | Comb | Of |
| Dog | Punishment | Warm | Section |
| Blue | An | Sport | See |
| Rocket | Plum | Poppyseed | Doing |
| Feeling | Bring | Almost | Come |
| Candy | Rescue | Rump | Preceptor |
| Heard | Naughty | Forgot | Reduce |
| Play | Finger | Had | Brown |
| Making | Scabbard | Ready | Grandfather |
| Friend | If | Pan | May |
| Poor | Plain | Might | Close |
| Small | Sew | Knife | Both |
| After | Rice-Gruel | Pig | Sabre |
| Reach | High | Egg | Age |
| Largest | Remember | Wish | Good |
| Probable | Color | Balloon | Basket |
| Given | Try | Mouse | Get |
| Prince | Wash | Window | Best |
| Salt | Out | Dry | Give |
| Science | Spoon | Everyone | Ring |
| My | Woman | Pistol | Left |
| Last | Active | Club | Plane |
| Resurrection | Short | Ringworm | Sago |
| About | Boat | | |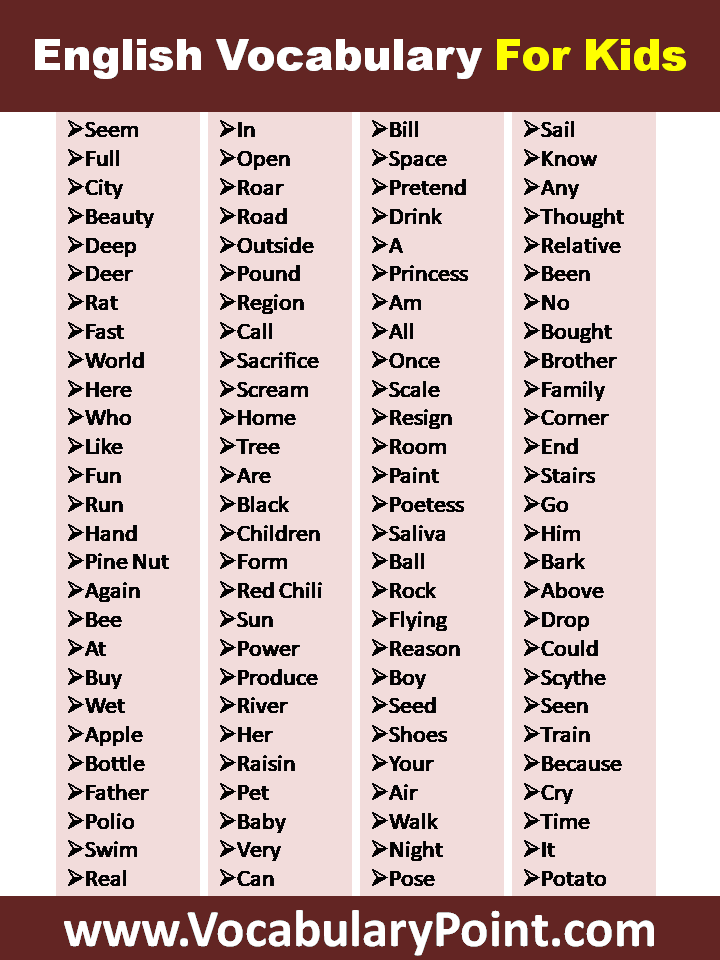 50 Basic English Vocabulary For Kids
Answer
Around
Believe
Orange
Pencil
For
Rib
Far
Easy
Pomegranate
Pineapple
Hat
Problem
Moon
Exit
Without
Why
Look
Rise
Always
Doll
How
Saw
Mouth
Gate
Ask
Mother
Better
Crow
Revolver
Airplane
Saturday
Press
Strong
Brave
Cake
Being
Lovely
Himself
Difficult
Man
Sorry
Each
Ago
Not
Plate
Position
Spelling
Rich
Sometime
Sauce
Big
Yes
Near
Away
Toy
Hello
Change