ENGLISH VOCABULARY FOR IELTS. Whether you are taking the IELTS Academic or General Training test, developing a strong vocabulary is essential for success. Here are some tips to help you build your English vocabulary for the IELTS test.
One way to improve your vocabulary is to read as much as possible. Reading helps you encounter new words and learn how to use them correctly. A variety of reading materials can also help increase your understanding of different word meanings.
Another way to build your vocabulary is to keep a journal or notebook of new words you encounter. Make sure to write down the word, its definition, and how it was used in a sentence. Review these words regularly so that you can commit them to memory.
Finally, don't be afraid to practice using new words in conversation. The more you use a word, the more likely you are to remember it.
Impeccable
Morose
Salient
Predilection
Technology
Complacency
Repudiate
Aberration
Elated
Read more: English Vocabulary For Kids
| | | | |
| --- | --- | --- | --- |
| Literature | Quaint | Intriguing | Exquisite |
| Avarice | Furtive | Incisive | Sports |
| Kick Back | Umbrage | Callous | Innovation |
| Amiable | Impudent | Inept | Measure Against |
| Empathy | Tee Off | Zenith | Oblivious |
| Plethora | Nuance | Taciturn | Intrepid |
| Superior | Haughty | Superfluous | Impertinent |
| Droll | Insatiable | Extraordinary | Abominable |
| Coherent | Extol | Dazzling | Panacea |
| Penchant | Novice | Arcane | Abhor |
| Staid | Ravishing | Appease | Serendipity |
| Inveterate | Procure | Coerce | Vex |
| Clandestine | Enmity | Demure | Myriad |
| Humorous | Embezzle | Forsake | Circumspect |
| Cumulative | Heritage | Respond | Fashion |
| Chide | Insular | Indolent | Acquiesce |
| Imperfect | Debase | Fabricate | Knell |
| Flabbergasted | Gluttony | Display, Exhibit | Maverick |
| Frosty | Obsequious | Venture Forth | Salt Away |
| Innate | Alacrity | Stick With | Astonishing |
| Creativity | Vociferous | Romp In | Go By |
| Superb | Sycophant | Candor | Obtuse |
| Nadir | Inaugurate | Inhibit | Quarrel With |
| Enormous | Nominal | Cajole | Refurbish |
| Brazen | Modicum | Deferential | Pass Over |
| Decry | Limber Up For | Peel Away | Entrepreneurship |
| Incredible | Gratuitous | Diligent | Fractious |
| Wanton | Feral | Lurid | Truculent |
| Eloquent | Shopping | Festivals | Lithe |
| Perusal | Meticulous | Jubilant | Confidant |
| Infamy | Connive | Despot | Venerable |
| Parody | Vehicles | Knowledge | Savoury |
| Deride | Brusque | Music | Implacable |
| Places | Hypocrisy | Rife | Erudite |
| Rash | Amusing | | |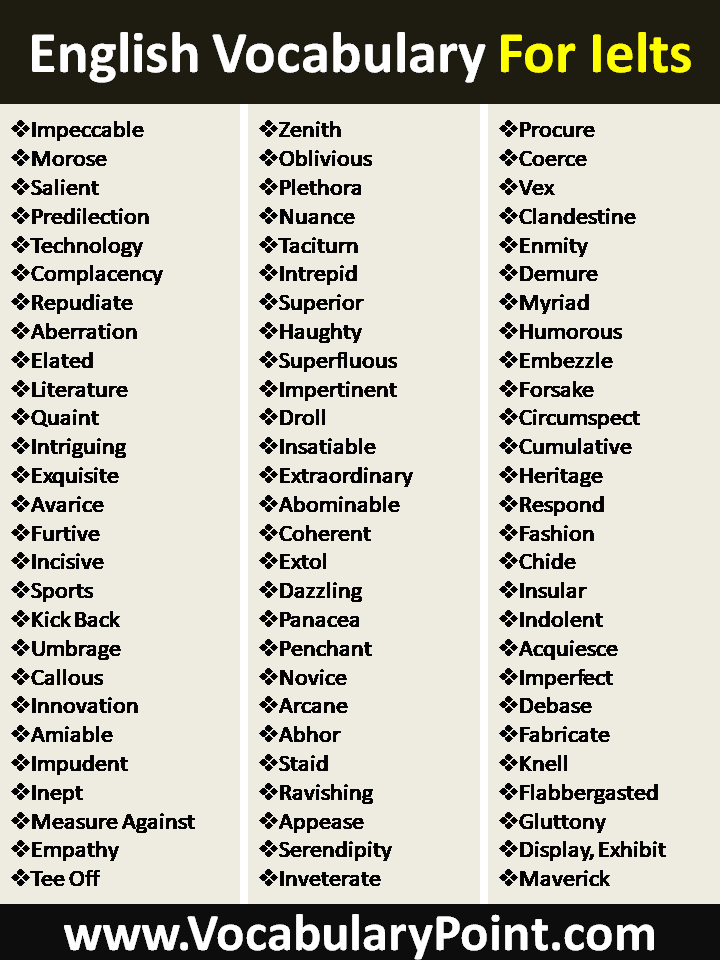 1000 Vocabulary Words For Ielts