ENGLISH VOCABULARY HARD WORDS
For many people, learning a new language can be difficult. But what may be even more difficult is trying to learn the vocabulary of that language. English is no different. There are a lot of hard words to pronounce and remember. However, with a little bit of practice, you can start to improve your English vocabulary skills.
One way to learn new words is by listening to native speakers. Pay attention to how they say the word and what it sounds like. Another way is to read as much as you can in English. This will help expose you to different words and their meanings. Finally, don't be afraid to practice speaking English with others. The more you use the language, the better you will become at using it correctly.
Kepi
Couchette
Dabble
Riposte
Gybe
Strengthen
Apprehension
Taupe
Read more: English Vocabulary For Ielts
Inquisitive
Ichthyologist
Querulous
Diaphanous
Horripilation
Liaison
Yurt
Facsimile
Fricassee
Wheedle
Jalousie
Pre-Eminent
Taffeta
Repartee
Nefarious
Perquisite
Peignoir
Fickle
Psoriasis
Gewgaw
Shyster
Howdah
Boehmeria
Reconciliation
Surfeit
Surcease
Sylph
Occlude
Constitution
Thorough
Rotenone
Strontium
Termagant
Salaam
Finagle
Aurochs
Scrumptious
Obloquy
Phlegmatic
Oleaginous
Viscera
Halcyon
Zoanthropy
Verisimilitude
Guillemot
Spasmodic
Olfactory
Impetuous
Vertiginous
Courageous
Sacrosanct
Noticeable
Grovel
Indulgent
Godel
Gruesome
Scrimshaw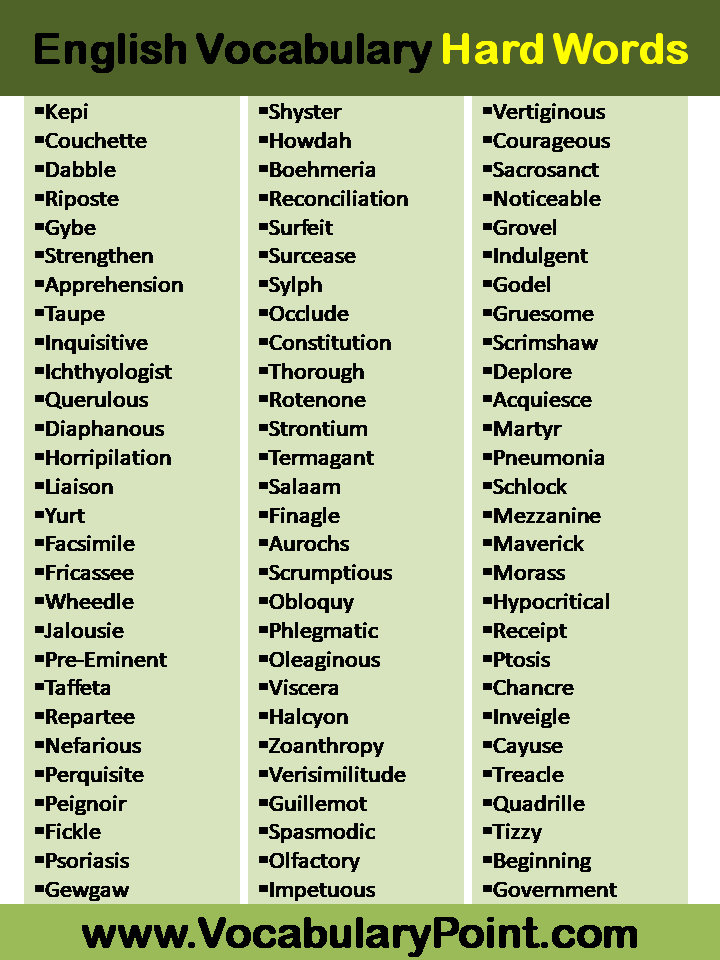 Deplore
Acquiesce
Martyr
Pneumonia
Schlock
Mezzanine
Maverick
Morass
Hypocritical
Receipt
Ptosis
Chancre
Inveigle
Cayuse
Treacle
Quadrille
Tizzy
Beginning
Government
Vicissitude
Tenacious
Squeegee
Buffet
Rhythm
Chaos
Insipid
Picturesque
Stroll
Deceive
Pique
Viricide
Substantiate
Ghillie
Thalassic
Tourniquet
Occasion
Quotidian
Humdrum
Deem
Traipse
Traduce
Subtle
Indubitable
Demesne
Hard Vocab Words
Subcutaneous
Anonymous
Vandalize
Toque
Naphtha
Psilosis
Mendacious
Vacuum
Titillate
Hoatzin
Descendant
Cwm
Opprobrious
Scorpaenoid
Obstreperous
Patriarch
Relegate
Lachrymal
Mississippi
Unwonted
Coercive
Baksheesh
Nonce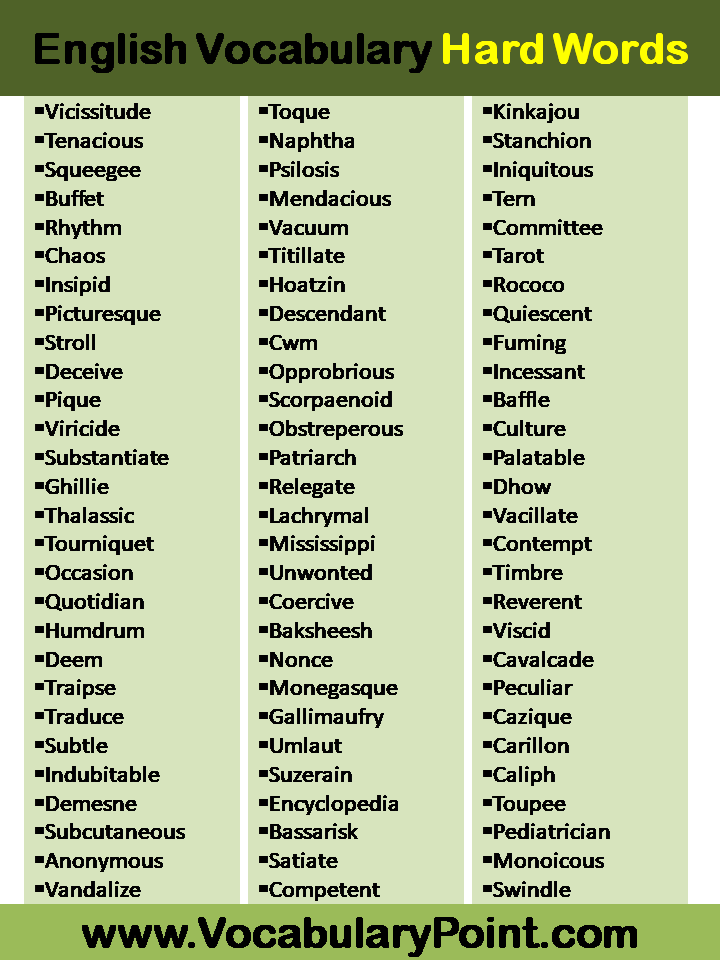 Monegasque
Gallimaufry
Umlaut
Suzerain
Encyclopedia
Bassarisk
Satiate
Competent
Kinkajou
Stanchion
Iniquitous
Triskaidekaphobia
Tern
Committee
Tarot
Rococo
Quiescent
Fuming
Incessant
Baffle
Culture
Palatable
Chlorofluorocarbon
Dhow
Vacillate
Contempt
Timbre
Reverent
Unconscionable
Viscid
Cavalcade
Peculiar
Cazique
Carillon
Caliph
Toupee
Pediatrician
Monoicous
Swindle
Recommend
Septuagenarian
Dauntless
Tortuous
Solecism
Adept
Abstain
Spontaneity
Bouffant
Tympanitis
Svelte
Pyrrhic
Seneschal
Conscientious
Accommodation
Xylose
Ambiguous
Haematoidin
Rousseau
Yttrium
Microcosm
Uncanny
Roil
Pariah
Fluorescent
Divergent
Collaborate
Misspelled
Widgeon
Construe
Ancient
Pulchritude
Scurrility
Acknowledgment
Terrarium
Onerous
Stringent
Exaggerate
Feisty
Whippoorwill
Evanescent
Reveille
Macaque
Renovation
Obeisance
Xenophobia
Most Hard Words In English
Golliwogg
Klaxon
Dossier
Impede
Ebullient
Thoracic
Saguaro
Suffrutescent
Fawning
Quoin
Tagliatelle
Paean
Sagacious
Reservoir
Teak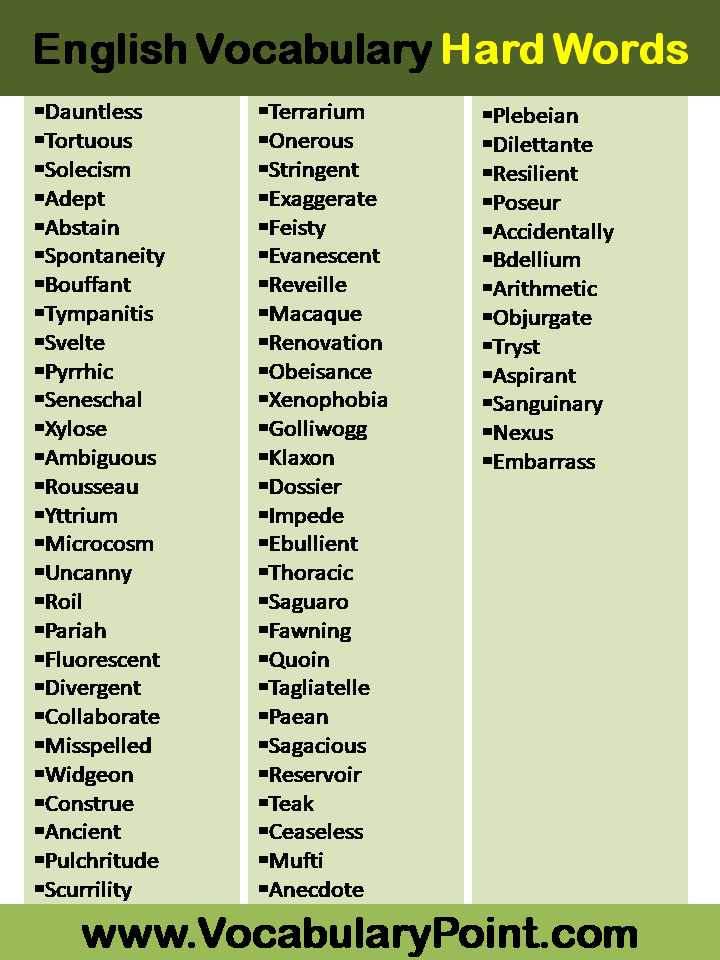 Ceaseless
Mufti
Anecdote
Plebeian
Dilettante
Resilient
Poseur
Accidentally
Bdellium
Arithmetic
Objurgate
Tryst
Aspirant
Sanguinary
Nexus
Embarrass