EXAMPLES OF OVIPAROUS ANIMALS. Here is a examples of oviparous animals with pdf. oviparous are those animals which produced by laying eggs, outside of the maternal. If you want to improve your vocabulary about oviparous so must learn and read this post because it give you information's oviparous Animals with their pictures.
Must Learn: Amphibians animals
OVIPAROUS MEANS?
oviparous means they are develop by producing eggs, give birth outside the body. In birds they laying eggs then after within specific time intervals egg was broke and bird baby come outside from egg cover. (It means all process hatch outside the maternal body).
WHAT ARE OVIPAROUS ANIMALS?
oviparous animals are those that are reproduced by laying eggs are known as oviparous animals. Or no other embryonic development within the mother.
Frogs and Birds are called oviparous animals. they lay their eggs\ reproduced by laying their eggs.
EXAMPLES OF OVIPAROUS ANIMALS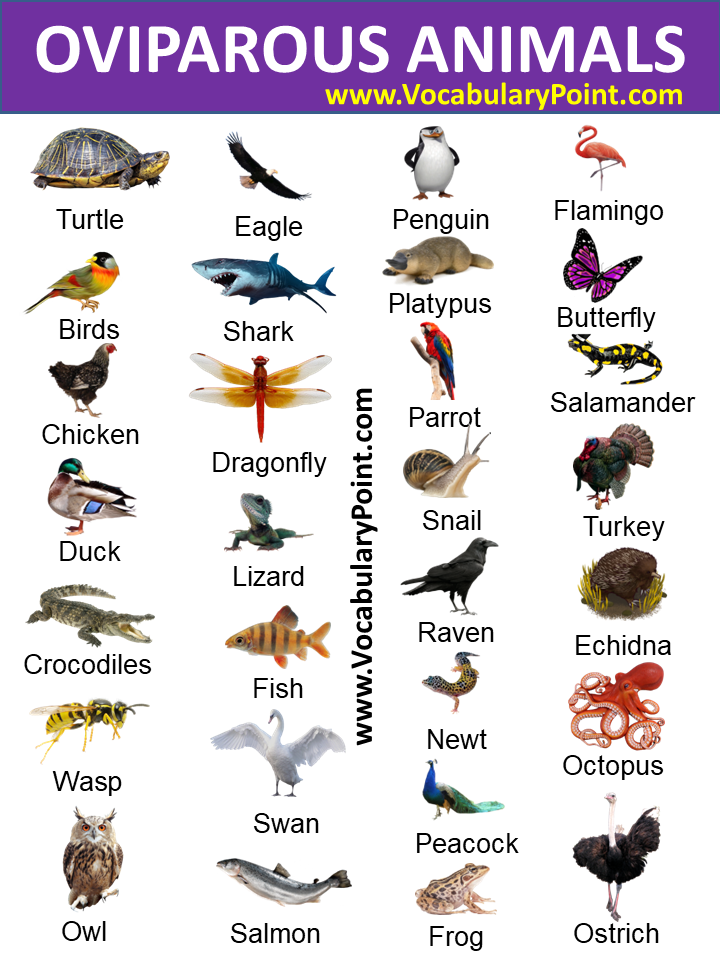 Turtle
Birds
Chicken
Duck
Crocodiles
Wasp
Ostrich
Snake
Owl
Swan
Peacock
Salmon
Frog
Flamingo
Butterfly
Dragonfly
Turkey
Echidna
Octopus
Penguin
Platypus
Parrot
Snail
Raven
Newt
Lizard
Eagle
Shark
Seahorse
Salamander
Crocodile