LIST OF AMPHIBIANS. Here is a LIST OF AMPHIBIANS in English with Picture. It is a wonderful vocabulary lesson for the beginners to learn about Amphibians species , if you wanna to improve vocabulary about  AMPHIBIANS with their name and pictures so must read it.
What are Amphibians?
ANS: Amphibians are those who has vertebrates. They survive in water that the reason they require water to live a simple life. They are cold blooded, also spend time on land or in some swore condition they also can survive on desert. they have a unique ability to survive both land or in water but most of the animals have specific place to spend time .Round about 6000+ different kinds of species of amphibians cover all around the world and 93% are frogs.
Here is a collection of AMPHIBIANS Animal with PDF listed below.
Learn About:Types of Fish
LIST OF AMPHIBIANS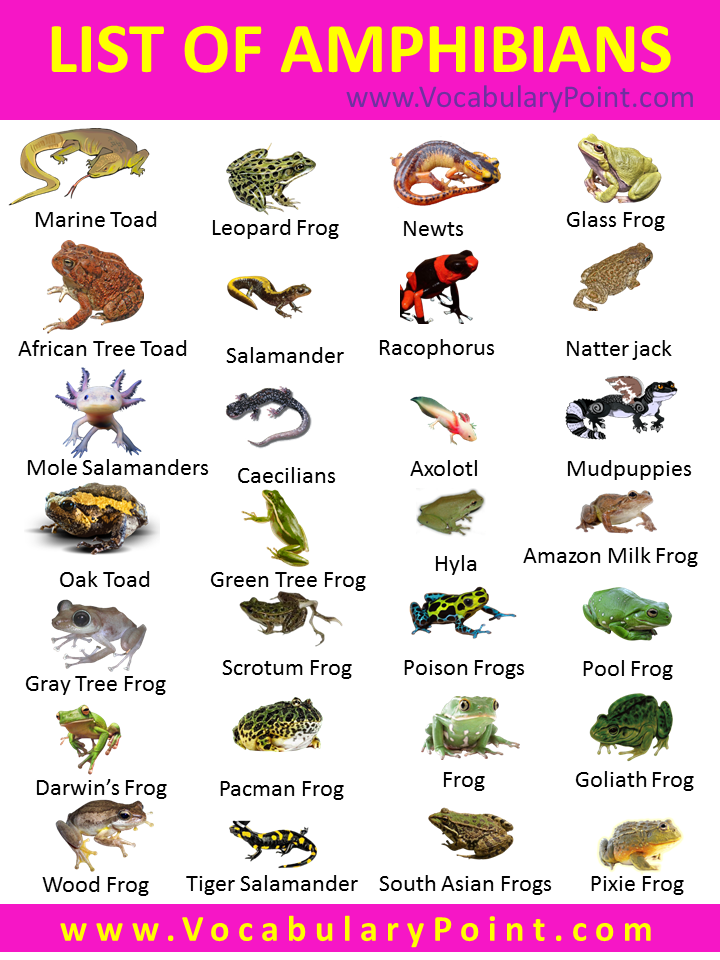 Oak Toad
Gray Tree Frog
Darwin's Frog
Wood Frog
Leopard Frog
Bullfrog
Venous Clawed Frog
Glass Frog
Marine Toad
African Tree Toad
Natter jack
Whites Tree Frog
True Frogs
Oriental fire-bellied Toad
Common Frog
Red-Eyed Tree Frog
Desert Rain Frog
Asiatic Salamanders
Horned Frog
African Clawed Frog
True Toads
Tree Frog
American Toad
Wyoming Toad
Poison Dart Frog
Marsh Frog
Spade foot Toad
Edible Frog
Mantilla Frog
African Bullfrog
Fire salamander
Oregon Spotted Frog
Mudpuppy
Fire-Bellied Toad
AMPHIBIANS ANIMALS LIST
Elm
Giant Salamander
Striped Rocket Frog
Monte Iberia Sleuth
Yellow and Black Dart Frog
Burrowing Frog
Green Frog
Pixie Frog
Goliath Frog
Pool Frog
Mud puppies
Newts
Frog
South Asian Frogs
Poison Frogs
Hula
Axolotl
Phosphorus
Salamander
Parkman Frog
Scrotum Frog
Amazon Milk Frog
Tiger Salamander
Sicilians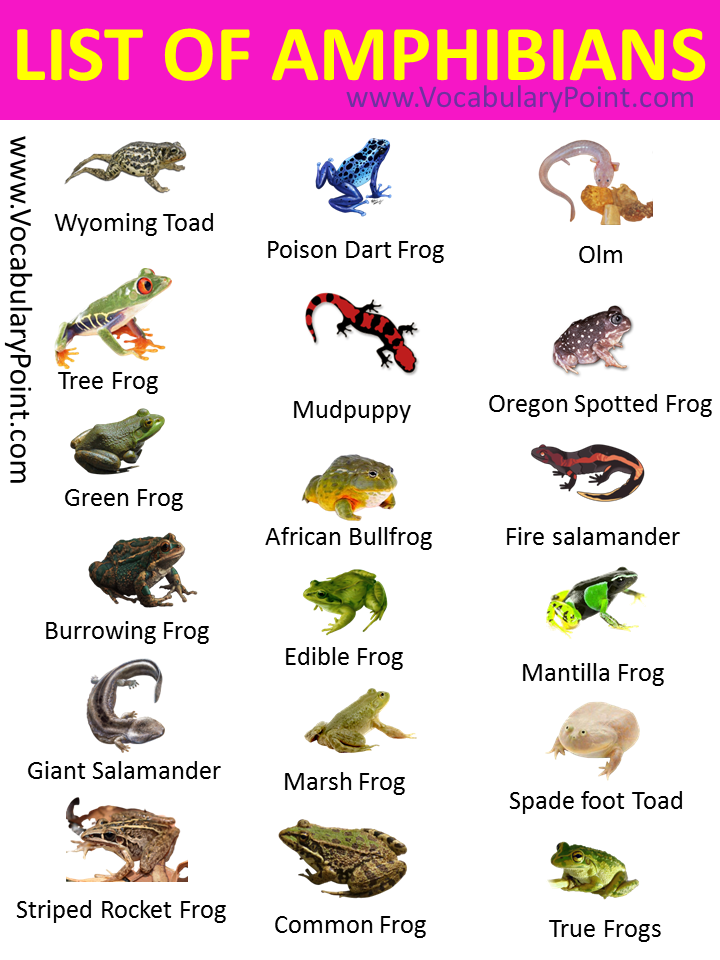 You can Download AMPHIBIANS WITH PICTURES PDF