GOOD VOCABULARY WORDS TO USE IN AN ESSAY. A good vocabulary is essential for any successful essay. By using a variety of words, you can make your point more effectively and persuasively. Here are some good vocabulary words to use in your next essay:
1. Elucidate: to make something clear or easy to understand.
2. Incentive: to provide motivation or encouragement.
3. Mitigate: to make something less severe or intense.
Must Learn: Improve English vocabulary words
GOOD VOCABULARY WORDS TO USE IN AN ESSAY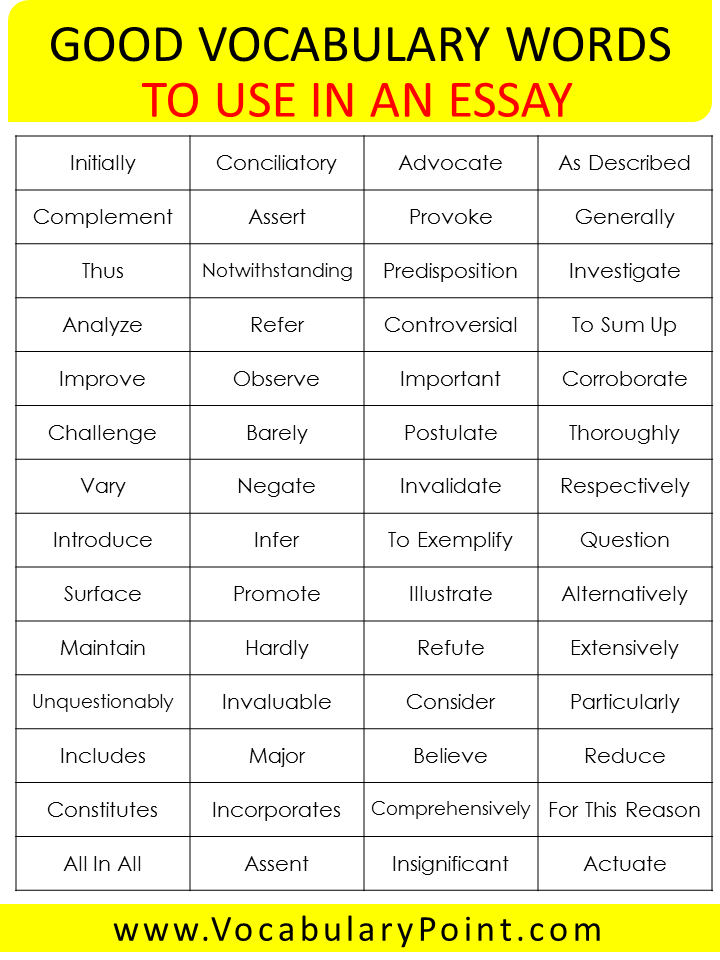 | | | |
| --- | --- | --- |
| Initially | Conciliatory | Advocate |
| Complement | Assert | Provoke |
| Thus | Notwithstanding | Predisposition |
| Analyze | Refer | Controversial |
| Improve | Observe | Important |
| Challenge | Barely | Postulate |
| Vary | Negate | Invalidate |
| Introduce | Infer | To Exemplify |
| Surface | Promote | Illustrate |
| Maintain | Hardly | Refute |
| Unquestionably | Invaluable | Consider |
| Includes | Major | Believe |
| Constitutes | Incorporates | Comprehensively |
| All In All | Assent | Insignificant |
| As Described | In Comparison | Along With |
| Generally | Incongruity | Portray |
| Investigate | In Conclusion | What's More |
| To Sum Up | Singularly | In Brief |
| Corroborate | Dismiss | Govern |
| Thoroughly | Yet | Examine |
| Respectively | Significant | Represent |
| Question | Trigger | Valid |
| Alternatively | Depict | Exceed |
| Extensively | Hint | Imply |
| Particularly | Display | Validate |
| Reduce | Alter | Descent |
| For This Reason | It Can Be Seen That | Scrutinize |
| Actuate | Scarcely | Diagnose |
| Affirm | Admit | To Say Nothing Of |
| Provided That | Another Key Point | By Contrast |
| Due To | Reproach | Namely |
| Maximize | Speculate | In Summary |
| Questionable | Deteriorate | With This In Mind |
| Importantly | Decline | Manifold |
| Effective | Transform | Clear |
| Persuasive | Admittedly | Constrain |
| Misconstrue | Differing From | Reject |
| Adequately | Then Again | That Said |
| Extend | Ultimately | Despite |
| Finally | Initiate | On The One Hand |
| Whereas | Denote | On The Contrary |
| Verify | Relevant | Theorize |
| Contradict | Uphold | Underscore |
| Suggest | Unnecessary | Valuable |
| Control | Dispute | Surprisingly |
| Perceive | Convey | Derive |
| Nonetheless | Instigate | Ignite |
| Presume | This Suggests That | Highlight |
| Entail | Accordingly | Typically |
| Alleviate | Remonstrate | Assess |
| Useful | While | Demonstrate |
| Appraise | Facilitate | In Short |
| As Evidence | Undoubtedly | Depress |
| Deny | Scrupulous | Enlarge |
| Even So | Minimize | Signify |
| Incite | Surmise | Analogy |
| Given The Above | Cease | Biased |
| Typify | Evolve | Strong |
| Supercilious | Further | Chiefly |
| For Instance | To Demonstrate | Unbiased |
| Hypothesize | Advance | However |
| Define | All Things Considered | Successful |
| As Well As | Not To Mention | Certainly |
| Beneficial | To Give An Illustration Of | Present |
| Fluctuate | As A Result | Explore |
| Disregard | For All Of Those Reasons | Establish |
| Endorse | Emphasize | In Contrast To |
| Concede | Declare | It Should Be Noted |
| Evaluate | Dissect | Inhibit |
| Yield | Conversely | Identify |
| Contend | Granted | Lastly |
| Besides | Entirely | Develop |
| Unrealistic | Clarify | Flawed |
| Accommodate | Possibly | As You Can See |
| FALSE | Reveal | Transition |
| Attest | Unearth | Above All |
| Implement | In Essence | Substantiate |
| Interpret | Completely | Comprises Of |
| Hence | Allude | Caution |
| In Spite Of | It Follows That | Therefore |
| Subside | Antecedent | Recognize |
| In A Nutshell | Cessation | Contemplate |
| Confirm | Especially | Is Composed Of |
| Nevertheless | Impact | Moreover |
| Nearly | Stimulate | Not Only…But Also |
| Limited | On The Whole | Summarize |
| Minor | Ignore | Discuss |
| Generate | Influence | Support |
| Main | Presumably | Indicate |
| Invalid | To Summarize | Acquiescence |
| Disagree | Encompasses | Contrive |
| Conclusively | Document | Unabashed |
| Probably | Briefly | Irrelevant |
| Regularly | Describe | Consequently |
GOOD VOCABULARY TO USE IN ESSAYS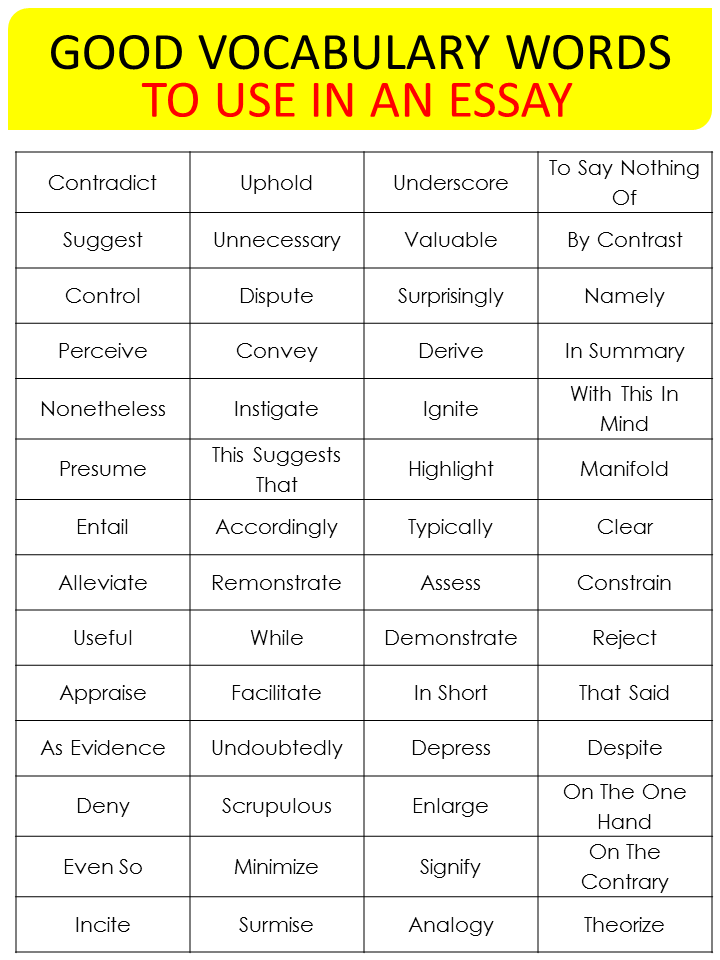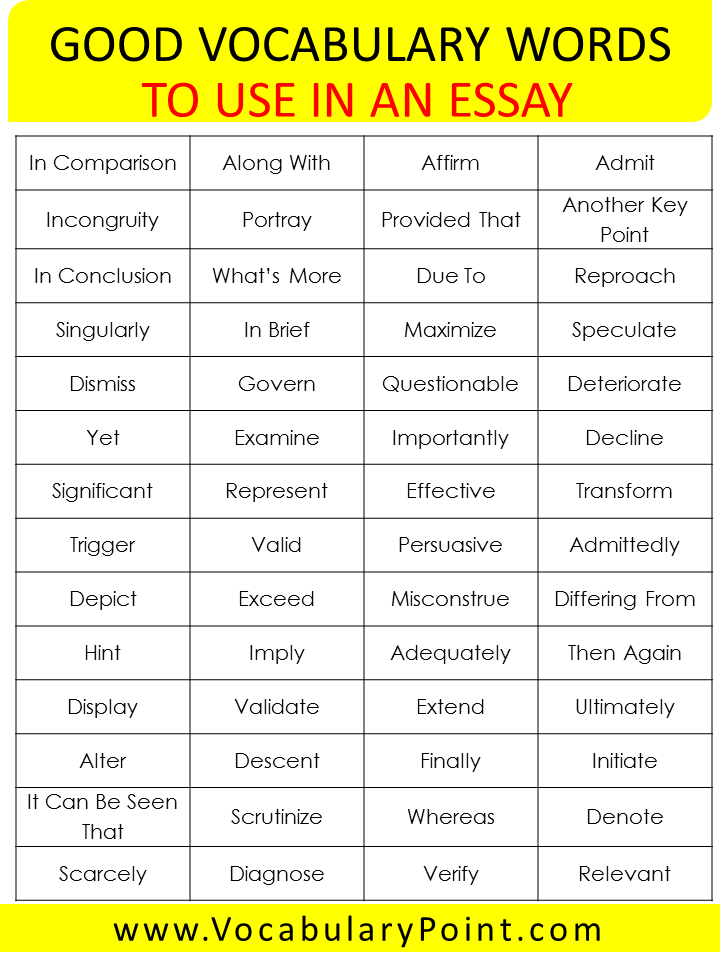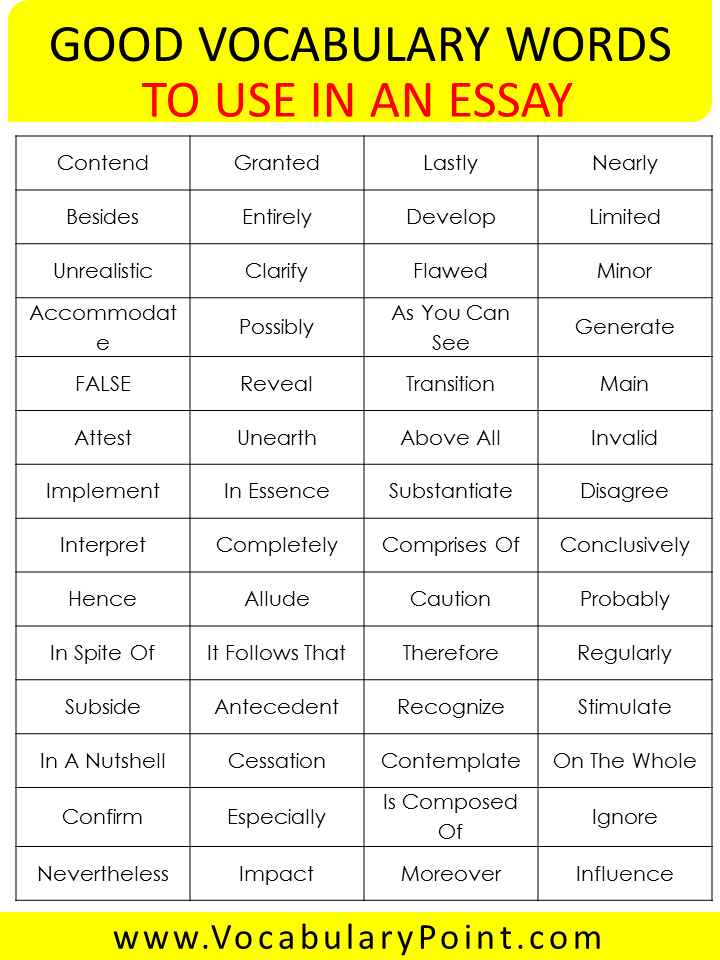 You can Download Good vocabulary words use in essay PDF