Pronouns are an essential component of language, serving as substitutes for nouns to avoid repetition and create fluency. These versatile words play a crucial role in sentences, helping to convey meaning with clarity and efficiency. Understanding pronouns is fundamental to mastering any language.
Pronouns are words that replace nouns or noun phrases. They are used to avoid unnecessary repetition and make sentences clearer and less cumbersome. Pronouns can refer to people, places, things, or ideas and vary in form based on number, person, gender, and case. Their adaptability makes them integral in daily communication.
What Are The Examples of Pronouns?
Personal Pronouns: I, you, he, she, it, we, they
Possessive Pronouns: mine, yours, his, hers, its, ours, theirs
Reflexive Pronouns: myself, yourself, himself, herself, itself, ourselves, yourselves, themselves
Relative Pronouns: who, whom, whose, which, that
Demonstrative Pronouns: this, that, these, those
Indefinite Pronouns: anyone, anything, everybody, no one, several, few, all, some, none
Interrogative Pronouns: who, whom, whose, which, what
Reciprocal Pronouns: each other, one another
Explore More:
Examples of (Noun, Pronouns, Adverbs, Adjectives, Verbs, Interjections)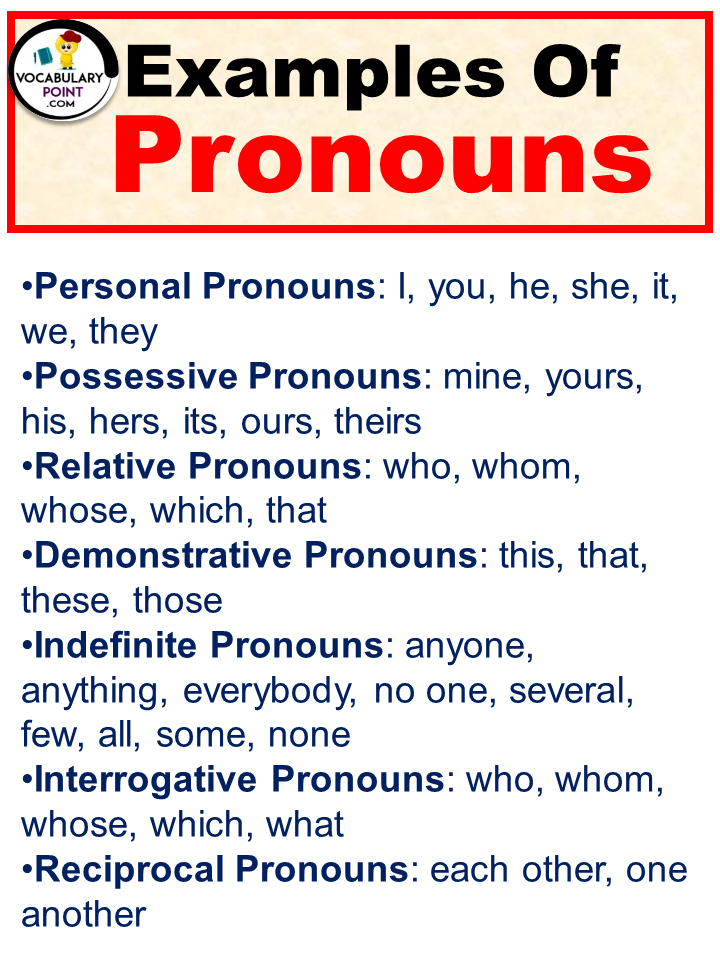 120+ Examples of Pronouns in Sentences
I went to the store.
Are you coming to the party?
He is reading a book.
She loves to dance.
It is raining outside.
We are planning a trip.
They have a meeting at noon.
This book is mine.
Is this pen yours?
The cat licked its paws.
The victory was ours.
The choice is theirs.
Myself, I prefer coffee.
She did the artwork herself.
He built the house himself.
They need to decide for themselves.
The student who studies hardest will succeed.
The dog that barked was loud.
This is the house I grew up in.
I will take those.
Someone left their umbrella.
Everybody needs to be on time.
No one knew the answer.
Several were interested in the offer.
All are welcome here.
Some prefer tea over coffee.
None of the solutions worked.
Who is at the door?
Whom did you call?
Whose book is this?
Which is yours?
What happened?
They looked at each other.
They shared the prize.
You should check your email.
She found her keys.
It is a beautiful view.
We have finished our project.
They went on vacation.
The bike is mine.
The responsibility is yours.
The mistake was his to admit.
The idea was hers alone.
The fault is ours.
The decision must be theirs.
I made coffee for myself.
He bought a gift for himself.
She prepared the meal herself.
The cat can clean itself.
We should be proud of ourselves.
You all need to prepare yourselves.
The athletes trained themselves vigorously.
She is going to the market.
He baked the cake himself.
The book is theirs.
We will meet at the park.
You should call your mother.
It is raining outside.
I can handle this task.
This is my favorite song.
That was a wonderful movie.
These are my friends.
Those were the days.
Who would like to go first?
Whom did you invite?
Whose turn is it?
Which is your bag?
What do you want?
Anyone can join the club.
Everybody enjoys a good laugh.
Someone left their umbrella here.
No one knows the answer.
Several were interested in the offer.
Each of them has a unique talent.
Both are acceptable options.
Many have tried, but few have succeeded.
Few understand its complexity.
Neither option is appealing to me.
Either way works for me.
Some like it hot, others do not.
None of the options are suitable.
Any of these books are good.
The person who called earlier left a message.
The house which we saw yesterday is for sale.
The book whose author won the award is out of stock.
The students who study hard get good grades.
The cake that she made was delicious.
Myself I prefer a quiet evening at home.
She did it herself without any help.
They saw themselves in the mirror.
He talks to himself when he's nervous.
I prepared the meal by myself.
Ours is the green house at the end of the street.
Yours is the first presentation.
His book was a bestseller.
The choice is yours.
Hers was the winning ticket.
The dog wagged its tail.
Our team won the match.
Their garden is beautiful in spring.
Your idea is fantastic.
Mine is the red car parked outside.