Interjections are a unique and expressive part of language, often overlooked in traditional grammar studies. These spontaneous words or phrases convey emotion, reaction, or sentiment without the need for a complete sentence. Used in everyday speech and writing, interjections add color and immediacy to our communication, enhancing the emotional depth of our language.
Interjections are short exclamations that express emotions, reactions, or prompts. Unlike other parts of speech, they don't grammatically connect to other words in a sentence. Examples include expressions of surprise, happiness, disappointment, or urgency. Interjections can stand alone or be incorporated within sentences to convey a speaker's immediate feelings or responses.
What Are The Examples of Interjections?
Ah!
Aha!
Alas!
Awesome!
Bingo!
Boo!
Bravo!
Brrr!
Eek!
Eh?
Eureka!
Fiddlesticks!
Gosh!
Ha!
Hallelujah!
Hey!
Hm!
Hooray!
Huh?
Hurrah!
Ick!
Meh.
Mmm!
Nah.
Oh!
Ooh!
Oops!
Ouch!
Phew!
Psst!
Shh!
Sigh!
Ugh!
Uh-huh.
Uh-oh!
Um…
Whoa!
Wow!
Yay!
Yeah!
Yikes!
Yippee!
Yo!
Yuck!
Zap!
Zing!
Zowie!
Blah!
Blimey!
Crikey!
Duh!
Ew!
Gee!
Gulp!
Hiss!
Hmph!
Ho-hum.
Huzzah!
Oops-a-daisy!
Oy!
Pfft!
Poof!
Pop!
Psst!
Sheesh!
Shoo!
Snap!
Sniff!
Snort!
Splendid!
Squawk!
Ta-da!
Tsk-tsk!
Tut-tut!
Umm…
Wah!
Wham!
Whew!
Whoops!
Woof!
Woot!
Yawn.
Yee-haw!
Zzz!
Aargh!
Ack!
Bam!
Bazinga!
Beep!
Bloop!
Boing!
Buzz!
Clang!
Clink!
Clunk!
Ding!
Fizz!
Glug!
Kaboom!
Explore More:
Examples of (Noun, Pronouns, Adverbs, Adjectives, Verbs, Interjections)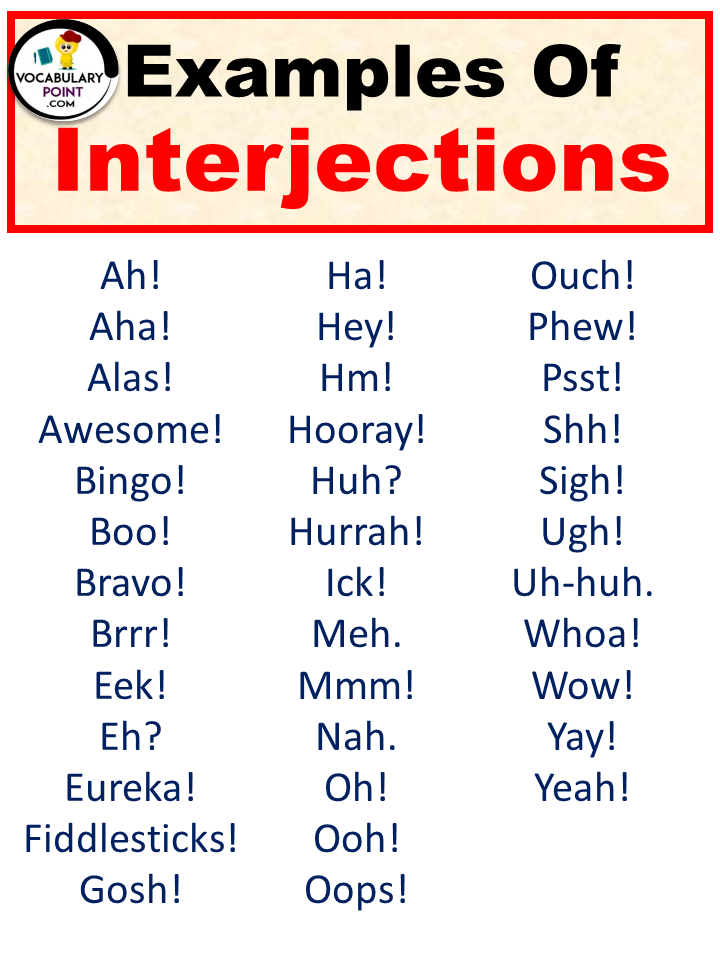 130+ Examples of Interjection In Sentences
"Ah, now I understand!"
"Aha! I've solved the puzzle."
"Alas, we were too late."
"That's awesome news!"
"Bingo! That's exactly right."
"Boo! You scared me."
"Bravo! That was a splendid performance."
"Brrr, it's so cold outside."
"Eek, a spider!"
"Eh, I'm not sure about that."
"Eureka! I've found it."
"Fiddlesticks, I lost the game."
"Gosh, I didn't expect that."
"Ha, that's funny!"
"Hallelujah, we've finally arrived."
"Hey, look over here!"
"Hm, that's an interesting point."
"Hooray, we won the match!"
"Huh, I don't get it."
"Hurrah for the winners!"
"Ick, this milk has gone sour."
"Meh, it was just okay."
"Mmm, this cake is delicious."
"Nah, I don't want to go."
"Oh, I see now."
"Ooh, that looks amazing!"
"Oops, I dropped it."
"Ouch, that hurt!"
"Phew, we made it just in time."
"Psst, can you hear me?"
"Shh, be quiet."
"Sigh, I guess it's over."
"Ugh, I'm so tired."
"Uh-huh, I understand."
"Uh-oh, that doesn't look good."
"Um, I'm not sure."
"Whoa, that was close!"
"Wow, that's impressive!"
"Yay, we're going to the beach!"
"Yeah, I agree with you."
"Yikes, that was a close call!"
"Yippee, school's out!"
"Yo, over here!"
"Yuck, I hate broccoli."
"Zap! The light went out."
"Zing, that was a sharp remark."
"Zowie, that car is fast!"
"Blah, I'm feeling so bored."
"Blimey, that was unexpected."
"Crikey, look at that spider!"
"Duh, I should've known that."
"Ew, this is gross!"
"Gee, that's a tough one."
"Gulp, here goes nothing."
"Hiss, the snake approached."
"Hmph, I don't agree."
"Ho-hum, another dull day."
"Huzzah, the project is complete!"
"Oops-a-daisy, I slipped."
"Oy, that's a lot of work."
"Pfft, I don't believe it."
"Poof, and it was gone."
"Pop! The balloon burst."
"Psst, don't tell anyone."
"Sheesh, that was tough."
"Shoo, get away from here."
"Snap, my pencil broke."
"Sniff, I miss her."
"Snort, I can't believe he said that."
"Splendid, everything went as planned."
"Squawk, the parrot spoke."
"Ta-da, I finished the task!"
"Tsk-tsk, that wasn't very nice."
"Tut-tut, you should know better."
"Umm, can you repeat that?"
"Wah, the baby started crying."
"Wham, the door shut loudly."
"Whew, that was a close one!"
"Whoops, I made a mistake."
"Woof, the dog greeted me."
"Woot, we finished the project!"
"Yawn, I'm getting sleepy."
"Yee-haw, this is fun!"
"Yoo-hoo, over here!"
"Zzz, he's fast asleep."
"Aargh, I can't figure this out!"
"Ack, I forgot my keys."
"Bam, the book fell off."
"Bazinga! I tricked you."
"Beep, the timer went off."
"Bloop, the stone skipped on water."
"Boing, the spring bounced."
"Buzz, the bee flew by."
"Clang, the pots collided."
"Clink, our glasses touched."
"Clunk, something fell in the trunk."
"Ding, the oven timer rang."
"Fizz, the soda opened."
"Glug, I drank the water."
"Kaboom, the fireworks exploded."
"Arrgh, I'm so frustrated!"
"Yoo-hoo, can you help me?"
"Bam! That was a loud noise."
"Boo-yah, I nailed it!"
"Woohoo, what a ride!"
"Zap, the electricity flickered."
"Bazinga, you've been pranked!"
"Eek, I didn't expect that!"
"Yowza, that's hot!"
"Gee-whiz, that's amazing!"
"Yowzers, that was intense!"
"Holy moly, that's unbelievable!"
"Whoopsie-daisy, I slipped up."
"Gadzooks, that's incredible!"
"Wowzer, that's a big surprise!"
"Oh boy, here we go again."
"Yeeesh, that's rough."
"Yoo-hoo, anybody home?"
"Zing, that was quick!"
"Oof, that was hard."
"Woosh, the car sped past."
"Heavens, that's extraordinary!"
"Eureka, I've figured it out!"
"Yikes, that's spooky!"