Candy Names, a delightful indulgence enjoyed worldwide, offers an extensive range of flavors and forms. From A to Z, each letter brings its unique sweetness to the candy universe. This guide embarks on an alphabetical journey through the candy world, showcasing a diverse and colorful array of treats that cater to every palate, from classic to contemporary flavors.
What is Candy?
Candy is a sweet treat that is typically made from sugar or syrup, often combined with fruit, chocolate, nuts, or other flavorings. It comes in various forms such as chocolates, gummies, hard candies, caramels, and lollipops. Candy is popular worldwide and is often associated with holidays and celebrations, like Halloween, when it is a traditional treat for children who go trick-or-treating.
Here are the Top 10 Most Popular Candy Bars:
Snickers 🥜
Kit Kat 🍪
Twix 🌟
Reese's Peanut Butter Cups 🥜🍬
Milky Way 🌌
M&M's 🌈
Hershey's Milk Chocolate 🐄
Butterfinger 🤤
3 Musketeers ☁️
Cadbury Dairy Milk 🐮🥛
Candy Names A To Z
A: Almond Joy, Airheads, Andes Chocolate Mints, Atomic Fireball
B: Butterfinger, Baby Ruth, Bazooka Bubble Gum, Bottle Caps
C: Candy Corn, Charleston Chew, Crunch Bar, Cadbury Dairy Milk
D: Dove Chocolate, Dots, Dum Dums, Double Bubble Gum
E: Everlasting Gobstopper, Extra Gum, Eclairs, El Bubble Gum Cigars
F: Ferrero Rocher, Fruit Gushers, Fizzy Cola Bottles, Fun Dip
G: Gummy Bears, Ghirardelli Chocolate, Good & Plenty, Gobstoppers
H: Hershey's Chocolate, Haribo Gummy Bears, Hot Tamales, Heath Bar
I: Ice Breakers Gum, Idaho Spud, Ice Blue Mint Coolers, Ice Cream Candy
J: Jolly Rancher, Jelly Belly, Junior Mints, Juicy Fruit Gum
K: Kit Kat, Kinder Chocolate, Krackel, Kisses (Hershey's)
L: Lemonheads, Lindt Chocolate, Laffy Taffy, Lifesavers
M: M&M's, Milky Way, Mike and Ike, Mars Bar
N: Nerds, NutRageous, Nips, Necco Wafers
O: Orbit Gum, Oh Henry!, Oreo Chocolate Candy Bar, Orange Slices
P: PayDay, Pez, Pixy Stix, Pop Rocks
Q: Quality Street, Quench Gum, Queen Anne Cordials, Qwirlz Candy
R: Reese's Peanut Butter Cups, Rolo, Runts, Ring Pop
S: Snickers, Skittles, Starburst, Swedish Fish
T: Twix, Toblerone, Tootsie Roll, Twizzlers
U: U-No Bar, Unreal Candy, Ube Candy, Usher's Candy Sticks
V: Violet Crumble, Vanilla Fudge, Valomilk, Vero Mango
W: Werther's Original, Whoppers, Wrigley's Gum, Warheads
X: X-treme Sour Hard Candy, Xylichew Gum, X-Ray Fish Candy, XOXO Candy
Y: York Peppermint Patty, Yummy Gummy Candy, Yowie Chocolate, Yogurt-Covered Raisins
Z: Zero Bar, Zotz, Zagnut, Zours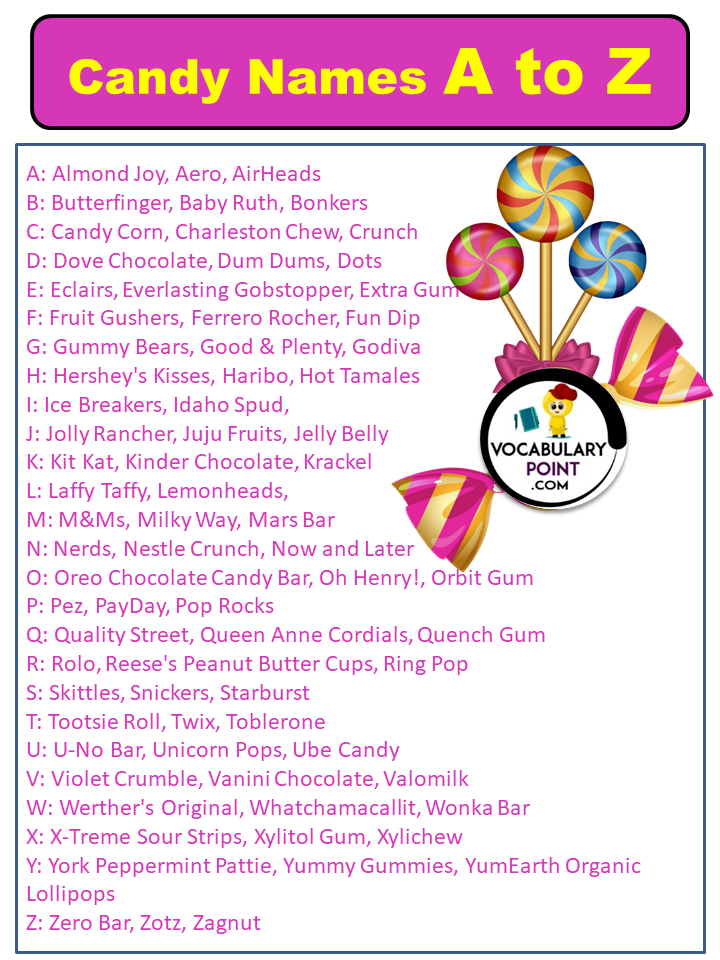 Candy Names That Start With A
Candies starting with 'A' bring a delightful array of flavors and names, from those inspired by fruits like apples and apricots to those that conjure images of elegance and allure. Here's a diverse list that captures the essence of sweetness and creativity:
Apple Affection
Almond Amaretto
Apricot Ambrosia
Amethyst Almonds
Azure Allure
Aqua Awe
Amber Apple
Alabaster Angel
Arctic Avalanche
Aurora Almond
Autumn Acorn
Amber Ambition
Amaretto Alchemy
Apple Adventure
Almond Aura
Apricot Arpeggio
Aztec Azalea
Azure Apricot
Aquamarine Apple
Amorous Almond
Acai Antics
Ambrosial Aster
Almond Ascension
Apple Arcadia
Apricot Aura
Almond Atlantis
Anise Aroma
Auburn Aztec
Asteroid Apple
Almond Adore
Apple Ablaze
Apricot Ascent
Aztec Amber
Alpine Affinity
Almond Acclaim
Apricot Amaze
Apple Anthem
Almond Awe
Apricot Azure
Apple Amethyst
Almond Amber
Apricot Alpine
Apple Ambiance
Almond Allegro
Apricot Ambiance
Apple Ascend
Almond Amuse
Apricot Appeal
Apple Aroma
Almond Ardor
Candy Names That Start With B
Candies with names beginning with 'B' are reminiscent of a burst of flavors, from the bliss of berries to the buttery goodness of butterscotch. Here's a collection that embodies a variety of tastes and textures:
Berry Bliss
Buttered Butterscotch
Blueberry Bonanza
Banana Breeze
Bubblegum Burst
Blackberry Bravado
Butterscotch Ballet
Bluebell Breeze
Berry Ballet
Buttercup Bloom
Blackberry Bliss
Blueberry Bubbles
Banana Bonbon
Butterscotch Blossom
Blackcurrant Breeze
Blueberry Bliss
Banana Burst
Buttered Bliss
Blackberry Burst
Bluebell Bliss
Banana Ballet
Butterscotch Bounce
Blackcurrant Burst
Blueberry Ballet
Banana Bubbles
Buttercup Bonanza
Blackberry Bonbon
Bluebell Bonanza
Berry Bonanza
Buttercup Burst
Blackberry Ballet
Blueberry Bounce
Banana Bliss
Butterscotch Bonbon
Blackcurrant Ballet
Blueberry Bonbon
Banana Ballet
Buttered Bonanza
Blackberry Bounce
Bluebell Burst
Berry Bounce
Buttercup Ballet
Blackberry Bliss
Blueberry Blossom
Banana Bonanza
Butterscotch Bliss
Blackcurrant Bubbles
Blueberry Bonbon
Banana Burst
Buttercup Bliss
Must Read: 
Candy Names That Start With C
Candies that start with 'C' evoke a classic charm, ranging from the citrusy tang of lemons to the rich indulgence of chocolate. Let's explore a list that offers a captivating assortment of flavors:
Chocolate Charm
Citrus Celebration
Caramel Crave
Cherry Cheer
Cocoa Caress
Cinnamon Cascade
Coconut Cloud
Cranberry Crescendo
Caramel Cosmos
Cherry Charm
Cocoa Comet
Cinnamon Cheer
Coconut Carousel
Cranberry Charm
Caramel Carnival
Cherry Crescendo
Cocoa Cloud
Cinnamon Cosmos
Coconut Charm
Cranberry Carousel
Caramel Comet
Cherry Carousel
Cocoa Crescendo
Cinnamon Charm
Coconut Comet
Cranberry Comet
Caramel Charm
Cherry Comet
Cocoa Carousel
Cinnamon Carousel
Coconut Crescendo
Cranberry Crave
Caramel Crescendo
Cherry Cloud
Cocoa Charm
Cinnamon Cloud
Coconut Charm
Cranberry Comet
Caramel Cloud
Cherry Crescendo
Cocoa Crave
Cinnamon Comet
Coconut Cloud
Cranberry Charm
Caramel Carousel
Cherry Crave
Cocoa Cloud
Cinnamon Charm
Coconut Comet
Cranberry Carousel
Candy Names That Start With D
Delighting the senses, candies that start with 'D' offer a delectable range from decadent dark chocolates to dreamy dulce de leche flavors. Dive into a list that's rich with variety and sweetness:
Dark Delight
Dulce Dream
Dazzling Diamond
Dewdrop Delicacy
Drizzle Dream
Dark Dazzle
Dulce Delight
Diamond Dew
Dreamy Drizzle
Dewdrop Dazzle
Dark Dream
Dulce Diamond
Dazzling Dewdrop
Drizzle Delight
Dark Dew
Dulce Drizzle
Diamond Delight
Dreamy Dewdrop
Dewdrop Dream
Dark Diamond
Dulce Dew
Dazzling Drizzle
Drizzle Diamond
Dark Dewdrop
Dulce Dazzle
Diamond Dream
Dreamy Diamond
Dewdrop Delight
Dark Drizzle
Dulce Dewdrop
Dazzling Dream
Drizzle Dew
Dark Diamond
Dulce Delicacy
Diamond Dazzle
Dreamy Drizzle
Dewdrop Diamond
Dark Dream
Dulce Dream
Dazzling Dew
Drizzle Delight
Dark Dewdrop
Dulce Dazzle
Diamond Dream
Dreamy Dewdrop
Dewdrop Delight
Dark Delight
Dulce Diamond
Dazzling Drizzle
Drizzle Dream
Candy Names That Start With E
Candies with names beginning with 'E' enchant with their exotic and elegant flavors, from effervescent elderflower to enticing espresso. Embark on a journey of sweet exploration with this list:
Elderflower Elegance
Espresso Enchantment
Emerald Eclair
Enchanted Elderberry
Effervescent Essence
Espresso Elegance
Elderflower Enigma
Emerald Essence
Enchanted Espresso
Effervescent Eclair
Elderberry Elegance
Espresso Essence
Emerald Enchantment
Enchanted Essence
Effervescent Elderflower
Elderflower Essence
Espresso Enigma
Emerald Eclair
Enchanted Elderflower
Effervescent Emerald
Elderberry Enigma
Espresso Eclair
Emerald Enigma
Enchanted Eclair
Effervescent Espresso
Elderflower Emerald
Espresso Enchantment
Emerald Essence
Enchanted Elderberry
Effervescent Elderflower
Elderberry Eclair
Espresso Essence
Emerald Enigma
Enchanted Espresso
Effervescent Enigma
Elderflower Eclair
Espresso Emerald
Emerald Elegance
Enchanted Elderflower
Effervescent Elegance
Elderberry Essence
Espresso Enigma
Emerald Enchantment
Enchanted Eclair
Effervescent Elderberry
Elderflower Enigma
Espresso Elegance
Emerald Essence
Enchanted Espresso
Effervescent Eclair
Candy Names That Start With F
Fancy a flavor starting with 'F'? This collection presents a fabulous feast of 'F'-themed candies, each offering a unique fusion of flavors that are sure to fascinate and fulfill any sweet craving:
Fudge Fantasy
Frosty Frappe
Fig Fandango
Fruity Fiesta
Frosted Fern
Flamenco Fizz
Fizzy Fuchsia
Forest Fondue
Fiesta Flame
Frolic Fudge
Fluffy Frappe
Fig Fusion
Fennel Fantasy
Fruity Fudge
Frostbite Flair
Flamingo Frolic
Fuchsia Frost
Forest Fable
Flame Fiesta
Frosted Fantasy
Fluffy Fondue
Fig Fling
Fennel Frappe
Fruity Frolic
Frostbite Fudge
Flamingo Fantasy
Fuchsia Fiesta
Forest Frolic
Flame Fudge
Frosted Fling
Fluffy Fizz
Fig Fantasy
Fennel Fudge
Fruity Fennel
Frostbite Fiesta
Flamingo Fling
Fuchsia Fling
Forest Fantasy
Flame Frolic
Frosted Fudge
Fluffy Fantasy
Fig Frappe
Fennel Fling
Fruity Frost
Frostbite Fling
Flamingo Frost
Fuchsia Frolic
Forest Fudge
Flame Fizz
Frosted Fig
Candy Names That Start With G
Get ready for a galore of 'G' named goodies. This gourmet list of candies starting with 'G' combines traditional and innovative flavors, offering a glimpse into the grand and glorious world of sweets:
Ginger Gold
Grape Glee
Gummy Galaxy
Golden Glaze
Guava Glow
Gingersnap Gem
Grapefruit Groove
Gooey Gourmet
Gingerbread Gala
Golden Grape
Guava Glimmer
Gingersnap Gusto
Grapefruit Glitz
Gooey Goodness
Gingerbread Glitter
Golden Gingersnap
Guava Gala
Gingersnap Galaxy
Grapefruit Glisten
Gooey Gala
Gingerbread Gleam
Golden Guava
Gingersnap Glee
Grapefruit Gusto
Gooey Gingersnap
Gingerbread Glow
Golden Grapefruit
Guava Gusto
Gingersnap Glitter
Grapefruit Gala
Gooey Guava
Gingerbread Glimmer
Golden Ginger
Guava Glee
Gingersnap Glow
Grapefruit Glaze
Gooey Grapefruit
Gingerbread Gusto
Golden Gooey
Guava Glaze
Gingersnap Gourmet
Grapefruit Glimmer
Gooey Ginger
Gingerbread Glee
Golden Guava
Guava Gala
Gingersnap Glitz
Grapefruit Glee
Gooey Glow
Gingerbread Galaxy
Must Read:
Funny Ways to Say (Good Morning, Thank you, Goodbye, Happy Birthday, Hello, Good Night, No Worries, Sorry Professionally)
Candy Names That Start With H
Herald the heavenly and harmonious flavors of 'H'! This handpicked hoard of candies starting with 'H' highlights a harmony of tastes, from the honeyed to the herbal, promising a happy and heartwarming experience:
Honey Harmony
Hazelnut Heaven
Hibiscus Haze
Honeycomb Happiness
Huckleberry Hush
Hazelnut Hush
Hibiscus Harmony
Honeyed Horizon
Huckleberry Hum
Hazelnut Haze
Hibiscus Haven
Honeycomb Hum
Huckleberry Heaven
Hazelnut Harmony
Hibiscus Hush
Honeyed Hum
Huckleberry Horizon
Hazelnut Haven
Hibiscus Horizon
Honeycomb Haven
Huckleberry Harmony
Hazelnut Hush
Hibiscus Hum
Honeyed Haven
Huckleberry Haze
Hazelnut Horizon
Hibiscus Happiness
Honeycomb Harmony
Huckleberry Haven
Hazelnut Happiness
Hibiscus Hush
Honeyed Harmony
Huckleberry Hush
Hazelnut Haze
Hibiscus Horizon
Honeycomb Hush
Huckleberry Hum
Hazelnut Harmony
Hibiscus Haven
Honeyed Hush
Huckleberry Horizon
Hazelnut Haven
Hibiscus Harmony
Honeycomb Hum
Huckleberry Happiness
Hazelnut Hum
Hibiscus Haze
Honeyed Haven
Huckleberry Hush
Hazelnut Harmony
Candy Names That Start With I
Indulge in the imaginative and irresistible 'I'! This illustrious inventory of candies starting with 'I' invites you into an intriguing world of flavors, interweaving the intense and the innovative:
Icy Illusion
Iridescent Indulgence
Ivory Imagination
Indigo Infusion
Iced Iris
Iridescent Ivy
Ivory Indulgence
Indigo Imagination
Iced Indigo
Iridescent Illusion
Ivory Infusion
Indigo Iris
Iced Ivy
Iridescent Imagination
Ivory Illusion
Indigo Indulgence
Iced Illusion
Iridescent Infusion
Ivory Iris
Indigo Ivy
Iced Imagination
Iridescent Iris
Ivory Ivy
Indigo Illusion
Iced Indulgence
Iridescent Imagination
Ivory Indigo
Indigo Infusion
Iced Iris
Iridescent Ivy
Ivory Illusion
Indigo Imagination
Iced Indigo
Iridescent Illusion
Ivory Infusion
Indigo Iris
Iced Ivy
Iridescent Imagination
Ivory Indulgence
Indigo Indulgence
Iced Illusion
Iridescent Infusion
Ivory Iris
Indigo Ivy
Iced Imagination
Iridescent Iris
Ivory Ivy
Indigo Illusion
Iced Indulgence
Iridescent Imagination
Candy Names That Start With J
Journey through the joyful and jubilant 'J'! This jolly jamboree of candies starting with 'J' juxtaposes juicy and jazzy flavors, offering a jaunty and jubilant journey through sweetness:
Juicy Jubilee
Jazzy Jujube
Jelly Joy
Jolly Jasmine
Java Jolt
Juicy Jamboree
Jazzy Jasmine
Jelly Jumble
Jolly Jujube
Java Joy
Juicy Jasmine
Jazzy Jolt
Jelly Jubilee
Jolly Joy
Java Jumble
Juicy Joy
Jazzy Jelly
Jelly Jolt
Jolly Jamboree
Java Jubilee
Juicy Jumble
Jazzy Joy
Jelly Jasmine
Jolly Jolt
Java Jamboree
Juicy Jubilee
Jazzy Jujube
Jelly Joy
Jolly Jasmine
Java Jolt
Juicy Jamboree
Jazzy Jasmine
Jelly Jumble
Jolly Jujube
Java Joy
Juicy Jasmine
Jazzy Jolt
Jelly Jubilee
Jolly Joy
Java Jumble
Juicy Joy
Jazzy Jelly
Jelly Jolt
Jolly Jamboree
Java Jubilee
Juicy Jumble
Jazzy Joy
Jelly Jasmine
Jolly Jolt
Java Jamboree
Candy Names That Start With K
Kiwi Kandies
Karamel Krunch
Koko Kreme
Krispy Krunch
Kandy Korn
Kit Kat
Kola Kubes
Kandy Kisses
Krackle Bar
Kool Kandy
Kreamy Karamels
Key Lime Treats
Koko Nut Bars
Kookie Krunch
Kandy Kanes
Krazy Kola
Kreme Delight
Kiwi Kisses
Kandy Kubes
Kreme Krunch
Kandy Krystals
Karamel Kubes
Koko Klusters
Krazy Kandies
Karamel Kisses
Kandy Kurls
Kooky Karamel
Kandy Kones
Karamello
Kooky Kookies
Kookie Kreme
Kreme Kandy
Krazy Korn
Kandy Koated
Koko Kandy
Kandy Kabobs
Kandy Klouds
Karamel Krush
Kandy Klassics
Koko Krunch
Krazy Kubes
Kandy Krush
Karamel Kurl
Kandy Kingdom
Kandy Krinkles
Kool Kreme
Krazy Karamels
Kandy Kollection
Karamel Kuties
Koko Kisses
Candy Names That Start With L
Lemon Lollies
Licorice Laces
Lollipop Lane
Lime Licks
Luscious Lemons
Lava Licks
Luscious Licorice
Lemon Drops
Lush Limes
Lollipop Love
Licorice Loops
Luscious Lollipops
Lime Lollies
Lollipop Lagoon
Lemon Licks
Licorice Lassos
Lollipop Land
Lush Lemonades
Lollipop Licks
Licorice Ladders
Lemon Lifesavers
Lime Lozenges
Licorice Lanes
Lemon Laces
Lollipop Layers
Licorice Links
Lemon Licorice
Lollipop Lights
Lollipop Legends
Lush Licorice
Lemon Luscious
Lollipop Lace
Luscious Lime
Licorice Labyrinths
Lemon Love
Lollipop Labyrinths
Licorice Lollies
Lemon Layers
Lollipop Leaps
Licorice Lanterns
Lemon Lozenges
Lollipop Loop
Licorice Luminaries
Lemon Labyrinths
Lollipop Luster
Licorice Lagoon
Lemon Luster
Lollipop Lanterns
Licorice Land
Lemon Lagoon
Candy Names That Start With M
Mango Munchies
Minty Melts
Marshmallow Mountains
Melon Munch
Milky Mints
Mocha Morsels
Maple Munchies
Marshmallow Moons
Minty Mountains
Mellow Melon
Mocha Melts
Maple Magic
Minty Marvels
Melon Medleys
Marshmallow Meadows
Mocha Madness
Milky Melts
Maple Morsels
Minty Meadows
Melon Mints
Marshmallow Magic
Mocha Mints
Milky Marvels
Maple Meadows
Minty Munchies
Melon Magic
Marshmallow Morsels
Mocha Meadows
Milky Munch
Maple Melts
Minty Medleys
Melon Marvels
Marshmallow Marvels
Mocha Melon
Milky Medleys
Maple Marvels
Minty Magic
Melon Munchies
Marshmallow Melts
Mocha Magic
Milky Moons
Maple Munch
Minty Mocha
Melon Meadows
Marshmallow Mocha
Mocha Medleys
Milky Mountains
Maple Melon
Minty Marshmallows
Melon Magic Mints
Candy Names That Start With N
Nougat Nuggets
Nutty Nibbles
Neon Nougats
Nectarine Nibbles
Nutmeg Nibbles
Nougat Nests
Nutty Nectar
Nibble Nougats
Nougat Nibbles
Nifty Nougats
Nutty Nougat
Nougat Nectar
Nectar Nougats
Nutmeg Nougats
Nougat Nests
Neon Nibbles
Nougat Nosh
Nutty Neon
Nougat Nectarine
Nutmeg Nectar
Nifty Nutmeg
Nectarine Nougats
Nibble Nectar
Nutty Nectarine
Nougat Nirvana
Nectar Nibbles
Nutmeg Nosh
Nougat Nectarines
Neon Nectarines
Nutty Nectarines
Nectarine Nosh
Nutmeg Nirvana
Nougat Neapolitan
Neon Nutmeg
Nutty Nirvana
Nectarine Nirvana
Nibble Nirvana
Neon Nirvana
Nougat Neapolitan
Nutmeg Neapolitan
Nectarine Neapolitan
Nibble Neapolitan
Neon Neapolitan
Nutty Neapolitan
Nougat Nova
Nutmeg Nova
Nectarine Nova
Nibble Nova
Neon Nova
Nutty Nova
Candy Names That Start With O
Orange Ovals
Oatmeal Orbs
Oreo Obsession
Oatmeal Ovals
Orange Obsession
Oreo Orbs
Oatmeal Obsession
Orange Oatmeal
Oreo Ovals
Oceanic Orbs
Oatmeal Ocean
Orange Ocean
Oreo Ocean
Oceanic Ovals
Oatmeal Oasis
Orange Oasis
Oreo Oasis
Oceanic Oasis
Oatmeal Opulence
Orange Opulence
Oreo Opulence
Oceanic Opulence
Oatmeal Orbit
Orange Orbit
Oreo Orbit
Oceanic Orbit
Oatmeal Oasis
Orange Oasis
Oreo Oasis
Oceanic Oasis
Oatmeal Overload
Orange Overload
Oreo Overload
Oceanic Overload
Oatmeal Ovation
Orange Ovation
Oreo Ovation
Oceanic Ovation
Oatmeal Odyssey
Orange Odyssey
Oreo Odyssey
Oceanic Odyssey
Oatmeal Opal
Orange Opal
Oreo Opal
Oceanic Opal
Oatmeal Oasis
Orange Oasis
Oreo Oasis
Oceanic Oasis
Candy Names That Start With P
Peppermint Patties
Pineapple Pops
Pomegranate Pieces
Peachy Parcels
Pistachio Puddles
Pina Colada Pops
Peppermint Poppers
Pumpkin Puffs
Peanut Pops
Pecan Pralines
Passionfruit Pastilles
Pineapple Puddles
Peppermint Puffs
Pomegranate Pops
Peachy Pops
Pistachio Pastilles
Pina Colada Pastilles
Peppermint Pastilles
Pumpkin Pastilles
Peanut Pastilles
Pecan Pastilles
Passionfruit Puddles
Pineapple Pastilles
Peppermint Puddles
Pomegranate Pastilles
Peachy Pastilles
Pistachio Pops
Pina Colada Puffs
Peppermint Puffs
Pumpkin Pops
Peanut Puffs
Pecan Puffs
Passionfruit Pops
Pineapple Pops
Peppermint Pops
Pomegranate Puffs
Peachy Puffs
Pistachio Puddles
Pina Colada Pieces
Peppermint Pieces
Pumpkin Pieces
Peanut Pieces
Pecan Pieces
Passionfruit Pieces
Pineapple Pieces
Peppermint Pecan
Pomegranate Pecan
Peachy Pecan
Pistachio Pecan
Pina Colada Pecan
Candy Names That Start With Q
Quince Quarters
Quirky Quorums
Quinoa Quenchers
Quicksilver Quills
Quince Quills
Quirky Quince
Quinoa Quarters
Quicksilver Quarters
Quince Quenchers
Quirky Quenchers
Quinoa Quills
Quicksilver Quills
Quince Quickies
Quirky Quickies
Quinoa Quickies
Quicksilver Quickies
Quince Quips
Quirky Quips
Quinoa Quips
Quicksilver Quips
Quince Quirks
Quirky Quirks
Quinoa Quirks
Quicksilver Quirks
Quince Quests
Quirky Quests
Quinoa Quests
Quicksilver Quests
Quince Quakes
Quirky Quakes
Quinoa Quakes
Quicksilver Quakes
Quince Quivers
Quirky Quivers
Quinoa Quivers
Quicksilver Quivers
Quince Queries
Quirky Queries
Quinoa Queries
Quicksilver Queries
Quince Quandaries
Quirky Quandaries
Quinoa Quandaries
Quicksilver Quandaries
Quince Quarters
Quirky Quarters
Quinoa Quarters
Quicksilver Quarters
Quince Quenchers
Quirky Quenchers
Candy Names That Start With R
Raspberry Ribbons
Rainbow Rocks
Rum Raisin Rolls
Razzleberry Rings
Raspberry Ripples
Red Velvet Rinds
Raisin Rockets
Rum Raisin Ripples
Red Raspberry Rolls
Rainbow Ripples
Raspberry Rockets
Razzleberry Ribbons
Rum Raisin Ribbons
Red Velvet Ribbons
Raisin Ribbons
Raspberry Rocks
Razzleberry Rocks
Rum Raisin Rocks
Red Velvet Rocks
Raisin Rolls
Raspberry Rolls
Razzleberry Rolls
Rum Raisin Razzles
Red Velvet Razzles
Raisin Razzles
Raspberry Razzles
Razzleberry Razzles
Rum Raisin Rinds
Red Velvet Rinds
Raisin Rinds
Raspberry Rinds
Razzleberry Rinds
Rum Raisin Rosettes
Red Velvet Rosettes
Raisin Rosettes
Raspberry Rosettes
Razzleberry Rosettes
Rum Raisin Ribbons
Red Velvet Ribbons
Raisin Ribbons
Raspberry Ribbons
Razzleberry Ribbons
Rum Raisin Rounds
Red Velvet Rounds
Raisin Rounds
Raspberry Rounds
Razzleberry Rounds
Rum Raisin Ruffles
Red Velvet Ruffles
Raisin Ruffles
Candy Names That Start With S
Candy starting with the letter "S" brings to mind a delightful mix of sweet, sour, and savory flavors. Here's a list of names that capture the essence of these treats:
Strawberry Swirls
Sugar Drops
Sweetheart Sours
Spearmint Sticks
Salted Caramel Squares
Sour Snakes
Sugarplum Dreams
Sparkling Sherbet
Spiced Star Anise Candies
Sea Salt Toffees
Sapphire Blueberries
Strawberry Shortcake Bites
Sugar Frosted Flakes
Summer Berry Bonbons
Spice-Infused Sugarcubes
Sweet 'n' Sour Skittles
Saltwater Taffy
Sunflower Seed Brittle
Saffron Lollipops
Strawberry Licorice
Spearmint Leaves
Sugar-Coated Almonds
Silky Chocolate Truffles
Spicy Cinnamon Hearts
Sapphire Raspberries
Sour Lemon Drops
Sweet Melon Gummies
Spiced Ginger Chews
Swiss Chocolate Bars
Sugared Violet Petals
Sunshine Lemon Bars
Sweet Peppermint Patties
Sour Cherry Blasters
Spun Sugar Delights
S'mores Candy
Sugar-Dusted Blueberries
Strawberry Fizz
Spicy Mango Tango
Salted Licorice
Sugarcane Bites
Sticky Toffee Pops
Sweet Lime Twists
Sour Watermelon Slices
Silver Mints
Strawberry Marshmallows
Sugar Cookie Dough Bites
Spiced Pumpkin Seeds
Sweet Corn Candies
Sour Grape Gumdrops
Smoky Bacon Caramel
Candy Names That Start With T
Candies that start with "T" tantalize the taste buds with a variety of textures and tastes. Here are some imaginative names:
Tropical Twists
Tangerine Taffy
Tutti Frutti Treats
Toasted Coconut Truffles
Toffee Temptations
Tangy Tamarind Chews
Turkish Delight
Twisted Citrus Slices
Thyme-Infused Toffees
Tiramisu Bites
Tequila Sunrise Gummies
Toasted Marshmallow Twirls
Toffee Apple Crunch
Tart Cherry Bombs
Tangerine Tango
Triple Chocolate Treats
Toffee Nut Bars
Tangy Blue Raspberry
Truffle Treasure
Tropical Mango Bites
Tahitian Vanilla Beans
Tangerine Gelato Squares
Thyme Lemon Drops
Toasted Sesame Candies
Toffee-Coated Peanuts
Tangerine Dream
Twixt 'n' Twirl
Toffee Pecan Clusters
Tart Lemon Wheels
Twizzlers
Toffee Crunch
Tangerine Sours
Toasted Almond Brittle
Triple Berry Gumdrops
Tart Apple Slices
Toffee-Dipped Strawberries
Twisted Licorice Laces
Tiramisu Truffle
Tropical Pineapple Chunks
Tangerine Marmalade Squares
Twisted Peppermints
Toffee Caramel Swirls
Toasted Hazelnut Delights
Tart Raspberry Jellies
Twinkling Star Candies
Tangerine Sorbet Bites
Thai Coconut Candy
Toffee-Coated Dates
Tangy Yogurt Drops
Tantalizing Truffle Balls
Candy Names That Start With U
Candies beginning with "U" might be less common, but they can be uniquely delightful. Here are some inventive names:
Ube Delights
Ultraviolet Violets
Unicorn Dreams
Ultimate Fudge Squares
Uplifting Mint Chews
Utopian Fruit Gummies
Umami Toffee
Ube-Coated Peanuts
Unwrapped Caramel Bites
Upside-Down Pineapple Candies
Uplifting Lemon Drops
Umami Berry Twists
Ultra Sour Cherries
Ube and Coconut Rolls
Unusual Spice Truffles
Ume Plum Sweets
Ultramint Gum
Urban Trail Mix
Ube Marshmallows
Unrivaled Raspberry Ripples
Undersea Blueberry Pearls
Uplifting Citrus Zest
Ultimate Peanut Brittle
Unearthed Chocolate Gems
Ube Tapioca Pearls
Unique Vanilla Bean Taffy
Upscale Chocolate Discs
Umami Sesame Sticks
Unicorn Tail Licorice
Unforgettable Fruit Pastilles
Ube Almond Crunch
Ultrarich Caramel Cubes
Uplifted Strawberry Spirals
Urban Honey Drops
Under the Sea Gummies
Ube Glazed Donuts
Unleashed Sour Power
Ultimate Berry Fusion
Umbrella Pineapple Treats
Unmatched Mint Medley
Ube White Chocolate
Ultrasmooth Caramel
Urban Spice Mix
Unearthed Toffee Nuggets
Upside-Down Apple Tarts
Unique Ginger Snaps
Unveiled Cherry Blossoms
Umbrella Fruit Candies
Ultimate Orange Twists
Ube Pudding Delights
Candy Names That Start With V
Candies with the initial "V" offer a variety of velvety and vibrant flavors. Here are some creative names:
Vanilla Velvet Truffles
Violet Vortex
Velvet Chocolate Bites
Vanilla Bean Brittle
Vivid Cherry Sours
Vortex Lemon Drops
Velvet Berry Twists
Vanilla Almond Clusters
Vibrant Fruit Chews
Violette Sugar Crystals
Velvet Fudge Squares
Vanilla Caramel Swirls
Vivacious Strawberry Hearts
Velvet Peach Rings
Vibrant Raspberry Jellies
Vanilla Latte Candies
Venerable Mint Leaves
Velvet Red Berry Bars
Vortex Grape Gumdrops
Vanilla Cinnamon Rolls
Velvet Licorice Laces
Vanilla Toffee Pecans
Vibrant Lemonade Slices
Violet Infused Chocolate
Voodoo Spice Drops
Vanilla Dream Drops
Velvet Rose Petals
Vibrant Orange Zest
Velvety Espresso Beans
Vanilla Hazelnut Toffee
Vibrant Green Apple
Velvet Caramel Cups
Violet Candied Violets
Vivid Blueberry Clusters
Velvet Apricot Slices
Vanilla Bourbon Caramels
Vineyard Grape Twists
Velvet Coconut Shreds
Vivid Watermelon Cubes
Vanilla Spice Chocolates
Violet Cream Fancies
Vividly Spiced Mango
Velvet Pomegranate Seeds
Vanilla Pineapple Chunks
Vibrant Berry Mix
Velvet Chocolate Oranges
Vanilla Rose Gumdrops
Velvet Almond Joy
Vixen Fruit Mix
Velvet Cherry Bonbons
Candy Names That Start With W
Candy names starting with "W" often evoke whimsical and warming sensations. Here's a list to satisfy sweet cravings:
Watermelon Whirls
Whimsical Wildberry
White Chocolate Wonders
Wickedly Sour Worms
Whipped Cream Delights
Wild Cherry Drops
Wintergreen Wafers
Whirlwind Toffee Twists
Waffle Cone Crunch
Whipped Raspberry Ribbons
Wild Blueberry Bites
White Coconut Truffles
Walnut Fudge Squares
Winterberry Bliss
Whirlpool Lemon Twists
Wondrous Fruit Gummies
Warm Cinnamon Chews
White Mocha Beans
Wild Strawberry Sours
Whipped Vanilla Swirls
Watermelon Sugar Cubes
Whiskey Caramel Drops
White Peach Rings
Walnut Brittle
Wild Licorice Laces
Whipped Honeycomb
White Currant Candies
Watermelon Lollipops
White Chocolate Raspberry
Wistful Mint Patties
Wild Mango Tango
Winter Spice Mix
White Pineapple Chunks
Waffle Berry Bars
Warm Apple Cider Chews
Whimsical Cotton Candy
Candy Names That Start With letter X
Finding candy names that start with the letter "X" can be quite a challenge due to the rarity of this initial in many languages. However, there are still some unique and interesting options out there, often drawing from various international languages and brands. Here's a list of candy names that begin with the letter X:
XyloBite
XtraSour
XciteMint
XplosionFruit
XylitolChew
XtremeBerry
XtraCaramel
XquisiteFudge
XpandGum
XtraChoco
XpressMints
XfactorLollies
XiliciousGummies
XoXoChocolates
XuberanceCandy
XmasDelights
XilophonChoco
XanaduSweets
XtraFizzy
XplosiveSour
XoticTropical
XtraJuicy
X-CellentGum
XhilarateLolly
XantheLemonDrop
XtraCrunchy
XoomCandies
XtraGummy
XpandableJelly
XanadoodleDandy
XtravaganzaBar
XylitolDelight
XpressBerry
XampleCandy
XylophonicBites
XoticBerry
XquisiteLemon
XhilarationChews
XoomyToffee
XtravagantChoco
XhaleMints
XtraZesty
XceptionalTreats
XpandableTaffy
XplosivePeppermint
XylitolGum
XtraNutty
XtraRich
XeroCalorieGum
XiliumDrops
Candy Names That Start With Y
Candy names beginning with "Y" offer a delightful array of options, often embodying a playful and youthful spirit. These names are influenced by various cultures and languages, reflecting the diverse and inclusive nature of the candy world. Below is a list of candy names that start with the letter Y:
YummyGummies
YellowDrops
YoyoChews
YumYumSweets
YuletideTreats
YoghurtDelight
YackYackSnack
YippieYankee
YodelCandy
YumBerryBites
YuzuZest
YummoChoco
YankeeDoodleCandy
YogurtYummies
YuletideGums
YuleLogCandies
YummiLollies
YellowSunshineSweets
YummyToffee
YackSnack
YumEarthGummies
YumBlast
YodelChew
YuleMints
YacketyYackBar
YummyMummyTreats
YumYumChews
Yolanda'sCandies
YummoYogurtBites
YummyFruitDrops
YippieYumBars
YumFetti
YummyBerry
YumTumTreats
YumsterChocolates
YodelDelights
YummyChocoRoll
YumBears
YummyYogurtCandy
YumliciousCaramels
YumPlum
YuzuYummies
YumiliciousFudge
YumNuts
YellowBlast
YodelingCandy
YummyHoneyDrops
YummoMints
YumTasticGummies
YumRush
Candy Names That Start With Z
Candies with names starting with the letter "Z" bring a zestful and zany edge to the confectionery world. These names often exude a sense of fun and creativity, with a touch of the exotic. Here's a collection of candy names that begin with the whimsical letter Z, showcasing the playful and imaginative spirit of sweet treats.
ZestyZingers
ZazzyBerries
ZigZagChews
ZuluSugarDrops
ZippyLollipops
ZenithChocolates
ZingyLemonBites
ZebraStripesGum
ZoomFruitGummies
ZillionSweets
ZappyTaffy
ZebraMints
ZiggyZaggyBars
ZanyFruits
ZenBerryGummies
ZoomZoomCandies
ZestfulChoco
ZippyZestGum
ZuperChews
ZazoomYum
ZenGummi
ZestFestCandy
ZigZagGummies
ZebraCaramels
ZuluMints
ZanyZapGum
ZenithPeppermints
ZippyFizzy
ZoomBerryBlast
ZanyLicorice
ZestomaticLollies
ZingerTreats
ZebraFruitChews
ZestyZucchiniCandy
ZenCandyDrops
ZippySourBalls
ZoomChocoBites
ZazzleGummies
ZigzagLemonDrops
ZestyOrangeDelight
ZingBerryTwist
ZenGingerChews
ZappyColaCandy
ZucchiniZestSweets
ZenChocoMints
ZingerBerryChews
ZestyLimeTwist
ZoomGrapeGush
ZiggyZest
ZingyRaspberryBites
Candy Bar Names (List Of Candy Names)
Funny Candy Bar Names Ideas
Humor adds a delightful twist to candy bars, making them not just a treat for the taste buds but also a source of smiles. Here's a list of funny candy bar names that blend whimsy, puns, and playful humor, perfect for tickling the funny bone while satisfying a sweet tooth.
ChocoLaffs
Giggles Galore Bar
SnickerSnack
Jolly Jellies
ChuckleChunks
GuffawGoo
TeeHee Toffee
PunnyPeanut
LocoCoco
WackyWafer
SillySnickers
Joker's Jelly
HeeHee Hazelnut
Ticklish Toffee
LaughyTaffy
BonBonBellyLaughs
NuttyNonsense
CrackUpCaramel
MirthfulMint
GummyGiggles
BellyLaughBerry
ChuckleBerry
ZanyZest
HahaHazelnut
SnickerFudge
JovialJujube
GoofyGrape
WhimsyWhirl
GrinGranola
ChortleChoco
MerryMarshmallow
FizzFunny
JestfulJelly
GiggleGum
HumorHoney
SillinessSquares
RoflRaspberry
YuckYucks
HilarityHoneycomb
ChuckleChews
SmirkSnack
LaughterLicorice
WhoopeeWafer
RollickingRaisin
DrollDrops
KookyKaramel
FrolicFruit
WisecrackWalnut
JokesterJuiceBar
AmuseMints
Cute Candy Bar Name Ideas
When it comes to naming a candy bar, creativity and appeal are key. A great name should evoke a sense of sweetness, fun, and indulgence. Here are 50 imaginative and delightful names that would be perfect for any candy bar, each designed to tantalize the taste buds and capture the whimsy of the candy world.
Sweet Whirl Bliss
ChocoSwirl Delight
Fudge Fantasy
Caramel Craze
Velvet Truffle Treasure
Sugar Rush Symphony
Milky Mirth Bar
Honeycomb Happiness
Berry Burst Bliss
Nutty Nirvana Nibble
Gooey Goodness Galore
Peppermint Pleasure
Toffee Temptation
Butter Pecan Paradise
Raspberry Rapture
Marshmallow Magic
Chocolate Charm
Praline Perfection
Citrus Sensation
Almond Affair
Creamy Dream
Rainbow Rhapsody
Coconut Cloud
Cinnamon Serenity
Peanut Butter Passion
Vanilla Vortex
Sugar Plum Palooza
Mocha Muse
Sparkling Strawberry Surprise
Gingerbread Glee
Hazelnut Harmony
Pistachio Pleaser
Dark Delicacy
Luscious Lemon Lift
Butterscotch Ballet
Salted Caramel Symphony
Cherry Charm
Espresso Enchantment
Orange Oasis
Minty Miracle
Walnut Whisper
Dulce de Leche Dream
Banana Bliss
Licorice Love
Apple Amore
Candy Corn Carnival
Cotton Candy Clouds
Zesty Lime Zing
Caramel Apple Adventure
Blackberry Bliss Bar
List Of Candy Bars
Candy bars are a classic treat, offering a mix of flavors and textures. Here's a list of 50 popular candy bars, known for their unique taste and satisfying sweetness.
Snickers
Mars Bar
Twix
KitKat
Milky Way
Almond Joy
Reese's Peanut Butter Cups
Hershey's Milk Chocolate
Baby Ruth
3 Musketeers
Butterfinger
PayDay
Heath Bar
Crunch Bar
Goodbar
100 Grand Bar
Toblerone
York Peppermint Patty
Mounds
Dove Bar
Whatchamacallit
Skor
Zero Bar
Take 5
Bounty
Cadbury Dairy Milk
Lion Bar
Milkybar
Aero
Flake
Picnic
Fry's Chocolate Cream
Crunchie
Double Decker
Starbar
Curly Wurly
Wispa
Toffee Crisp
Ritter Sport
Kinder Bueno
Chomp
Fudge
Galaxy Ripple
Maltesers Teaser Bar
Caramilk
Boost
Daim Bar
Twirl
Freddo
Big Turk
List Of Candy In the USA
The United States boasts a diverse range of candies, each offering its unique flavor and texture. Here is a list of 50 popular candies found in the USA, which includes a mix of chocolates, gummies, hard candies, and more.
Jolly Ranchers
Swedish Fish
Mike and Ike
Sour Patch Kids
Hot Tamales
Skittles
M&M's
Starburst
Laffy Taffy
Gobstoppers
Haribo Goldbears
Warheads
Tootsie Rolls
Jelly Belly Jelly Beans
Hershey's Kisses
Reese's Pieces
Twizzlers
Nerds
Atomic Fireballs
Lemonheads
Airheads
Ring Pop
Smarties
Charms Blow Pops
Almond Roca
Milk Duds
Razzles
Boston Baked Beans
Spree
Junior Mints
Charleston Chew
Runts
1000 Grand Bar
Good & Plenty
Mary Janes
Candy Corn
Dove Chocolate
Andes Mints
Sixlets
Sugar Daddy
Pez
Red Vines
Bazooka Bubble Gum
Fun Dip
Pop Rocks
Zotz
Chick-O-Stick
Cow Tales
Salt Water Taffy
Bit-O-Honey
Explore More:
Examples of (Noun, Pronouns, Adverbs, Adjectives, Verbs, Interjections)
List Of Candy Names
Candy names often reflect their fun and delightful nature. Here's a list of 50 candy names, encompassing a wide range of flavors and styles, from traditional favorites to unique and innovative treats.
BonBon
Gummy Bears
Choco Drops
Fizzies
Pixy Stix
Butter Toffee
Caramel Chews
Fruit Gems
Honey Sticks
Licorice Laces
Mocha Beans
Nougat Nuggets
Orange Slices
Peppermint Patties
Raspberry Ribbons
Spearmint Spikes
Turkish Delight
Violet Crumble
Watermelon Wheels
Zebra Stripes
Apple Twists
Banana Bites
Cherry Chomps
Date Delights
Elderberry Eclairs
Fig Fingers
Grape Gushers
Hazelnut Hails
Iced Jujubes
Jackfruit Jellies
Kiwi Kandies
Lemon Loops
Mango Munchies
Nutmeg Nibbles
Orange Ovals
Peach Puffs
Quince Quirls
Raspberry Rockets
Strawberry Squares
Tangerine Twirls
Uva Utopia
Vanilla Vines
Watermelon Whirls
Xigua Xplosion
Yuzu Yummies
Zucchini Zest
Coconut Clusters
Pineapple Poppers
Blueberry Blasts
Apricot Amulets
FAQs
Is A Candy Bar Considered Candy?
Yes, a candy bar is a type of candy. It typically consists of chocolate or other candy ingredients molded into a bar shape, often combined with other elements like nuts, caramel, nougat, or wafers.
What Is The Difference Between A Candy Bar And A Candy?
The main difference lies in their form and ingredients. A candy bar usually refers to a confection that is in the shape of a bar, often chocolate-based with additions like nuts, caramel, or nougat. Candy, on the other hand, is a broader category that includes all sorts of sweet confections, including hard candies, gummies, lollipops, and more. Candy bars are a subset of candies.