In today's fast-paced business world, maintaining professionalism in email communication is crucial. From managing client expectations to collaborating with colleagues, the way we express reassurance and convey a sense of calm can greatly impact our professional relationships. One of the most commonly used phrases for this purpose is no worries, but knowing how to use it effectively and professionally in email correspondence can be a delicate art.
What to Say Instead of "No Worries"
When you're looking to offer reassurance or convey understanding in a professional setting without using the phrase "no worries," there are several alternatives you can use. Here are some options:
"It's all good." – Conveys a casual assurance that everything is fine.
"Not a problem." – Indicates that the situation isn't causing any issues.
"That's perfectly fine." – Offers a more formal reassurance.
"I understand." – Shows empathy and comprehension of the situation.
"Don't give it a second thought." – Encourages the person not to worry further.
"I've got it handled." – Assures that you are taking care of the matter.
"You're all set." – Indicates that everything is in order.
"Consider it done." – Suggests that you are already on top of the task.
"No issue at all." – Implies there's nothing problematic.
"All is well." – Provides a reassuring note that everything is okay.
How To Say No Worries Professionally In Email
1. "No problem at all."
Meaning: Assures the recipient that their request or issue isn't a problem.
Sentence: "Thank you for your update, and no problem at all regarding the delay."
2. "Rest assured."
Meaning: Offers reassurance that everything is under control.
Sentence: "Rest assured, we will handle your request promptly."
3. "I understand completely."
Meaning: Shows empathy and understanding.
Sentence: "I understand completely, and we can adjust the deadline accordingly."
4. "It's all taken care of."
Meaning: Indicates that the issue or task has been resolved.
Sentence: "Thank you for pointing this out. It's all taken care of"
5. "Everything is under control."
Meaning: Assures that the situation is being managed effectively.
Sentence: "I appreciate your concern, but everything is under control on our end."
6. "Not to worry."
Meaning: A polite way of telling someone not to be concerned.
Sentence: "Not to worry, we have already processed your request."
7. "This is completely manageable."
Meaning: Shows confidence in handling the situation.
Sentence: "This is completely manageable, and we will have it resolved by tomorrow."
8. "Consider it handled."
Meaning: Assures that the matter is or will be taken care of.
Sentence: "Consider it handled; I will update you by end of day."
9. "All is in order."
Meaning: Confirms that everything is as it should be.
Sentence: "All is in order with your application, and we are moving to the next step."
10. "Your concern is noted, but all is well."
Meaning: Acknowledges the person's concern while reassuring them.
Sentence: "Your concern is noted, but all is well with the project timeline."
11. "I appreciate your patience."
Meaning: Thanks the recipient for their understanding.
Sentence: "I appreciate your patience as we resolve this issue."
12. "Thank you for bringing this to my attention, but it's already been addressed."
Meaning: Expresses gratitude for the information while assuring it's been handled.
Sentence: "Thank you for bringing this to my attention, but it's already been addressed by our team."
13. "We've got this covered."
Meaning: Confirms that the team is taking care of the situation.
Sentence: "We've got this covered, and we'll keep you updated on our progress."
14. "I assure you there's no need for concern."
Meaning: Provides strong reassurance to alleviate worry.
Sentence: "I assure you there's no need for concern; the data is secure."
15. "You're in good hands."
Meaning: Offers reassurance of competence and care.
Sentence: "You're in good hands with our team managing your account."
16. "Let me put your mind at ease."
Meaning: Aims to reduce worry or anxiety.
Sentence: "Let me put your mind at ease; the report will be ready on time."
17. "Feel free to relax."
Meaning: Encourages the recipient to be at ease about the situation.
Sentence: "Feel free to relax, as we've taken care of everything."
18. "This is well within our scope."
Meaning: Assures that the task or issue is within the team's capabilities.
Sentence: "This request is well within our scope, and we're happy to assist."
19. "Your message is well-received, and all is fine."
Meaning: Acknowledges receipt and understanding of the message without any issues.
Sentence: "Your message is well-received, and all is fine with the proposed changes."
20. "I'm on top of it."
Meaning: Indicates personal responsibility and attention to the matter.
Sentence: "Thank you for the reminder, I'm on top of it and will ensure timely completion."
21. "We can easily accommodate this."
Meaning: Shows flexibility and willingness to adapt to the request.
Sentence: "We can easily accommodate this change in the project plan."
22. "There's no need to apologize."
Meaning: A polite response to someone who has apologized, indicating it's unnecessary.
Sentence: "There's no need to apologize, I completely understand the situation."
23. "This won't be an issue."
Meaning: Confirms that the matter will not cause problems.
Sentence: "This won't be an issue; our team is already working on a solution."
24. "Your request is being processed smoothly."
Meaning: Assures that the request is being handled efficiently.
Sentence: "Your request is being processed smoothly, and you should expect an update soon."
25. "I'm here to assist, so no concerns."
Meaning: Offers support and reassurance.
Sentence: "I'm here to assist, so no concerns regarding the implementation process."
26. "This will be resolved promptly."
Meaning: Assures quick resolution to an issue.
Sentence: "This will be resolved promptly, and I will keep you informed of the progress."
27. "We appreciate your vigilance, but everything is in place."
Meaning: Recognizes the person's attentiveness while reassuring that everything is correct.
Sentence: "We appreciate your vigilance, but everything is in place for the upcoming audit."
Related Post:
Funny Ways to Say (Good Morning, Thank you, Goodbye, Happy Birthday, Hello, Good Night, No Worries, Sorry Professionally)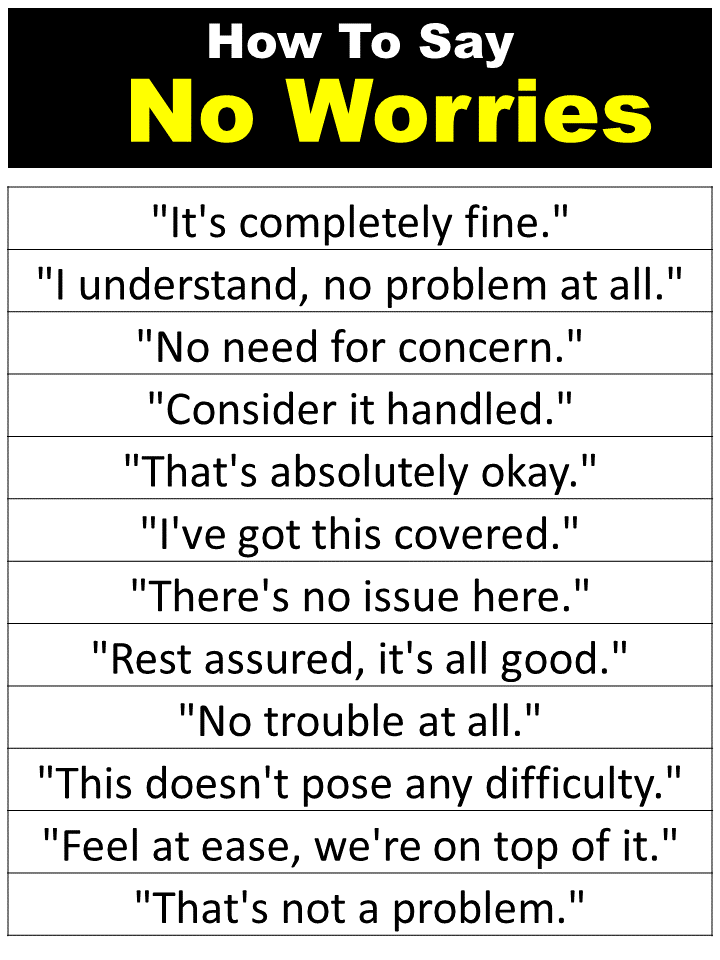 Creative and catchy How To Say "No Worries" In Formal Email
"Thank you for your understanding."
"I appreciate your patience in this matter."
"Your concerns are duly noted and appreciated."
"Rest assured, the matter is being handled."
"Please be assured of our best attention to this matter."
"Your cooperation in this is greatly valued."
"We are diligently addressing the issue."
"Thank you for bringing this to our attention."
"We are committed to resolving this promptly."
"Your feedback is instrumental to our process."
"Thank you for your flexibility."
"We value your input and are acting accordingly."
"Your understanding is greatly appreciated."
"We are working swiftly to rectify the situation."
"Your patience is greatly appreciated."
"We acknowledge the importance of this matter."
"Thank you for your vigilance in this matter."
"We are actively working on a solution."
"Your assistance in this matter is highly appreciated."
"We assure you that we are on top of this."
"Thank you for your contribution to resolving this."
"We appreciate your support and understanding."
"We are making every effort to ensure a swift resolution."
"Thank you for your understanding and cooperation."
"We are taking your concerns very seriously."
"Thank you for your patience as we work through this."
"We are committed to providing a timely solution."
"We are focused on addressing your concerns promptly."
"Your ongoing support in this matter is invaluable."
"We are working to ensure a satisfactory outcome."
How To Say "No Worries" Professionally
"Thank you for your understanding."
"Your patience is greatly appreciated."
"Rest assured, we are addressing the issue."
"We value your cooperation in this matter."
"Your concerns are being taken seriously."
"We are working diligently to resolve this."
"Your feedback is crucial to our process."
"We are committed to a swift resolution."
"Thank you for bringing this to our attention."
"We appreciate your flexibility."
"Your understanding is invaluable to us."
"We assure you of our prompt attention."
"Thank you for your vigilance."
"We are actively working towards a solution."
"Your assistance is highly appreciated."
"We are focusing on rectifying the situation."
"Thank you for your continued support."
"We are making every effort to resolve this promptly."
"Your input is instrumental in our efforts."
"We acknowledge and value your concerns."
"Thank you for your patience during this time."
"We are dedicated to finding a timely solution."
"Your cooperation is greatly valued."
"We are taking every necessary step to address this."
"Thank you for your understanding and support."
"We are prioritizing a resolution to this matter."
"Your ongoing patience is appreciated."
"We are fully committed to resolving this issue."
"Thank you for your contribution to this process."
"We assure you of our best efforts in this matter."
Professional way to say no worries
"It's completely fine."
"I understand, no problem at all."
"Don't worry about it, everything is under control."
"No need for concern."
"Consider it handled."
"That's absolutely okay."
"I've got this covered."
"There's no issue here."
"Rest assured, it's all good."
"I appreciate your attention to this, but all is well."
"No trouble at all."
"This doesn't pose any difficulty."
"Your concern is noted, but everything is in order."
"Feel at ease, we're on top of it."
"That's not a problem."
"I assure you, there's nothing to worry about."
"We can easily manage this situation."
"This is well within our capability to resolve."
"Your worry is understandable, but it's all sorted."
"Thank you for bringing this to my attention, but we're all set."