Saying goodbye doesn't always have to be somber or routine, especially in daily settings like schools or workplaces. For teachers and professionals seeking a light-hearted way to bid farewell, here are 100 funny ways to say goodbye. Whether you're leaving a job, parting with coworkers, or simply ending a conversation, these phrases add a touch of humor and warmth to the usual farewells.
Funny Ways To Say Goodbye
Catch ya later, alligator 🐊
Peace out, home skillet ✌️
Gotta yeet, my peeps! 🚀
Adios, pants are calling 🩳
Bouncing, catch vibes elsewhere 🏀
Zoomin' out, stay lit 🔥
Exit stage left, peace! 🚪
Ghosting, not in a mood 👻
Mission abort, snacks needed 🍟
Gotta roll, donuts waiting 🍩
Sliding out, dms open 📱
Moonwalking away, MJ style 🕴️
Gotta jet, rockets fueled 🚀
Teleporting to bed, night! 🛏️
Fading out, ninja mode 🥷
Hopping off, kangaroo style 🦘
Gliding away, swan lake 🦢
Sliding into weekend, bye! 🎢
Evaporating, poof magic! ✨
Dipset, cookie jar's calling 🍪
Ascending, cloud nine awaits ☁️
Voyaging to snack island 🏝️
Blasting off, galaxy brain 🌌
Gotta skedaddle, llama drama 🦙
Trekking to fridge, starving 🥾
Bouncing, trampoline park awaits 🤸
Flapping out, bird mode 🐦
Sneaking off, spy duties 🕵️
Floating away, balloon life 🎈
Cascading out, waterfall vibes 🌊
Fluttering away, butterfly effect 🦋
Gotta dash, superhero style 🦸
Swinging out, spiderman's cousin 🕷️
Somersaulting away, gymnast life 🤸‍♂️
Strutting out, catwalk calling 🚶‍♀️
Beaming up, scotty awaits 🛸
Vanishing act, magician style 🎩
Blasting music, exiting stage 🎶
Scurrying off, mouse mode 🐭
Galloping away, wild west 🐎
Sauntering off, sunset chasing 🌅
Gotta sprint, marathon life 🏃
Pouncing out, tiger energy 🐅
Cruising away, skateboard life 🛹
Rolling out, sushi style 🍣
Pirouetting off, ballet dreams 💃
Leaping out, frog tactics 🐸
Buzzing off, bee duties 🐝
Gotta jog, fitness freak 🏋️
Skipping away, rope in hand 🏃‍♀️
Gotta bounce, trampoline fun 🤾‍♀️
Meandering away, explorer's spirit 🧭
Slipping out, ninja vanish 🥋
Gotta scoot, scooter gang 🛴
Wandering off, lost map 🗺️
Jetting out, pilot mode ✈️
Trudging away, swamp adventure 🦜
Slithering out, snake style 🐍
Gotta vroom, car's calling 🚗
Bouncing off, ping pong 🏓
Gotta stroll, park awaits 🚶
Marching away, parade leader 🥁
Sneaking away, cat stealth 🐈
Galloping off, horse vibes 🐴
Gotta hike, mountain calling ⛰️
Slinking away, mystery afoot 🔍
Gotta swim, ocean awaits 🌊
Paddling away, canoe trip 🛶
Gotta glide, ice rink ⛸️
Fluttering away, pixie dust 🧚
Gotta climb, monkey bars 🐒
Rolling away, tumbleweed style 🌵
Gotta skate, ice awaits ⛸
Drifting off, dreamland calls 🌜
Speeding away, racecar dreams 🏎️
Gotta surf, waves calling 🏄‍♂️
Twirling away, dervish dance 💫
Gotta row, river adventure 🚣‍♀️
Swooping out, eagle style 🦅
Gotta leap, frog life 🐸
Striding off, long legs 🦵
Gotta fly, sky's calling 🌤️
Floating away, cloud surfer ☁️
Drifting away, lazy river 🛖
Zooming off, speed demon 🏎️
Gotta bolt, lightning speed ⚡
Gliding away, smooth exit 🏄‍♀️
Sprinting off, track star 🏃‍♂️
Gotta dive, pool's calling 🏊‍♂️
Fading into the sunset!
Bouncing away, kangaroo mode!
Beaming up, Scotty-style!
Disappearing, ninja smoke bomb!
Tiptoeing out, super stealthy!
Gliding off, ghostly whisper!
Waving magic wand, poof!
Spinning out, dizzy dancer!
Sneaking off, secret agent!
Fluttering away, butterfly grace!
Diving deep, submarine style!
Time-traveling to tomorrow!
Riding off, wild west!
Ascending, hot air balloon!
Hopping away, Easter bunny!
Leaping into hyperspace, whoosh!
Whisked away, fairy tale!
Melting away, wicked witch!
Crawling off, sneaky spider!
Shrinking down, ant size!
Galloping away, mythical unicorn!
Jetting off, rocket speed!
Floating away, cloud nine!
Marching out, drumbeat style!
Slipping away, silent shadow!
Swinging out, Tarzan yell!
Vaulting over, Olympic gymnast!
Strutting off, peacock pride!
Skating away, ice glider!
Somersaulting out, circus acrobat!
Slithering away, sly snake!
Paddling off, canoe adventurer!
Swishing away, wizard wand!
Sauntering off, casual cowboy!
Crawling away, baby's first!
Gliding off, elegant swan!
Sprinting away, speedy cheetah!
Soaring off, majestic eagle!
Flapping away, friendly bat!
Dashing off, dapper gentleman!
Whirling out, dizzying tornado!
Waddling away, cute penguin!
Scampering off, cheeky squirrel!
Shuffling off, old-timer's jig!
Creeping out, quiet mouse!
Scurrying away, busy bee!
Zooming off, race car!
Floating off, feather light!
Trotting away, happy pony!
Gliding off, serene angel!
Drifting away, autumn leaf!
Sneezing away, achoo, gone!
Zipping off, lightning fast!
Bouncing away, rubber ball!
Flying off, magic carpet!
Strolling away, peaceful monk!
Related Post:
Funny Ways to Say (Good Morning, Thank you, Goodbye, Happy Birthday, Hello, Good Night, No Worries, Sorry Professionally)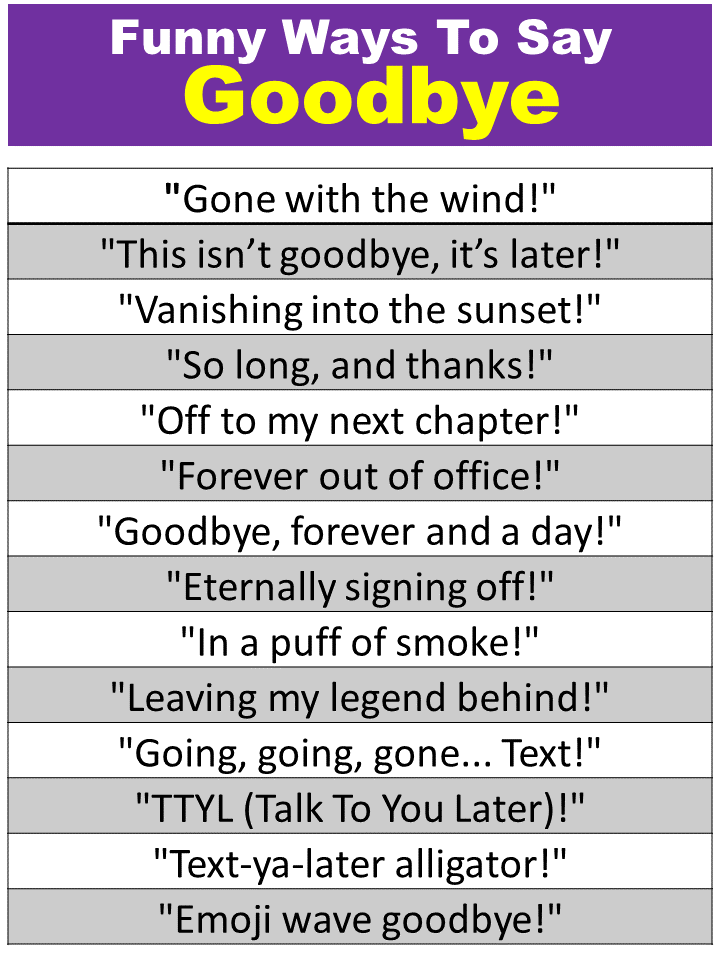 Funny Ways To Say Goodbye To Coworkers
"Catch you on the flip side!"
"Stay weird, team!"
"Out like a lightbulb!"
"Keep on rocking, folks!"
"Adios, office amigos!"
"See you in the coffee line!"
"Don't miss me too much!"
"Keep the office sane!"
"Escape route activated!"
"Office ninja, vanishing!"
Funny Ways To Say Goodbye When Leaving A Job
"Dropping the mic now!"
"Exiting stage left, folks!"
"Farewell, corporate comrades!"
"Off to new adventures!"
"Leaving the batcave!"
"My swan song moment!"
"Signing off for good!"
"It's not you, it's me!"
"Taking the grand exit!"
"Peace out, professional pals!"
Funny Ways To Say Goodbye Forever
"Gone with the wind!"
"This isn't goodbye, it's later!"
"Vanishing into the sunset!"
"So long, and thanks!"
"Off to my next chapter!"
"Forever out of office!"
"Goodbye, forever and a day!"
"Eternally signing off!"
"In a puff of smoke!"
"Leaving my legend behind!"
Funny Ways To Say Goodbye Over Text
"Going, going, gone… Text!"
"TTYL (Talk To You Later)!"
"Text-ya-later alligator!"
"Emoji wave goodbye!"
"Signing off, text style!"
"Chat you up later!"
"Gotta zoom, text soon!"
"Hitting the text exit!"
"Out of text coverage!"
"Texting my bye-byes!"
Funny Ways To Say Goodbye That Rhyme
"Catch you later, alligator!"
"After while, crocodile!"
"Hit the road, toad!"
"Be sweet, parakeet!"
"Take care, polar bear!"
"Adieu, kangaroo!"
"Stay loose, moose!"
"Bye-bye, butterfly!"
"Fare thee well, gazelle!"
"Wave goodbye, dragonfly!"
Witty Ways To Say Goodbye
"Farewell from your favorite genius!"
"The brainy one says bye!"
"Smartly stepping out!"
"Saying adieu with IQ!"
"Wit over, exit now!"
"Leaving with a brainwave!"
"Smarty pants signing off!"
"The thinker takes leave!"
"Wisely wandering away!"
"Genius has left the building!"
Funny Sayings To Say Goodbye
"Out like a trout!"
"Rolling out like a troll!"
"Bye, as the crow flies!"
"Gotta jet, pet!"
"Splitting like a banana!"
"Bouncing like a ball!"
"Swinging out, no doubt!"
"Flying off, like a moth!"
"Scooting like a newt!"
"Floating away like a feather!"
Catchy Goodbye Phrases
"Exit stage right, alright!"
"Goodbye, with a spy's wink!"
"Till next time, prime time!"
"Out of here like Shakespeare!"
"Zooming off, like a comet!"
"Blowing this popsicle stand!"
"Leaping out, no doubt!"
"Vanish mode: activated!"
"Beaming up, Scotty!"
"Fading out, no clout!"
Cheesy Goodbye Sayings
"Bye-bye, apple pie!"
"Toodle-oo, kangaroo stew!"
"See ya, wouldn't wanna be ya!"
"Hasta la vista, barista!"
"Outtie, like a belly button!"
"Farewell, like a carousel!"
"Later, tater!"
"Goodbye, butterfly pie!"
"Cheerio, here I go!"
"Au revoir, caviar!"