List Of Conjunctive Adverbs. There are many conjunctive adverbs in the English language. Some of the most common are, however, and but, for, yet, and so. These adverbs can connect words or phrases together to create more complex sentences.
They can also show how a sentence is related to the one before it. Conjunctive adverbs are words that join clauses or phrases together.
They are used to connect ideas and show the relationship between them. Some common conjunctive adverbs are: however, nevertheless, furthermore, moreover, and then.
Conjunctive adverbs can be used to join independent clauses together into a compound sentence.
For example, I wanted to go out tonight, however, I am too tired. In this sentence, the first clause (I wanted to go out tonight) is joined to the second clause (however, I am too tired) by the conjunctive adverb, however.
Conjunctive adverbs can also be used to join dependent clauses together into a complex sentence.
Complete List Of Conjunctive Adverbs
Accordingly
Additionally
Also
Anyway
Besides
Besides
Certainly
Comparatively
Consequently
Conversely
Conversely
Elsewhere
Equally
Finally
Further
Furthermore
Hence
Henceforth
Conjunctive Words List
However
In addition
In comparison
In contrast
Incidentally
Incidentally
Indeed
Instead
Likewise
Meanwhile
Moreover
Namely
Nevertheless
Next
Nonetheless
Now
Otherwise
Rather
Regardless
Similarly
Still
Subsequently
Then
Thereafter
Therefore
Thus
Undoubtedly
Yet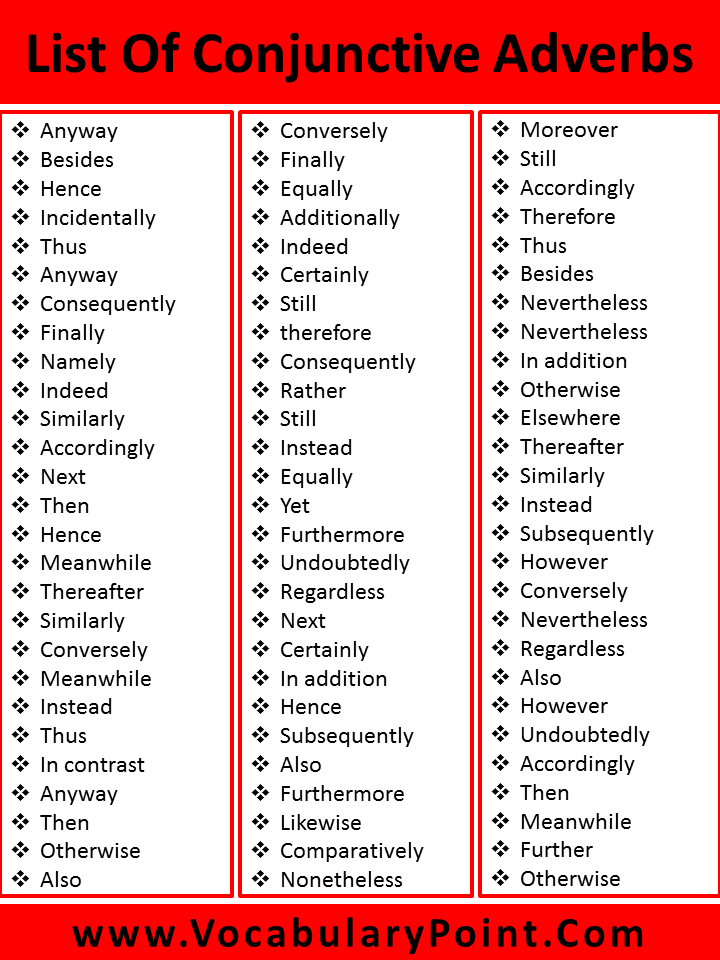 You Can Download List Of Conjunctive Adverbs Pdf