List Of Negative Words In English. Negative words can have a positive effect on your vocabulary. They force you to be more precise with your language and can make you a more effective communicator. For example, the word "but" can be used to negate the impact of something that was just said.
"But" can also be used to emphasize a point. "However" is another word that has a similar function. It can be used to introduce new information that changes the direction of a conversation.
These words are important for creating contrast and helping your listener understand your point of view. There are many ways to expand your vocabulary.
One way is to learn negative words. These are the opposite of positive words and can be used in place of them to create more sophisticated expressions.
Let's face it, sometimes the words we use can be pretty negative. But what if you could use fewer of those words and actually improve your vocabulary?
Turns out, that's actually possible. According to a study published in the journal "Psychology of Language" in 2006, people who use more negative words tend to have larger vocabularies than those who use more positive words.
Do you know what a word magnet is?
A word magnet is someone who is always picking up new words. They are always remembering new words and can use them when they need to. Some people think that this ability is a gift, while others believe that it comes with practice. Either way, learning new words can be helpful in any language.
Also Learn: Phrasal verbs
List Of Negative Words In English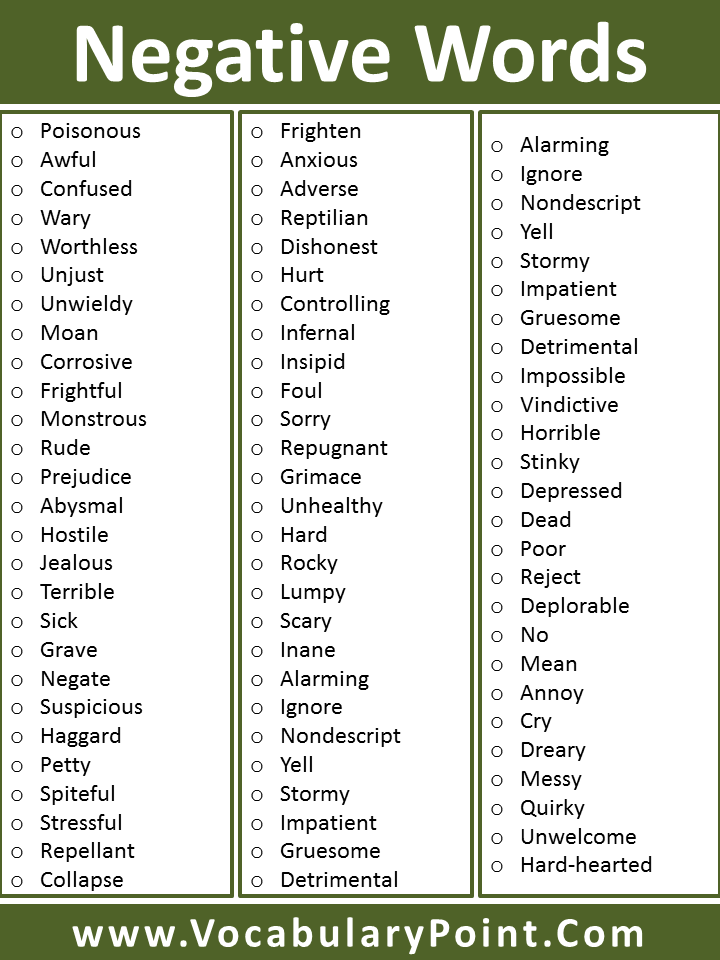 Abysmal
Adverse
Hard-hearted
Weary
Haggard
Odious
Banal
Slimy
Vindictive
Misunderstood
Horrible
Unwise
Cold
Repulsive
Don't
Clumsy
Callous
Severe
Dismal
Gross
Upset
Dastardly
Misshapen
Nobody
Poisonous
Rotten
Scary
Ghastly
Annoy
Bad
Impossible
Enraged
Repugnant
Moan
Decaying
Untoward
Messy
Betrayed
Scary
Apathetic
Unfair
Hurtful
Oppressive
Grave
Stinky
Offensive
Immature
Tense
Jealous
Odious
Not
Filthy
Beneath
Negative
Dishonest
Wary
Criminal
Malicious
Rude
Questionable
Collapse
Quit
Sobbing
Reptilian
None
Guilty
Insane
Unsatisfactory
Never
Plain
Deformed
Barbed
Disease
No
Ruthless
Scare
Injure
Rocky
Disgusting
Terrifying
Unjust
Vice
Nowhere
Damage
Unfavorable
Junky
Savage
Revolting
Harmful
Infernal
Yell
Unjust
Zero
Distress
Confused
Nondescript
Anxious
Scream
Renege
Hideous
Dreary
Contrary
Perturb
Stupid
Evil
Missing
Quirky
Gawky
Broken
Shoddy
Despicable
Frightful
Smelly
Belligerent
Old
Pain
Gruesome
Insidious
Apathy
Suspect
Depressed
Negate
Crazy
Deprived
Naive
Horrendous
Unhappy
Poor
Dreadful
Damaging
Boring
Deplorable
Lousy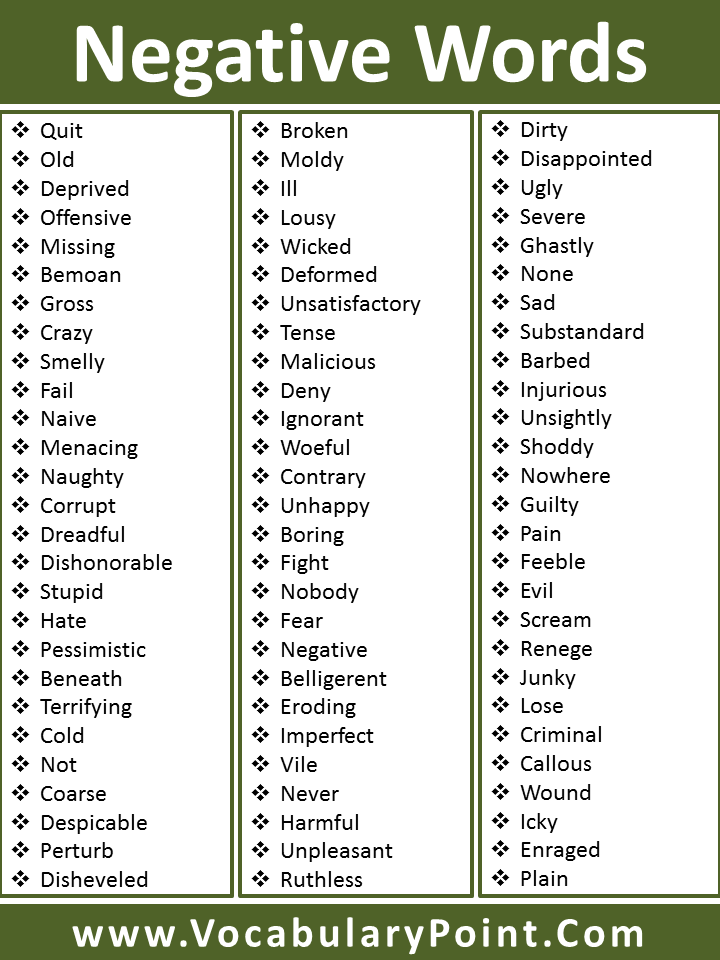 Hurt
Detrimental
Can't
Awful
Reject
Appalling
Unwieldy
Naughty
Undermine
Lose
Objectionable
Repellant
Feeble
Hard
Revenge
Unsightly
Foul
Greed
Controlling
Eroding
Frighten
Unwanted
Cutting
Substandard
Vicious
Pessimistic
Faulty
Atrocious
Icky
Stinky
Unpleasant
Lumpy
Fail
Homely
Perturb
Fear
Sinister
Moldy
Sick
Noxious
Worthless
Disappointed
Contradictory
Grim
Injurious
Grimace
No one
Nonsense
Coarse
Terrible
Hostile
Insipid
Wicked
Cruel
Vile
Mean
Inane
Monstrous
Cry
Dirty
Stressful
Petty
Renege
Spiteful
Imperfect
Bemoan
Shocking
Grotesque
Creepy
Unlucky
Corrupt
Alarming
Cold-hearted
Inelegant
Disheveled
Menacing
Ignorant
Unhealthy
Corrosive
Sad
Hate
Deny
Dead
Unwelcome
Fight
Sorry
Dishonorable
Wound
Sickening
Nasty
Sticky
Unwholesome
Threatening
Angry