Brace yourself for an exploration into the sinister side of language as we delve into a list of negative words that start with C. Prepare to be captivated by words that possess an innate ability to cast shadows on even the brightest moments. Cautionary tales are often rich in descriptive language, and these c-words take it to another level: cold-hearted, corrosive, callous – they reveal an unfiltered glimpse into humanity's capacity for darkness.
List of Negative Words That Start With C
Here are the Most Common Negative Words starting with C:
Calamity – Disaster
Cannibalistic – Predatory
Cantankerous – Grumpy
Capricious – Unpredictable
Castigate – Punish
Catastrophic – Destructive
Caustic – Corrosive
Cavalier – Dismissive
Censorious – Critical
Chagrin – Embarrassment
Charlatan – Fraud
Chastise – Scold
Chicanery – Trickery
Circumvent – Bypass
Clamor – Uproar
Clandestine – Secret
Coerce – Compel
Complacent – Smug
Conceit – Vanity
Condemn – Denounce
Condescend – Patronize
Confounded – Confused
Conspirator – Plotter
Contagious – Infectious
Contempt – Scorn
Contradict – Oppose
Contrive – Devise
Corrode – Deteriorate
Corrupt – Dishonest
Cowardice – Timidity
Crass – Vulgar
Cringe – Flinch
Criticize – Disapprove
Crude – Rude
Cruel – Harsh
Crusty – Irritable
Culpable – Guilty
Cumbersome – Unwieldy
Cunning – Sly
Curt – Abrupt
Cynical – Distrustful
Cacophony – Discord
Cadaverous – Ghastly
Calumny – Slander
Canker – Blight
Cant – Hypocrisy
Capitulate – Surrender
Carcinogenic – Cancer-causing
Careen – Lurch
Carnage – Massacre
Carp – Complain
Castoff – Reject
Casualty – Victim
Cataclysm – Upheaval
Censor – Suppress
Chafe – Irritate
Chaos – Disorder
Chide – Rebuke
Choleric – Angry
Clash – Conflict
Coagulate – Clot
Coarse – Rough
Cocky – Arrogant
Coercive – Forceful
Cold – Unemotional
Combatant – Aggressive
Combustible – Flammable
Comical – Ridiculous
Commiserate – Sympathize
Complicit – Involved
Compulsion – Obsession
Conceal – Hide
Conceited – Egotistic
Concuss – Injure
Condemnatory – Blaming
Confiscate – Seize
Confront – Challenge
Congest – Clog
Constrict – Tighten
Contaminate – Pollute
Contentious – Quarrelsome
Contrarian – Opposing
Contrite – Remorseful
Controversial – Disputed
Convoluted – Complex
Corpulent – Fat
Corrosive – Eating away
Corruptible – Bribeable
Cowardly – Fearful
Cranky – Irritable
Craven – Cowardly
Credulous – Gullible
Cringe-worthy – Embarrassing
Critic – Judge
Crooked – Dishonest
Crude – Offensive
Cruelty – Brutality
Crush – Overwhelm
Cryptic – Mysterious
Culpability – Blameworthiness
Curdle – Spoil
Curtail – Reduce
Cynicism – Skepticism
Cabalistic – Secretive
Cad – Scoundrel
Cadge – Beg
Caitiff – Cowardly
Calumniate – Slander
Cancerous – Harmful
Canine – Doglike
Capitulatory – Surrendering
Captious – Fault-finding
Cardinal – Fundamental
Careworn – Stressed
Carping – Nitpicking
Castaway – Discarded
Catatonic – Unresponsive
Cathartic – Purging
Cautionary – Warning
Cavalier – Disregardful
Caveat – Warning
Ceaseless – Unending
Cede – Yield
Censorious – Judgemental
Centrifugal – Moving away
Cessation – Stop
Chafe – Irritate
Chagrined – Humiliated
Challenge – Difficulty
Chameleon – Changeable
Explore More:
(A, B, C, D, E, F, G, H, I, J, K, L, M, N, O, P, Q, R, S, T, U, V, W, Y, Z)
Negative Adjectives That Start With C
Calculating – Scheming
Calamitous – Disastrous
Callous – Heartless
Cantankerous – Bad-tempered
Capricious – Unpredictable
Carcinogenic – Cancer-causing
Careless – Negligent
Cataclysmic – Devastating
Censurable – Blameworthy
Chauvinistic – Biased
Childish – Immature
Churlish – Rude
Circumspect – Cautious
Clamorous – Noisy
Clashing – Conflicting
Cloying – Sickening
Coercive – Intimidating
Cold-blooded – Merciless
Combative – Aggressive
Comfortless – Unpleasant
Complaining – Grumbling
Complicated – Difficult
Compulsive – Obsessive
Conceited – Arrogant
Condemnatory – Denouncing
Condescending – Patronizing
Conflicted – Troubled
Confusing – Bewildering
Confrontational – Aggressive
Congested – Blocked
Conspicuous – Noticeable
Constricting – Limiting
Contagious – Infectious
Contemptible – Despicable
Contentious – Quarrelsome
Contradictory – Inconsistent
Contrived – Unnatural
Controversial – Debatable
Convicted – Guilty
Corrupting – Depraving
Costly – Expensive
Cowardly – Timid
Crabby – Irritable
Cramped – Confined
Crass – Insensitive
Crazy – Insane
Creaky – Noisy
Creepy – Unsettling
Crestfallen – Disheartened
Criminal – Illegal
Crippling – Debilitating
Crispy – Brittle
Critical – Judgemental
Crooked – Dishonest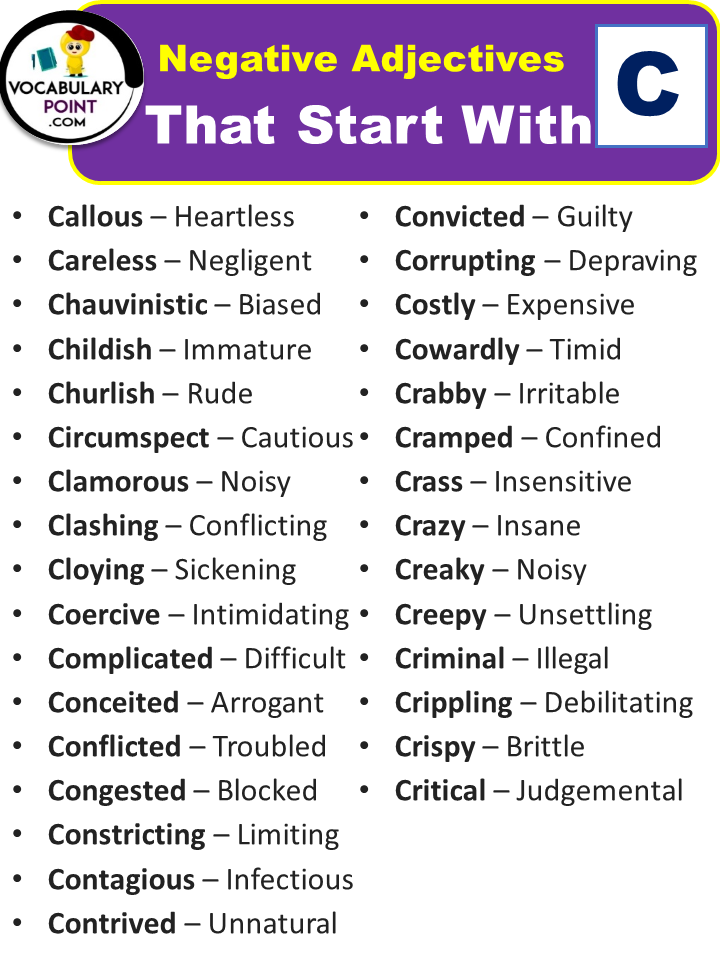 Negative Words That Start With A With Meaning And Examples
Catastrophic: Disastrous

Outcome was unexpectedly catastrophic.

Cantankerous: Uncooperative

Neighbor is often surprisingly cantankerous.

Caustic: Corrosive
Cynical: Distrusting

His laugh sounded very cynical.

Curt: Abrupt

Her reply was unexpectedly curt.

Conceited: Arrogant

He's undeniably conceited about looks.

Cowardly: Fearful

His decision was clearly cowardly.

Cacophonous: Noisy

The street was disturbingly cacophonous.

Callous: Insensitive

His words felt particularly callous.

Cagey: Evasive

Her answers were notably cagey.

Cranky: Irritable

Baby was unusually cranky

Coarse: Rough

His manners are quite coarse.

Clumsy: Awkward

Apology was awkwardly clumsy.

Cruel: Brutal

Her criticism was unnecessarily cruel.

Cryptic: Mysterious
Complacent: Smug

Became overly complacent with success.

Contrived: Unnatural

Plot twist seemed extremely contrived.

Culpable: Blameworthy

He's definitely culpable for errors.

Combative: Aggressive

Tone turned surprisingly combative.

Contrary: Opposite

His actions were often contrary.

Compulsive: Obsessive

His habits are compulsive, unhealthy.

Circuitous: Indirect

Explanation was too circuitous.

Churlish: Boorish

His response was quite churlish.

Convoluted: Complex

Instructions were unnecessarily convoluted.

Chronic: Persistent

Pain was becoming distressingly chronic.

Corpulent: Overweight

His figure became corpulent.

Craven: Cowardly

His stance is extremely craven.

Cloying: Overwhelming

Perfume is painfully cloying.

Clamorous: Loud

Children were particularly clamorous.

Cataclysmic: Devastating

Impact was truly cataclysmic.

Contemptuous: Scornful

Her glance was contemptuous.

Curmudgeonly: Grumpy

Neighbor is consistently curmudgeonly.

Contagious: Infectious

Yawning is surprisingly contagious.

Contentious: Argumentative

Debate became too contentious.

Contorted: Twisted
Congested: Clogged

Traffic was horribly congested.

Contrite: Remorseful

Apology seemed hardly contrite.

Contaminated: Polluted

Water was clearly contaminated.

Condescending: Patronizing

Tone felt very condescending.

Cynical: Distrustful

He's become deeply cynical.

Cluttered: Messy

Room was extremely cluttered.

Complaining: Grumbling

He's always annoyingly complaining.

Critical: Judgmental

She's often too critical.

Corrosive: Destructive

Environment was visibly corrosive.

Crippling: Debilitating

The loss was emotionally crippling.

Corrupt: Dishonest

System is fundamentally corrupt.

Collapsing: Falling

Economy was rapidly collapsing.

Cursed: Doomed
Concealed: Hidden

Motives remained dangerously concealed.

Clouded: Unclear

Judgment was severely clouded.