Exploring language reveals the multifaceted nature of words. Negative words carry the weight of unfavorable emotions or circumstances. They can describe failure, disappointment, or undesirable traits. Now, let's delve into negative words beginning with the letter 'G', followed by a list of negative Adjectives with their succinct meanings.
List of Negative Words That Start With G
Have you ever wondered why negativity has such a mesmerizing allure? It's like trying not to stare at a car crash – despite our best intentions; we can't help but be drawn in by its darkness. If you're someone who finds fascination in exploring the complexities of human emotion and language, then this article is tailor-made for you.
Here are Negative Words that Begin With G with Meaning:
Gabble: Babble
Gaffe: Blunder
Gainsay: Deny
Gall: Irritate
Galling: Annoying
Gamble: Risk
Gambol: Frolic
Gangrene: Decay
Garble: Distort
Gargantuan: Enormous
Gash: Cut
Gauche: Awkward
Gaudy: Flashy
Gawk: Stare
Gawky: Clumsy
Ghastly: Frightful
Ghoul: Monster
Gibe: Taunt
Giddy: Dizzy
Gimmick: Trick
Gird: Encircle
Giveaway: Betrayal
Glacial: Cold
Glare: Scowl
Glitch: Malfunction
Gloat: Boast
Gloomy: Dismal
Glower: Frown
Glum: Depressed
Glut: Excess
Glutton: Overeater
Goad: Prod
Gobble: Devour
Godforsaken: Desolate
Gore: Bloodshed
Gory: Bloody
Gossip: Rumor
Gouge: Scoop
Graceless: Clumsy
Grainy: Coarse
Grandiose: Pretentious
Grapple: Struggle
Grate: Irritate
Gratuitous: Unwarranted
Grave: Serious
Greed: Avarice
Grim: Bleak
Grimace: Scowl
Gripe: Complain
Grisly: Horrific
Groan: Moan
Groggy: Drowsy
Grope: Fumble
Grotesque: Distorted
Grouch: Complainer
Groundless: Unfounded
Grudge: Resentment
Gruesome: Grisly
Gruff: Abrupt
Grueling: Exhausting
Grumble: Complain
Guile: Deceit
Guillotine: Execute
Guise: Facade
Gullible: Naive
Gully: Ditch
Gunfire: Shooting
Gush: Spew
Gust: Blast
Gutless: Cowardly
Gutter: Drain
Guzzle: Chug
Gyrating: Spinning
Explore More:
(A, B, C, D, E, F, G, H, I, J, K, L, M, N, O, P, Q, R, S, T, U, V, W, Y, Z)
Negative Adjectives That Start With G
This list provides a broad array of negative words starting with 'G', illustrating how they can describe actions, traits, or entities with unfavorable connotations. From the annoyance of a "gall" to the deceit of "guile," each word has its unique place in the tapestry of language.
Gaunt: Emaciated
Gaudy: Tacky
Gelid: Icy
Ghastly: Horrible
Ghoulish: Macabre
Gibbous: Humped
Giddy: Light-headed
Glaring: Obvious
Glassy: Brittle
Glitchy: Faulty
Gloomy: Dark
Glum: Morose
Glutinous: Sticky
Gnarled: Twisted
Gnarly: Rough
Goaded: Provoked
God-awful: Terrible
Gormless: Stupid
Graceless: Ungainly
Grainy: Gritty
Grandiose: Extravagant
Grating: Annoying
Grave: Sombre
Greasy: Slippery
Greedy: Covetous
Green: Inexperienced
Grief-stricken: Bereaved
Grim: Forbidding
Grimy: Filthy
Grievous: Serious
Grody: Disgusting
Groggy: Sleepy
Grotesque: Ugly
Grouchy: Irritable
Grubby: Dirty
Grudging: Reluctant
Gruesome: Frightful
Gruff: Harsh
Grumpy: Cranky
Guarded: Cautious
Guilt-ridden: Ashamed
Guileful: Cunning
Gullible: Trusting
Gusty: Windy
Gut-wrenching: Upsetting
Gutteral: Raspy
Guttural: Throaty
Guzzling: Consuming
Gyratory: Rotating
Gyrate: Circular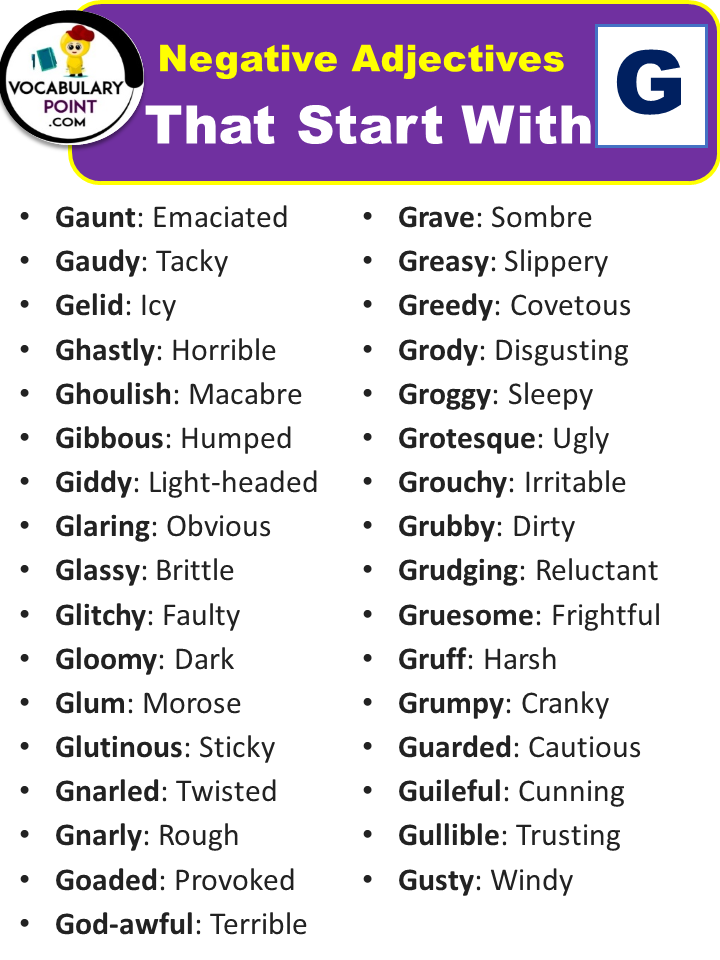 Negative Words That Start With G With Meaning And Examples
Gaffe: Blunder

Made a gaffe during interviews.

Gall: Boldness

His gall was quite astounding.

Gamble: Risk

Lost everything on a gamble.

Gangrene: Decay

Gangrene set in post-surgery.

Garish: Overbright

Her dress was too garish.

Ghastly: Horrible

The scene was ghastly indeed.

Gibe: Taunt
Glitch: Malfunction
Glum: Gloomy

His outlook remained stubbornly glum.

Goad: Provoke

They continued to goad him.

Grate: Irritate

His voice began to grate.

Greed: Avarice

Greed led to his downfall.

Grief: Sorrow

Grief overcame her completely.

Grim: Bleak

The prognosis was grim indeed.

Gripe: Complain

Constantly griping about minor issues.

Groan: Moan

Heard a groan from upstairs.

Grope: Fumble

Had to grope in darkness.

Grouse: Grumble

He would always grouse loudly.

Grudge: Resentment
Gruff: Abrasive

His tone was unexpectedly gruff.

Grumble: Mutter

They grumble about daily tasks.

Guile: Cunning

Used guile to win debates.

Gull: Deceive
Gutless: Cowardly

His decision was gutless, honestly.

Guzzle: Drink

He would guzzle soda constantly.

Gloomy: Dismal

The weather stayed persistently gloomy.

Gaudy: Tacky

The decorations were unnecessarily gaudy.

Gaunt: Emaciated

The prisoner appeared gaunt, weak.

Gibe: Mock

His gibe hurt her feelings.

Gnarly: Twisted

The tree roots were gnarly.

Goaded: Provoked

She felt goaded into arguing.

Grainy: Coarse

The photo was too grainy.

Grating: Annoying

His laugh was particularly grating.

Greasy: Oily

The food was unpleasantly greasy.

Grimy: Dirty

His hands were darkly grimy.

Grouchy: Cranky
Grubby: Unclean

His clothes were rather grubby.

Gruesome: Horrific

The news reported a gruesome discovery.

Grumpy: Bad-tempered
Guarded: Cautious

Her response was carefully guarded.

Guileful: Deceptive

A guileful trick deceived many.

Galling: Vexing

Found his indifference quite galling.

Garble: Confuse

The message was badly garbled.

Garrulous: Talkative

The garrulous guest wouldn't leave.

Genocide: Massacre

History cannot forget the genocide.

Gibber: Babble

He could only gibber fearfully.

Gimmick: Trick
Glib: Superficial

His apology sounded rather glib.

Gluttony: Overindulgence

Gluttony is his worst habit.

Gripe: Whine

He would gripe about work.