Are happy-go-lucky people getting on your nerves? Do you crave something different, something edgy? Well, look no further! We present to you our meticulously curated collection: a comprehensive list of negative words starting with I.
From insults to curses, from gloomy terms to harsh expressions – this compilation has it all. So buckle up and get ready for an adventure into the realm of negativity.
List of Negative Words That Start With I
Here are the Most Popular Negative Words that start with I:
Ignorant – Uninformed.
Irate – Angry.
Irksome – Annoying.
Icy – Unfriendly.
Impatient – Restless.
Imperfect – Flawed.
Impolite – Rude.
Impotent – Powerless.
Imprudent – Reckless.
Impulsive – Rash.
Inane – Foolish.
Incapable – Inept.
Incoherent – Confused.
Incompetent – Unskilled.
Inconclusive – Unsettled.
Indecisive – Hesitant.
Indelicate – Tactless.
Indifferent – Apathetic.
Indignant – Insulted.
Indiscreet – Careless.
Ineffectual – Ineffective.
Inept – Clumsy.
Infamous – Notorious.
Infantile – Childish.
Inferior – Lesser.
Inflamed – Angered.
Inflexible – Unyielding.
Infringe – Violate.
Infuriate – Enrage.
Ingrate – Unthankful.
Inhibit – Hinder.
Inimical – Harmful.
Iniquitous – Wicked.
Insecure – Unsure.
Insensitive – Callous.
Insidious – Stealthy.
Insipid – Tasteless.
Insolent – Insulting.
Instigate – Provoke.
Insufficient – Lacking.
Insular – Narrow-minded.
Insult – Offend.
Insurgent – Rebellious.
Intense – Extreme.
Interfere – Meddle.
Intimidate – Frighten.
Intractable – Stubborn.
Intransigent – Uncompromising.
Intrusive – Meddlesome.
Invalid – Void.
Invasive – Intruding.
Invidious – Resentful.
Irrational – Unreasonable.
Irreparable – Unfixable.
Irresolute – Wavering.
Irreverent – Disrespectful.
Irritable – Cranky.
Irksome – Vexing.
Irony – Sarcasm.
Irrational – Illogical.
Irrelevant – Unrelated.
Irreversible – Unchangeable.
Isolated – Alone.
Itchy – Irritating.
Iffy – Doubtful.
Ill-advised – Unwise.
Illegitimate – Unlawful.
Illicit – Illegal.
Illiterate – Uneducated.
Illness – Sickness.
Illogical – Unreasoned.
Immaterial – Insignificant.
Immature – Juvenile.
Immoral – Unethical.
Immovable – Fixed.
Impassable – Blocked.
Impassive – Expressionless.
Impeachable – Questionable.
Impede – Obstruct.
Impending – Approaching.
Imperil – Endanger.
Imperious – Arrogant.
Impersonal – Detached.
Impertinent – Disrespectful.
Implacable – Relentless.
Implicate – Incriminate.
Implode – Collapse.
Impolitic – Unwise.
Importune – Harass.
Imposing – Intimidating.
Impoverished – Poor.
Imprecise – Inaccurate.
Imprison – Confine.
Impromptu – Unplanned.
Improper – Inappropriate.
Imprudent – Foolish.
Impudent – Insolent.
Impugn – Challenge.
Inaccessible – Unreachable.
Inaccurate – Incorrect.
Explore More:
(A, B, C, D, E, F, G, H, I, J, K, L, M, N, O, P, Q, R, S, T, U, V, W, Y, Z)
Negative Adjectives That Start With I
Ignoble – Dishonorable.
Ill – Unwell.
Illegal – Unlawful.
Illegible – Unreadable.
Ill-fated – Doomed.
Ill-mannered – Rude.
Ill-tempered – Irritable.
Imbalanced – Uneven.
Immaterial – Irrelevant.
Immodest – Indecent.
Immoral – Wrong.
Impassive – Stoic.
Imperative – Crucial.
Imperceptible – Undetectable.
Imperfect – Flawed.
Imperial – Dominant.
Impersonal – Cold.
Imperturbable – Unflappable.
Impetuous – Impulsive.
Impious – Irreverent.
Implausible – Unbelievable.
Impolitic – Unwise.
Impoverished – Destitute.
Impractical – Unrealistic.
Imprecise – Inexact.
Impregnable – Unassailable.
Impressionable – Suggestible.
Improbable – Unlikely.
Improper – Inappropriate.
Impudent – Rude.
Impulsive – Rash.
Inaccurate – Wrong.
Inactive – Idle.
Inadequate – Insufficient.
Inadmissible – Unacceptable.
Inane – Senseless.
Inarticulate – Unclear.
Inattentive – Negligent.
Incapable – Inept.
Incautious – Careless.
Incessant – Unending.
Inchoate – Undeveloped.
Inclement – Harsh.
Incoherent – Disjointed.
Incompatible – Mismatched.
Incompetent – Inadequate.
Incomplete – Unfinished.
Incongruous – Inappropriate.
Inconsequential – Trivial.
Inconsiderate – Thoughtless.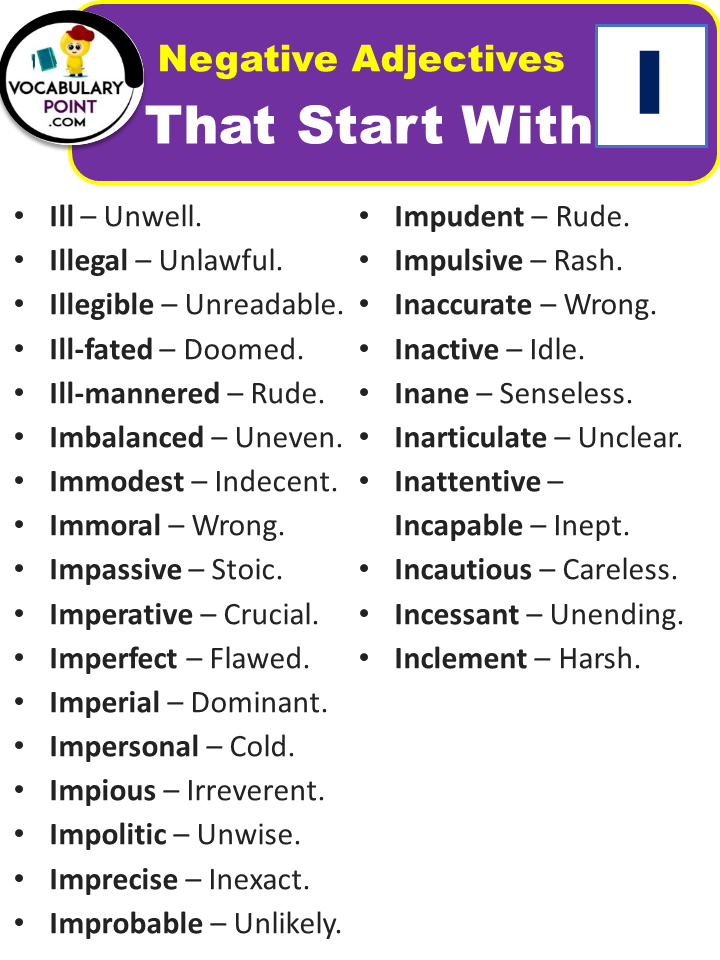 Negative Words That Start With I With Meaning And Examples
Ignominious: Humiliating.

His defeat was utterly ignominious.

Ineptitude: Incompetence.

Ineptitude caused the project's failure.

Insolvent: Bankrupt.

The company became hopelessly insolvent.

Invidious: Envious.

She felt invidious of her.

Irascible: Irritable.

His irascible nature deterred friends.

Impetuous: Impulsive.

Made an impetuous decision yesterday.

Intransigence: Stubbornness.

Intransigence led to negotiation breakdown.

Impecunious: Poor.

The artist lived impecuniously alone.

Incendiary: Inflammatory.

His comments were unnecessarily incendiary.

Intractable: Unmanageable.

Found the problem completely intractable.

Insufferable: Intolerable.

Her arrogance was simply insufferable.

Imprecation: Curse.

Uttered an imprecation under breath.

Impunity: Exemption.

Acted with impunity, without consequences.

Inexorable: Unstoppable.

Time is inexorable and relentless.

Invective: Abuse.

He shouted loud, angry invective.

Insipid: Bland.

The soup tasted insipid, flavorless.

Ineffable: Indescribable.

Felt an ineffable sense of peace.

Inundate: Overwhelm.

The floodwaters inundate the village.

Insidious: Sneaky.

An insidious form of manipulation.

Infirmity: Weakness.

Old age brought many infirmities.

Ingrate: Ungrateful.

The child acted like an ingrate.

Imperious: Domineering.

Her imperious demand silenced us.

Impassive: Unemotional.

Remained impassive during the crisis.

Incipient: Beginning.

Noticed an incipient crack forming.

Inexperienced: Unskilled.

His inexperienced efforts failed miserably.

Inebriated: Drunk.

The inebriated man stumbled around.

Imperil: Endanger.

His actions imperil the entire team.

Inscrutable: Unreadable.

His expression was completely inscrutable.

Indolent: Lazy.

His indolent attitude cost his job.

Insurrection: Rebellion.

The insurrection was quickly suppressed.

Iniquity: Wickedness.

Refused to partake in iniquity.

Impious: Irreverent.

His impious remarks offended many.

Insubordination: Defiance.

Insubordination will not be tolerated.

Interloper: Intruder.

An unwelcome interloper at the party.

Incessant: Continuous.

The baby's incessant crying tired her.

Inelegant: Ungraceful.

Her dancing was surprisingly inelegant.

Incompatible: Mismatched.

They were utterly incompatible partners.

Inadvertent: Unintentional.

It was an inadvertent mistake.

Inconspicuous: Unnoticeable.

He remained inconspicuous at parties.

Inarticulate: Mumbled.

Gave an inarticulate, confusing speech.

Incohesive: Disjointed.

Their plan was frustratingly incohesive.

Insoluble: Unsolvable.

The mystery seemed completely insoluble.

Irreconcilable: Incompatible.

Held irreconcilable views on politics.

Intemperate: Excessive.

His intemperate behavior caused concern.

Intermittent: Sporadic.

She suffered from intermittent headaches.

Impenitent: Unrepentant.

Remained impenitent despite the wrongdoing.

Implacable: Relentless.

Her anger was cold, implacable.

Inimical: Harmful.

Smoking is inimical to health.

Inexpedient: Unadvisable.

The plan was inexpedient, abandoned.

Impuissant: Powerless.

Felt impuissant against the tide.