Are you ready to dive into the dark side of language? Brace yourself, because we're about to explore a list of negative words that start with M. From menacing to morose, these words pack a powerful punch when it comes to expressing negativity and discontent.
Whether you're a writer looking for ways to add depth and emotion to your storytelling or simply curious about the darker side of vocabulary, this list will leave you captivated and intrigued.
List of Negative Words That Start With M
Malice – Hatred
Malevolent – Evil
Malfeasance – Misconduct
Malfunction – Failure
Malcontent – Dissatisfied
Malign – Defame
Malady – Illness
Malediction – Curse
Malefaction – Crime
Malinger – Shirk
Malaise – Discomfort
Malapropism – Misuse
Malarkey – Nonsense
Malformation – Deformity
Maladroit – Clumsy
Malpractice – Negligence
Maltreat – Abuse
Maladjustment – Disharmony
Malignancy – Cancer
Malodor – Stench
Maligner – Slanderer
Malaise – Unease
Malversation – Corruption
Manacle – Shackle
Mangle – Destroy
Mania – Obsession
Manipulate – Exploit
Mar – Spoil
Maraud – Raid
Martyrdom – Persecution
Masochism – Self-harm
Massacre – Slaughter
Matricide – Mother-killing
Meager – Sparse
Meddle – Interfere
Mediocrity – Average
Melancholy – Sadness
Menace – Threat
Mendacity – Lies
Mendicant – Beggar
Menial – Lowly
Merciless – Ruthless
Meretricious – Tawdry
Mess – Disorder
Miff – Annoy
Militancy – Aggression
Mimicry – Imitation
Misadventure – Mishap
Misapply – Misuse
Misapprehend – Misunderstand
Misbecome – Unfit
Misbegotten – Illegitimate
Misbelief – Delusion
Miscalculate – Err
Miscarriage – Failure
Misconceive – Misunderstand
Misconduct – Misbehavior
Miser – Hoarder
Misfortune – Bad luck
Misgiving – Doubt
Mishandle – Mismanage
Mishap – Accident
Misinform – Deceive
Misinterpret – Misread
Misjudge – Err
Mislead – Deceive
Mismatch – Inconsistency
Misnomer – Misnaming
Misogyny – Woman-hating
Misplace – Lose
Misrepresent – Distort
Misspend – Waste
Mistake – Error
Mistreat – Abuse
Misuse – Abuse
Mite – Speck
Mitigate – Lessen
Mock – Ridicule
Mockery – Derision
Molest – Harass
Mollify – Appease
Monotony – Sameness
Monstrosity – Abomination
Morass – Quagmire
Morbid – Gruesome
Moribund – Dying
Morose – Gloomy
Mortal – Fatal
Mortification – Humiliation
Mortify – Embarrass
Muddle – Confuse
Mudslinging – Defamation
Muffle – Suppress
Mulish – Stubborn
Mumble – Murmur
Mundane – Boring
Murder – Kill
Murky – Dark
Muscleman – Enforcer
Muster – Gather
Explore More:
(A, B, C, D, E, F, G, H, I, J, K, L, M, N, O, P, Q, R, S, T, U, V, W, Y, Z)
Negative Adjectives That Start With M
Machiavellian – Deceitful
Maladjusted – Dysfunctional
Malicious – Harmful
Malignant – Deadly
Marauding – Plundering
Marred – Damaged
Maudlin – Sentimental
Mawkish – Sappy
Meager – Inadequate
Mean – Nasty
Meddlesome – Intrusive
Mediocre – Ordinary
Melancholic – Depressed
Menacing – Threatening
Mercenary – Greedy
Mercurial – Unpredictable
Mirthless – Joyless
Misaligned – Incorrect
Mischievous – Naughty
Miserable – Unhappy
Miserly – Stingy
Misguided – Ill-advised
Mistaken – Wrong
Mistrustful – Suspicious
Moody – Temperamental
Morbid – Unhealthy
Morose – Sullen
Mortified – Ashamed
Motionless – Still
Mournful – Sorrowful
Muddy – Unclear
Mulish – Obstinate
Murderous – Lethal
Murky – Obscure
Mutinous – Rebellious
Mysterious – Enigmatic
Myopic – Short-sighted
Myriad – Numerous
Machiavellian – Cunning
Malformed – Misshapen
Malodorous – Smelly
Mangy – Shabby
Measly – Paltry
Meddling – Interfering
Menial – Servile
Messy – Untidy
Metaphorical – Figurative
Microscopic – Tiny
Miscreant – Villainous
Monstrous – Huge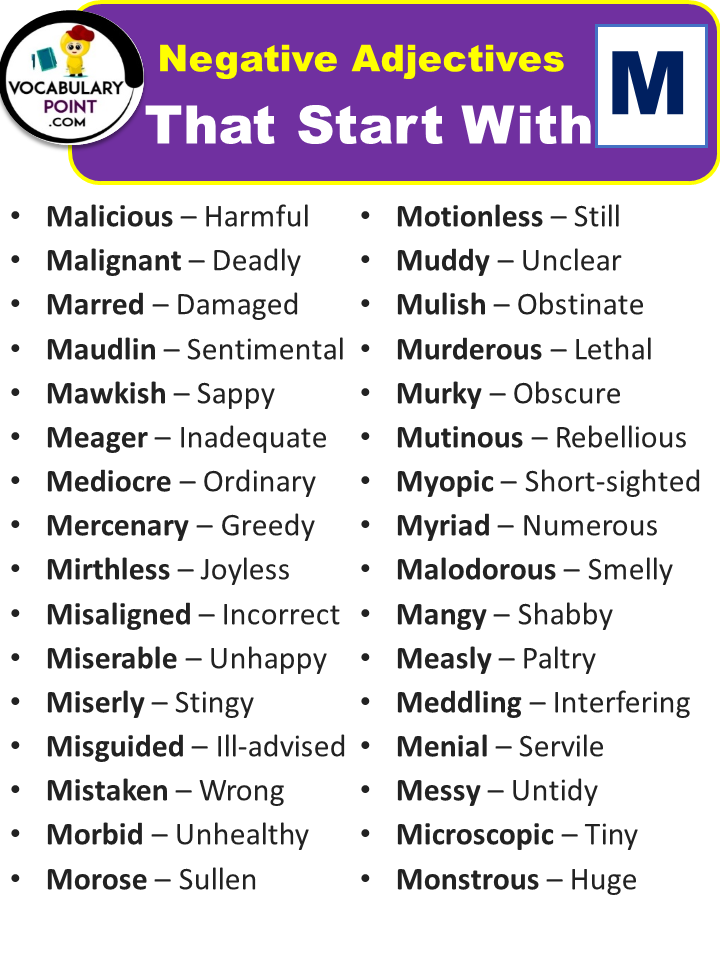 Negative Words That Start With M With Meaning And Examples
Meaning: Maliciousness
Spreading malignity destroys trust.
Meaning: Hatred
His misanthropy repelled his friends.
Meaning: Criminal
The miscreant fled the scene.
Meaning: Wrongdoing
He regretted his past misdeed.
Meaning: Suffering
Poverty often leads to misery.
Meaning: Woman-hater
The misogynist avoided female company.
Meaning: Abuse
Protesters decried animal mistreatment.
Meaning: Suspicion
Mistrust eroded their once-strong friendship.
Meaning: Confusion
A simple misunderstanding caused chaos.
Meaning: Scornful
His mocking tone was hurtful.
Meaning: Suspension
The city imposed a moratorium.
Meaning: Biting
Her mordant humor offended many.
Meaning: Dying
The firm is nearly moribund.
Meaning: Gloomy
He seemed unusually morose today.
Meaning: Embarrassed
She felt mortified at work.
Meaning: Sad
His music sounded mournful.
Meaning: Deadly
The dictator had a murderous reputation.
Meaning: Obscurity
The room's murkiness felt oppressive.
Meaning: Silent
His response remained utterly mute.
Meaning: Countless
Faced with myriad daunting challenges.
Meaning: Harmful
Their intentions were surprisingly malefic.
Meaning: Shirker
He was a notorious malingerer.
Meaning: Controlling
Her methods were subtly manipulative.
Meaning: Overly sentimental
The speech was uncomfortably maudlin.
Meaning: Insufficient
They survived on meager rations.
Meaning: Average
The performance was decidedly mediocre.
Meaning: Exaggerated
His reaction was highly melodramatic.
Meaning: Threatening
Dark clouds looked rather menacing.
Meaning: Greedy
His motivations were purely mercenary.
Meaning: Unpredictable
Her moods were quite mercurial.
Meaning: Annoyed
She left the room miffed.
Meaning: People-hater
The old man was a misanthrope.
Meaning: Illegitimate
The plan was entirely misbegotten.
Meaning: Error
His choice was a miscalculation.
Meaning: Misbelief
Their idea was a misconception.
Meaning: Outcast
He felt like a misfit.
Meaning: Deceive
The article tended to misinform.
Meaning: Inaccurate
The title was a misnomer.
Meaning: Incorrect
The accusations were mistaken.
Meaning: Doubtful
She was naturally mistrustful.
Meaning: Irritable
He was being unusually moody.
Meaning: Gruesome
The details were particularly morbid.
Meaning: Humiliating
The error was absolutely mortifying.
Meaning: Confused
His explanation was hopelessly muddled.
Meaning: Stubborn
Her stance was frustratingly mulish.
Meaning: Killer
The villain's intent was murderous.
Meaning: Rebellious
The crew turned mutinous.
Meaning: Puzzling
The clues were deeply mystifying.
Meaning: Grisly
The tale was decidedly macabre.
Meaning: Smelly
The room was quite malodorous.