Are you tired of hearing words that bring you down? Well, buckle up because we have compiled a list of negative words that start with the letter B. From bitter to bleak, these words have the power to cast a shadow on even the brightest of days.
Whether you're a linguistics enthusiast or simply looking to expand your vocabulary, this list will leave you both fascinated and horrified by the sheer number of negative expressions beginning with this one seemingly innocuous letter.
List of Negative Words That Start With B
Backlash – Retaliation
Backstab – Betrayal
Bad – Inferior
Baffle – Confuse
Bailout – Rescue
Balk – Hesitate
Bane – Curse
Banish – Exile
Bankrupt – Insolvent
Barbaric – Savage
Barrage – Bombardment
Barren – Unfruitful
Bash – Attack
Battered – Damaged
Befoul – Pollute
Begrudge – Envy
Belie – Misrepresent
Belittle – Diminish
Bemoan – Lament
Bemuse – Stump
Berate – Scold
Bereave – Deprive
Besiege – Surround
Besmirch – Tarnish
Bestial – Brutal
Betray – Deceive
Bewilder – Baffle
Bewitch – Enchant negatively
Bias – Prejudice
Bicker – Quarrel
Bizarre – Odd
Blackmail – Extortion
Blame – Accuse
Bland – Dull
Bleak – Grim
Blemish – Defect
Blight – Ruin
Blindside – Surprise
Blister – Irritate
Blitz – Raid
Bloat – Swell
Blockade – Obstruct
Bloodshed – Killing
Bloodthirsty – Savage
Blowback – Repercussion
Blunder – Mistake
Blunt – Unrefined
Blur – Obscure
Blurt – Reveal impulsively
Bluster – Brag
Boast – Brag
Bogus – Fake
Boilover – Outburst
Bolt – Flee
Bombard – Attack
Bombastic – Overblown
Bondage – Slavery
Boorish – Crude
Bore – Dull
Boredom – Tedium
Botch – Bungle
Bother – Annoy
Bottleneck – Jam
Boycott – Protest
Brash – Rash
Bravado – Blustering
Breach – Violation
Breakdown – Collapse
Bribe – Corruption
Brickbat – Criticism
Bridle – Restraint
Brigand – Bandit
Brinkmanship – Riskiness
Brisk – Abrupt
Brittle – Fragile
Broke – Penniless
Brood – Worry
Browbeat – Intimidate
Bruise – Injury
Brusque – Abrupt
Brutal – Cruel
Brutalize – Abuse
Bungle – Fumble
Burden – Load
Bureaucratic – Inflexible
Burglarize – Rob
Burnout – Exhaustion
Bust – Break
Buzzkill – Downer
Byzantine – Complicated
Explore More:
(A, B, C, D, E, F, G, H, I, J, K, L, M, N, O, P, Q, R, S, T, U, V, W, Y, Z)
Negative Adjectives That Start With B
Backward – Unprogressive
Bad – Inferior
Baleful – Threatening
Baneful – Destructive
Barbaric – Uncivilized
Barren – Unproductive
Base – Low
Bashful – Shy
Battered – Damaged
Bawdy – Indecent
Beady – Small
Beastly – Brutal
Befuddled – Confused
Begrudging – Envious
Belated – Late
Bellicose – Aggressive
Belligerent – Hostile
Bemoaned – Lamented
Bemused – Confused
Bent – Corrupt
Bereft – Devoid
Berserk – Frenzied
Biased – Prejudiced
Bilious – Nauseous
Biting – Cutting
Bitter – Resentful
Bizarre – Odd
Blameful – Culpable
Bland – Dull
Blasé – Apathetic
Blasphemous – Sacrilegious
Bleak – Desolate
Bleary – Blurred
Blind – Unseeing
Bloodcurdling – Terrifying
Bloodless – Pale
Bloody – Violent
Blotchy – Spotted
Blunt – Abrupt
Blurred – Unclear
Boastful – Braggart
Bodily – Physical
Boiling – Furious
Boisterous – Noisy
Bombastic – Pretentious
Bonded – Tied
Boneless – Weak
Boring – Dull
Borrowed – Temporal
Bothersome – Annoying
Bound – Tied
Bovine – Dull
Brackish – Salty
Braggart – Boasting
Brainless – Stupid
Brash – Impudent
Brassy – Bold
Brave – Courageous (not always negative, context-dependent)
Brazen – Shameless
Breathtaking – Astonishing (can be positive or negative)
Breezy – Windy (context-dependent)
Bribable – Corruptible
Brick – Solid
Bridled – Restrained
Brief – Short
Bright – Vivid (typically positive but can be overwhelming)
Brisk – Quick (can be seen as abrupt)
Brittle – Fragile
Broad – Wide (sometimes viewed negatively in descriptions)
Broken – Damaged
Brooding – Gloomy
Bruised – Injured
Brusque – Curt
Brutal – Harsh
Brutish – Crude
Bubbly – Effervescent (can be annoying to some)
Bumbling – Incompetent
Buoyant – Floating (sometimes seen as a lack of seriousness)
Burdensome – Heavy
Bureaucratic – Administrative
Burning – Fiery
Burnt – Overcooked
Bushy – Shaggy
Businesslike – Practical (can be perceived as cold)
Bustling – Busy (can indicate chaos)
Busy – Occupied (sometimes overly so)
Buttery – Oily
Buzzing – Humming (can be distracting)
Byzantine – Complex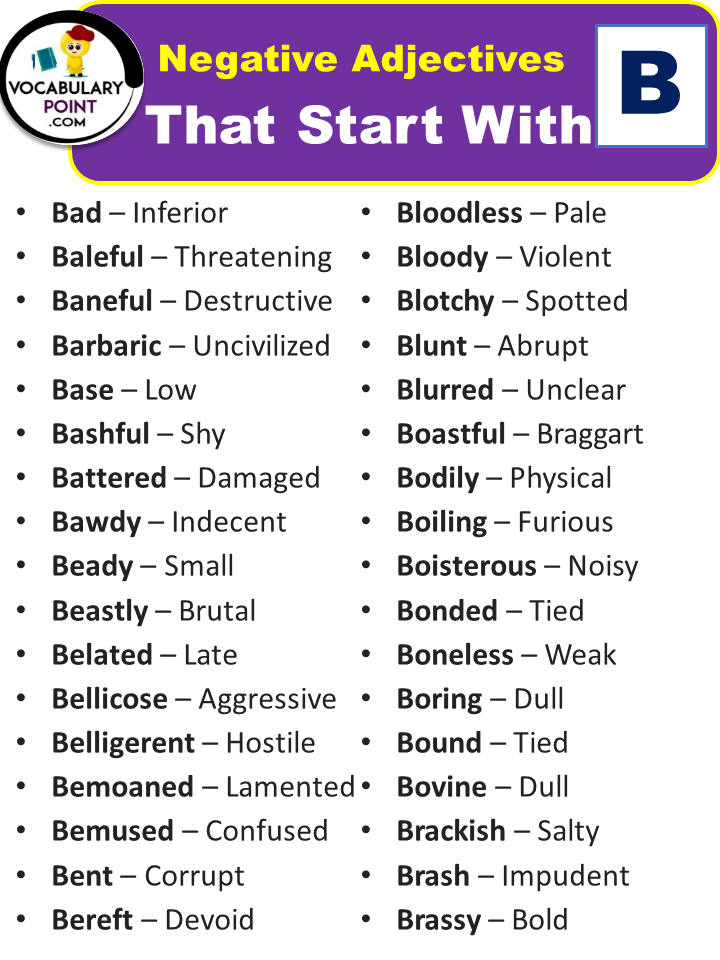 Negative Words That Start With B With Meaning And Examples
Belligerent – hostile and aggressive.

The belligerent tone of his voice made everyone uncomfortable.

Belittle – to make someone or something seem less important.

He would often belittle his colleagues to feel superior.

Bemoan – to express discontent or sorrow over something.

She bemoaned the loss of her old neighborhood's charm.

Bereave – to be deprived of a loved one through a profound absence.

The war bereaved many children of their parents.

Besiege – to overwhelm, surround, and attack.

The small town was besieged by the advancing army.

Betray – to be disloyal or unfaithful.

He felt betrayed when he found out his friend had lied.

Befoul – to make dirty or contaminated.

The spill befouled the entire coastline.

Begrudge – to envy someone the possession or enjoyment of something.

She begrudged her colleague the promotion.

Bleak – lacking in warmth, life, or kindliness.

The future looked bleak for the company after the financial report was released.

Blatant – completely lacking in subtlety; very obvious.

He showed blatant disregard for the rules.

Blunder – a stupid or careless mistake.

The politician's speech was full of factual blunders.

Bogus – not genuine or true (used in a disapproving manner when deception is suspected).

The website promised big rewards but it was a bogus claim.

Bombard – to attack continuously with bombs, shells, or other missiles.

The media bombarded the public with negative news.

Bondage – the state of being a slave or the practice of slavery.

The history book gave a detailed account of the people held in bondage.

Boorish – rough and bad-mannered; coarse.

His boorish behavior at the dinner party was embarrassing.

Bore – to make someone feel weary and uninterested through tedious talk or dullness.

The lecture was so boring that several students fell asleep.

Botch – to carry out a task badly or carelessly.

The renovation was botched, with uneven flooring and leaking pipes.

Breach – an act of breaking or failing to observe a law, agreement, or code of conduct.

A breach of confidentiality occurred when the documents were leaked.

Brittle – hard but liable to break or shatter easily.

Her brittle nails were a sign of her poor diet.

Brutal – savagely violent.

The brutal dictator was feared by all.

Brusque – abrupt or offhand in speech or manner.

His brusque reply made her rethink her decision to ask for help.

Buffoon – a ridiculous but amusing person; a clown.

He was acting like a buffoon at the office party.

Bugbear – a cause of obsessive fear, irritation, or loathing.

Paperwork was the bugbear of his existence.

Bungle – to perform clumsily or inadequately.

They bungled the job from start to finish.

Burden – a heavy load, literally or figuratively.

Financial debt is a significant burden for many families.

Burdensome – difficult to carry out or fulfill; taxing.

The burdensome regulations discouraged new businesses.

Burnout – physical or mental collapse caused by overwork or stress.

She was suffering from burnout after months of working 80-hour weeks.

Buttress – to give support to, but in some contexts, it can mean to make excuses for something negative.

He buttressed his poor performance with excuses about his health.

Byzantine – (of a system or situation) excessively complicated, and typically involving a great deal of administrative detail.

The company's byzantine procedures made it difficult to get anything done.

Babble – to talk rapidly and continuously in a foolish, excited, or incomprehensible way.

He babbled nervously during his presentation.

Backlash – a strong and adverse reaction by a large number of people.

The policy change caused a huge public backlash.

Backstabbing – the action or practice of criticizing someone in a treacherous manner while feigning friendship.

There was a lot of backstabbing in the competitive office environment.

Backward – directed behind or to the rear; not advanced in civilization.

The village was very backward and still had no electricity.

Badger – to ask someone repeatedly and annoyingly for something.

He kept badgering her for an answer.

Balk – to hesitate or be unwilling to accept an idea or undertaking.

She balked at the idea of spending the weekend with her difficult relatives.

Banality – the fact or condition of being banal; unoriginality.

His speech was filled with clichés and banalities.

Barbaric – savagely cruel; exceedingly brutal.

The barbaric nature of the ancient gladiatorial games is well-documented.

Barren – too poor to produce much or any vegetation.

They traveled across barren landscapes with no signs of life.

Baseless – without foundation in fact.

His accusations were baseless and caused unnecessary panic.

Bashful – reluctant to draw attention to oneself; shy.

She gave a bashful smile when complimented.

Battered – injured by repeated blows or punishment.

The old car was battered and worn but still running.

Befuddle – to make someone unable to think clearly.

The complex instructions befuddled him.

Begrime – to cover with dirt.

The old portrait was begrimed with years of smoke and dust.

Belabor – to argue or elaborate (a subject) in excessive detail.

There's no need to belabor the point; we all understand it.

Bereft – deprived of or lacking something, especially a non-material asset.

He was bereft of ideas after his team left the company.

Besmirch – to damage the reputation of someone or something.

The scandal besmirched the company's image.

Bestial – of or like an animal or animals.

His bestial treatment of the prisoners was horrifying.

Betwixt – archaic term for between, often indicating a situation of conflict or indecision.

She was betwixt her loyalty to her family and her desire to travel abroad.

Bilious – affected by or associated with nausea or vomiting.

The rough sea trip left him feeling bilious.

Bleary – (of the eyes) unfocused or filmy from sleep or tiredness.
Her eyes were bleary after many hours staring at the computer screen