Vocabulary is an essential aspect of any language, and it plays a crucial role in one's ability to understand and express ideas effectively. The SAT exam places great emphasis on vocabulary, as it is an integral part of the reading comprehension section. The SAT vocabulary words are carefully selected to test a student's aptitude for understanding complex texts and making informed decisions based on what they have read.
This article aims to provide an overview of some of the most commonly tested SAT vocabulary words, along with their definitions and examples. We will also explore strategies for improving your vocabulary skills, such as reading widely, practicing with flashcards, and using context clues to decipher unfamiliar words.
Here is A List of Top 20 Sat Vocabulary Words:
Ubiquitous
Mitigate
Apathy
Tenacious
Alleviate
Pragmatic
Acumen
Exacerbate
Vindicate
Meticulous
Ambiguous
Conjecture
Ameliorate
Clandestine
Resilient
Discern
Facetious
Inconspicuous
Prudent
Sycophant
Sat Vocabulary Words
Spectacle
Discredit
Abhor
Ambivalent
Fraught
Asylum
Fundamentally
Divergent
Yield
Equivocal
Foreshadow
Begrudging
Dismay
Consequently
Compassion
Repose
Pending
Supremacy
Verbose
Foment
Hypothesis
Novel
Modification
Spurious
Fortitude
Rancorous
Ornate
Reticent
Preclude
Intuitive
Conventional
Wary
Congregation
Scorn
Curtail
Garner
Foster
Emerging
Corroborate
Stimulate
Converge
Aesthetic
Assumption
Counterargument
Reproach
Querulous
Prosaic
Revere
Subsequent
Esoteric
Abdicate
Condescending
Conformist
Fortuitous
Ostentatious
Novice
Prosperity
Diligent
Tactful
Spontaneous
Inversion
Pragmatic
Inconsequential
Agitation
Gregarious
Tenacious
Profuse
Precocious
Prudent
Superficial
Adversity
Enigmatic
Renounce
Abate
Reclusive
Treacherous
Abrupt
Exonerate
Enervating
Amicable
Transient
Parched
Belligerent
Disdain
Exasperation
Bias
Abstain
Intrepid
Extenuating
Lobbyist
Fluctuate
Scrutinize
Empathetic
Haughty
Venerable
Hypothetical
Ephemeral
Hackneyed
Urge
Fastidious
Impute
Aberration
Indispensable
Hasten
Frugal
Subtle
Submissive
Magnanimous
Inevitable
Capacious
Garrulous
Benevolent
Malevolence
Substantiate
Empathy
Corrupt
Abolish
Contentious
Nonchalant
Condescension
Entrenched
Impetuous
Anecdote
Compromise
Restorative
Vindicate
Camaraderie
Obsolete
Canny
Warrant
Procrastinate
Unveil
Mundane
Null
Deplete
Menacing
Surreptitious
Reverence
Longevity
Forbearance
Ambiguous
Indigenous
Opaque
Evanescent
Reconciliation
Alteration
Characterize
Regression
Pantheon
Anachronistic
Conditional
Restrained
Nuance
Engagement
Lament
Ebullient
Brazen
Repeal
Suppress
Demagogue
Clairvoyant
Reinforce
Deleterious
Imperative
Hedonist
Convergence
Melodramatic
Secession
Exhilarating
Aromatic
Convey
Enhance
Selfless
Antagonist
Omnipotence
Demur
Exemplary
Sagacity
Enumerate
Provocative
Indistinct
Capitulate
Conserve
Arcane
Undermine
Digression
Emulate
Pretentious
Jubilation
Arid
Synchronized
Keen
Infrastructure
Incompatible
Censure
Opulent
Scope
Boisterous
Collaboration
Eloquent
Urbane
Florid
Conundrum
Indifferent
Oppress
Sampling
Spawn
Render
Superfluous
Soporific
Renovation
Collaborate
Indiscriminate
Orator
Brusque
Perfidious
Exertion
Neglect
Plausible
Resilient
Ubiquitous
Vexing
Elucidate
Paradox
Apathetic
Zealous
Rhetoric
Prodigy
Eccentric
Incessant
Epitome
Insidious
Altruistic
Complacent
Adroit
Acumen
Infallible
Capricious
Enigma
Impervious
Rancor
Taciturn
Cursory
Hapless
Lethargic
Pervasive
Zephyr
Must Read: Most Beautiful Nature Names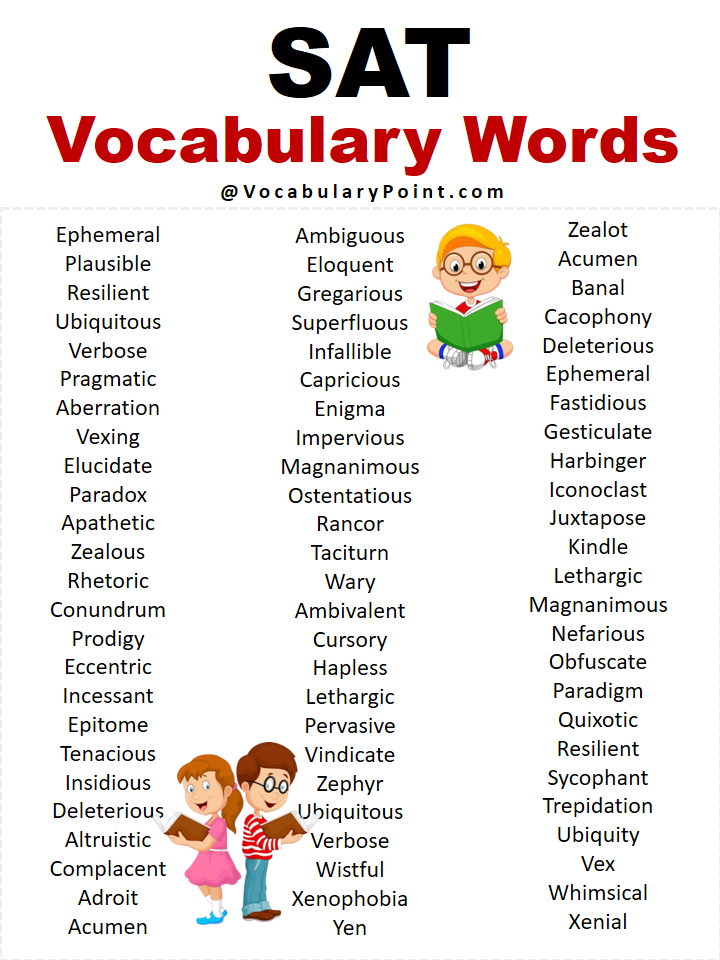 Sat Words List
Ubiquitous
Verbose
Wistful
Xenophobia
Yen
Zealot
Acumen
Banal
Cacophony
Deleterious
Ephemeral
Fastidious
Gesticulate
Harbinger
Iconoclast
Juxtapose
Kindle
Lethargic
Magnanimous
Nefarious
Obfuscate
Paradigm
Quixotic
Resilient
Sycophant
Trepidation
Ubiquity
Vex
Whimsical
Xenial
Yearn
Zephyr
Altruistic
Bellicose
Capricious
Desolate
Egregious
Fervent
Gregarious
Hackneyed
Impetuous
Luminous
Meander
Nostalgia
Opaque
Panacea
Quandary
Reticent
Sat Vocabulary List
Abate
Belligerent
Capitulate
Discord
Elusive
Furtive
Gregarious
Haughty
Impervious
Juxtaposition
Kindle
Languid
Meticulous
Nebulous
Obsolete
Paragon
Quell
Recalcitrant
Scrutinize
Tenacious
Ubiquitous
Vacillate
Wary
Zeal
Abhor
Benevolent
Conundrum
Debilitate
Emulate
Fallacious
Garrulous
Hypothetical
Incessant
Jeopardize
Lethargy
Mercurial
Nonchalant
Prolific
Quandary
Resilient
Must Learn: Vocabulary Words A to Z
Sat Vocab Words
Egregious
Quell
Meticulous
Ambivalent
Ameliorate
Tenacious
Conundrum
Superfluous
Pragmatic
Altruistic
Dubious
Venerate
Clandestine
Pervasive
Reticent
Incessant
Elucidate
Mitigate
Repudiate
Vindicate
Impede
Eloquent
Resilient
Astute
Prudent
Sat Vocabulary Words 2022
Cogent
Esoteric
Pristine
Serendipity
Mitigate
Paradigm
Rhetoric
Resilient
Ubiquitous
Capricious
Benevolent
Enigma
Inherent
Exemplary
Pragmatic
Pervasive
Precipitous
Ambiguous
Conundrum
Venerate
Alleviate
Scrutinize
Convoluted
Verbose
Eloquent
Empirical
Sagacious
Soporific
Surreptitious
Resolute
Belie
Exacerbate
Abate
Incessant
Indifferent
Disparage
Infallible
Prudent
Erudite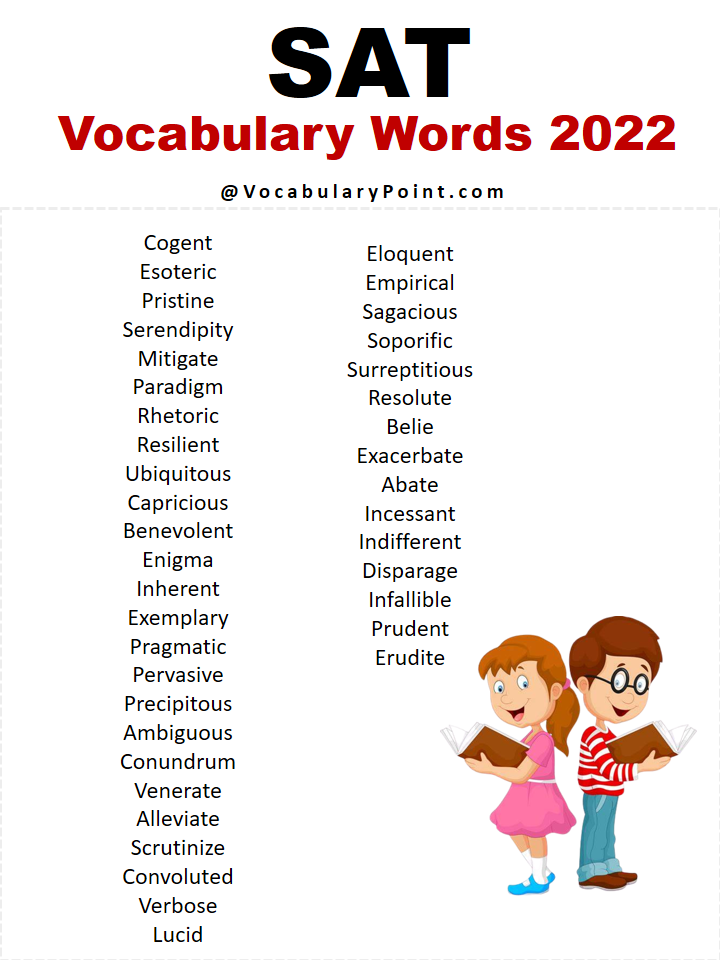 Sat Vocabulary Practice
Abate: to become less intense or widespread.
Example: The storm began to abate, and the wind slowly died down.
Ambiguous: open to more than one interpretation; unclear.
Example: His response to the question was ambiguous, leaving us unsure of his true intentions.
Benevolent: well-meaning and kind.
Example: The old woman was known for her benevolent nature, always helping those in need.
Cacophony: a harsh, discordant mixture of sounds.
Example: The construction site was filled with the cacophony of drills, hammers, and machinery.
Disparage: to belittle or criticize someone or something.
Example: He would often disparage her achievements, undermining her confidence.
Ephemeral: lasting for a very short time; fleeting.
Example: The beauty of cherry blossoms is ephemeral, as they bloom for only a few weeks each year.
Frivolous: not having any serious purpose or value.
Example: She spent all her money on frivolous items instead of saving for the future.
Gregarious: fond of company; sociable.
Example: The gregarious host always had a crowd of friends around him at parties.
Hackneyed: lacking originality; overused and clichéd.
Example: The movie relied on hackneyed dialogue and predictable plot twists.
Impetuous: acting or done quickly and without thought or care.
Example: His impetuous decision to quit his job without a backup plan left him in financial trouble.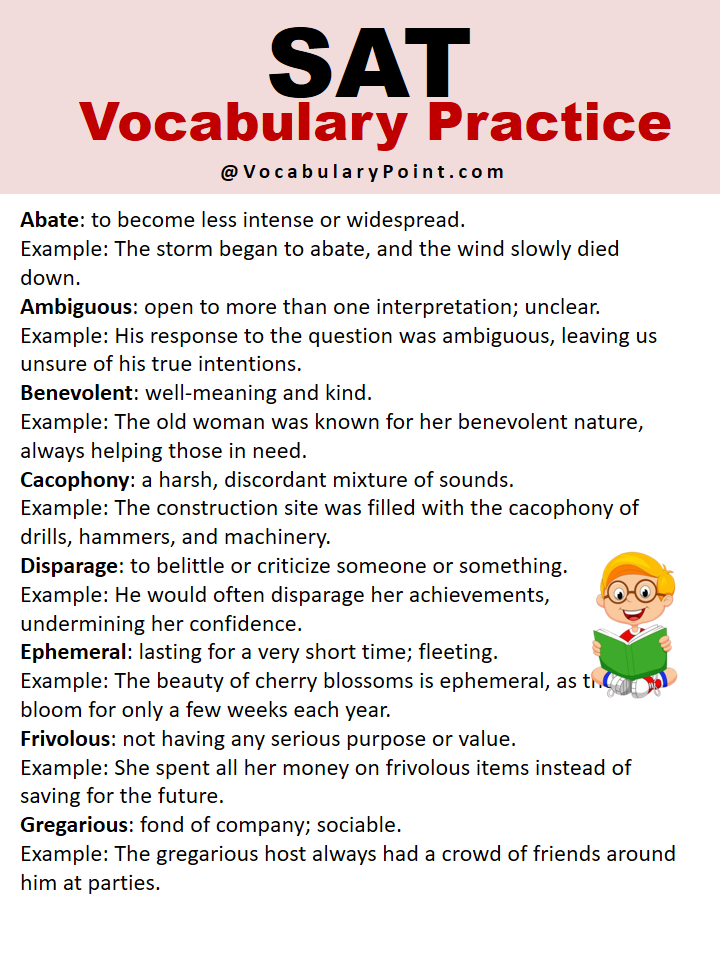 100 Sat Words
Acumen
Benevolent
Capricious
Deleterious
Ephemeral
Florid
Gregarious
Hedonist
Impetuous
Juxtapose
Kindle
Luminous
Mitigate
Nonchalant
Opulent
Pervasive
Querulous
Reticent
Sagacious
Tenacious
Unassailable
Vehement
Wary
Zealot
Alacrity
Beguile
Cogent
Deride
Ebullient
Fastidious
Garrulous
Hackneyed
Immutable
Jeopardy
Knell
Languid
Maverick
Nebulous
Obdurate
Pariah
Quandary
Reclusive
Sacrosanct
Taciturn
Unfathomable
Vacillate
Wistful
Xenophobia
Yearn
Zenith
Adroit
Bellicose
Capitulate
Discerning
Elusive
Felicity
Guile
Harbinger
Impervious
Judicious
Kinetic
Laudable
Mellifluous
Nefarious
Obstinate
Paradigm
Quixotic
Resilient
Serendipity
Tacit
Ubiquitous
Vindicate
Whimsical
Zealous
Acquiesce
Blatant
Convoluted
Dearth
Ebullience
Fallacious
Garrulity
Hackney
Ignominious
Judiciousness
Keen
Languish
Maverick
Nebulousness
Obfuscate
Parity
Querist
Rhetoric
Sacrosanctity
Taciturnity
Unfettered
Vacuous
Wit
Yearning
Zephyr
Zest