In this article titled "Nature Words," we will explore some of the most beautiful and evocative words inspired by nature. From words that describe the colors of a sunset to those that express the sound of raindrops falling on leaves, we will dive into a world filled with imagery and sensory experiences.
Here is A List of the Top 20 Nature Words:
Mountain
River
Forest
Sunlight
Meadow
Cloud
Breeze
Flower
Raindrop
Wave
Canyon
Star
Sand
Waterfall
Leaf
Pebble
Rainbow
Snowflake
Butterfly
Sunrise
Nature Words
Winter
Daisy
Dune
Flood
Carbon Dioxide
Dandelion
Gloomy
Stormy
Glacier
Oil
Clouds
Temperature
Wild
Grass
Daffodil
Desolate
Bud
Root
Beach
Cliff
Sun
Island
Hill
Atmosphere
Field
Snow
Mountainous
Marsh
Poison Ivy
Volcano
Forest
Plant
Pollutant
Wet
Soil
Sky
Herb
Rose
Water
Canal
Canyon
Rock
Sunshine
Bridge
Autumn
Humid
Bark
Leaf
Tree
Moss
Bush
Sleet
Pond
Countryside
Ozone
Ice Caps
Summer
Stem
Jungle
Pebble
Mine
Park
Sunflower
Season
Tulip
Thorn
Mushroom
Desert
Cave
Moon
Lake
Smoke
Dam
Tunnel
Earth
Stalk
Lighthouse
River
Dry
Tropical
Mud
Seed
Clear
Lily
Path
Valley
Sea Shell
Bamboo
Ground
Misty
Meadow
Wave
Sea
Sand
Waterfall
Branch
Fern
Drought
Wind Energy
Stars
Ice
Coal
Reed
Planet
Petal
Stone
Must Learn: Examples of Onomatopoeia Words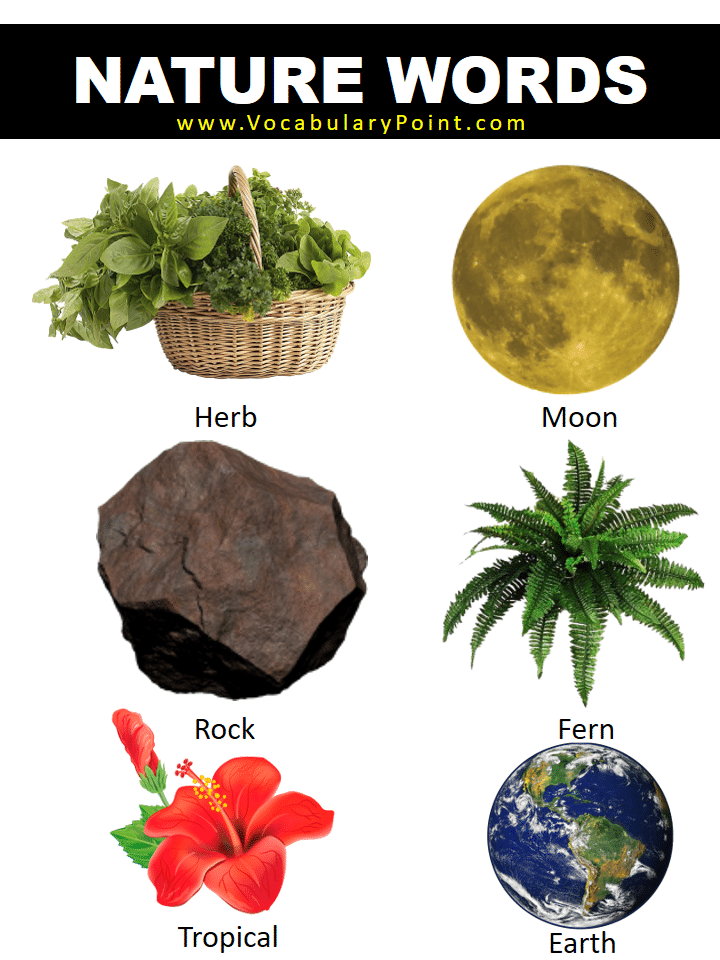 Nature Words with Sentences
Serene – The serene lake reflected the golden hues of the setting sun.
Tranquil – Walking through the tranquil forest, I felt a sense of peace wash over me.
Majestic – Standing atop the mountain, I admired the majestic view of the surrounding peaks.
Enchanting – The enchanting sound of birdsong filled the air as I strolled through the meadow.
Breathtaking – The view from the cliff was absolutely breathtaking, with the vast expanse of the ocean stretching out before me.
Picturesque – The small, picturesque village was nestled among rolling hills and blooming flowers.
Idyllic – The idyllic countryside was a haven of green fields and meandering streams.
Verdant – The verdant forest was filled with lush foliage and vibrant shades of green.
Serendipity – I stumbled upon a hidden waterfall, a serendipitous discovery during my hike.
Blissful – The gentle breeze and warm sunshine created a blissful day at the beach.
Radiant – The radiant colors of the sunset painted the sky with hues of orange and pink.
Ethereal – The moon cast an ethereal glow over the landscape, creating a magical atmosphere.
Harmonious – The harmonious symphony of chirping birds and rustling leaves created a soothing ambiance.
Delicate – The delicate petals of the cherry blossoms danced in the breeze.
Resplendent – The resplendent display of blooming flowers in the garden was a sight to behold.
Serene – As I sat by the calm lake, I felt a serene sense of tranquility wash over me.
Captivating – The captivating beauty of the coral reef left me in awe of the underwater world.
Oasis – In the middle of the desert, the oasis offered a refreshing sanctuary with its lush vegetation and cool water.
Words Related To Nature
Forest
Tree
Mountain
River
Ocean
Lake
Sky
Sun
Moon
Star
Cloud
Rain
Wind
Thunder
Lightning
Rainbow
Snow
Ice
Sand
Beach
Grass
Flower
Plant
Leaf
Soil
Rock
Valley
Canyon
Desert
Wildlife
Bird
Butterfly
Insect
Fish
Whale
Dolphin
Bear
Deer
Wolf
Fox
Lion
Tiger
Elephant
Giraffe
Monkey
Snake
Frog
Bee
Pollen
Honey
Sunrise
Sunset
Seasons
Spring
Summer
Autumn
Winter
Breeze
Fragrance
Serene
Serene
Scenic
Natural
Solitude
Tranquility
Wilderness
Conservation
Ecosystem
Habitat
Preservation
Greenery
Canopy
Marsh
Wetland
Earth
Planet
Environment
Sustainability
Freshwater
Coral reef
Avalanche
Volcano
Natural disaster
Climate
Ecology
Foliage
Herb
Mountain range
National park
Cave
Waterfall
Delta
Prairie
Tundra
Arid
Drought
Mud
Moss
Sunrise
Sunset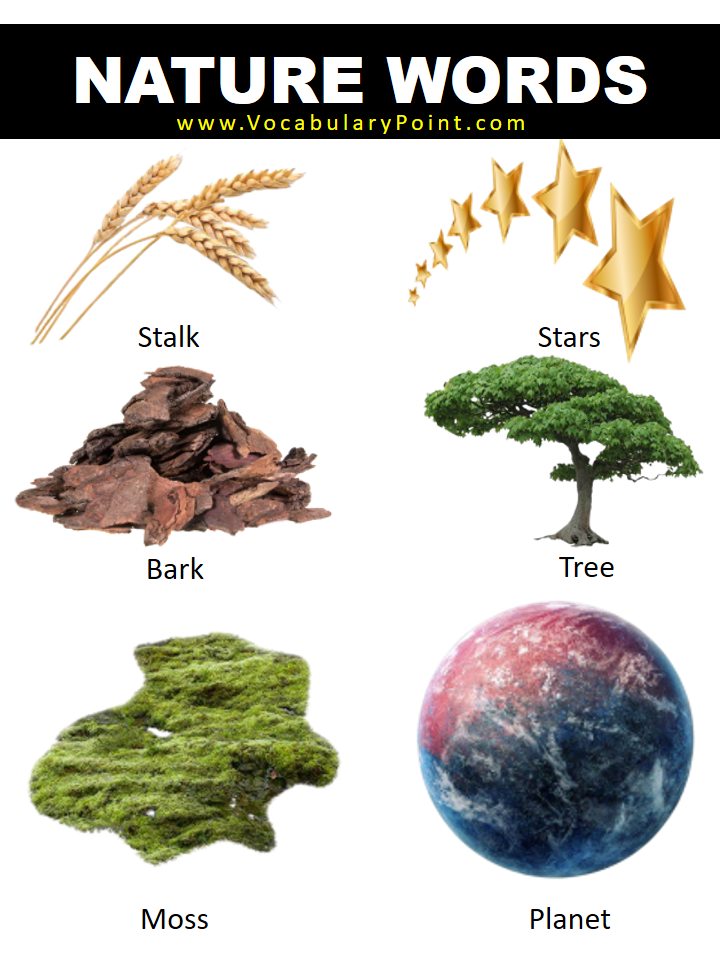 Words to Describe Nature
Serene
Majestic
Vibrant
Tranquil
Breathtaking
Pristine
Lush
Exquisite
Invigorating
Picturesque
Nature Vocabulary
Forest: A large area covered with trees and undergrowth.
Mountain: A landform that rises prominently above its surroundings, usually with steep slopes and a peak.
River: A large natural flowing watercourse that usually leads to an ocean, sea, lake, or another river.
Lake: A large body of water surrounded by land.
Ocean: A vast body of saltwater that covers most of the Earth's surface.
Beach: The sandy or pebbly shore of a body of water, especially the area between high and low tide.
Desert: A barren and arid region with little or no vegetation.
Meadow: A field or grassy area, usually with flowers and other low-lying vegetation.
Waterfall: A cascade of water falling from a height, often over rocks or cliffs.
Glacier: A large mass of ice that moves slowly over land.
Canyon: A deep, narrow valley with steep sides, usually carved by a river or other erosive forces.
Valley: A low area of land between hills or mountains, often with a river flowing through it.
Island: A piece of land surrounded by water.
Coast: The area where land meets the sea or ocean.
Rainforest: A dense forest characterized by high rainfall and a wide variety of plant and animal species.
Tundra: A vast, treeless Arctic or Antarctic region with permanently frozen subsoil.
Coral reef: A ridge of limestone, coral, and other organic material formed in shallow, warm waters by the accumulation of coral skeletons.
Sunrise: The time in the morning when the sun first appears above the horizon.
Sunset: The time in the evening when the sun disappears below the horizon.
Wildflower: A flower that grows in the wild, often in meadows, fields, or forests.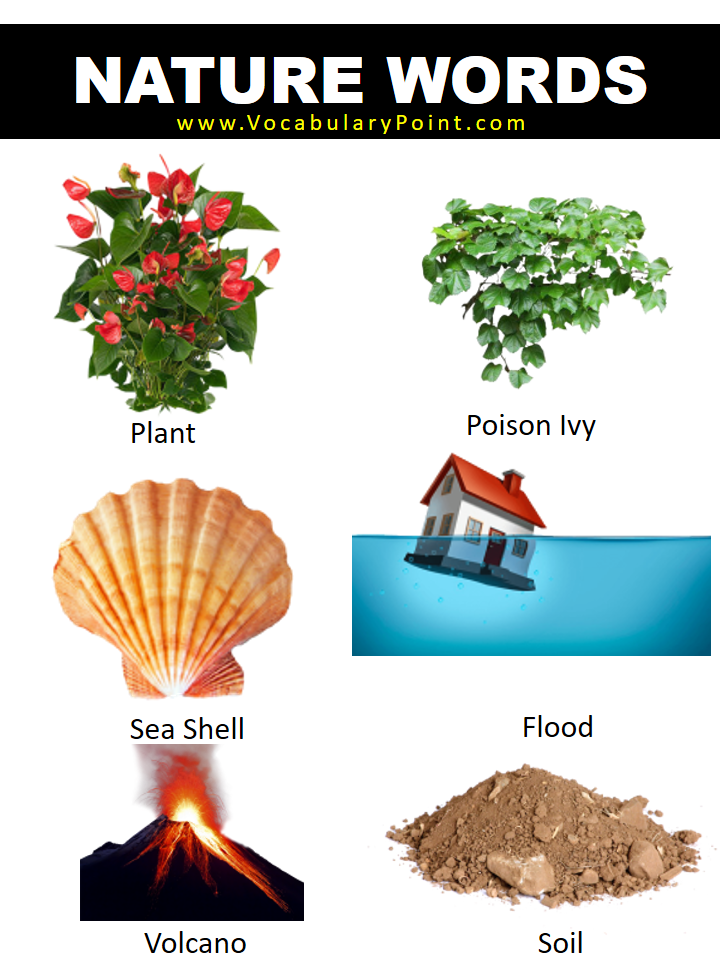 Nature Rhyming Words
Tree
Bee
Sky
Fly
Meadow
Glow
Lake
Flake
Stream
Dream
Hill
Thrill
Sun
Fun
Ocean
Potion
Sand
Band
Forest
Nest
Adjective of Nature
Serene
Majestic
Tranquil
Breathtaking
Vibrant
Pristine
Enchanting
Picturesque
Exquisite
Lush
Radiant
Idyllic
Harmonious
Captivating
Verdant
Resplendent
Delicate
Mystical
Serendipitous
Blissful
Fragrant
Ethereal
Wholesome
Tranquility
Uplifting
Rhythmic
Refreshing
Alluring
Pulsating
Timeless
Words To Describe Beautiful Scenery
Astonishing
Enchanting
Captivating
Breathtaking
Stunning
Picturesque
Mesmerizing
Splendid
Graceful
Majestic
Serene
Radiant
Serene
Exquisite
Idyllic
Tranquil
Lush
Enthralling
Spectacular
Spellbinding
Beautiful Nature Words
Nature is a source of inspiration and wonder for many. From the vastness of the sky to the smallest flower in a field, there is beauty and magic all around us. As such, it's no surprise that writers, poets, and artists have long been drawn to nature as a subject for their creative endeavors.
Verdant
Blossom
Cascade
Glimmer
Whisper
Sunbeam
Solitude
Oasis
Harvest
Tranquil
Canopy
Crystal
Ember
Horizon
Serenity
Words for Nature Lover
Wilderness
Ecosystem
Biodiversity
Serenity
Flora
Fauna
Tranquility
Scenic
Wildlife
Conservation
Harmony
Enchantment
Greenery
Natural beauty
Solitude
Renewal
Majestic
Earthy
Freshness
Breath-taking